No. 7 UVa Survives Late Push By No. 8 Cornell, Wins 15-14
Story Links
Box Score March 7, 2015
Box Score | Photo Album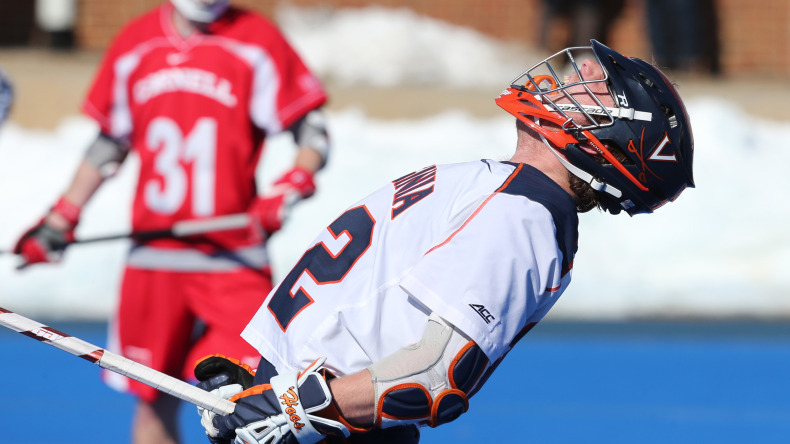 CHARLOTTESVILLE, Va. РJames Pannell scored six goals and No. 7 Virginia (4-1) survived a late surge by No. 8 Cornell (3-2) to escape with a 15-14 triumph on Saturday afternoon at the UHall Turf Field. Field conditions due to inclement weather in the Charlottesville area forced the game from historic Kl̦ckner Stadium to the UHall Turf Field. The Cavaliers are now 19-2 all-time at the alternate venue.
"We were happy to get this result today against a quality team," said Virginia men's lacrosse head coach Dom Starsia. "If you gave me the option this morning of a one-goal blowout, I would have taken it in a heartbeat. We kind of let things get away from us a little bit in the last five minutes and there was a call in the middle of the field that seized momentum and turned it the other way. That is what can happen when you have a team that can control the ball at the faceoff X. Cornell has veteran players that can make plays in crunch time. For us, it was a very good win against a good team and I think we grew up a little bit today."
Virginia appeared to have victory in hand when it led 15-9 with less than three minutes remaining. However, Cornell used a 5-0 run over the game's final 2:32 to put the contest in question.
The spurt started when Ryan Tucker was called for a ward and Cornell quickly scored in transition off the turnover with 2:32 left on a Bradlee Lord goal. The goal by Lord commenced Cornell's 5-0 run that was capped by John Hogan's score with 34 seconds left. UVa's Jason Murphy won a critical ensuring faceoff and Virginia's Tucker was able to run out the clock to preserve the win.
The first quarter was a seesaw battle between the Cavaliers and Big Red. Cornell owned an early 4-3 lead after Dan Lintner found nylon with 4:27 left in the first quarter.
UVa retaliated with a 6-1 run over the next 23:48 of play, which included holding Cornell scoreless for a period 19:25 that spanned from the first quarter into the third quarter. UVa goalie Matt Barrett tallied a career-high 21 saves, nine of which came in the second quarter when he turned away the Cornell offense completely. Cornell was shutout in the second quarter despite playing three minutes in a man-up scenario.
Pannell scored three of his game-high six goals during UVa's run. Zed Williams added three assists during the spurt. When Ryan Lukacovic found Pannell to cap the run at 13:40 in the third quarter, UVa found itself with a commanding 9-5 lead.
Cornell brought the game to a two-point margin, 10-8, after a 3-1 streak. Matt Donovan capped the run when he scored with 13:11 left in the game. UVa answered with a 5-1 spurt to take a commanding 15-9 lead with 2:54 left in the game. Pannell scored two more goals during the streak and AJ Fish capped the run with an unassisted goal at 2:54. UVa won the ensuring faceoff, which set up Tucker's ward and the storm of five straight Cornell goals that ended the game.
Virginia found the net on 15 of its 34 shots on the afternoon. The Cavaliers also managed to assist 11 of its 15 goals, headlined by Williams' career-high four helpers. UVa's entire starting attack and first midfield scored at least one goal and nine Cavaliers tallied at least one point. Pannell led all scorers with seven points on six goals and one assist.
Cornell won the battle of shots (58-34), ground balls (43-32), faceoffs (23-9) and had more turnovers (13-8). UVa saved 21 shots, while Cornell managed 10 saves.
Virginia returns to action on Tuesday, March 10 when Saint Joseph's comes to Klöckner Stadium. Faceoff is set for 7 p.m.
Cornell: 5-0-2-7-14
Virginia: 6-2-2-5-15
Att-1500
Scoring (G-A) – C: Matt Donovan 5-2, Dan Lintner 3-0, Bradlee Lord 2-0, Connor Buczek 1-1, John Edmonds 1-1, John Hogan 1-0, Marshall Peters 1-0, Chris Cook 0-1, Tim LaBeau 0-1. V: James Pannell 6-1, Zed Williams 1-4, Greg Coholan 2-1, Ryan Lukacovic 2-1, AJ Fish 1-1, Ryan Tucker 1-1, Owen Van Arsdale 1-1, Will McNamara 1-0, Tanner Ottenbreit 0-1.
Goalie Summary – C: Christian Knight 60 mins. 10 saves 15 goals allowed. V: Matt Barrett 60 mins. 21 saves 14 goals allowed.
Shots: C– 58, V– 34
Ground Balls: C– 43, V– 32
Clearing: C– 11-13, V– 16-17
Faceoffs: C– 23, V– 9
Penalties: C– 4/3:00, V-6/5:30
EMO: C– 1-5, V– 1-4