Comeback Falls Short as No. 7 UVa Drops Contest to No. 4 Notre Dame, 11-9
Story Links
Box Score March 14, 2015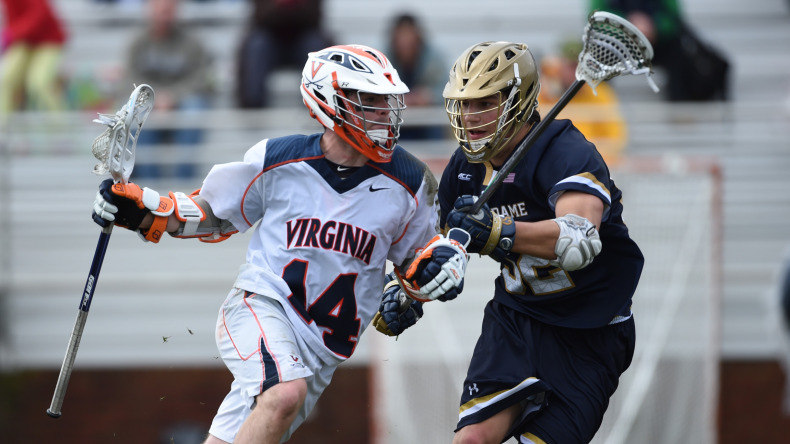 CHARLOTTESVILLE, Va. РThe No. 7 Virginia Cavaliers (5-2, 0-2 ACC) were unable to overcome an 8-2 halftime deficit and fell to the No. 4 Notre Dame Fighting Irish (4-1, 1-0 ACC) on Saturday afternoon, 11-9, inside Kl̦ckner Stadium.
"It was a good effort," said Virginia men's lacrosse head coach Dom Starsia. "I think this team has some really special qualities, but at the same time I thought we just stood around and watched Notre Dame for the first twenty minutes or so. I thought we were soft early in the game, and then we got going at both ends of the field. We were pushed around on the ground ball game, we were standing around on defense and it just took us a while to get going. I thought, again, with a team this new, it's not just a coach talking about trying to get better – I thought we got better as the game went on. We're all big boys here and we're here to win games. We just dug ourselves too deep of a hole and couldn't climb our way out."
Notre Dame scored early and often, tallying five first quarter goals on eight shots to take an early 5-0 lead. Matt Kavanagh and Mikey Wynne each scored twice, while Conor Doyle also scored during the first stanza.
Sergio Perkovic and Wynne each scored to start the second quarter, capping Notre Dame's opening run at 7-0. Greg Coholan broke through for UVa at the 7:34 mark in the second quarter, breaking Notre Dame's shutout streak of the Cavaliers at 22:26. Wynne scored again for Notre Dame and Ryan Tucker's man-up goal with 12 seconds left in the second quarter finished the first half scoring. UVa went into the intermission trailing, 8-2.
The Cavaliers owned the second half, but it wasn't enough to overcome the early deficit. Doyle scored for Notre Dame at 9:10 in the third quarter, giving the Irish a 9-2 lead. UVa reeled off a 7-2 run to finish the game. Tucker, Owen Van Arsdale and two goals by Coholan were part of a four-goal spurt for UVa that brought the score to 9-6 with 12:18 left in the game.
Doyle and Wynne scored back-to-back goals at 11:41 and 5:53 in the fourth quarter to give the Irish the final two-goal differential. Ryan Lukacovic, Coholan and Tucker scored in UVa's final 3-0 run. Tucker scored at 3:02 to finish the game's scoring. The Notre Dame's defense clamped down and held UVa to nothing offensively over the final 3:02.
Virginia won the battle of the shots (37-29), ground balls (34-30) and faceoffs (13-11). Notre Dame had more saves (10-9) and UVa had more turnovers (16-14), with 11 coming in the first half.
Wynne led all scorers for Notre Dame five goals. Coholan had a team-high four goals for UVa.
The Cavaliers are back in action on Sat., March 21 at Johns Hopkins. The battle for the Doyle Smith Cup commences at 6 p.m. The game will be televised live on ESPNU.
Notre Dame 5-3-1-2-11
Virginia 0-2-2-5-9
Att-2186
Scoring (G-A) – V: Greg Coholan 4-0, Ryan Tucker 3-0, Owen Van Arsdale 1-3, Ryan Lukacovic 1-1, Zed Williams 0-1 ND: Mikey Wynne 5-0, Conor Doyle 3-0, Matt Kavanagh 2-1, Sergio Perkovic 1-2, Jim Marlatt 0-2, Will Corrigan 0-1, Cole Riccardi 0-1
Goalie Summary – V: Matt Barrett 60 mins. 9 saves 11 goals allowed ND: Shane Doss 60 mins. 10 saves 9 goals allowed.
Shots: V-37, ND-29
Ground Balls: V-34, ND -30
Clearing: V-18×20, ND -15×19
Faceoffs: V-13×24, ND -11×24
Penalties: V-1-1:00, ND -1-0:30
EMO: V-1×1, ND -0x1