No. 8 UVa Cruises to Victory Over In-State Foe Richmond, 14-7
Story Links
Box Score March 28, 2015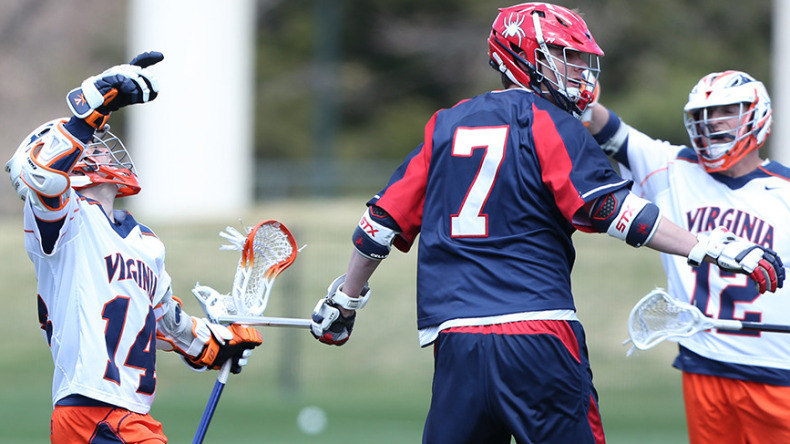 CHARLOTTESVILLE, Va. — Senior attackman Owen Van Arsdale had five goals and senior midfielder Ryan Tucker tallied four of his own to pace No. 8 Virginia (8-2) to a 14-7 triumph over in-state foe Richmond (6-4) on Saturday afternoon, inside Klöckner Stadium.
"It could have been a complicated game," said Virginia men's lacrosse head coach Dom Starsia. "But, we didn't allow it to be that way. We stayed on it, we got better when the ball was on the ground and we shot the ball well."
Tucker put UVa on the board early with an unassisted goal at 13:04 in the first quarter.  Dan Ginestro tied the game, 1-1, when he scored unassisted at 8:18. Tucker retaliated with back-to-back goals to secure the first quarter hat trick and start UVa on a 9-1 run. 
"I was glad to get off to a fast start," said Starsia. "You can't always control that and I don't know how to measure that from what I see in warm-ups or in the locker room, but you want to get into a rhythm quickly. I think it was important for the final result that we were able to get off to a fast start."
UVa entered the intermission with a 9-2 lead after Van Arsdale scored with one second left on the clock.  Tyler German scored at 14:10 in the third quarter, giving UVa a 10-2 lead, capping that 9-1 Cavalier spurt.
Richmond held a narrow 5-4 advantage in scoring over the final 26:17 of the game, but it wasn't enough as UVa emptied its bench and stopped pushing the ball on offense.
All of UVa's goals came from Van Arsdale (five), Tucker (four), Greg Coholan (three) and German (two).  Ryan Lukacovic led UVa with four assists, while Zed Williams added two helpers to help pace the offense.
Of UVa's 34 shots against Richmond, 23 of them were on cage. The Cavaliers won the battle of the shots (34-26), ground balls (37-23), faceoffs (18-6) and saves (10-9).
"This has been a really fun group to be with," said Starsia.  "We have been getting after it on a daily basis and it is nice to see it manifest itself on game day, and I feel like we are getting better. Some of our young defensemen are stepping up and we were better at getting the ball off the ground and better at facing off today. Those things will make a difference as we go forward."
Virginia returns to action on Friday, April 3 when No. 4 North Carolina comes to Klöckner Stadium. Faceoff is set for 7 p.m. and the game will be televised live on ESPNU.
Richmond:Â Â Â Â Â Â Â Â  1-1-2-3-7
Virginia:Â Â Â Â Â Â Â Â Â Â Â Â  4-5-4-1-14
Att-2285
Scoring (G-A) — R: J.P. Forester 2-0, Alex Hatem 2-0, Eric Haehl 1-2, Mitch Goldberg 1-1, Dan Ginestro 1-0, Brendan Hynes 0-1. V: Owen Van Arsdale 5-0, Ryan Tucker 4-0, Greg Coholan 3-0, Tyler German 2-1, Ryan Lukacovic 0-4, Zed Williams 0-2, AJ Fish 0-1.
Goalie Summary — R: Benny Pugh 60 mins. 9 saves 14 goals allowed. V: Matt Barrett 54:18 mins. 9 saves 5 goals allowed; Will Railey 4:23 mins. 1 save 2 goals allowed; Dan Marino 1:19 mins. 0 saves 0 goals allowed.
Shots: R– 26, V– 34
Ground Balls: R– 23, V– 37
Clearing: R– 19-21, V-17-17
Faceoffs: R– 6, V-18
Penalties: R– 3/4:00, V-4/3:30
EMO: R– 1-4, V– 0-3