No. 4 UNC Outlasts No. 6 UVa Under the Klockner Lights, 10-6
Story Links
Box Score April 3, 2015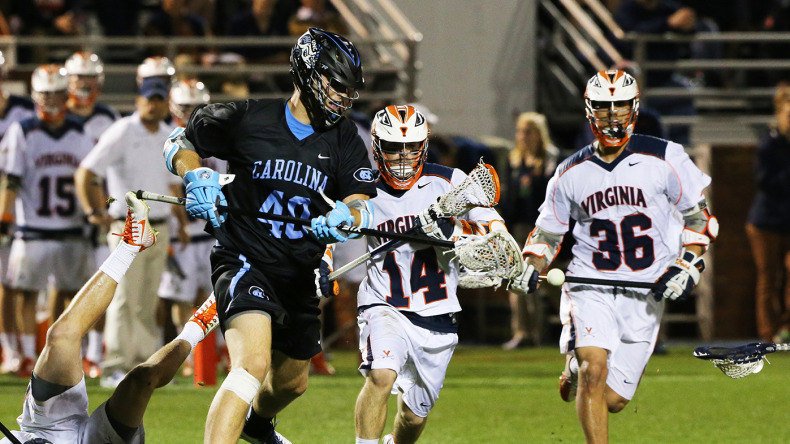 CHARLOTTESVILLE, Va. — No. 4 North Carolina (11-1, 2-0 ACC) used a three-goal third quarter to break open a 4-4 tie over No. 6 Virginia (8-3, 0-3 ACC) and took the key ACC match, 10-6, on Friday evening at Klöckner Stadium.
"I thought we played hard throughout," said Virginia men's lacrosse head coach Dom Starsia. "That's a quality you don't take for granted. At the same time, we just weren't sharp enough over 60 minutes. We've been better offensively. I thought we just gave away too many opportunities. Not enough poise in the offensive end of the field I thought in the second half. We turned the ball over too many times. But the defense battled. I thought Matt Barrett was very good. I thought the faceoff guys battled for us. Everybody played hard – we just weren't sharp enough to beat a team of that caliber tonight. But I think there were some areas where we showed some definite improvement and if we can move forward and put two-and-two together – I think we have a chance to get something done here."
Virginia took an early 1-0 lead on a Tyler German goal, courtesy of an Owen Van Arsdale assist at 11:18 in the first quarter.  UNC responded with a 4-1 run, taking a 4-2 lead. Chad Tutton capped the run with his goal at the 9:56 mark in the second quarter. UVa goalie Matt Barrett made six of his 18 saves in the first quarter, keeping the score close.  UVa's Greg Coholan found nylon with 54 seconds left in the second quarter, bringing the halftime score to a one-goal game, 4-3, in favor of the Tar Heels.
Coholan scored his third goal at 14:13 in the third quarter, tying the score at 4-4. UVa did not get any closer as UNC went on a 6-1 to take a 10-5 lead. The UNC defense hunkered down and held UVa scoreless for 22:49 after the Coholan goal in the third quarter. German scored the lone Cavalier goal during the 6-1 UNC run and Zed Williams found the net for UVa with 1:17 left in the game, capping the game's scoring.
North Carolina won the battle of shots (48-34) and ground balls (34-33). UVa won the faceoffs (11-9) and saves (18-12). UVa turned the ball over 18 times, including eight times in the decisive third quarter.
Joey Sankey led all scorers with four goals for UNC. Jimmy Bitter and Steve Pontrello each had two scores.  Coholan led UVa with three goals, while German added two scores. Williams had a goal and an assist.
UVa returns to action on Sunday, April 12 at Duke. Game is set for noon and will be televised live on ESPNU.
North Carolina           2-2-3-3-10
Virginia                      2-1-1-2-6
Att-3900
Scoring (G-A) – N: Joey Sankey  4-1, Jimmy Bitter 2-2, Steve Pontrello 2-0, Luke Goldstock 1-1, Chad Tutton 1-0, Walker Chafee 0-1, Ryan Kilpatrick 0-1  V: Greg Coholan 3-0, Tyler German 2-1, Zed Williams 1-1, Ryan Lukacovic 0-2, Owen Van Arsdale 0-1
Goalie Summary – N: Kieran Burke 60:00 mins. 12 saves 6 goals against. V: Matt Barrett 60:00 mins. 18 saves 10 goals allowed
Shots: N-48, V-34
Ground Balls: N-34, V-33
Clearing: N-23×24, V-19×22
Faceoffs: N-9-20, V-11-20
Penalties: N-1-0:30, V-1-1:00
EMO: N-1×1, V-0x1