Virginia Defeats No. 1 Miami, 7-3, to Win Series
Story Links
April 24, 2016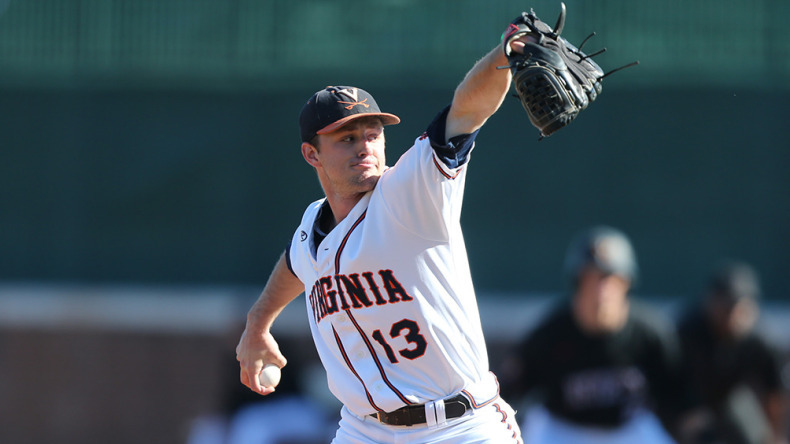 VSTV Highlights | Twitter: @UVABaseball | Coach O'Connor Twitter | Facebook | Instagram
CORAL GABLES, Fla. — Matt Thaiss (Jr., Jackson, N.J.) hit a two-out, two-run single in the seventh inning to break a 3-3 deadlock and lift the Virginia baseball team to a 7-3 win over No. 1-ranked Miami Sunday afternoon at Alex Rodriguez Park in Coral Gables, Fla. Virginia (26-17, 11-10 ACC) won the series, two games to one, and earned its seventh straight series win against the Hurricanes (30-8, 14-5). Miami suffered its first ACC series loss this season.
"This is back-to-back series wins against North Carolina and Miami, and that's what we are trying to do," Virginia head coach Brian O'Connor said. "We've been playing better baseball the last couple of weekends, and I'm really proud of our team, under difficult circumstances here. Miami is a tremendous ballclub, and to come to the No. 1 team in the country and win a series is big for this team. Hopefully the last couple of weeks are something we can build on moving forward."
UVA captured its first regular-season series against a top-ranked team since March 17-18, 2007, at then-No. 1 North Carolina.
Daniel Pinero (Jr., Toronto, Ontario) went 3-for-4 with a home run and two RBI, while Charlie Cody (So., Chesapeake, Va.) added a pair of hits for UVA, which finished with 11 hits.
Virginia starter Alec Bettinger (Jr., Woodbridge, Va.) matched a career high by working six innings, allowing three earned runs, four hits and four walks while striking out a pair. He earned the win to improve to 1-4. UVA's starting rotation of Connor Jones (Jr., Chesapeake, Va.), Adam Haseley (So., Windermere, Fla.) and Bettinger combined to allow five earned runs over 20 innings this weekend.
Tommy Doyle (So., Vienna, Va.) struck out three of the four batters he faced over 1 1/3 innings to earn his second save in the series. Miami starter Danny Garcia (6-3) pitched six innings, giving up four earned runs, six hits and three walks with two strikeouts.
Cody staked UVA to a 1-0 lead in the second inning when he bounced a single up the middle to score Pinero from third base. UVA added a pair of runs in the fourth inning. Pinero led off with a home run to left field, his first homer of the year. After back-to-back singles from Cody and Nate Eikhoff (Fr., Bristow, Va.), Ernie Clement (So., Rochester, N.Y.) hit a two-out single to right-center to make it 3-0.
Miami quickly got a pair of runs back in the bottom of the fourth. After Christopher Barr drew a leadoff walk, Zack Collins launched a two-run homer to left-center. The Hurricanes put runners on the corners with one out, but Bettinger induced a 4-6-3 double-play ball from Willie Abreu to mitigate the damage.
Miami knotted the score at 3-3 in the sixth as the Hurricanes turned back-to-back singles to open the inning from Barr and Collins into a run when Johnny Ruiz grounded out. UM had runners at the corners with two out but Bettinger picked off Jacob Heyward at first base to end the inning.
Virginia forged ahead in the next half inning on a two-out, two-run single to left-center by Thaiss off reliever Andrew Cabezas, scoring Cameron Simmons (Fr., Royersford, Pa.) and Clement.
UVA dodged a two-on, none-out jam in the bottom of the eighth before the Cavaliers tacked on a pair of runs against Miami closer Bryan Garcia in the ninth inning while taking advantage of a critical two-out error from shortstop Brandon Lopez on a Pavin Smith (So., Jupiter, Fla.) grounder. The play allowed Justin Novak (So., Tokyo, Japan) to score. Pinero then lined a single to center to plate Thaiss for a 7-3 advantage.
Virginia continues its eight-game road swing at noon Tuesday (April 26) against Old Dominion at Harbor Park in Norfolk. UVA travels to Pitt next Saturday and Sunday for a three-game conference series.