Jeff White's Twitter | Ticket Information | UVA Football Schedule | Subscribe to UVA Insider Articles | Fact Book
CHARLOTTESVILLE – For the third practice of training camp, University of Virginia football players were allowed, under NCAA rules, to don shoulder pads Monday, and that delighted offensive lineman Jake Fieler.
 
"That's a huge step in the right direction," Fieler said.
 
For practice Nos. 1 and 2, college teams wear helmets but no pads. Not until the fifth practice can a team wear full pads.
 
"I hate helmet-only practice," said Fieler, a graduate student who's in his fifth year in the program. "It's so different from regular football, and you're trying to play the exact same way. You don't want to slow down. You don't want to do anything differently, but it's just a huge difference.
 
"I like going full pads, honestly. That's my favorite, because then usually we can go exactly how we play in the game and get those type of reps. So the more we have on, the better I like it, and I think the better work I get towards [perfecting] my craft."
 
With 15 career starts, Fieler has the most of any player on UVA's offense. In practice, he's played every position on the offensive line during his career as a Cavalier. In games, he's played right tackle, left guard, right guard and center.
 
During practice Monday, the first-team offensive line often consisted of sophomore Chris Glaser at left tackle, redshirt junior R.J. Proctor at left guard, redshirt sophomore Dillon Reinkensmeyer at center, Fieler at right guard, and graduate student Marcus Applefield at right tackle.
 
Applefield is a transfer from Rutgers, where he started 10 games at right guard last season. Glaser started two games, Proctor started six and Reinkensmeyer started 11 for the Cavaliers last season.
 
This is Garett Tujague's third year as UVA's offensive line coach, and there's much greater familiarity with his system than in 2016 and '17, Fieler said.
 
"Lingo is a big thing," said Fieler, who graduated in December with a bachelor's degree in politics. "Everything he says, we know what he's talking about right away."
 
The O-line performed better last season than it had in 2016, but it was far from dominant. For the Wahoos' offense to improve, Fieler and his fellow linemen know, they must get better.
 
It may be a cliché to say that in football everything starts up front, but it's "a cliché for a reason," Fieler said, "because it's true. If we get push, it makes everybody else's jobs easier. If we give [quarterback] Bryce [Perkins] time, [the defense] can't cover for that long. So it starts with us every single play."
 
Fieler said the line has the potential to be much improved from 2017.
 
"Not to slight any of those guys last year — I thought we had some really good pieces last year, too – but the younger guys that played a lot on that line are now playing again, with extra experience and extra strength and everything now," Fieler said.
 
"I think Marcus is as good as anybody on that line last year, and R.J.'s one of the strongest kids I know. I think it could be a great line if we can come together the right way."
 
This is the fifth and final training camp at UVA for Fieler, who was featured in a recent addition of The Walkthrough with Ahmad Hawkins.
 
"It's a grind, so you don't really have time to think about it," he said, "but when I sit down for a while I'm like, 'This is the last one.' "
 
The key to not only surviving, but thriving in training camp, Fieler said, is "taking it day by day, step by step. When you start to think about the grand scheme of things, you can get overwhelmed."
 
Virginia opens the season Sept. 1 against Richmond at Scott Stadium.
 
SPECIAL GUESTS: It's common for UVA football alumni to drop in on practices, and former players Ahmad Hawkins and Billy Baber were on hand Monday evening.
 
Hawkins lives in Charlottesville, and he's a familiar figure around the football program. Baber, who played with Hawkins at UVA, now lives in Overland Park, Kansas. He was in town to visit his mother, who lives in Crozet.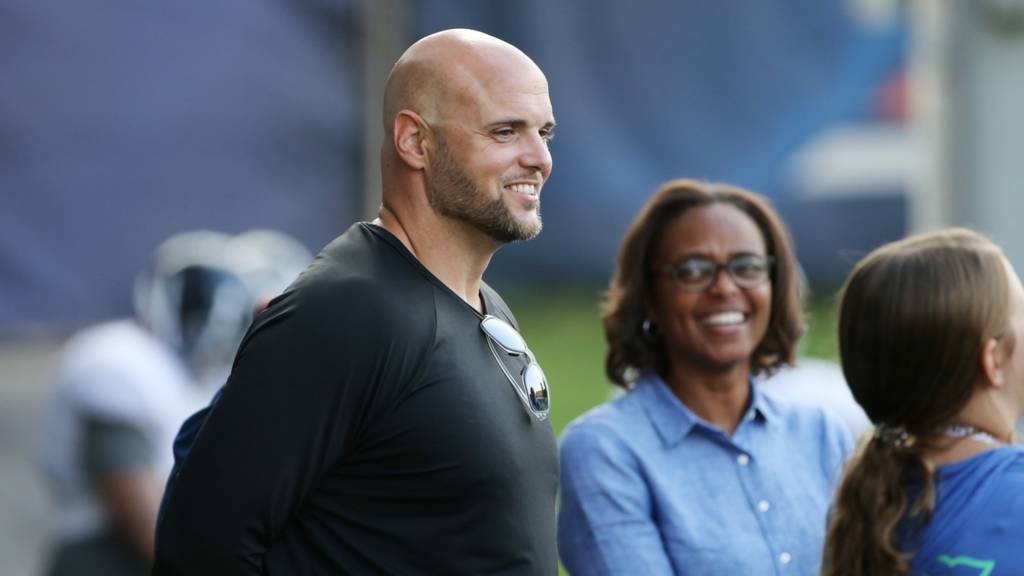 Billy Baber (left) with UVA athletics director Carla Williams
 
Baber, who graduated from nearby Western Albemarle High School, was a two-sport athlete at UVA. He lettered in football in 1997, '98, '99 and 2000 and in baseball in 1999.
 
HEAD TO HEAD: During one of the practice periods, quarterbacks threw passes to wide receivers who were trying to win one-on-one matchups with defensive backs.
 
"I'll give that one to you," wideout De'Vante Cross said to safety Juan Thornhill after an incompletion.
 
"No way you couldn't give it to me," Thornhill answered.
 
TRENDING UPWARD: Virginia has a new quarterback in junior Bryce Perkins, who joined the program in January, and he's getting more comfortable with the offense each day.
 
"It's going well," Perkins said. "It's a lot of running, but it's good for us, because we're pushing the pace and getting a lot of reps. It's conditioning us for the game."