Jeff White's Twitter | Subscribe to UVA Insider Articles | UVA Women's Basketball Fact Book | Schedule/Results | Statistics
By Jeff White (jwhite@virginia.edu)
VirginiaSports.com
 
CHARLOTTESVILLE – The schedules of Division I student-athletes are often regimented down to the minute. Free time is precious and offers a rare opportunity for them to slow down, exhale and relax. 
 
The last thing University of Virginia women's basketball player Lisa Jablonowski wants to do, however, is do nothing, even after a grueling workout or an intense game. The 6-3 junior lives to move, to explore, to learn.
 
"Honestly, I think it helps me to recover," Jablonowski (pronounced Yob-lo-NOW-skee) said. "Your body gets moving and your blood flows. On days that I'm stuck at home and lazing on the couch, the next day I feel drained."
 
Jablonowski, whose given name is pronounced LEEZ-uh, shares an apartment with teammates Moné Jones and Dominique Toussaint. They can attest to her intrepid spirit.
 
"Lisa always wants to go hiking, or she's like, 'Let's go to D.C.! Let's go here, let's go here!' " Jones said, laughing. "She's always traveling, always wants to do adventurous things, different things. It's pretty cool to see her just get up and go all the time."
 
Their apartment complex has a swimming pool, and when the weather is warm Jablonowski invariably wants to be there, Jones said. "We're like, 'Lisa, we just came from the pool. Why do we have to go back to the pool?' "
 
Jablonowski loves to hike, and among her teammates she "can probably talk [Toussaint] into going with her, or Erica [Martinsen]," Jones said. "But other than that, everybody looks at her like, 'Lisa, you have lost your mind?' "
 
A 6-3 junior from the small village of Ernster in her native Luxembourg, Jablonowski enrolled at UVA in the summer of 2016. On her journey from Europe to the United States, she brought with her a passion for travel and the outdoors.
 
"It's almost like she has no fear," UVA assistant coach La'Keshia Frett Meredith said. "I don't know if it's a cultural difference here and how [Europeans are] raised, but for her to take a trip on her own to D.C. to sight-see or go eat at a restaurant, it's nothing. And I think it's so different for her teammates, who are like, 'Where are you going? Who are you going with? You shouldn't be going by yourself,' or something like that.
 
"So, I'm impressed with it, because you don't see a lot of young people that have that courage to go out and go on a little adventure and just explore the world, kind of with no fear. So that's neat to see, and I applaud her for that. Again, I think she came in very mature, and obviously she was traveling and doing things when she was in Luxembourg, and that's part of what they do as a family."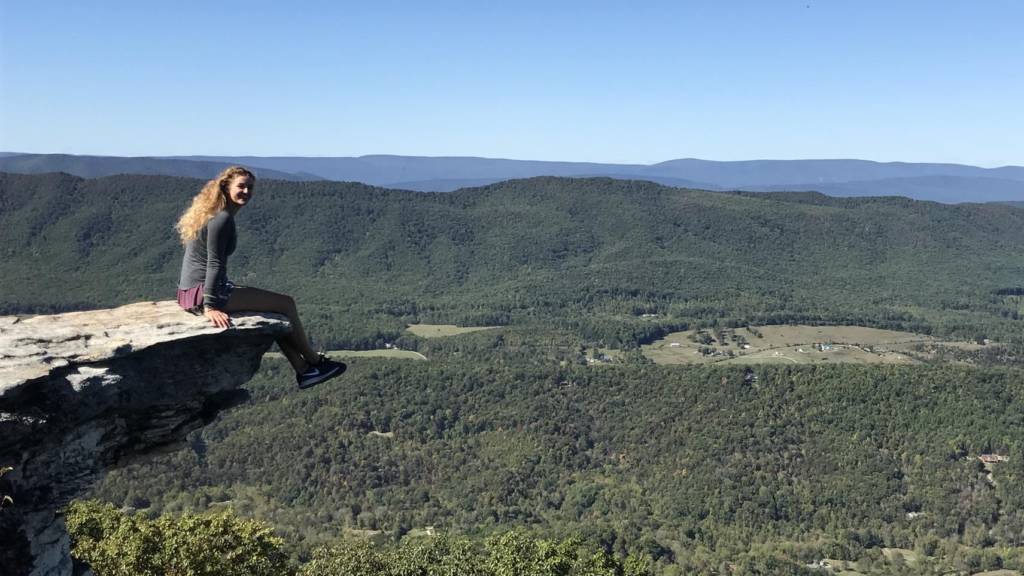 Jones said Jablonowski "will never rope me into hiking, but I'll go with her on weekend adventures sometimes. We went to D.C. together one time, and that was pretty fun. We were just exploring. We just walked around, just to be around a different atmosphere, and it was fun to get out and get away from Charlottesville, because we're here all the time."
 
Jablonowski said she's struggled to adjust to the time constraints student-athletes face in Division I. "In Europe, I could do whatever I wanted to, but here, you have such a tough, rigid schedule, where there are only so many times that you can actually do anything, which has definitely been tough. But it's been a learning process, and that's just made me value more the time I have."
 
Her father, who played volleyball professionally, is from Poland, and her mother is from Germany. Jablonowski speaks four languages fluently: English, German, French and Luxembourgish. 
 
Her father also played tennis, and "his way of getting out of Poland was through traveling with the tennis team, because otherwise there was no chance of him getting out of communism," Jablonowski said. "I think that's how his passion for traveling evolved."
 
Her brother, who recently turned 19, is living in Austria, where he skis in the mountains. That's an activity Jablonowski misses in the United States.
 
"My family's a big skiing family," she said.
 
Jablonowski had never been to the United States before taking her official visit to UVA in the summer of 2015. Still, when she returned a year later, she meshed well with her new team and her new surroundings.
 
"I just think it's a huge testament to who she is as a person," Frett Meredith said. "And she's been very consistent with who she is. It's like she came in so mature, and she's remained that way."
 
In the summer of 2017, the Cavaliers visited Costa Rica, where they played several games and experienced local culture. When the team returned home, Jablonowski remained in Central America with her parents.
 
She's also been to the United Kingdom and such countries as Cuba, Thailand, Namibia, Egypt and Tunisia, usually with her family. In the United States, she's explored Virginia on day trips – kayaking on rivers, hiking in the mountains, marveling at sunsets at Virginia Beach — and she's visited such cities as Baltimore and D.C. 
 
In and around the Charlottesville area, she's climbed Humpback Rocks, hiked in Shenandoah National Park, watched the sun set from atop Carter's Mountain.
 
"I just like seeing new places," said Jablonowski, who's majoring in economics and hopes to minor in politics.
 
"I think it's so cool that you have a chance to get out of your comfort zone and spend time in this new environment and see what mankind has produced — or not mankind in other places. We kind of all started at the same point, and then we ended up creating so many different things, developing cultures that are similar [in many ways] but still so different."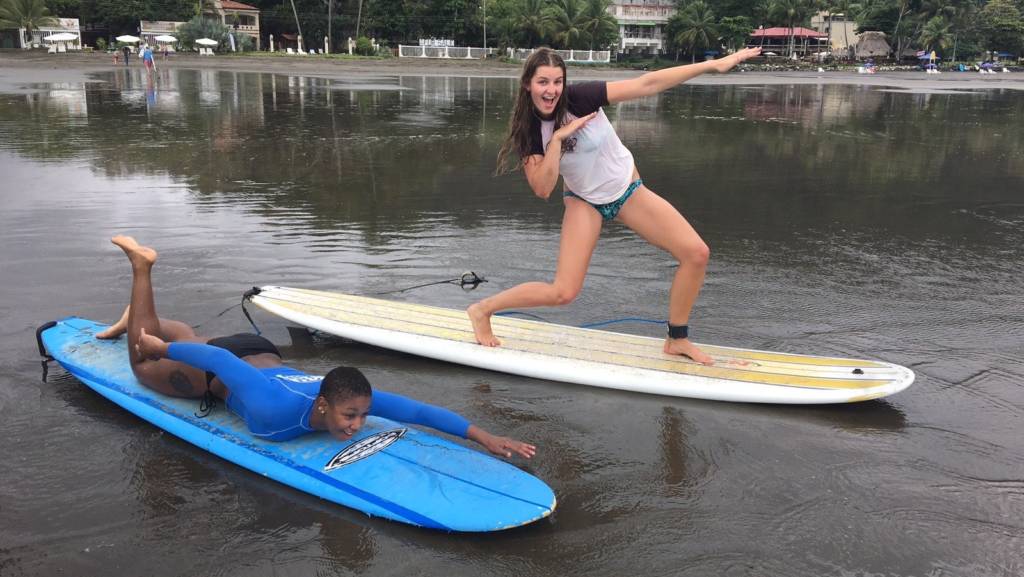 Lisa Jablonowski (right) with Dominique Toussaint
In 2017, she spent Christmas with the Toussaint family on Staten Island, N.Y. Last summer, Jablonowski and a friend flew to Denver, where they rented a car and then drove to Utah. Along the way, they saw the Rocky Mountains and visited national parks, including Monument Valley and Zion, in Utah.
 
The list of places Jablonowski hopes to visit continues to grow.
 
"I definitely want to see the West Coast," she said. "I've not been to California. Also, I really want to go to Hawaii, and I really want to see the Northern Lights. And New Zealand."
 
On the court, Jablonowski has been a mainstay for a team in its first season under head coach Tina Thompson. She's started 19 games for Virginia (10-14 overall, 4-7 ACC), which plays Sunday afternoon at North Carolina (15-10, 6-5).
 
Not including 6-9 center Felicia Aiyeotan, who for medical reasons has played in only seven games, Jablonowski is the Cavaliers' second-leading rebounder (6.2 per game), and she's also second in steals (1.2 per game). She averages 6.5 points per game and plays tenacious defense.
 
In her most recent outing, Sunday at John Paul Jones Arena, Jablonowski totaled seven points, 10 rebounds, two steals and one assist to help UVA defeat ACC foe Duke 53-47, ending a 26-game losing streak in the series.
 
"She has done a great job down the stretch of getting key rebounds and making key plays when the game is on the line," Thompson said afterward, "and she had a few of them tonight, as well as sliding over to help [on defense] … Growth is probably the biggest thing I see, not just in Lisa but our team overall."
 
Frett Meredith is in her sixth season as a UVA assistant and so has excellent perspective on Jablonowski's development.
 
"When Lisa came in, the one thing that she always brought to the table was her effort and how hard she played," Frett Meredith said, "and by doing that she was able to get steals, she rebounded the ball, and she was good defensively in our schemes. She's now able to provide some things offensively, too."
 
With Aiyeotan out, Jablonowski's role on defense has changed.
 
"Now we're asking her to guard those same post players that [former UVA forward] Lauren Moses was guarding, and to be tough down there," Frett Meredith said. "She gives it her all. So we are asking a lot of her, because we have been facing some pretty big and tough post players. But she brings a toughness too. She's very consistent in what she brings day to day."
 
The 'Hoos have experienced considerable adversity in 2018-19. They lost guard Amandine Toi, a projected starter, to a serious knee injury in the fall, and Aiyeotan hasn't played since Jan. 17.
Even so, Jablonowski said, from "the beginning of this season to the part we're in right now, we've grown so much as a team, and I had to take on so much more responsibility, and I'm getting more and more comfortable. I know what I need to bring in order for this team to be successful, and I've learned to adjust and focus on what I can do, and therefore excel."
 
Her contributions haven't escaped the other Cavaliers' notice.
 
"She's an awesome teammate," Jones said. "She's always trying to uplift people and having a positive attitude and positive mindset throughout the whole process."