Jeff White's Twitter | Subscribe to UVA Insider Articles | UVA's 2019 Football Schedule | Season Ticket Information
By Jeff White (jwhite@virginia.edu)
VirginiaSports.com
 
CHARLOTTESVILLE – Amid the hype and hoopla of Super Bowl week in Atlanta, Los Angeles Rams linebacker Micah Kiser found time to reconnect with two of his mentors: University of Virginia assistant coaches Shane Hunter and Kelly Poppinga.
 
Hunter and Poppinga were in Georgia recruiting, and they met Kiser for lunch during a break in the NFC champion Rams' preparations for Super Bowl LIII.
 
"It worked out well for us," said Hunter, who coaches UVA's inside linebackers.
 
A fifth-round draft pick of the Rams last spring, Kiser played primarily on special teams as a rookie. The Rams' season ended early this month with a 13-3 loss to the New England Patriots in Super Bowl LIII.
 
"We had a great season, and you don't want it to end that way, but it was a learning experience," Kiser said. "To get that far and to taste it, and now you know how hard it is to get there in the first place. We played great all season, but we had a lot of big breaks to get there. And so now we know just how hard it is to get there and how hard it is to win, that extra effort, that extra oomph it takes to win a world championship, I think it's going to drive a lot of guys. We have an experienced but pretty young team still, a young, hungry team. We'll get guys back and see what we can do next year."
 
His cheering section at the Super Bowl included his parents, his girlfriend, his brother and various other relatives and friends, including former UVA teammate Tyler Shirley. Around the country, he had many more fans.
 
"Pretty much anybody that I had known growing up, or known at all, had hit me up, either on Facebook, text messages or Instagram or whatever, so it was pretty cool," Kiser said.
A crowd of 70,081 packed Mercedes-Benz Stadium for the Super Bowl, and millions more watched on TV or on-line.
 
"You want to treat it like another game, but it's not another game," Kiser said. "It's for a championship. Everyone's watching you. The timeout breaks are longer, and it's just different. It felt different. The stage is different. I think we played pretty well overall. Some breaks didn't go our way that I think [might have made it] a different ball game, but it was a great experience. You know when you play Tom Brady and the Patriots, you have to play a 60-minute game, and they came out on top."
Hunter and Poppinga, who oversees the Cavaliers' outside linebackers, worked with Kiser for two seasons, the second of which brought a breakthrough for the program. In 2017, Virginia advanced to a bowl game for the first time since 2011, and Kiser, an inside linebacker in head coach Bronco Mendenhall's 3-4 defrense, led the ACC in tackles for the third straight season.
 
"He was consistent, he was productive, and he did everything he was supposed to do," Hunter said. "We knew we could depend on him. We knew he was going to play hard. We knew he was tough as nails, and he was going to do his job, and he was going to help other guys do their jobs as well."
 
A graduate of Gilman School in Baltimore, Kiser also distinguished himself off the field during his five years at UVA. In December 2017, he became the second player in program history to receive the William V. Campbell Trophy, also known as the "Academic Heisman."
 
Kiser earned his bachelor's degree in foreign affairs from UVA and is working toward a master's in higher education. Combine Kiser's football prowess with his academic accomplishments "and just the type of person he is," Hunter said, "and it's easy to reference him [to current UVA players], because of the good things he did while he was here."
In terms of Xs and Os, Kiser said, he quickly learned that the NFL differs from the college game. At UVA, where he ranks fifth in career tackles with 411, he usually faced spread offenses built around the run-pass option.
 
"When you play in the ACC, you're getting the same RPO offenses almost every single week, from the Dukes and [North] Carolinas and Wake Forests," Kiser said. "And then when you get to the NFL, it can take a little bit of getting used to the NFL game. But besides that, just learning to be a professional is the biggest thing. That's basically your job 24/7: taking care of your body, watching film, getting extra treatment, knowing how to work out really smart.
 
"Coach Mendenhall, he's going to push you really hard all the time. You're in the weight room, you're going really hard, you're trying to get stronger all the time. You're really grinding yourself. The NFL is a longer season. You have to really know how to take care of your body, and it's more about maintaining and trying to be peak performing on Sundays."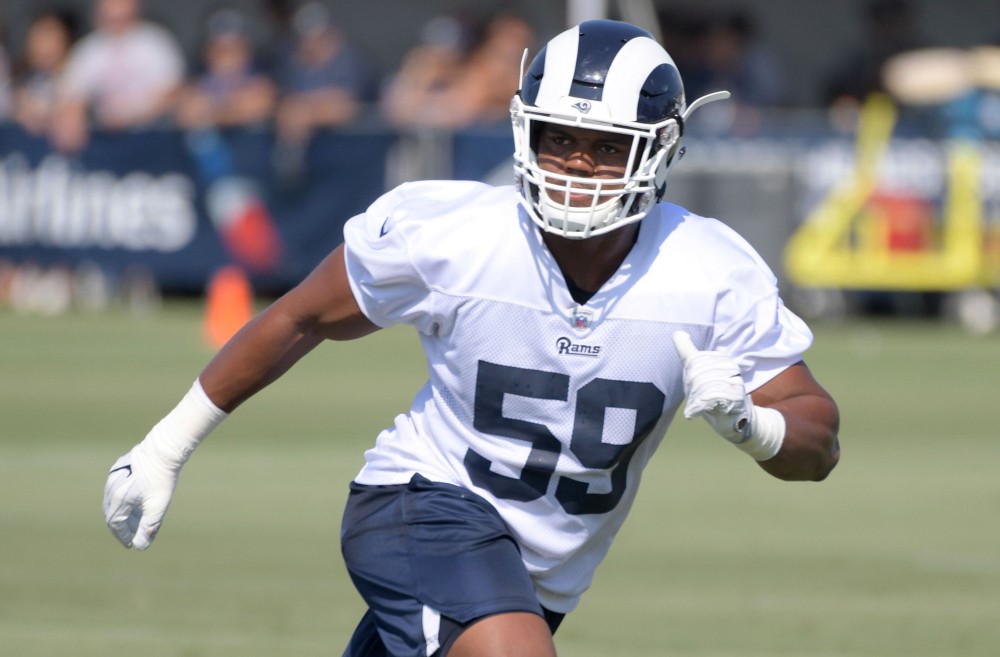 Kiser said the two years he spent in Mendenhall's program eased his transition to the NFL in other ways.
 
"People recognized my work ethic, even in just my first year," Kiser said. "I was a really good worker and a pretty good leader, and that was stuff that I obviously had developed in college. Coach Mendenhall and his staff really pushing you every day to be the best person you can be, on and off the field, is something that you definitely can take to the next level. And then in the NFL, you do a lot of off-the-field stuff in the community.
 
"Even if you have a small role on the team, you can still show leadership. So I did that as well. Just a lot of little things. Coach Mendenhall kind of takes a holistic development towards his players, so that was something that definitely translated to the NFL."
 
Kiser has fallen for the Southern California weather and has spent most of the winter there. He's taking some time off but plans to start training soon for the 2019 season.
 
In his exit interview this month, Kiser said, the Rams told him they were "really pleased with me and what I brought to the team and what they think I can do moving forward. So I'm just going to keep working hard, get better, and hopefully play a little bit more defense next year. But at the end of the day, you do what your job is. On game day, there's only 46 guys that dress and can actually play in the game. So to be one of those, on one of the best teams in the NFL, is really a cool experience."
 
Not surprisingly, he follows his college team closely. In late December, UVA capped its third season under Mendenhall with a 28-0 win over South Carolina in the Belk Bowl. Kiser said he missed an opportunity to pad his wallet at the expense of some of the Rams' former SEC players.
 
"I could have bet some money on the 'Hoos in the locker room and won a lot, but I was kind of nervous, just because we were going up against an SEC team," he said. "I had seen [the Gamecocks]. They looked big, strong and fast, so I kind of doubted our guys, and that was a mistake that I made."
 
Kiser laughed. "Scared money don't make money. But I was really proud to see how we played."
 
The Cavaliers finished with eight victories for the first time since 2011, and talented veterans are back on each side of the ball this year. Virginia's returning linebackers include Jordan Mack, Charles Snowden, Zane Zandier, Robert Snyder, Matt Gahm, Elliott Brown and Noah Taylor.
 
"A lot of big, long athletes," Kiser said. "I'm definitely optimistic about the defense, for sure."