Jeff White's Twitter | Subscribe to UVA Insider Articles | UVA Football Schedule | Ticket Information
By Jeff White (jwhite@virginia.edu)
VirginiaSports.com
 
CHARLOTTE, N.C. –– When last we saw Olamide Zaccheaus in a UVA football uniform, he was dominating the Belk Bowl, catching 12 passes for 100 yards and three touchdowns in a 28-0 victory over South Carolina at Bank of America Stadium in this city.
 
Zaccheaus, who finished the season with a school-record 93 receptions, is now pursuing an NFL career. The Cavaliers' offense won't look the same without him, but several talented wide receivers return, including Joe Reed, a 6-1, 215-pound senior from the small town of Charlotte Court House, Va.
 
"Get the ball in Joe Reed's hands and good things happen," said senior quarterback Bryce Perkins, who represented Virginia at ACC Football Kickoff, along with senior cornerback Bryce Hall and head coach Bronco Mendenhall. "Joe Reed's strong, athletic and fast, and you can't tackle him."
 
Reed caught 25 passes for 465 yards and seven TDs in 2018. Also a gifted return specialist –– he ran back a kickoff for a touchdown against Liberty –– Reed was especially effective as a receiver late in the season. He had two TD catches against Liberty, one against Georgia Tech, and two against Virginia Tech in the regular-season finale.
 
"If you were to say which player on our team is most likely to have his number of touches increased [with Zaccheaus gone] … Joe Reed is the heir apparent," Mendenhall said. "I don't think that those volumes will match perfectly, but I do think Joe will carry the majority of what Olamide had. But we'll still have to have more of a committee approach to make up for that position."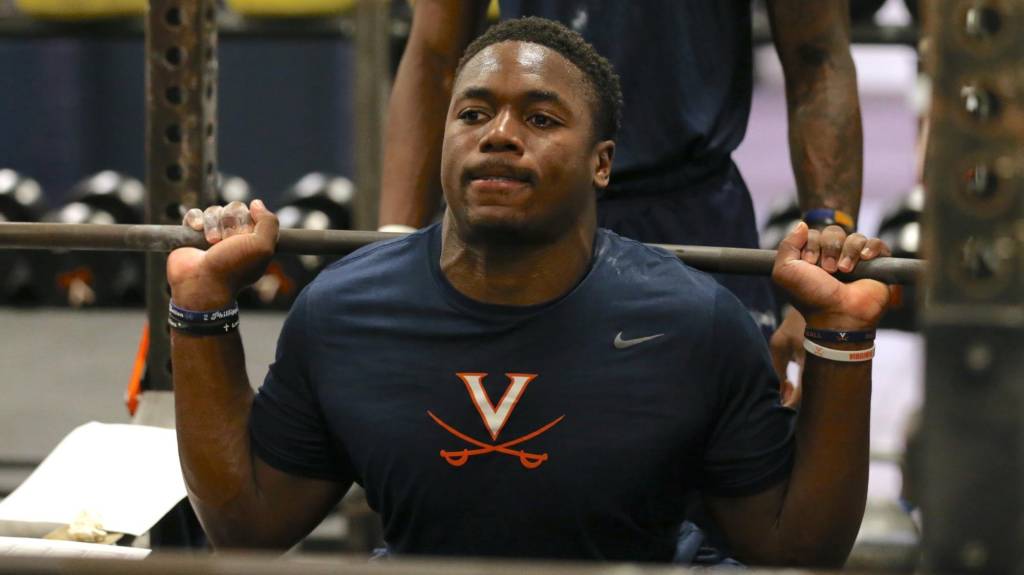 Joe Reed
 
Perkins said Reed's work ethic this offseason, "knowing that he can be that guy that gets a lot of the carries and a lot of the touches, is amazing. We're at it every day. He's always texting me, 'You watching film today?' I'll be like, 'Yes,' and he'll be like, 'OK, I'm going to come.' It's just amazing the type of player and type of competitor and student of the game he has become."
 
The Cavaliers' other returning wideouts include senior Hasise Dubois, who had 52 receptions for 578 yards and five TDs last year; junior Terrell Jana, who had 11 catches for 11 catches for 151 yards and one TD; sophomore Tavares Kelly, who caught 10 passes for 121 yards; and sophomore Billy Kemp, who has yet to record his first college reception.
 
Another option in the passing game will be senior tight end Tanner Cowley, who had four catches for 68 yards last season. The departure of tight end Evan Butts, a fifth-year senior in 2018, left a void Cowley looks capable of filling.
 
"Tanner impressed me in spring," said Perkins, who passed for 2,680 yards and 25 touchdowns last year. "He's fast, he catches well, and he's smart, just like Evan … I'm excited to see how we incorporate him in the offense."
 
ROLE MODEL: Hall, who led the nation with 22 pass breakups last season, sets the standard at the McCue Center with his work ethic and desire to improve.
"Bryce really approaches every day as if he is going to work," Mendenhall said. "He shows up early. He has his own space basically dedicated in our football facility where he studies film and practices his craft on film and on paper. He's there from morning till night around his classes.
"That's not something that every player in our program does, but it provides a great example for what I would like the future of our program to look like by more players. When your most successful players have those kind of habits, it gives you your best chance for them to be passed onto other players in your program and have a strong culture. We would not have had the success over three years and the trajectory we're on, which is rapid, fast and sustainable, without players dedicating and showing that kind of initiative that Bryce Hall is doing."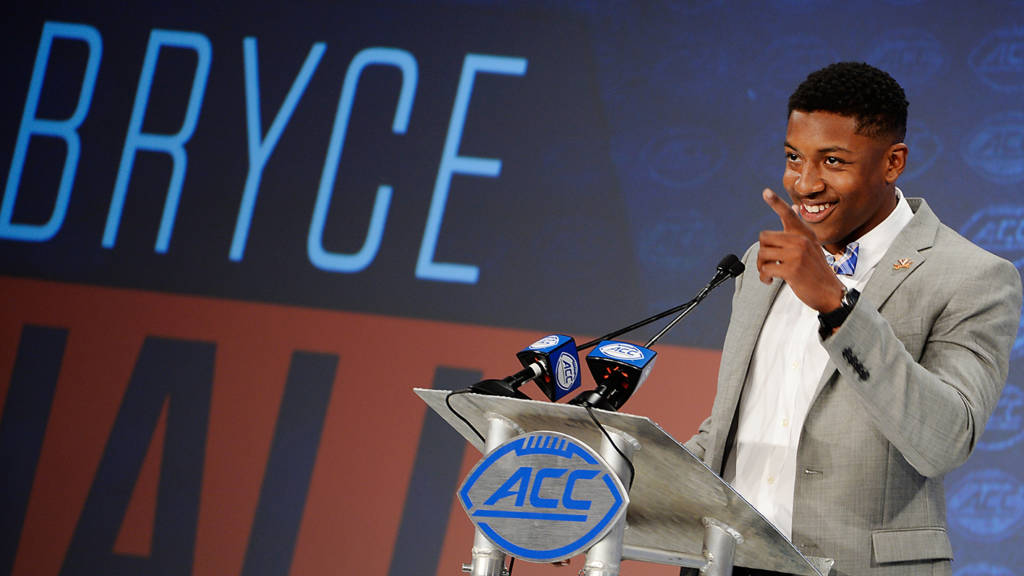 Bryce Hall at ACC Football Kickoff
 
A first-team All-ACC selection in 2018, Hall could have declared for the NFL draft this year but opted to return for his senior season.
 
"I absolutely think it was the best decision for me," Hall said, "because I've developed in areas that I might not have been able to develop had I gone to another level, just as a leader. I'm being stretched every day as far as trying to hold people accountable to the standard or just progressing and understanding it's not about you, it's about other people.
"Then also being humble. You get a lot of praise, things like that, but also being humble and being the example each and every day when you show up to work, and learning how to encourage others, communicate, share the vision.It's taught me something that is something very valuable, lessons that I don't know I would have had the chance to [otherwise]. There's a reason I felt like God had called me back for another year."
 
TOTAL PACKAGE: When Perkins, then at a junior college in Arizona, committed to UVA in December 2017, Mendenhall knew his program had landed a gifted athlete. The 6-3, 215-pound Perkins has turned out to be much more than that.
 
Among his many attributes is his exceptional poise in tense situations.
 
"I didn't know that when we recruited Bryce," Mendenhall said. "I didn't have enough history with him. The things that have surprised me most were the accuracy of his throwing and his demeanor. 
 
"I'm not sure if unflappable is the right word, but he is calm, composed and the game never seems too fast for him. Even though his body is moving fast and he's doing things none of us can do, he's doing it in this almost-relaxed, slow-motion mindset with his body moving in fast motion. There's a poise, confidence and calming effect that that has on our team that I didn't know would be part of his presence, which is just one more reason I'm glad he's with us again."
 
Perkins set a single-season program record last year with 3,603 yards of total offense. He rushed for 923 yards and nine touchdowns.
 
"Last year gave me something to work on and gave me a platform to strive for this year, kind of overachieve on that," Perkins said. "I'm just making sure that I'm all I can be for this team. I think what separates a good quarterback from a great quarterback is the ability to win a championship."
 
When he leaves UVA, Perkins said, he hopes to be "mentioned with [former star quarterbacks] Matt Schaub, Shawn Moore, the guys that built this program and the guys that are on the walls everywhere. I just want to be mentioned with the greats and do something that a lot of people haven't done."
POSITIVE FIRST IMPRESSION: Which true freshmen will play this season, and how much, is still to be determined. But Mendenhall said the Wahoos' "entire class of first-years looks to be a strong class in every regard."
 
Newcomers of note include Mike Hollins, a 5-10, 200-pound running back from Baton Rouge, La. With his combination of size, speed and strength, Hollins already "looks ACC-ready," Mendenhall said.
 
UNITED PURSUIT: Among those cheering on Tony Bennett and Co. during Virginia's run to the NCAA men's basketball title this year were Hall and his teammates.
 
"That's just inspiring and encouraging," Hall said. "When you see that, it gives you hope that whatever you want to accomplish is possible."
 
In 10 seasons under Bennett, UVA men's basketball has forged a strong identity. Mendenhall wants to do the same in the football program, and every player has a role. The players who are not in the game are known at Virginia as the fourth side, and their performance is evaluated, too.
 
"I think that's at the core of who we are as a program and what our culture is all about," Hall said. "We believe everybody is somebody, and so our culture, and who we are and what we're trying to keep instilling, is that fourth side. Everybody matters. If you're on the sideline and you're not necessarily in the play, you do have an important role, and that's to cheer on your teammates. And we're just trying to build that camaraderie and brotherhood, and the more hard things we do [together], the closer we get. I think that's at the core of what we want to establish here at UVA."
 
In 2018, their third year under Mendenhall, the Hoos closed the season with a victory for the first time since 2005, and he's optimistic about the direction of the program.
 
As he's gained a better understanding of UVA, Mendenhall also has "learned that there are amazing young people, bright and vibrant and articulate young guys that I'm really proud of," he said Thursday in Charlotte. "I've become connected to the two Bryces over here, and other members of our team, in a way that I'm not sure I knew was possible. Doing hard things together is a bonding experience. It's enriched human relationships in a way that's maybe the most gratifying I've had through coaching.
"What we're accomplishing –– not accomplished, but accomplishing and building –– I think is something that will be looked at as exceptional at some point. I'm lucky to be part of that. But also what I've learned is how difficult it is."
UVA opens the season Aug. 31 against Coastal Division rival Pitt at Heinz Field in Pittsburgh. The new ACC Network will carry the game.