Jeff White on Twitter | Subscribe to UVA Insider Articles | UVA Game Notes | Video Highlights | UVA Football on Twitter | Louisville Game Notes
By Jeff White (jwhite@virginia.edu)
VirginiaSports.com
 
CHARLOTTESVILLE –– The mentor walked into the McCue Center meeting room Wednesday afternoon, accompanied by his protégé. Tight ends Tanner Cowley and Grant Misch are similar physically, but they're in different stages of development in the University of Virginia football program.
 
For his first four years at Virginia, Cowley studied under Evan Butts. Now, as a fifth-year senior, Cowley is the Cavaliers' No. 1 tight end, and Misch, a redshirt freshman, is in a supporting role. They room together on the road.
 
"We like the idea of understudies and learning and growing and then earning your way as you've learned from someone else how to do it," Virginia head coach Bronco Mendenhall said.
The 6-4, 240-pound Cowley didn't catch a pass as a Cavalier until 2017, when he was a redshirt sophomore. He had two receptions that season and four in 2018.
 
"Cowley was in Misch's role a year ago," Mendenhall said, "and no one really knew who he was."
 
This season, the sure-handed Cowley has established himself as one of senior quarterback Bryce Perkins' most reliable targets. Cowley, who's faster than Butts, has 13 catches for 137 yards for Virginia (5-2 overall, 3-1 ACC), which plays Saturday at Louisville (4-3, 2-2).
 
ACC Network will broadcast the 3:30 p.m. game.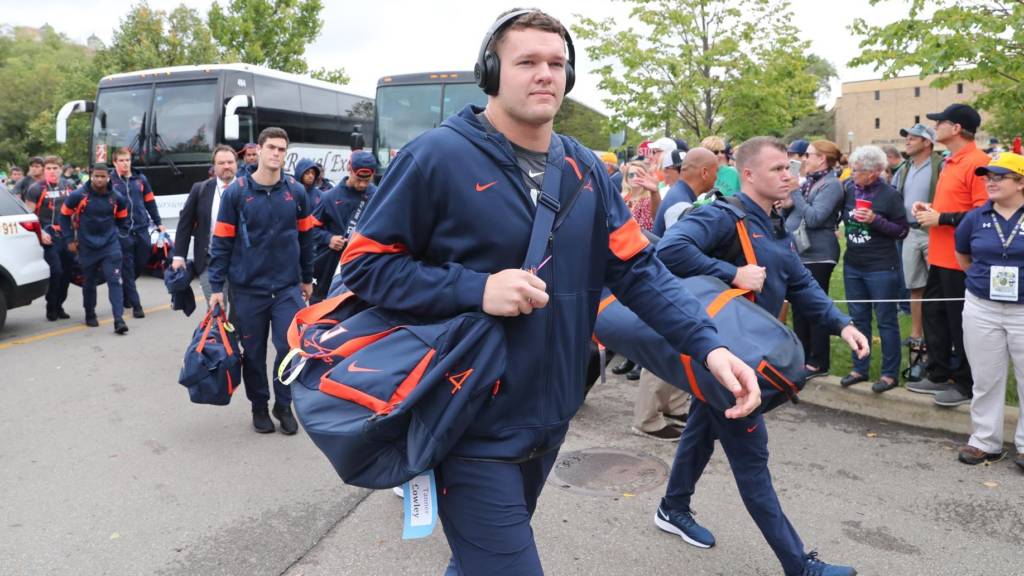 Tanner Cowley
 
"He's grown so much as a player from last year to this year," Perkins said of Cowley, who wears jersey No. 44, "and I anticipate his role growing bigger as the season moves forward. He's a smart player, so he does a good job of finding open windows to work. And he has explosive speed. It's deceiving."
 
Mendenhall is a fan, too. Cowley has proven "he's absolutely trustworthy. His consistency has been so much fun to watch, and it just seems like when he makes the plays in receiving the pass that it's at the right time, and then something happens after he catches it, which is really a positive thing for us."
 
When Cowley leaves, said offensive coordinator Robert Anae, who coaches the Cavaliers' tight ends, "there's going to be a huge hole to fill there, because Tanner does everything: from running routes to catching passes as an inside receiver to being a fullback in the backfield. And then he's on the line of scrimmage as a regular tight end."
 
Cowley, who graduated in May with a bachelor's degree in foreign affairs, is from Manasquan, New Jersey. His family lives about a mile from the beach on the Jersey Shore.
 
He enrolled at UVA in 2015 as part of a sizable recruiting class, only six of whose members remain in the program: Cowley, Richard Burney, Reed Kellam, Ben Hogg, Chris Sharp and Eli Hanback. 
 
In 2015, the Cavaliers' last season under Mike London, they finished 4-8. Mendenhall took over the program that December, bringing most of his staff from BYU with him, and UVA dipped to 2-10 in 2016.
 
For the younger players, "it was like, 'Where are we going with this?' " Cowley recalled this week. The 2017 season, however, brought tangible signs of progress. The Hoos finished 6-7 after advancing to a bowl game for the first time in six years.
 
In 2018, they finished 8-5 after defeating South Carolina 28-0 in the Belk Bowl. This season, the Cavaliers lead the Coastal Division and with a win over Louisville would move another step closer to the ACC championship game.
 
"It's been really satisfying to see the success of this team," Cowley said. "Now it's not like, 'Let's just get to a bowl game.' Now it's, 'Let's win the ACC. Let's check off all these things that we haven't done here in so long.' It's really fun to be a part of."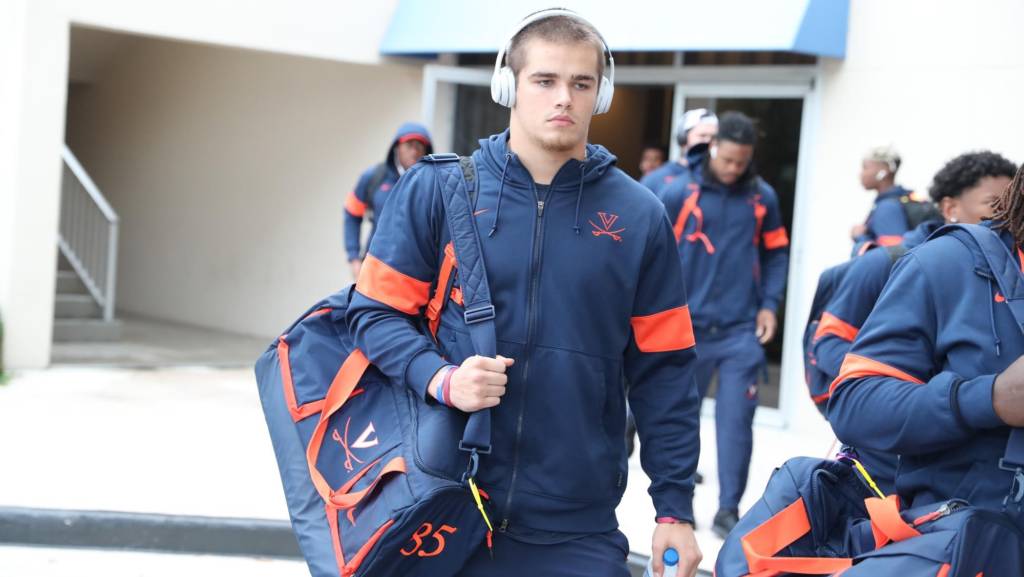 Grant Misch
Misch, a graduate of Potomac Falls High School in Loudoun County, arrived at UVA in the summer of 2018 and, as expected, began working with the defense. At around 230 pounds, he was seriously undersized for an end in a 3-4 scheme, and Misch played in only one game last season, starting against Georgia Tech in Atlanta.
 
"I was nervous going out there," Misch said Wednesday, "but I think after that game all the nerves kind of went away."
 
The Belk Bowl marked the end of Butts' college career, which left Cowley as the Cavaliers' lone scholarship tight end. And so, during a team workout early this year, Mendenhall asked Misch to go through some drills with that position group.
 
"He said, 'Just go with them today and then tomorrow get back to me if you actually want to stay at that position,' " Misch recalled.
 
At Potomac Falls, he played tight end on offense and "caught a few passes over the years," Misch said, "but it wasn't a lot. We ran the triple option. When I came here, I planned on playing linebacker and ended up playing D-line. But I thought it was going to be defense the whole time."
 
Misch liked the idea of switching to tight end, though, and Cowley encouraged him to make the move. Misch joined the offense in March before the start of spring practice. 
 
"I love it," he said of his new position.
 
Cowley has helped Misch with the transition. "Your defensive technique is so much different than your offensive technique," Misch said, "and I was just trying to break those habits that I built for the entire year. It was really helpful learning, when [Cowley] could break down everything for me instead of just telling me, 'You've got to do that better.' "
 
Tight end requires "more thinking as the play is going on," Misch said, "because you have different responsibilities based on what the defense is doing. Whereas when you were on defense, you had your responsibility and you could just go."
 
Misch, who wore jersey No. 52 last season, is now No. 85. In addition to starring in football, he played basketball at Potomac Falls, and that made him a good candidate for the move to tight end.
 
"He has good hands," Cowley said.
 
Perkins said: "Misch bounced around from defense to offense, so he's just getting his comfort level, but he looks pretty good catching the ball."
 
That's in practice. The Cavaliers have yet to throw to the 6-4 Misch, who now weighs around 245 pounds, in a game. Like Cowley, he's been used in a variety of roles on offense –– tight end, H-back, wide receiver in motion –– but exclusively as a blocker so far.
 
"That would be nice," Misch said of his first reception.
 
His day is coming. Cowley had to be patient, too.
 
Misch is "the heir apparent," Mendenhall said, and "I feel really good about [the position change] and how he's handling that. He's also contributing on special teams at a high level, so there's no reason to think that he won't be the next Butts or Cowley."
 
UVA has a proud tradition at tight end, where Cowley's predecessors include such standouts as Heath Miller, Tom Santi, Jonathan Stupar and John Phillips, all of whom played in the NFL.
 
"You obviously want to keep the position going, especially seeing what guys here have done before," Cowley said. "So it's definitely satisfying to have a prominent role in the offense and be used a lot."