UVA Football on Twitter | Jeff White on Twitter | Subscribe to UVA Insider Articles
By Jeff White (jwhite@virginia.edu)
VirginiaSports.com
 
CHARLOTTESVILLE –– Why me? 
 
That's not a question, Bryce Hall says, that he's spent any time contemplating since suffering a season-ending injury Oct. 11 in Miami Gardens, Fla. Virginia's All-America cornerback is convinced he'll be better for the experience, however painful it might be for him in the short term.
 
"One hundred percent," Hall said Wednesday at the McCue Center. "I feel like I'm already better from it now, because that's the thing: When you go through difficult things like that, it really molds your character. It just creates something in you that wasn't possible to be developed before, had you not gone through this process.
 
"Now I'm in a position where I'm becoming a better leader, and I'm developing different gifts that I feel like I've had in me but just haven't come out, like speaking. I'm usually somebody who leads by example. Now, my voice is the only thing I have to help and encourage and communicate."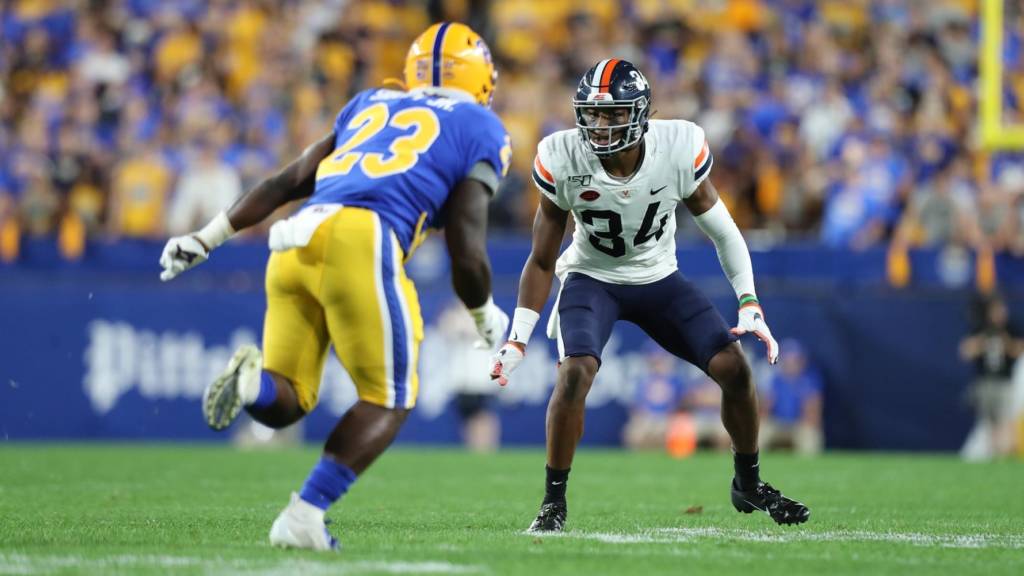 Hall, who's from Harrisburg, Pa., will graduate next month with a bachelor's degree in Youth and Social Innovations from the Curry School of Education and Human Development. 
 
Then he plans to pursue an NFL career. He could have done so after last year's Belk Bowl, in which Virginia defeated South Carolina 28-0, but decided to return for his final college season.
 
That season lasted about five-and-a-half games for Hall, who in 2018 led the nation with 22 pass breakups. During a UVA punt return late in the second quarter at Hard Rock Stadium, a Miami defender rolled up on the left leg of Hall, who was blocking another Hurricane. 
 
Hall, one of the Cavaliers' captains, broke his fibula and damaged the deltoid ligament of his ankle, injuries that required surgery after the team returned to Charlottesville. This was not the senior season anyone envisioned for Hall, but he refused to indulge in self-pity.
 
"I think what's really held me together is my faith and my belief that God kind of works everything out for our good," Hall said. "And so that is something I've really held on to. It's been less like Why me? and more like OK, where's the purpose in all this? How is God using this situation so that I can benefit from this, so to speak? And that's kind of been my perspective. I think that's helped me a lot. I got hurt, but I feel like I still have a significant purpose and role that I can play on this team, and that has allowed me to not feel sorry for myself, but to actually utilize this time that I have now."
 
Hall, who's expected to make a full recovery, had the cast removed from his foot Tuesday, which means he can finally start his rehabilitation in earnest. Virginia has pushed its Pro Day back to April 8 to give him more time to heal.
 
He's been building up his upper body in the weight room since getting hurt. He's still using a scooter to get around, but he's been attending practice for the past couple of weeks and helps secondary coach Nick Howell, who's also the Wahoos' defensive coordinator, in whatever way he can.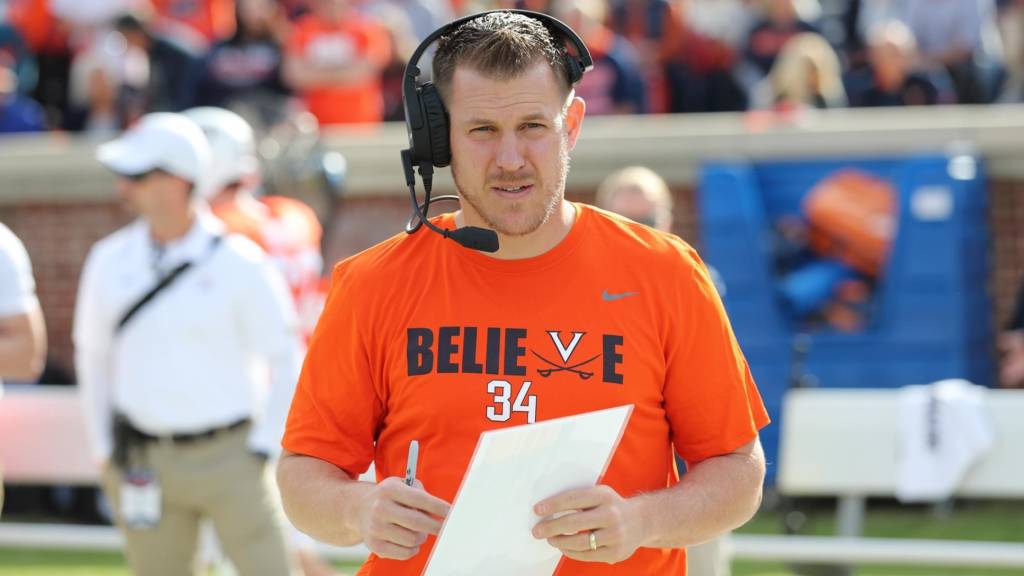 Defensive coordinator Nick Howell
"Sometimes in meetings, Coach will take the safeties and I'll work with the corners and help them with matchups, things we can look at together that will help them be more successful," said Hall, who this week was named one of the 20 finalists for the Jason Witten Collegiate Man of the Year Award, presented annually to a college football player demonstrating exceptional leadership, courage and integrity.
 
"I feel I'm around to encourage and speak life into the group. And then for me, I'm just taking this opportunity to learn a lot more football, [paying close attention in] those meetings when the coaches are breaking things down and game-planning and things like that. I'm able to take all that in as well. That's been an interesting perspective to have."
 
Hall said he's never questioned his decision to return to UVA for his senior season.
 
"No, because God was the one that told me to come back," he said. "I remember when I was thinking about this whole process. I was just like, 'What should I do?' And I felt it pressing on my heart so clearly that He was like, 'Come back. I have more for you.' It was almost like He was saying, 'I want you to develop more. I have more for you before you go on to the next stage.'
 
"In the spring, I knew it was 100 percent the right decision for me. So many amazing things have helped me and built my character, and there are the relationships I've continued to form that I probably wouldn't have had the opportunity to do had I gone [to the NFL after last season]. There's no doubt in my mind that I made the right decision to come back, and even with this injury I'm not doubting it."
 
Nor does he regret playing on special teams.
 
"What a lot of people don't understand, from the outside looking in, is how much of a role special teams plays in the outcome of a game," said Hall, who started on the kickoff and punt return units. "I'm passionate about being on special teams, because I feel like that's a part of the game that helps our team win, even though it's like hidden yardage that people don't always know or see."
 
The Cavaliers, who are off this weekend, host Liberty on Nov. 23. Then comes the regular-season finale, Nov. 29 against Virginia Tech, also at Scott Stadium. A win over the Hokies would give the Hoos (7-3 overall, 5-2 conference) their first Coastal Division title and send them to the ACC championship game.
 
Overall, the Cavaliers are in relatively good health as they head into their final two regular-season games, but the secondary has had to deal with a disproportionate number of injuries. Hall, cornerback Darrius Bratton and safeties Brenton Nelson and Antonio Clary have been lost to season-ending injuries (and cornerback Germane Crowell to a medical issue) since the start of training camp in early August.
 
"It's forced other people to have to really step up, and it's pushed our coaching staff to another level of just trying to figure things out, and then our offense has stepped up a lot," Hall said. "The offense has been doing really well the last couple weeks, as far as helping [the defense]. It's kind of a weird dynamic, but it's really just forced guys to have to grow up fast."
 
Among those pressed into service have been redshirt freshman Jaylon Baker and sophomore Heskin Smith, cornerbacks who had rarely played in the secondary before this month.
 
"That's hard to do," Hall said. "We say there's a standard you have to play at, regardless of who you are. If you're a freshman, you've still got to come in and play at an elite level, and that's what you're expected to do. It's tough, because you have guys that haven't had a lot of experience."
 
Much like Hall was when he played as a true freshman in 2016, Baker is tall and lean and needs to add strength.
 
"I wasn't physically ready to play when I got here, but that's why I had to go to a different level in my preparation and my understanding of the game," said Hall, who's known for the countless hours he devotes to film study. "Because I was at a disadvantage. I needed to find some sort of equalizer to help me out. And then as I caught up physically, I was able to become a more complete player. So I try to tell that to guys like Jaylon, because he's at a similar situation. He's not the most physically gifted dude out there. He's little in size, so he has to have something else that will help him equalize his contribution on the field."
 
His teammates and coaches could not have been more supportive, Hall said. He was touched by the T-shirts his fellow defensive backs surprised him with last month. On each shirt was Hall's jersey number, 34, beneath the team's rallying cry for the season: BELIEVE.
 
"It was an honor to see that," Hall said.
 
Since getting injured, he's watched games at Scott Stadium from the coaches' booth in the press box, but he hopes to be back on the sideline for at least the regular-season finale.
 
Hall marvels at how the Cavaliers have "been able to continue on and be in the position where we're leading the Coastal, despite the injuries. It almost makes it a sweeter story when it's all said and done, because of all the things we've had to endure."