Jeff White on Twitter | Subscribe to UVA Insider Articles | 2020 Football Schedule | Ticket Information | UVA Football on Twitter
By Jeff White (jwhite@virginia.edu)
VirginiaSports.com
 
CHARLOTTESVILLE –– Spring practice was supposed to begin next week for the University of Virginia football team. That won't happen. Like colleges all across the country, UVA has taken dramatic measures to slow the spread of the coronavirus (COVID-19), and these include the cancellation of all athletics activities and events.
 
Starting Thursday, online classes will replace classroom instruction on Grounds, and UVA students are scattered around the United States and, in some cases, outside the country.
 
For the football team, which is scheduled to open the season Sept. 7 against Georgia at the Chick-fil-A Kickoff Game in Atlanta, this situation is far from ideal. But head coach Bronco Mendenhall has faith in UVA's leaders, including President Jim Ryan and Athletics Director Carla Williams, and is confident his players will clear the hurdles in front of them.
 
"This new challenge provides an exciting challenge and a dynamic growth opportunity for us all," Mendenhall recently told his team. "We will become stronger, better and more resilient in every way through this obstacle and its uncertainty."
 
Outside linebacker Charles Snowden would expect nothing different.
 
"That's the identity of this team," Snowden said by phone Tuesday from his hometown of Silver Spring, Md. "Any challenge, whatever comes to us, we're ready to embrace. We're used to hard things. One thing that is different, though, is we always say Hard Things Together, and this will be a hard thing we all do separately. But if any program has prepared me for a challenge, it's this one."
 
The weight room at the McCue Center is closed, and Snowden had planned to train in the D.C. area until the team was allowed to reconvene in Charlottesville. On Monday, however, Maryland governor Larry Hogan enacted an executive order that shut down all bars, restaurants, movie theaters and gyms in that state.
 
Suddenly, Gold's Gym was no longer an option for Snowden.
 
"Welp, looks like I'll be on the Herschel Walker workout plan," he tweeted Monday, a reference to the legendary running back's famed regimen of sit-ups and push-ups.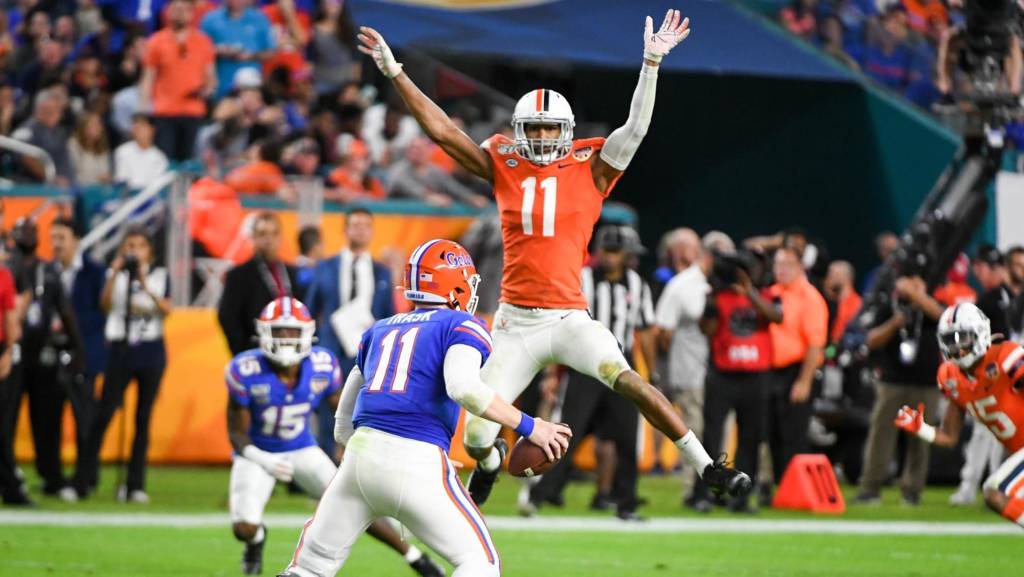 Charles Snowden (11)
The Cavaliers' 2019 season, which included a win over Virginia Tech, a Coastal Division title and an appearance in the ACC championship game, ended at the Orange Bowl in Florida. About three weeks later, UVA's returning players, plus midyear enrollees Joshua Rawlings, Ira Armstead and Donovan Johnson, began the winter strength and condition program.
 
The Wahoos completed the eight-week program as scheduled before COVID-19 hit the U.S. in earnest. "We did everything," said Shawn Griswold, UVA's director of football development and performance.
 
In Griswold's program, testing similar to that used at the NFL scouting combine determines which color workout gear each UVA player wears. Players start in white and can progress to gray, orange, blue and, finally, black. Players who showed significant improvement in testing this spring, Griswold said, included offensive linemen Ryan Swoboda and Chris Glaser and linebackers Matt Gahm, Zane Zandier and Elliott Brown.
 
Swoboda, who'll be a redshirt junior in the fall, moved from gray to blue, skipping orange entirely.
 
"He worked his tail off to get there," Griswold said.
 
UVA was on spring break last week, and under normal circumstances the football team would have resumed training this week in Charlottesville. But these are not normal times, and so Griswold sent workout schedules to the players Sunday for them to follow on their own.
 
"So they have a plan, and we'll just send that out weekly," Griswold said, "so they're not getting too much information at one time."
 
Griswold and his staff realize that players' options will be limited as more gyms close around the country. "So we've also developed three different body-weight circuits, and we're sending those out to the guys," Griswold said Tuesday. "Maybe they're just stuck at home, and if they don't want to leave the house, they at least have some sort of stuff they can do."
 
Body-weight exercises include push-ups, pull-ups, chin-ups, wall sits and squat jumps. Snowden has a medicine ball at home, so he'll incorporate that into his workouts.
 
"It's almost like CrossFit without weights," Griswold said. "There's all kinds of stuff you can do. They may have to be in the backyard, with makeshift [equipment]. Everybody's on a level playing field right now, because everybody has the same issues. What these kids do in this time will make a huge difference.
 
"We expect them to get all that done and, when the time comes, come back in the best shape possible."
 
The team's leaders include Snowden and wide receiver Terrell Jana, who will be seniors in the fall. The players' workouts will vary "for each guy," Jana said by phone Tuesday, "depending on whether they have access to a gym, to weights, to fields, to footballs.
 
"I know one thing as a group we're working on is, we're making sure guys are stretching every day and doing core work and focusing on the team and our purpose and our goals. Right now, we're sort of ironing some things out. It's early. Classes haven't started yet, so once we see how all that goes down, I'm sure we'll have a better understanding of how to move forward."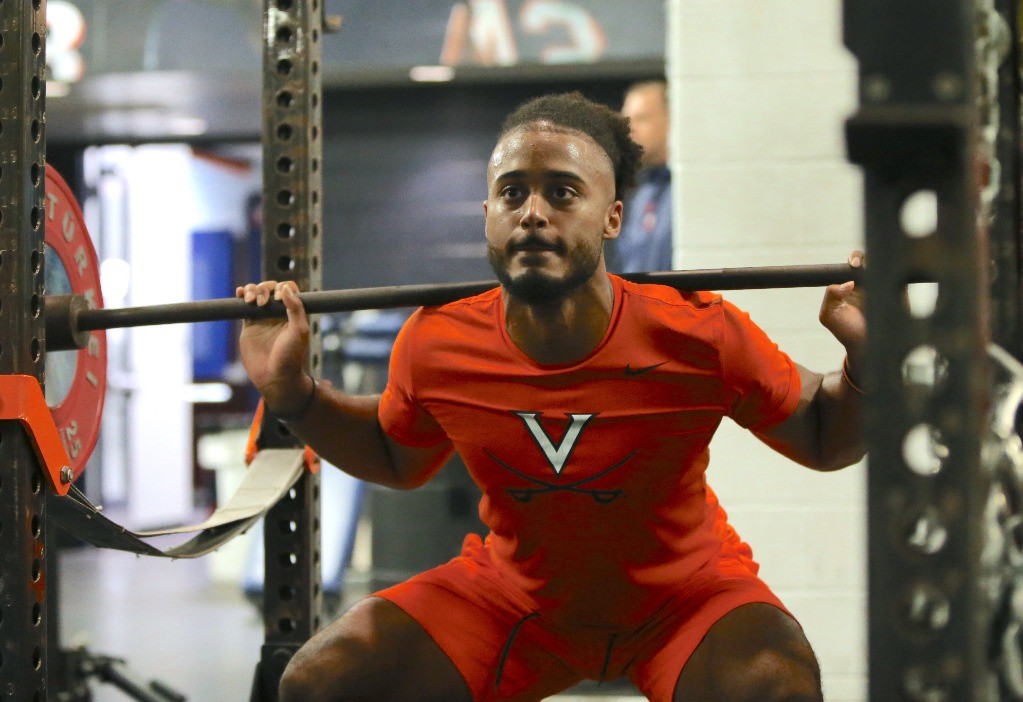 Terrell Jana
Some players may not be able to lift weights regularly, but the body-weight exercises can be "a good opportunity for guys like myself who are pretty tight to open up themselves a little bit," said Jana, a resident of British Columbia who spent spring break in Georgia.
 
The teams against which UVA completes are dealing with similar challenges, "so it's not like we're being punished or anything like that," Jana said. "However, some schools had their spring ball already, which is a little unfortunate. I think that puts us a little behind, but at the same time, we had a lot of extra work [preparing for] our bowl game, and we went through a whole program with Coach Griz, so I definitely don't feel like we're lacking in any way. 
 
"This can be an opportunity to grow in different aspects that make us better players overall. Hopefully we can take advantage of that."
 
About a dozen players are recovering from operations, and they're back in Charlottesville working with UVA's athletic trainers, Griswold said, or will be soon.
 
Snowden is not the only Cavalier who lives in the D.C. area. Others include Brown, Noah Taylor, Darnell Pratt, Ugo Obasi, Hunter Stewart, Tenyeh Dixon, Brandon White, and Olusegun Oluwatimi, and they may try to coordinate their workouts, Snowden said.
 
The strength and conditioning staff has little experience overseeing players from afar, Griswold acknowledged, "but we'll work through this like we always do, and take on the next challenge of getting the guys prepared. It's just part of the fabric of who we are. We press on.
 
"Those kids are going to communicate with me and my staff. If they say, 'Hey, Coach, I only have X, Y and Z,' then there might be a lot of modifications to what they can and can't do. We just have to move forward with helping these guys stay in shape and be as good as they can be when they come back. I don't think anybody has an end-date to this thing. 
 
"It's kind of uncharted territory. There's just a lot of information and a lot of decisions to be made. So we just kind of follow the lead from Carla and President Ryan and go from there and make the best of the situation. It's the only thing we can do."