Senior Dillon Reinkensmeyer (Highlands Ranch, Colo.) is a three-year starter at Virginia, making starts at four of the five offensive line positions during his tenure in Charlottesville. The three-time All-ACC Academic team honoree graduated from Virginia last December with a degree in global developmental studies and started graduate school this past spring. 
 
Q: How was your first semester of grad school? What are you studying and how was the transition from classes on Grounds to online because of the COVID-19 pandemic?
Reinkensmeyer: I really enjoyed this semester. The class structure was different from undergrad in that it was more discussion based. I am currently studying higher education in the Curry School. The transition to online classes has been a little weird but given the circumstances I thought that it went well.
 
Q: You graduated last fall. You had an exciting few weeks last semester between graduating from college, winning the ACC Coastal Division and starting in the Orange Bowl. What did degree did you earn and what was that month like?
Reinkensmeyer: I earned a degree in global developmental studies, and honestly that month was very hectic. I finished my thesis near the middle of the month, and between the Tech, Clemson and Florida games it was a crazy and rewarding month. 
 
Q: Did you get a chance to watch the Boise State game replay from 2017 last month? You started that game at center and the offense clicked all night in the win. You and safety Brenton Nelson are the only starters from that game still with the program. That was your first career road game at UVA. Does it feel that long ago and what was it like to play in that game? 
Reinkensmeyer: I saw snippets of it, Kurt, Andre, and O were fantastic in that game. They made insane highlight plays and electrified the offense all night. That was one of my favorite road games because it was the closest game to my house that I will play in college and it was at one of the more unique stadiums in college football. Looking back at it, it does feel like a long time ago, but it will always remain a very fond memory
 
Q: You have started at four different offensive line positions at UVA. Compare and contrast what you need to do between playing tackle, center or guard. Also, do you think you will ever get a chance to start at left guard to complete the sweep of offensive line starts?
Reinkensmeyer: I would consider my time at UVA unique in the regards that I have played all over. It is an honor that my coaches think that highly of me. As the center you are the quarterback of the offensive line, as a guard you handle a lot of really strong people and need to be stout and at tackle you need to be good in space and prepared to handle a variety of different kinds of players. 
 
Q: How have you gotten work in during the quarantine? Do you have any unique ways to work on your strength training or footwork drills? How has training in the high altitude of Colorado helped you?
Reinkensmeyer: I have done my best to convert my basement into a home gym with the limited resources that I have. I have been blessed with high altitude, so my running and conditioning is improving. I have been hiking in the mountains a lot, so that can also double as both conditioning and strength training depending on the incline. Training in Colorado is always awesome due to the environment and altitude, the first two weeks is normally an adjustment to the thin air and after that it begins to feel normal. 
 
Q: What has this experience been like for you?
Reinkensmeyer: There have been pros and cons for me in this situation like everyone else. It has been a giant adjustment and I am doing my best in order to make every day count. 
 
Q: What is your routine like at this time? Walk through a normal day.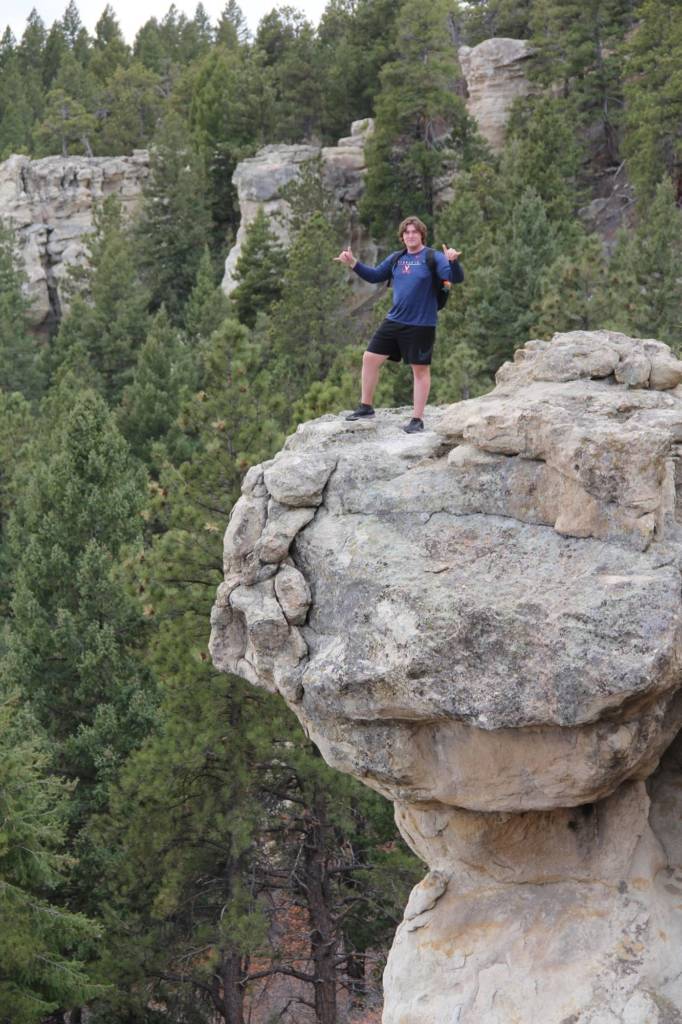 Reinkensmeyer: I normally wake up around 7:30 a.m., then I will watch film for about an hour and then I will go and work out. That will typically last until around 12 and following the workout I will do rehab for about an hour. After that I will eat and try to read and watch more film, in addition to finding time to relax. In the evening I really enjoy walking my dog and then winding down until I go to bed. I try to go to bed at 10:30 p.m. each night and I am attempting to get nine hours of sleep a night. 
 
Q: How do you create a routine while being at home?
Reinkensmeyer: For me, it is important to get up at the same time each day and try to link activities together. So for me, I link working out and rehab, dinner and walking my dog. 
 
Q: How do you stay motivated to train on your own?
Reinkensmeyer: I believe that you need to not give your feelings a vote and do what you know you need to do.
 
Q: What has the offense or offensive line's camaraderie been like now that you are all at home? Any Zoom calls?
Reinkensmeyer: I think that we have stayed in pretty much constant communication. One of the biggest keys for an offensive line to play well is chemistry, and I believe that we have done a good job of growing that during this difficult time. We have been on quite a few Zoom calls as well which really helps. 
 
Q: Do you have a go-to Zoom background for meetings or for class?
Reinkensmeyer: I haven't redecorated my bedroom since the fourth grade so my typical background for my zoom calls falls between a giant astronaut poster, a Steve Nash poster, or a spaceship poster. 
 
Q: Have you been binge-watching any shows or movies, if so – what has been your favorite?
Reinkensmeyer: I have been locked into the Michael Jordan documentary, and beyond that I really enjoy binging The X-Files and Star Wars the Clone Wars. 
 
Q: How has this impacted your hometown?
Reinkensmeyer: In my town people are exercising a lot to fill the time. Like most towns, the virus has had a large impact but morale is still high.
 
Q: Do you have a message you would like to share with UVA fans during this time?
Reinkensmeyer: "This too shall pass"
 
Q: One word to describe your offensive line coach Garett Tujague. 
Reinkensmeyer: Deliberate
 
Q: What has been your most memorable offensive drive over the past few seasons and why?
Reinkensmeyer: The drive to kick the winning field goal against VT last November. 
 
 Q: To close, now that you are at home, what has been your go-to meal?
Reinkensmeyer: I have made more protein shakes at my house than I care to admit.
 
EDITOR'S NOTE: During this time of non-competition, UVA athletics will be posting frequently on VirginiaSports.com to keep you up to date with the happenings, experiences and thoughts of our student-athletes, coaches, staff and alumni. We encourage Wahoo fans to share these links on your social media accounts for others to enjoy. We also suggest you follow the University's website – news.virginia.edu – for more stories and information. #GoHoos