Jeff White on Twitter | Subscribe to UVA Insider Articles | UVA Baseball on Twitter
By Jeff White (jwhite@virginia.edu)
VirginiaSports.com
 
CHARLOTTESVILLE –– For brothers to come through his program is nothing new for Brian O'Connor, who's in his 17th year as the University of Virginia's head baseball coach.
 
He's coached five sets: Kyle and Keith Werman, Tyler and Riley Wilson, Jacob and Justin Thompson, Joe and Jake McCarthy, and Will and Jack Roberts. O'Connor has never, however, had two brothers overlap in his program, but that's about to change.
Jake Gelof is an incoming freshman at UVA, where third baseman Zack Gelof, a second-team All-American this season, is heading into his third year.
 
"I'm totally excited," Zack said Tuesday from the Gelofs' home in Rehoboth Beach, Del., a short drive from the Atlantic Ocean. "I always tell my family and my brother about what we do [at UVA} and how much fun it is, and it's definitely going to be awesome to live through that with him."
 
To have one brother follow another in the Cavaliers' program, O'Connor said, tells the coaches "we must be doing something right. Their older sibling and their family believed in how the older one was handled and the experience they had. For them to have the confidence to have another one come makes you feel good about the opportunity that they have, and that's certainly the case with the Gelofs.
 
"You're a product of how you're brought up and your parents. Their parents are very successful, detail-oriented, driven people. That's what you're going to get with those boys, too."
 
Kelly and Adam Gelof are lawyers, and Zack, an economics major, might follow that route after his baseball career ends.
 
"There's definitely interest there," Zack said. "I just try to focus on one thing at a time and be the best I can at that. I think I set myself up, by majoring in econ, to keep my options open, and I really think in talking to my parents that [law school] is something that's possible down the road if the baseball thing doesn't happen."
This won't be the first time the Gelof brothers have been teammates. They played together at various times in the Bagel Bombers travel club, in Lewes Little League, at Beacon Middle School, and, most recently, for two seasons at Cape Henlopen High.
 
In 2018, when Zack was a senior and Jake a sophomore, they helped Cape Henlopen win the first state championship in school history.
 
"Those were some of the best memories I've made playing baseball," Jake said.
 
Zack, who committed to UVA in 2015, enrolled there three years later. Late in the summer of 2018, Jake transferred to IMG Academy in Bradenton, Fla., where he spent his final two years of high school.
 
In October 2018, Jake committed to William & Mary, after which "I put my head down and kept working hard and tried to be the best player I could be, and wherever that took me, it took me."
 
Early last summer, Jake decided to re-open his recruitment, and he committed to UVA last August. "It ended up working out extremely well," he said.
 
Zack didn't hesitate to talk up his brother to the Cavaliers' coaching staff.
 
"I didn't want to ruin or jeopardize any relationship I had with the coaches," Zack recalled, "but whenever they asked me about him, I hyped him up a little bit, especially after he decided to decommit from William & Mary and all ties were cut. I definitely wanted it to be a reality to play with him."
 
So proud of my best friend! Going to be lots of fun down in Charlottesville! Love you brotha❤️ https://t.co/4vKPegsJDW

— Zack Gelof (@ZackG_11) August 8, 2019
Their parents' reaction to Jake's choice of UVA?
 
"They were super excited," Zack said, "not only to have us together, but for us to experience a University of Virginia education and have the chance to win a national championship together. That's something that we'll remember forever."
 
Both brothers hit and throw right-handed. Zack, who's listed at 6-foot-3, 205 pounds, made an immediate impact at UVA. He started all 56 games at third base in 2019 and batted .313, with 13 doubles, two home runs and 32 RBI. He had a 17-game hitting streak and finished the season with 16 stolen bases, second-most on the team.
 
As a sophomore, in a season cut short by the COVID-19 pandemic, Zack established himself as one of the nation's top players. In 18 games, he batted .349, with six doubles, two triples, five homers and 18 RBI. He led the ACC in total bases, slugging percentage and runs scored.
 
When Zack committed to the Wahoos in 2015, they "had interest in him as a pitcher as much as a position player," O'Connor recalled. "As his high school career went on, he got more physical and became more of a position player."
 
In this age of specialization, Jake has an unsual background for an elite college baseball player. He also starred in soccer at Cape Henlopen, starting for four years on the varsity and scoring 61 goals during his career. He was a three-time all-state selection in that sport and in 2017 was named an All-American.
 
"I really think if I'd worked hard toward that I could have gone to maybe a smaller D-I school, or maybe Ivy League, for soccer," said Zack, who also kicked for Cape Henlopen's football team as a ninth-grader. "I don't know about the top-of-the-line soccer programs like Virginia, because they pull talent from overseas and the academies."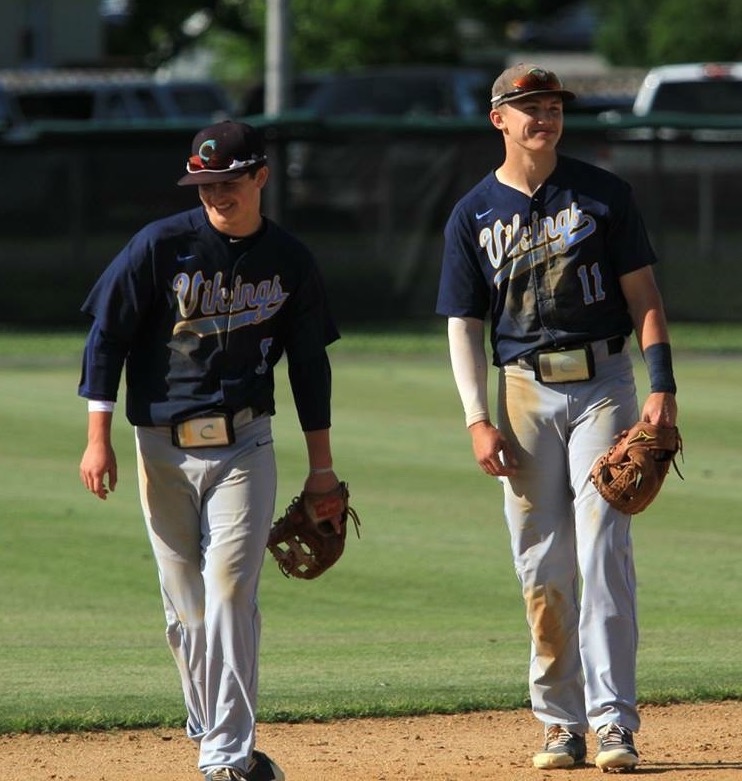 Jake (left) and Zack Gelof in high school
Asked to compare the 6-foot-1, 195-pound Jake to Zack, O'Connor said there are a "lot of similarities, in that they're both athletic infielders. Zack is a little bit taller, a little bit more physical than his brother, but his brother's catching up, that's for sure.
 
"I saw Jake hit a couple of pretty mammoth home runs last summer. He's a really athletic infielder that can play anywhere. He also pitches a little bit as well. He'll throw 90 miles an hour off the mound. And so he's just a good athlete that can do a few different things."
 
Jake said: "I'm going into Virginia with eyes wide open, trying to find playing time anywhere I can. If that's playing all over the field, then I'll do it."
 
After the pandemic struck the United States, Jake returned home and took online classes for the rest of the school year. IMG Academy's baseball team played only about 10 games before its season was canceled.
 
Zack has been home, too, and the brothers work out together. There are weights and exercise equipment in their home gym, and they have access to a facility with hitting cages and pitching machines. They can also take ground balls there.
 
"So we've been able to do lots of things," Jake said.
 
The Wahoos were 14-4 overall and 2-1 in the ACC when, on the eve of a series at Pitt, they learned their season was over.
 
"Whenever you invest so much into something, for it to be canceled is very disappointing at first," Zack said. But he hasn't dwelled on the unfortunate turn of events, "because I'm all about what's ahead of me and what's happening right now," Zack said. "Everyone's in the same situation, so it's really about how you best deal with it. I would say maybe a week and a half after it was canceled, I kind of turned the page, and I set new goals that I could control."
 
He's enjoyed spending time with his family at home. "Me and my brother, we get to sit down with our parents and eat dinner pretty much every night, which we never did during high school, because we were so busy," Zack said. "I like to look at the glass as half-full."
 
Zack plans to take an online class when UVA's second session of summer school starts June 15. If not for the pandemic, he'd be heading to the storied Cape Cod Baseball League to play for the Harwich (Mass.) Mariners this summer, but that's been canceled. Instead, he'll play for the High Point-Thomasville (N.C.) HiToms in the Coastal Plains League, which is scheduled to start next month.
 
Jake expects to play for the Brockton (Mass.) Rox in the Futures League, whose revised summer schedule has yet to be announced.
 
When Jake and the Cavaliers' other newcomers will arrive in Charlottesville has still to be determined. Around Disharoon Park, he's sure to be labeled as Zack's kid brother, at least initially, but that's OK with Jake. He's accustomed to that.
 
"I'd definitely say growing up I was known as Zack's brother," Jake said, "but we both see it as a compliment, because he does so well, and I'd like to achieve the things that he does, and beyond."