By Jeff White (jwhite@virginia.edu)
CHARLOTTESVILLE –– This has not been the 2020 that Jared Conners––or anyone else––envisioned. In 2019, Conners helped the University of Virginia men's lacrosse team win the program's sixth NCAA title, and he believed the Cavaliers were fully capable of repeating as champions this year.
We'll never know. The COVID-19 pandemic forced the abrupt cancellation in college sports in mid-March, long before the lacrosse postseason was scheduled to start.
"It was pretty frustrating," Conners said Tuesday from his home in Pittsford, New York, about 10 miles outside Rochester. "That point in the 2019 season is when we really started to turn it around, and we just had as much talent this year, if not more. So it was super disappointing."
Conners hadn't planned on having to finish the second semester of his fourth year at UVA online, either. But he pushed through, earning a bachelor's degree in psychology, and this month brought welcome news. The NCAA granted student-athletes in spring sports an extra year of eligibility, and Conners learned recently that he's been accepted into the University's M.S. in Commerce program for 2020-21.
"It was a very exciting moment," Conners said. "I remember I was with my dad and my mom and I told them right away, and they couldn't stop screaming for a little bit."
He laughed. "They might have been more excited than I was. I texted Lars right away too, and he responded that he shed a tear."
If UVA head coach Lars Tiffany grew emotional over No. 28's return, that's understandable. The 6-5, 210-pound Conners is the finest long stick midfielder in the college game, and he was one of the Cavaliers' captains this year, along with fellow seniors Dox Aitken and Michael Kraus and junior John Fox.
"His return is a significant boost to not only our team defense, but to our overall strength of culture," Tiffany said, "and it gives all of us an incredible role model for how to do everything the right way, from training to nutrition to competing. Jared's maturation in his four years has been significant."
The 2017 season was the first at UVA for both Conners and Tiffany, who succeeded Hall of Fame coach Dom Starsia. Conners, a graduate of Pittsford High School, played well for the Hoos as a freshman and again in 2018, but Tiffany knew he could do more.
"We sit down every semester with [every player]," Tiffany said, "and after his second year I remember talking to Jared and saying, 'Jared, you're a really good lacrosse player, and at the pace you're going, we'll look back on your career a couple years from now and say you were a good lacrosse player in the ACC. You helped us win some big games. Nice player. And we'll close the book.' "
But there was another possibility, Tiffany told Conners. "I said, 'You can be an All-American lacrosse player.' "
Conners said he doesn't remember Tiffany's exacts words, but they were "something along the lines of, 'You're a good Virginia defenseman, but you could be great.' And he was like, 'It's pretty much up to you.' "
He accepted his coach's challenge.
"Every year we do a breakdown of where you are on the depth chart and what skills you should further develop versus what skills you [already] excel at," Conners said, "and I really took our last meeting at the end of my sophomore year to heart and decided that I didn't want to just be another No. 28 going through the program that no one really knows about in a couple years. I wanted to be someone that could really make a difference, and I decided that my junior year I was going to bring as much energy and effort to every single drill in practice and every single game as I could to make that happen."
Tiffany said: "It's rare to see somebody turn the page like Jared did. From the first workout in the fall his third year, he took every drill with a seriousness and he brought an intensity I just haven't witnessed before."
The team would be warming up with a basic footwork drill, Tiffany said, and "we'd all think we were working hard, and then you'd watch Jared and be like, 'Holy cow! That's a different level.' He just made a decision that he was going to approach every drill and every training session with 100-percent intensity and speed. It was startling."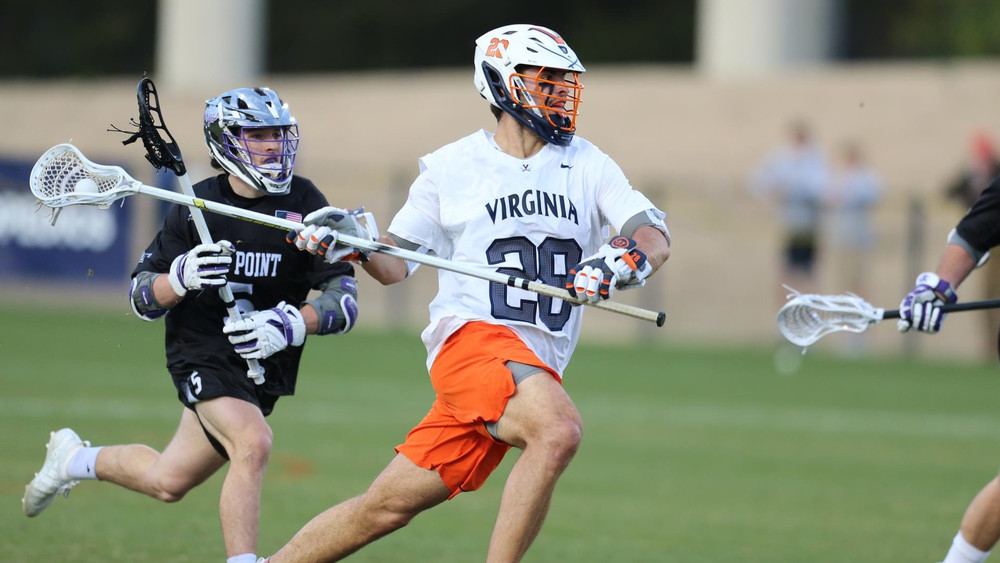 Conners reaped the rewards in 2019. He was named an All-American after UVA captured the NCAA title for the first time in eight years.
"I just got lucky with everything falling into place," Conners said. "There's a lot of times where guys put in a ton of work and you don't get the result that you wanted in the first year of doing it. Everyone on the team was pretty much on the same level [in 2019], I felt like. Everybody wanted to win that national championship. We definitely saw it all throughout the year in practice and in the commitment we gave in the fall [of 2018]. It definitely made it easier for me with other guys around me doing it as well."
Conners, who minored in entrepreneurial studies, followed a similar route academically at UVA.
"I wouldn't say I didn't work hard [at first], but I would say I definitely matured with understanding how I learn and how I can get good grades in school," he said. "I committed [to UVA] my sophomore year in high school. I don't want to say I coasted after that, but I definitely didn't encounter any difficult workloads in school. So coming to college and a good school like UVA, my first couple of semesters were definitely eye-opening. I feel like I was working hard, but I just needed to mature. I realized I needed to put more time in and go to every single class and not take going to class for granted."
His classmates in the M.S. in Commerce program will include teammate Charlie Bertrand, a graduate transfer who at Merrimack College was twice named Division II player of the year.
As a UVA undergraduate, Conners had two summer internships that piqued his interest in business––the first with UBS, a financial services company, and the second with PayQuicker, a global payout platform­­­––"and I figured pursuing the M.S. in Commerce program would be a great balance to a psychology degree."
Had he not been accepted into the program, which is in the McIntire School of Commerce, Conners might be preparing to spend the coming academic year elsewhere. But he says he never seriously considered other options.
"I hadn't really thought too much about a backup plan yet," Conners said. "That was kind of something that was on the back burner and something I really didn't want to pay attention to until I got a definite answer."
The M.S. in Commerce program "was something that I really felt passionate about doing, and I really wanted to spend another year at UVA," Conners said. "I think this will put me in the best position possible to pursue a successful career after UVA, and I really wanted to make sure I was back for my fifth year."
With a stick in his hand, Conners is a force at both ends of the field. Not only is he the Hoos' best one-on-one defender, he's a threat on offense, especially in transition. As a freshman in 2017, he scored the game-winning goal late in the fourth quarter against Richmond, and for his career he has 16 goals and nine assists.
With 25 career points, he's believed to be the most productive long stick middie in program history.
"We have never had one like him as a scorer," Starsia, whose teams won four NCAA championships in his 24 seasons at Virginia, said in late February.
"I love it, big-time," Conners said of scoring. "It brings energy to our team and deflates the other team even more. I especially love when the goalkeeper points to himself, saying it was his fault. That fires me up."
Of the Cavaliers' 2020 captains, only Conners and Fox are sure to be on the team next season. Kraus graduated this year and has moved on to the next phase of his life, and Aitken's plans for 2020-21 remain unclear.
"We're really, really lucky to have Jared back," Tiffany said.
Conners is taking two online classes this summer and "working out like a madman," he said. He trains outdoors at a gym in Rochester and has a squat rack, bench press and dumbbells at home in the garage. Also, he said, there's "a turf field at my high school right down the road that I've been getting a ton of use out of. I've been taking advantage of the nice weather here and running outside.
"I feel like I'm in great shape right now. If the season started today, I definitely wouldn't be behind."
He grew up in a competitive environment. Conners' brother, Jesse, played football at Holy Cross and Syracuse. Their sister, Paige, is an Olympic figure skater who competed for Team Israel at the 2018 Winter Games. She now attends Delaware.
The best athlete in the family?
"The question of our lives," Conners said, laughing. "Gotta go with the Olympian, I think."