By Jeff White (jwhite@virginia.edu)
VirginiaSports.com
CHARLOTTESVILLE –– At the University of Virginia, student-athletes from several teams, including football, are back on Grounds training, with the hopes of competing during the 2020-21 academic year.
The UVA athletics department has proceeded deliberately since the COVID-19 pandemic shut down college sports in mid-March, gathering information internally and externally about how best to keep its teams safe and healthy. Among those whom director of athletics Carla Williams has leaned on most heavily during this time is Dr. John MacKnight.
A professor of internal medicine at the University, MacKnight is the medical director and primary care team physician for UVA Athletics. He's also the Cavaliers' representative on the Atlantic Coast Conference's COVID-19 Medical Advisory Group, which was formed in May.
The first team to return to Grounds this month was football, and MacKnight works closely with UVA's associate AD for sports medicine, Kelli Pugh, who oversees athletic training for head coach Bronco Mendenhall's program.
In a phone interview with VirginiaSports.com, MacKnight provided an update on the measures UVA Athletics is taking to keep student-athletes safe and healthy during the pandemic.
The football team has been back on Grounds for two weeks. How do you think things have gone with the players from a medical standpoint?
MacKnight: "Up to this point, I don't think we could have expected any more from the football student-athletes than we have gotten from them. They have really embraced the culture required for this to work. They've been really good with social distancing, with mask wear, and with taking the cultural stuff that Coach Mendenhall has been working on now for years and putting it to greatest use with regard to looking out for each other and really appreciating that the only way we're going to make it through any of our sports' seasons is if the student-athletes really embrace the day-to-day responsibility that rests with them. We will try to do all that we can to give them the tools that they need, but ultimately they've got to make great choices and really be protective of each other, and I couldn't be more impressed with how well they have done that.
"Relative to other schools that you read about, we've been very fortunate. We've been through two rounds of testing now, and we've had very few individuals who have turned up positive. So that I think also is a testament, not only to the fact that they did a really job quarantining and really protecting themselves before they came back to Charlottesville, but that they've subsequently done a good job since then. Kudos to them. I couldn't say more positive things about the job they've done up to this point."
Is every student-athlete training outdoors at UVA required to wear a mask? What about basketball players or volleyball players who are working out indoors?
MacKnight: "The standard at this point, and we'll start right at the CDC [Centers for Disease Control and Prevention] level, is that mask wear certainly is desirable for pretty much everything in our lives, with a few exceptions, and high-level exercise is one of those exceptions. So we do have some precedent there to give the student-athletes a little bit of latitude with regard to mask wearing. However, at this point it's been our intention and expectation that we still have them wearing masks as they are getting into their strength and conditioning program. Absolutely inside in the weight room areas and any place where we don't sort of have the benefits of an outdoor environment and breeze and air movement and those kinds of things. Even as they're transitioning to conditioning work outside, we have been trying to have them mask consistently so that we are doing whatever we can reasonably do to minimize the spread of respiratory droplets and try to keep the guys safe.
"That principle varies a little bit from institution to institution, so it's dynamic, and we're evaluating it week to week and seeing how the student-athletes tolerate it. Some of the position groups [in football] don't seem to have any issue with it at all, and others struggle a little bit more with it. So we'll continue to evaluate that and see what we can do, but from my standpoint my general approach has been something's better than nothing. So I think some degree of protection, even worn for a portion of the time of exercise, is likely superior to going without it all together. Again, the kids have been really great at embracing that as part of the experience right now. So we'll see how that evolves."
With whom have you worked most closely to formulate the department's COVID-19 policies and protocols?
MacKnight: "There's heavy dependence on the guidelines from the CDC, and then we have the ACC Medical Advisory Group that I've been fortunate enough to be a part of it. I've got a great group of colleagues there that are all struggling with the same decisions about what seems to be most prudent for the care of our student-athletes. And then I've got a great group of primary care team physician colleagues scattered across the conference as well, some of whom are part of the Medical Advisory Group, and some of whom are not. Pulling from each of their institutional experiences has been really helpful. It's great to have folks to bounce ideas off of.
"Also, I think one of the things that has been so helpful to us has been Carla Williams' direction with regard to being very methodical and patient about the process. We were very intentionally one of the last schools to bring student-athletes back, and it was because we wanted to make sure we had our bases covered as well as we could and that we had the opportunity to learn from others who were facing the same challenges, but were doing it in some cases many weeks ahead of us. So we learned from them some of the things that they did really well, and we learned from them some of the things they didn't do quite so well. We've hoped––and the proof will be in the pudding here in the coming weeks––that we've put together as solid a protocol as you reasonably can. Then you just hope that between the kids and the coaching staff and the support staff and the administration, we all do our part to pull it off. I think we're admittedly going to have to have some luck with that, too."
"Up to this point, I don't think we could have expected any more from the football student-athletes than we have gotten from them. They have really embraced the culture required for this to work." – Dr. John MacKnight
What does your work on the ACC's COVID-19 Medical Advisory Group entail? How much communication are you having with your peers from other schools these days?
MacKnight: "That group meets virtually once a week, and then there's often some additional communication through the course of the week as we prepare for that meeting. It's really great. It has allowed me to meet some of other folks at other institutions, and also to meet some individuals who really bring expertise in areas that are not just primary care in a sports medicine or team physician role. These people are infectious-disease specialists, they're epidemiologists, they're public-health officials. It's a great, diverse group that really brings a whole bunch of different perspectives together. So that's been super valuable as we are grappling with some of these challenging questions that we have. I think that's the only way to do it. You have to have a frequent exchange of ideas and different perspectives to come to the right answers.
"I'm impressed, too, because we have such a heterogeneous conference with regard to geography and school size and school resources. All these things vary considerably from place to place. So the purpose of that group is really to put together some minimum-standard guidelines with regard to how we have student-athletes come back to our schools and how we'll have them participate in competition. That sounds like that would be sort of easy enough, but when you start to factor in all the little nuances of which schools can do lots of testing, and which ones can't, and which ones can turn the tests around rapidly, and which ones can't, and which ones happen to be in hot spots right now, and which ones aren't, there's a lot of stuff there to consider. It's an enormous process, but I think the ACC is doing a really great job at trying to, first and foremost, safeguard the health and well-being of the student-athletes and hopefully try to restore some sport normalcy for us here in the fall and then the months ahead."
Among the 14 ACC football teams, UVA was one of the last to return for on-campus workouts. Was July 5 about as late as the team could have come back if it was to be ready for training camp?
MacKnight: "The challenge this summer is that we didn't have spring football, and we haven't had the opportunity as we ordinarily would to monitor what the kids were doing through the summer from a strength and conditioning standpoint. You're not really sure how well-prepared your guys are going to be upon their return. We took the calendar and basically worked our way backwards between the time that Bronco felt like he needed for practice time, and then to allow plenty of time to give them heat acclimation, and then to let [director of football development and performance Shawn Griswold] be very methodical and slow-paced with regard to cranking the guys up, until he knew what he had and how well things would be tolerated."
Coach Mendenhall has embraced the need for his team to follow all the protocols you've established. How much does that support help the medical staff?
MacKnight: "It's absolutely crucial. I feel like I have a good relationship with the guys, and they respect the work that I do and Kelli and her staff are doing, but the bottom line is, and it's the case for most teams, what the coach says is always going to carry the greatest weight. Bronco has been great at establishing a culture, well before the kids came back, about what their responsibilities were going to be and what would be expected of them from a standpoint of taking really good care of themselves and taking good care of each other. And it's just a constant reminder of distancing and mask wear and all the little changes that we've made with regard to spacing in the weight room and [other safety measures]. Bronco is all over that, and fully supportive. He wants to have a workable operation, and I think the only way we realistically pull this off is that all of these pieces are taken care of as best they can. To get the kids to buy in, you've got to have your coach on board with that, and he totally is. As challenging as the summer has been, to have that kind of support has been tremendous."
As more teams and more students return to Grounds, what challenges will that present for UVA Athletics?
MacKnight: "Within Athletics, we've made so many modifications to create additional space, in order to keep student-athletes away from one another and minimize their risk of exposure to one another. That's worked pretty well up to this point, because we just haven't had that many kids around. But as you start rolling more and more teams back into town, they simply take up much more space, and it becomes a real challenge to figure out where to put them all and how to accomplish the day's preparations without putting people in harm's way. So that's a challenge in and of itself.
"College is a social experience, and so the more the student-athletes you re-introduce, even for our kids who are very much on board with doing what they need to do, old habits are hard to break, so it will be difficult to keep them from socializing in ways that potentially could put them in harm's way. And certainly I feel like the biggest challenge is when the whole student body returns, and everybody is transitioning into dorms and you have athletes returning to their apartments, and all those other aspects of their daily life, on Grounds and in classes and so forth, that we just can't control.
"As much of a protective bubble as we have tried to put around them, the reality is that as the beginning of the school years approaches, those bubbles either become very small or they just flat-out disappear. And so that's where we're really going to have to depend even more heavily on the kids to make great choices and try to do that right things."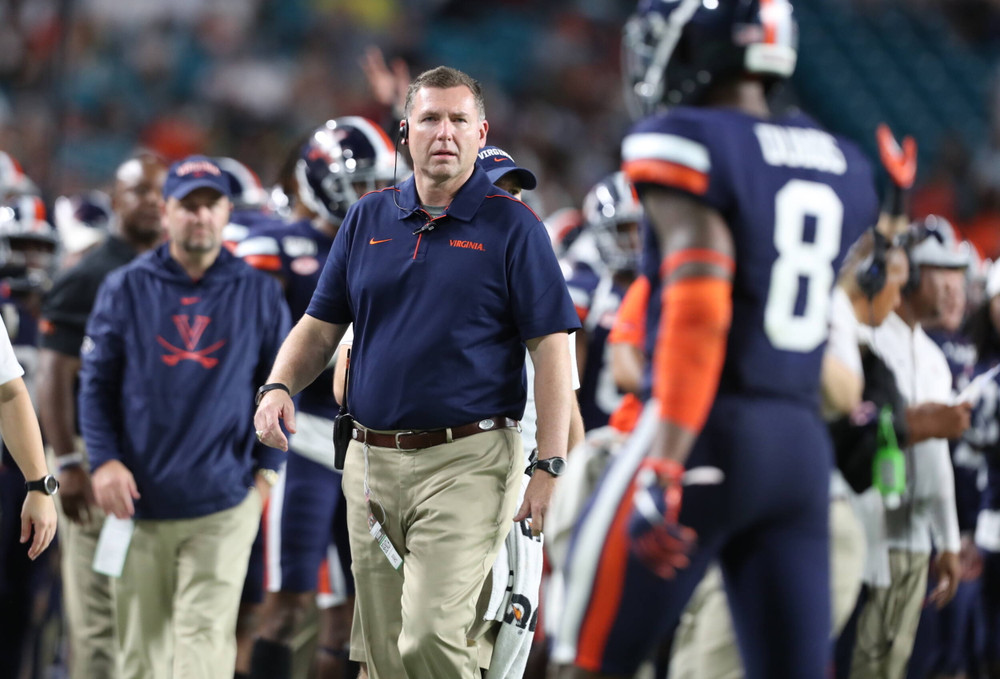 What's the protocol for quarantine and testing before teams start working out?
MacKnight: "There are a couple of options there, and depending on the team and depending on the individual athlete, they have to give us a 14-day quarantine either at home before they return to us, or, particularly for our international students, they do a 14-day quarantine when they return to Charlottesville. And then they'll be tested. Once they've made it through that time frame and have tested negative, they'll get assimilated to their usual training activities."
How much does it help the UVA Health System to have student-athletes back before the rest of the study body, in terms of gathering information and adjusting protocols before the start of the academic year?
MacKnight: "I think what we're doing day to day at this point is sort of part of the test cases for how things are going to run when the student population is larger. We're working out some of the kinks with regard to how we test people and what the turnaround time is on the testing and how you isolate students who are positive and need to be away from their colleagues, and how you quarantine people who have been close contacts, so they have to be away from others as well.
"It does give the University a chance to see what that process looks like, how well it runs, how much space you're going to need. Maybe we're giving them a sense of what the rate of infection is going to be and how big the burden of dealing with his challenge is going to be. Just as I said with regard to the other ACC schools and other schools around the country, everyone who has started before you can provide a lot of valuable information about what's good and what needs some work.
"Up to this point, it's run pretty smoothly, and the University has done a ton of work in preparation for the [return of] general students, and certainly the athletic department has done their part with regard to our student-athletes. So we're hoping we've got a pretty solid plan. I think, as the experts say, that the virus dictates the process. So as well-prepared as we may be, if the virus really unloads on our community, it's going to be very difficult for us to have a good outcome. It won't be for lack of trying or effort. It's just going to be that that's the way the virus plays out in Central Virginia. So we're certainly crossing our fingers that we're going to be able to mitigate and have people be safe as they start get back into their usual school activities."
How has the pandemic changed your professional life? How much of your time is now devoted to issues related to COVID-19?
MacKnight: "I would tell you in all honesty that I've never worked harder in athletics than I have since all of this unfolded. We're trying to manage our way through a completely unprecedented phenomenon that none of us have a road map for. It's dynamic, and it basically changes every day, and we've adapted to it, and our strategies have been modified, almost on a daily basis, until we honed them down to what we thought was really the most ideal plan for our kids, but we're still meeting multiple times per week. We spend lots of hours together, putting our heads together, about how to make things optimal, and try to create the absolute best model we can here at UVA. It's still a very arduous task, and it will be, I think, even if we get the kids back safely and back into the swing of things from a sports standpoint. There's so many levels of things that we've talked about, but until you really get there, we haven't really been able to prioritize those things as much as we would have liked, because we're still focusing on how to get the kids safely back and back into their usual routines."
Anything you'd like to add?
MacKnight: "I would emphasize that Kelli and her staff and [associate athletic director Ethan Saliba] have been tremendous. The athletic training staff, all of those folks are pitching in, even the ones who don't have student-athletes in town right now or whose sport isn't until the spring, they're all busting their butts to make this work.
"I think Carla and [deputy ADs] Jim Booz and Ted White's leadership, and how they've been well-supported by the University, has been great. I love their philosophy about taking great care of the kids. They absolutely want sport to happen, but not at the expense of safety and being smart about the kids, and I'm so thankful, because I certainly know there are places where that isn't the case, at least not to the degree that we have here. I feel very fortunate to be working with those individuals collectively in this."