Canaan Severin is a 2015 Virginia graduate and former Cavalier wide receiver. The Marlborough, Mass., native was a captain in 2015 and ended his career with 102 catches, which at the time ranked No. 19 in program history. His 1,383 career receiving yards also ranked No. 15 upon completion of his Virginia career. Severin finished his senior year No. 3 in the ACC with 759 receiving yards in 2015, earning second-team All-ACC honors. Severin signed a free agent contract upon graduation with the Pittsburgh Steelers. He also spent time with the New York Giants before retiring in 2018.
Q: You graduated from Virginia in 2015 before spending a couple years in the NFL with the Pittsburgh Steelers and New York Giants. How did your UVA experience best prepare you for your adult life?
Severin: It was there in my life while at UVA where I learned to expect the most out of myself. With our schedules in the classroom, workouts, preparation for our opponents, or just competing, it was in Charlottesville where I truly learned to maximize myself in my time as an athlete, but more importantly a person. If one can take that same energy into the workplace and their relationships, they would be great at what they do.
Q: Your position coach at Virginia was Marques Hagans, who still coaches wide receivers for the Cavaliers and, like you, is a Virginia football alum. You had him early on in his UVA coaching career. Including you, his wide receivers over the years have excelled in the college game and positioned a good number for professional careers. Coach Hagans is like family to you. Can you describe the bond that he develops with his players and the role he played with your own transformation from an incoming freshman to an All-ACC receiver and captain by your senior year?
Severin: I remember meeting Coach Hagans on my visit at UVA and at that time he was a graduate assistant. In that moment when I met him he made me feel at home and someone that I could talk to when I was there. That was especially important to me considering I'm coming all the way from Massachusetts to Charlottesville. We spent plenty of time in his office just talking about life. I'm a big believer that great relationships are built from great conversation. I know he's done a great job not only with me in that regard, but with plenty of others as well.
Q: During your professional career, how much did you seek Coach Hagans' counsel as you battled injuries and tried to make teams?
Severin: I felt really prepared when I was going into the league because I was learning from someone (Coach Hagans) that has done what I'm trying to do. I think one of the best pieces of advice that he gave me was to take care of my body and control the controllables, don't ask why. If you spend your energy trying to figure out why they took this guy over you or why am I injured, you will drive yourself crazy. Put your time and energy into things you can control take care of your body, work hard, keep a low profile and trust your preparation.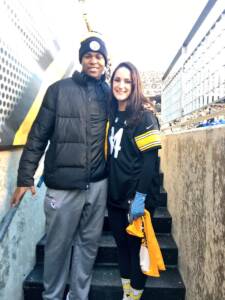 Q: What is the Virginia Football brotherhood like for you in the NFL? When you face another Cavalier, whether you were teammates with them or not, do you try to connect at all?
Severin: That's a special thing for me facing guys you were once teammates at UVA. The fact that we spent time in the McCue Center and made it to the next phase of football is special. So it is really cool to see other guys in their journey. Darius Jennings and I would always connect and come back to Charlottesville to work out with the younger guys that are still in school during the off-season. Just any wisdom we could offer in football, off the field stuff, we would.
Q: You hail from Boston. What attracted you to the University of Virginia as a high school student?
Severin: My dad and I wanted the best combination of academics and athletics, so in that regard UVA was a no brainer. The coaches that recruited me personally were just great people like head coach Mike London, coach Jim Reid and coach Shawn Moore were people my dad wanted me to be around. And it also helped when my dad and I visited and the coaches brought us to the Lawn, we fell in love with the Grounds.
Q: You have made the transition from professional athlete into the next season of your life. What are you passionate about and what is next on the docket?
Severin: I am passionate about building relationships, growing in whatever field I am in. I am drawn to film. I want to tell stories and that could be writing or directing.
Q: Who do you keep in contact the most from your UVA days? Has the recent pandemic created any zoom calls with former teammates? You have a go to Zoom background?
Severin: I'm still close with Jackson Matteo, Matt Johns, Darius Jennings, Ryan Santoro, Ben Hogg and Jordan Ellis. Those are the guys I talk to the most and we've had quite a bit of zoom calls. And nope no background just me.
Q: Boston was a COVID-19 hot zone early on. How has this experience been for you living so closely to an epicenter?
Severin: I have been just super cautious taking all the necessary steps that will protect myself, my family, my friends and everyone around me. If I do that, I'm good and my people will be good.
Q: What was your most memorable moment or moments from your time at UVA?
Severin: My first year against Miami in 2012 we had a big win against them, but I dropped a two-point conversion in the back of the end zone. I was so upset because It was an opportunity gone and who knows when the next one was coming considering I only had one catch my first year. Two years later I made a one-handed catch against Miami to take the lead and we eventually won the game. It was a great catch, but personally just to know I bounced back makes me feel good.
Q: Looking back at UVA's 2019 ACC Coastal title team, as an alum, who was your favorite player or unit to watch?
Severin: I'm a big believer for a football team to be successful, the quarterback has got to be special. Bryce Perkins is special, hard worker, competitor and he consistently gave Scott Stadium a reason to get on their feet. He was fun to watch.
Q: What do you miss most about Charlottesville?
Severin: The people. I'm grateful I came across such amazing people down there. Some saw me grow, some helped me grow and I'm just glad we got to experience it all together. And, Zinburger, that was my family's go-to spot after games [smiling].
Q: Where is your favorite place on Grounds?
Severin: The amphitheater, it's peaceful there, and the AFC for pick-up basketball.
Q: Transitioning, Have you been binge-watching any shows or movies, if so – what has been your favorite?
Severin: I've probably watched Malcolm X eight times during quarantine It's one of my favorite movies and extremely powerful during this time with everything going on in the world in regards to social justice, systemic racism and police brutality.
Q: To close, what advice do you have for any young football player trying to make it to college, or in college trying to make it to the NFL?
Severin: Dream big. Write your goals down, make sure your schoolwork is in order, be the hardest working dude in the room (even when it's not cool), get yourself in top shape and compete like hell. Be a good person, because whether you know it or not, whether you like it or not everybody's watching.