4TheHoos Initiative | Jeff White on Twitter | UVA Football on Twitter
By Jeff White (jwhite@virginia.edu)
VirginiaSports.com
CHARLOTTESVILLE –– In the McCue Center weight room, University of Virginia offensive lineman Chris Glaser came tantalizingly close to changing colors. In the garage of his family's home in Westlake, Ohio, he finally made the switch.
The workout gear each Cavalier wears represents the level he's achieved in director of football development and performance Shawn Griswold's strength and conditioning program. Players start at white and, based on testing similar to that used at the NFL scouting combine, can earn promotions to gray, to orange, to blue and, finally, to black.
Glaser rose from gray to orange last summer. To move from orange to blue this year, he needed to bench-press 225 pounds 26 times, "and during our testing [in Charlottesville] I unfortunately didn't get it," Glaser recalled this week. "Not because of strength, but because of user error."
On his 25th and 26th reps, Glaser hit the rack with the bar, disqualifying himself. "Obviously, here it's earned, not given," Griswold said. "He easily could have gotten it, but I'm not going to give it to him."
The 6-3, 310-pound Glaser planned to try again at the McCue Center after spring break, which he spent in Florida. But then the COVID-19 pandemic shut down most on-Grounds operations at UVA, including classes.
Back home in the Cleveland area, Glaser contacted Griswold. Would it be OK, Glaser asked, to send a video of his next attempt to meet his bench-press target? Negative, Griswold replied.
"He wanted to see it in person as much as he could," Glaser said. And so he set up a Zoom call with Griswold, who virtually checked out the weight equipment and "saw me warm up," Glaser said.
Then the lifting began. Twenty-eight reps later, Glaser was a member of Team Blue.
"His dad spotted him, and we got to watch it," Griswold said. "His dad was pretty funny. He was yelling and screaming and counting it out. It was fun."
Many of Glaser's closest friends on the team had long since moved out of orange, "and I didn't want to be the only one not in blue," he said. "So that gave a lot of fuel to the fire, and it meant a lot when I finally got it. Now I can tote that blue shirt and blue pants around, and those blue socks."
Head coach Bronco Mendenhall's players returned to Grounds on July 5. Most had been home with their families since mid-March. During his first month back in Ohio, Glaser had no access to weights at home, and his workouts mainly consisted of body-weight exercises such as push-ups, pull-ups, chin-ups, wall sites and squat jumps.
"It's tough just doing body-weight workouts," Glaser said, "because you feel like you're trying your best to stay as strong as possible, but without weights you just can't keep the same strength that you normally could. Our [strength and conditioning] staff was great. They did a lot of research on how to stay strong without the weights, but it's just a little different."
Fortunately for Glaser, the situation was only temporary. One of his father's friends lent Glaser a rack and some weights. Glaser's mother's car came out of the garage, and in went the equipment. Glaser began lifting again, and he also ran a mile each day to keep his weight down.
"I would tell you that the hardest thing for a big guy to do when no one's watching is run," offensive line coach Garett Tujague said.
Glaser would not disagree. But he pushed through. "The first run wasn't too good," he said, laughing, "but after about a month or two, the time went down. The weight stayed off and I stayed healthy."
He wasn't the only offensive lineman who put his time at home to good use. "I think every single one of my guys came back bigger and stronger than when they left, even though they didn't all have the resources," Tujague said. "It was a testament to Griz and his staff."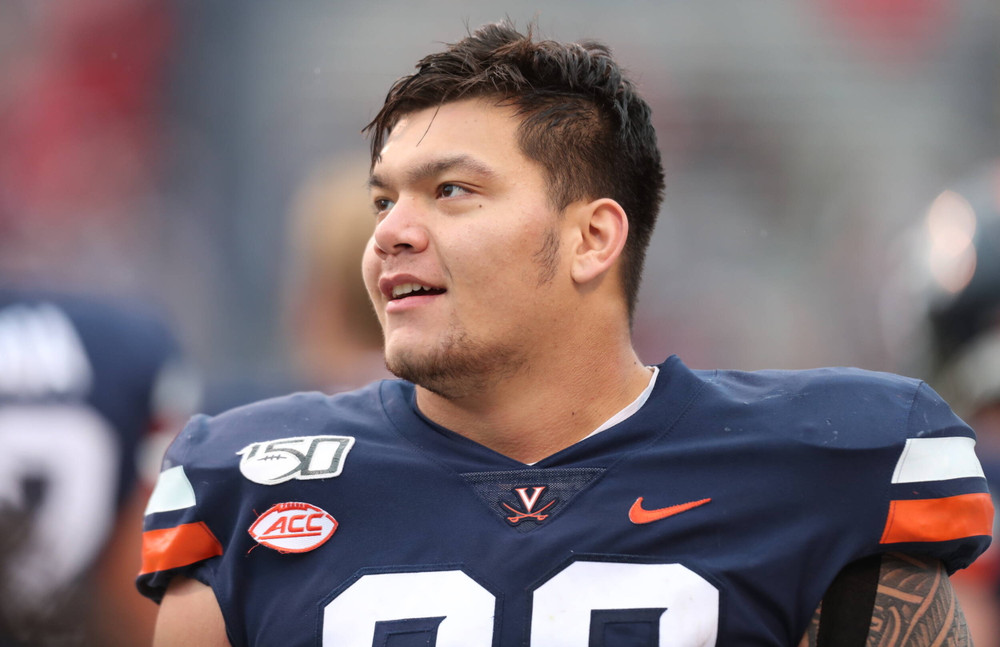 Glaser was only 17 years old when he arrived at UVA in the summer of 2017. He appeared to be a prime candidate to redshirt that fall but was pressed into action in Virginia's ninth game, a pivotal win over Georgia Tech. He ended up starting two games at right offensive tackle that season.
"I love that kid," Tujague said. "He was so unselfish to do that. I was trying to redshirt him, but the situation wouldn't allow for him to."
In 2018, when UVA won eight games for the first time since 2011, Glaser started seven games at left guard and also saw time at right guard. As a junior last season, Glaser started at right guard and helped the Wahoos win the ACC's Coastal Division for the first time.
Glaser, who also can play center, is shorter than many ACC offensive linemen. He compensates with intelligence, strength and technique, Tujague said, and Glaser also has improved his footwork and agility.
"As long as he's just locked-in and laser-focused, he's pretty impressive," Tujague said. "If he misses one of the steps in the checklist, that's when he gets beat. But if he does everything that he knows he needs to do, he's unbeatable. He's such a demanding technician."
An economics major, Glaser is thoughtful and even-keeled, but he's not afraid to challenge teammates when he feels it's necessary.
"He's one of the biggest leaders in my room right now," Tujague said.
All six of the offensive linemen who played major roles for UVA last season are back: Glaser, Dillon Reinkensmeyer, Ryan Nelson, Olusegun Oluwatimi, Ryan Swoboda, and Bobby Haskins. Expected to join the rotation this year is Alex Gellerstedt, a graduate transfer from Penn State who missed last season with a leg injury.
It's not unusual to see Reinkensmeyer, a fifth-year senior, "coaching somebody up or giving them advice," Tujague said. "But if somebody's screwing up, he's not going to call him out. But Chris, he'll get in your face and call you out. It's not a knock on either one. It's just different leadership styles."
Glaser won't turn 21 until October, and he's younger than many of the juniors on the team. "It feels weird to be a leader on the team but still be one of the youngest [upperclassmen] on the team," he said.
He spent much of his childhood in Hawaii. His father, Chris Sr., an Ohio native who grew up in Youngstown and Akron, was stationed in Hawaii after joining the U.S. Navy. That's where he met his wife, Patricia, and where Chris was born.
The Glasers lived in Hawaii until Chris Sr. retired from the Navy. Then the family relocated to the Cleveland suburb of Solon, Ohio, before Chris Jr.'s ninth-grade year.  Glaser starred at Solon High School, where his predecessors in the football program included Steve Greer, who became an All-ACC linebacker at Virginia.
Glaser returned to Hawaii in January 2017 to play in the Polynesian Bowl. At UVA, several of his teammates are from the Aloha State, and "having them around makes it feels a lot more like home," Glaser said.
Since returning to Grounds this month, UVA players have been living in the Copeley Apartments near Klöckner Stadium. Glaser is sharing an apartment with wide receiver Terrell Jana, his longtime roommate.
With the pandemic ongoing, strict protocols have been established for the football team, Veterans such as Glaser and Jana make sure the younger Cavaliers grasp the importance of following them.
"We just tell them their decision-making isn't affecting only them," Glaser said. "This is a pandemic we're trying to play through, and every decision that they make can affect us and not only keep us from playing, but affect our health. That's a big thing. These measures are for safety."
In 2019, the Hoos had no seniors on the offensive line, and the group, perhaps not surprisingly, struggled early in the season. Fans and commentators singled out the O-line for criticism, and they weren't the only ones.
"Coach Mendenhall is a truthful person, so we also heard it within the team," Glaser said. "We heard a lot of 'Fix it, fix it,' week in, week out. But as the season went on, we got progressively better, and by the end of the season you saw what we could truly do. And I think now that we have that kind of locked down and in place, this year is going to be huge. We're returning everybody. I think we're going to do great things. It's up to us to keep it going."
Tujague, who like Mendenhall is in his fifth year at UVA, is equally optimistic.
"Knock on wood, if everybody is healthy, it should be the best offensive line I've ever had here," Tujague said.