By Jeff White (jwhite@virginia.edu)
VirginiaSports.com
CHARLOTTESVILLE –– University of Virginia alumna Moné Jones has spent much of her life around basketball. Even so, the 2019-20 season gave her new insight into the game. She now grasps why coaches occasionally lose patience with players whose attention wanders and who don't always follow instructions.
"Oh … my … goodness," Jones said, laughing. "I get it now. I really do."
After graduating in 2019 from UVA, where she majored in drama, Jones moved back to her home state of North Carolina. She spent the 2019-20 academic year as an online facilitator at Carrboro High School, near Chapel Hill. She also stayed active in hoops, serving as head coach Sheremy Williams' assistant on the Carrboro girls' team, which completed its season before the COVID-19 pandemic shut down sports in March.
"It's a different perspective when you play the game and then you have to coach the game or assist and have responsibilities and command the attention of 12 teenagers," said Williams, who's been at Carrboro for 13 years.
Several of the Jaguars' seniors tested Jones, Williams said, "and she was able to handle it." In addition to working with players, Jones broke down film and logged statistics, tasks she embraced.
"She has really good energy," said Williams, whose best friend is Jones' mother, Sherai.
For Jones, who's also grown professionally as part of the Winning Edge Leading Academy, her time with Williams at Carrboro was a transformative experience. "It really kind of changed my mind about things that I want to do," Jones said. "I want to go into coaching."
Tina Thompson wants to help her. Thompson, who's heading into her third season as the UVA head women's basketball coach, has added Jones to her staff as a graduate assistant.
Jones, who started at her alma mater this week, has enrolled in a two-year master's program in higher education in the Curry School of Education and Human Development. "It's a really good opportunity to get my feet wet on the college level and go into coaching from there," she said.
She wasn't away from Charlottesville for long, but much has changed at John Paul Jones Arena since Jones graduated last year. Of her 2018-19 teammates, only Amandine Toi and Dani Lawson are still in the program.
At Carrboro High, Jones gained valuable on-the-job training. "There's a lot of trial and error when it comes to coaching, especially when you're beginning, and I experienced a lot of that my first year," she said. "Being as competitive as I am, it took some time to realize there are two difference hats: There's the player and the coach."
Jones learned how satisfying it can be for a coach to connect with her players, however frustrating the teaching process might have been.
"I would try to explain something to the girls that I was working with, and I would tell them over and over and over and over and over again, and then finally one time during the game, or one time during practice, I'd see it," Jones said. "And when they're able to do something that they haven't been able to do before, and you have taught them something that they have never been able to do before and they actually grasp that concept, it makes everything that you had to go through, all the trials and errors, worth it.
"And so for me, that is why I want to get into coaching: that feeling of being able to teach or to develop skills and for young women that they could apply not only on the court, but also off the court."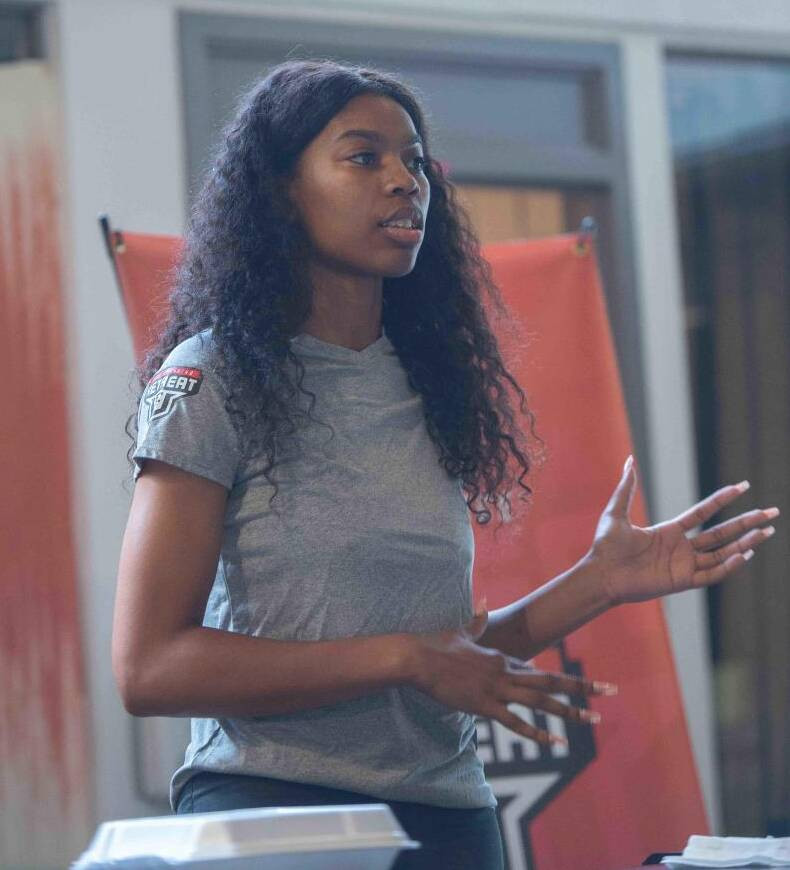 Graduate assistants are not allowed on the court to work with players during practice. In Thompson's program, the GA's responsibilities can vary. Jones' predecessor, Regina Garrett, "wasn't sure exactly what route she wanted to go," Thompson said, "so we focused more on her just developing more administrative skills and understanding the workings of the office, working with [staffers] Anna [Cho] and Jimmy [Yu] as well as myself, of gaining experience in a professional atmosphere. So it was less focused on coaching.
"Moné actually has aspirations to get into coaching, so although she'll have administrative duties and she'll help when needed in the office, we'll bring her along differently in actually teaching and showing her how to coach. So she will work with myself and the other coaches, as well as Breyana Mason, who is our recruiting and video coordinator, in learning those skills."
A graduate of Riverside High School in Durham, the 6-foot-3 Jones struggled to stay healthy for much of her UVA career. She played most of her first year with a knee injury that required surgery after the season. A long rehabilitation period followed, and Jones missed the first eight games of the 2016-17 season.
In 2017-18, her junior season, a broken foot limited Jones to 15 games. As a senior, however, she played in all 31 games, averaging 6.3 points and 4.1 rebounds.
The 2018-19 season was Thompson's first at Virginia. Jones impressed with her "work ethic and willingness to get better and how she showed up in practice every day," Thompson said "When you get a new coach, the change isn't easy, but she did a very good job of transitioning and showing veteran leadership."
Jones never planned on a career in drama, but her undergraduate experience has proven valuable in ways she didn't necessarily expect.
"The drama department gave me the confidence, the ability to speak to different people," Jones said. "There are a lot of skills that I've learned through the drama department that I took with me into my coaching and into the job that I had for my first year out of college. Originally, I didn't think the drama major would help me in any way, but it taught me a lot about having confidence and knowing that you are capable of doing anything, regardless if you feel like you're qualified for it or not."
Back in North Carolina, where she also trained young basketball players, Jones followed the Wahoos closely in 2019-20.
"I watched as many games as possible [online or on TV]," she said, "and then the games that I couldn't watch, if I was coaching or we had practice while they were playing, I was on Twitter, trying to get the updates.
"When they came to North Carolina, NC State and Duke, I was there. I was there for Senior Day at UVA. I was around quite a bit."
After one of those games on Tobacco Road, a conversation with Thompson opened a door for Jones.
"I was mingling with the girls and just checking in with them and seeing how they were doing, and talking to the coaches and seeing how they were doing," Jones recalled, "and Coach T pulled me aside and asked me if I wanted to be the graduate assistant. I thought this was an opportunity I could not pass up, so I took it right away."