2020 Football Schedule | Ticket Information | 4TheHoos Initiative | Jeff White on Twitter | UVA Football on Twitter
By Jeff White (jwhite@virginia.edu)
VirginiaSports.com
CHARLOTTESVILLE –– One by one they went down with season-ending injuries last year, veteran defensive backs on the University of Virginia football team. Cornerback Darrius Bratton, who'd started five games in 2018, missed the entire season. Cornerback Bryce Hall, an All-American in 2018, missed the final eight games. Safety Brenton Nelson, the ACC's defensive rookie of the year in 2017, missed the final six games.
All of which meant Nick Grant, however inexperienced he might have been in the secondary, was thrust into a leading role in 2019. Grant, previously used primarily on special teams, started every game at cornerback last season for the Cavaliers, who won the ACC's Coastal Division for the first time en route to their first appearance in the Orange Bowl.
Grant impressed in training camp last year and might well have earned the starting spot opposite Hall anyway, but Bratton's knee injury sealed his promotion.
"When Darrius went down it was like, 'OK, it's going to be for real. This is Nick's spot,' " recalled defensive coordinator Nick Howell, who coaches Virginia's secondary.
For the first half of the regular season, Grant was able to lean on Hall, his longtime friend. Starting for the first time was a whirlwind for Grant, but Hall had a calming effect on him.
After Hall got hurt in UVA's Oct. 11 loss to ACC rival Miami, Grant's situation changed. "I didn't even know who was going to be on the other side [at cornerback], and it was my first year as a starter, so I was battling with that," Grant said.
The injuries took a toll on the Wahoos, whose final three opponents were Virginia Tech, Clemson and Florida. Those teams were ranked Nos. 23, 3 and 6, respectively, when the Hoos faced them. With a depleted secondary, UVa gave up 483 yards to the Hokies, 619 yards to the Tigers, 549 yards to the Gators.
Early in the season, Howell said, opponents were reluctant to challenge Hall and went after Grant instead. "But he defended it well, and the types of routes he was getting were different then," Howell said.
"At the end of the year, when Bryce was out, people really focused on going down the field, and our style had to change. [The loss of] Brenton had a big effect on that as well. It went from a more attacking style, with more aggressive coverage, to more leverage-based, where we make sure we're really sound with everything and we're not going to give up a big play."
Late in the season, there "were more down-the-field plays," Howell said. "Part of that was our opponents. Virginia Tech had a great down-the-field threat, Florida had a couple down-the-field threats, and Clemson obviously had some down-the-field threats."
"I trust Nick a lot. He's a good human being. He's a guy you want to be around every day. He's a guy you want other guys to be around. He's a guy that you want around your family. He cares about people. He cares about the right stuff." -- UVA defensive coordinator Nick Howell on Nick Grant
Grant finished the season with 51 tackles, which ranked third among UVA's defensive backs. He broke up a team-high eight passes and had two interceptions. He returned his first pick 85 yards for a touchdown against William & Mary. His second came on a bigger stage.
In the Orange Bowl, Grant made a diving interception at the Florida 34-yard line early in the first quarter. On the next play, quarterback Bryce Perkins passed to wide receiver Terrell Jana for the Wahoos' first touchdown.
Like the rest of the secondary, Grant played better in the Orange Bowl than he had against Clemson in the ACC title game. The Cavaliers, who lost 62-17 to the Tigers, pushed the Gators throughout before falling 36-28.
"The Clemson game was an interesting deal, because we were coming off beating Virginia Tech and going into something new with the ACC championship, where Clemson had done that," Howell said. "I don't know if we gave ourselves the best chance to play our very best in that game. When we sat down and talked about it after that game, we were able to look at it and say, 'Look, Clemson's a really good team, but we didn't put out very best out there.' And that's what we really focused on. Win, lose or draw, it doesn't matter who your opponent is, it doesn't matter what the matchup is, put your best game, your best technique, your best fundamentals out there, and we didn't do that."
Against Florida, Howell said, "I felt like we executed the game plan really well. We felt like if we didn't give up any down-the-field throws we were going to be in it, and there were no down-the-field throws in that game on the perimeter that hurt us."
UVA had several costly breakdowns elsewhere in the Orange Bowl, but overall "the kids executed the game plan pretty well," Howell said. "So they came back and responded well after the Clemson game."
Howell said Grant "had a lot of bright spots all through the season. There were some things we wished would have been better, but you can't really replace that experience. Nick is very bright, and so he's a guy that you can sit down with in the offseason and watch the film, and you can be very honest and not have to sugarcoat anything, and he can see it really clearly. I think there's a sense of him wanting to attack what he didn't do well last year. Nick is a confident kid. He believes in himself. That's a good thing, and if feedback is taken the right way for him, he could have a big jump in his game. I thought he played well last year, but he could take a jump for sure."
Grant, whose nickname since middle school has been Nino, said the game slowed down for him as he gained experience at cornerback. "Now it's a matter of just going out there and doing it," he said. "It's more mental than anything. I've seen the best. It's a matter of understanding what I have to do and how I can help the team the best."
Hall has moved on to pursue an NFL career, but Howell has multiple options in the secondary. The Cavaliers' returning defensive backs include Grant, Bratton, Nelson, Joey Blount, De'Vante Cross and Heskin Smith. Between them, Nelson and Blount have started 47 games at safety. Cross, who can play both safety and cornerback, started all 14 games last season, and Smith started three at cornerback.
"There's six guys right there that have played meaningful snaps," Howell said. "People forget about Heskin. He had his ups and downs [in 2019], but there's not a lot of corners that have gone to UVA, and there's been some good ones, that can say they beat Virginia Tech, and he can say that.
"The good thing about this group that I really like is you can sit down with these kids and say, 'Look, this is exactly what happened,' and they don't get ashamed. They don't get embarrassed. They don't try to blame somebody else. They literally look at it, evaluate it, and they're attacking it, and they know what they've got to do."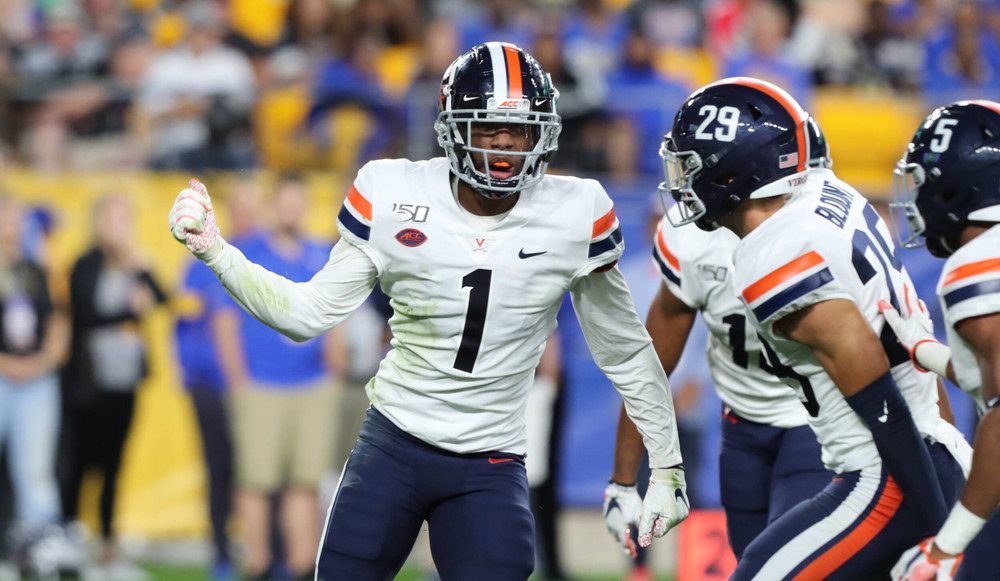 Grant, who earned his bachelor's degree in foreign affairs in May, was a two-way standout at Courtland High School in the Fredericksburg area. (His family now lives in the Richmond area.) He redshirted in 2016 and then played in 12 games in each of the next two seasons.
Knee problems slowed Grant during the 2018 season, and he entered 2019 determined to elevate himself. He wanted to earn a larger role in the secondary and to attain the highest level, black, in Shawn Griswold's strength and conditioning program.
"I wanted to do as much as I could off the field to get on the field," Grant said.
He moved from blue to black last summer, and he's now one of only two Cavaliers at that level, along with defensive lineman Richard Burney.
During the three-plus months that the COVID-19 pandemic kept head coach Bronco Mendenhall's players away from the McCue Center, the 6-foot-1, 205-pound Grant stayed fit. He spent some of that time home in Glen Allen, where he had access to weights and a gym, and some in Charlottesville, where he trained with current and former Cavaliers, including Hall, Nelson, Cross and wide receiver Joe Reed.
"The guy is a workhorse that thrives in everything we challenge him to do," Griswold, UVA's director of football development and performance, said of Grant, who wore jersey No. 1 last season.
The first practice of training camp is Monday for the Cavaliers, who are in their fifth year under Mendenhall. Much has changed for Grant over the past 12 months. He'll compete as a graduate student this season––he's enrolled in the Social Foundation master's program in the Curry School of Education and Human Development––and he speaks with the voice of experience.
"Last year everybody knew my situation: first-year starter, this, that and the third," said Grant, who's rooming with Bratton this summer. "Now it's like people look at me for guidance, people look at me for a big play. Knowing I'm a fifth-year, there's no excuse for me not to be playing at a certain threshold. There could be a lot of things going on, but I feel like people look at me like, 'He's going to get his job done. He's going to always show up and do what he has to do.' "
His position coach is one of those people.
"I trust Nick a lot. He's a good human being," Howell said. "He's a guy you want to be around every day. He's a guy you want other guys to be around. He's a guy that you want around your family. He cares about people, he cares about the right stuff. He was raised very well. He's just an impressive guy."