2020 Football Schedule | Ticket Information | 4TheHoos Initiative | Jeff White on Twitter | UVA Football on Twitter
By Jeff White (jwhite@virginia.edu)
VirginiaSports.com
CHARLOTTESVILLE –– The sun was already blazing in the cloudless sky Monday morning when the University of Virginia football team ran onto the pristine new grass practice fields that were installed this summer on the site where University Hall once stood.
"It's a hot one today, boys," junior wide receiver Tavares Kelly yelled to his teammates.
In Central Virginia, stifling weather is nothing new in August, so in that way UVA's first practice of training camp resembled most others held this time of year. Even so, it was definitely not business as usual for the Cavaliers, who are heading into their fifth season under head coach Bronco Mendenhall.
With the COVID-19 pandemic ongoing in the United States, Virginia's coaches wore masks or face shields, and the players' helmets were fitted with full visors. The masked man in the middle of the field––Mendenhall––periodically blew an air horn to stop the proceedings, after which he'd extend his arms to the side and remind the players on the sideline to stay spread out.
"I would love to say I'm just coaching football," Mendenhall told reporters on a videoconference later Monday. "Actually, my coaches are coaching football more right now, and I'm coaching the social distancing and the cultural pandemic protocols necessary to pull it all off. And, to be honest, as we started with just masks and then we put on helmets and then we start to line up across from each other, each stage is requiring new protocols [and] a new emphasis, so most of my thoughts are managing that part so that the program can actually go forward with the strategic elements, [and] almost all my time is managing nothing other than the virus to this point."
UVA is scheduled to open the season Sept. 11 against Virginia Military Institute at Scott Stadium. But it's unclear if college football will be played this fall, and Mendenhall acknowledged as much Monday.
UVA athletics director Carla Williams "lets me know when there's discussions and gives me an idea sometimes what other ADs and leagues are thinking as well," Mendenhall said "But it's morphing so quickly, and I know the word everyone uses is fluid … Turbulent might be a better word than fluid. It changes so quickly and so rapidly and I wouldn't be surprised to have decisions made today, tomorrow, next week in relation to where we stand. What is clear to me is … the numbers nationally and the numbers worldwide just don't seem to reflect progress. And so regardless of how well we do within football, I have to acknowledge that as well."
Mendenhall said he's "at peace with how well our program has managed this and our department, and I'm so thankful for that, through Carla and [UVA president Jim Ryan]. And that unity has been so comforting, so we've controlled what we can control. There just seems to be a lot more that hasn't been controlled effectively that eventually we're going to run into if we want to play. And those questions still linger."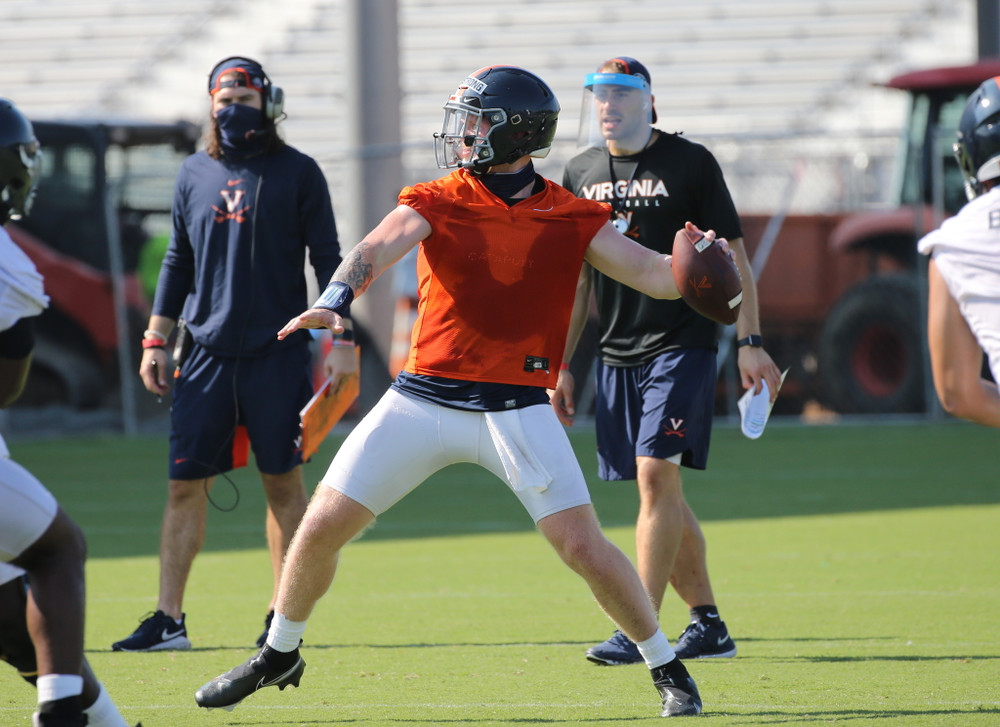 In the most recent round of testing, UVA announced Monday, no student-athletes tested positive.
"Not only within football have our numbers been exceptional, but for the whole athletic department," Mendenhall said, "so we have done a very good job of controlling that component. However, that does not reflect the community spread. It doesn't reflect the nationwide numbers, and it doesn't reflect the worldwide pandemic, and football is secondary to all of those things in my opinion. And so this to me isn't a football issue. This is a worldwide issue and a national issue, and a state issue and a community issue."
At 8 a.m. Monday, meetings began for the Wahoos inside the George Welsh Indoor Practice Facility. By 9 o'clock, most were outside with their position groups. At 9:20, music started pumping out of the speakers next to the field, and the players gathered in front of Shawn Griswold, UVA's director of football development and performance, to start warmups. The first of what Mendenhall hopes will be many 2020 practices was under way.
"I was emotional today at practice just being on brand-new grass practice fields," said Mendenhall, who guided Virginia to its first Coastal Division title last year. "That's another step of progress of our program, and the gratitude to our administration, to our donors, for providing and help us achieve that next step has been really gratifying as a kind of symbolic and meaningful marker of some of the work we've done here over the past four years. I've learned a lot about people through this unique challenge, young and old, and it's been an amazing period of growth, I think, for all of us. I've worked hard to frame this time period not in relation to if we'll play or if we won't play, but to how much growth can we accomplish daily. What kind of circumstances and what kind of program can I provide for growth that will be meaningful and also how much fun can I have our players have daily in the meantime?"
The Hoos, who posted a 9-5 record last season, have added seven transfers this year: running back Ronnie Walker Jr. from Indiana, quarterback Keytaon Thompson from Mississippi State, tight end Tony Poljan from Central Michigan, running back Shane Simpson from Towson, wide receiver Ra'Shaun Henry from St. Francis (Pa.), and defensive back D'Angelo Amos and defensive lineman Adeeb Atariwa from James Madison University.
All except Walker are graduate transfers who are eligible to play this year. A waiver on behalf of Walker has been submitted to the NCAA, Mendenhall said, and UVA hopes to learn this week if the former Hopewell High School star will be granted immediate eligibility.
Simpson, Amos and Atariwa are quarantining and did not practice Monday, but Thompson, Henry, Walker and Poljan took reps with the offense. At 6-7, 260 pounds, Poljan is a huge target, and he caught 33 passes for 496 yards and four touchdowns at Central Michigan in 2019.
"He's already made a real difference for us and is a very good football player and a perfect fit in our program," Mendenhall said.
The transfers are "all just amazing young men, academically motivated, really good players with unique stories that also fit a need that I've seen now within our program," Mendenhall said. "Should we play, depth is going to be at a premium … It just seemed to be a win for everyone involved, and that's that was the motive behind it."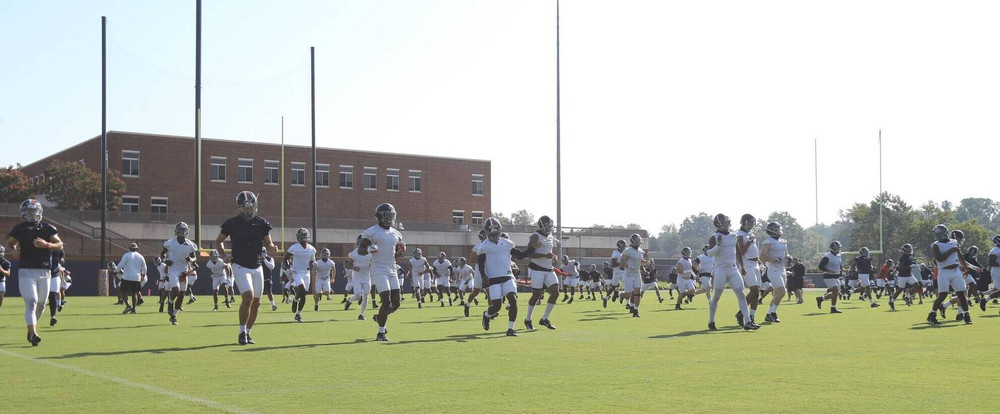 Five players have opted out of practice for various reasons, not all related to COVID-19, Mendenhall said. The players who are on Grounds and cleared to practice took the field  Monday morning without shoulder pads, the offense in blue jerseys and the defense in white. As in years past, no numbers have been awarded this early in camp, but there is a twist this summer. On the back of each player's jersey is his last name.
Mendenhall ended practice at 10:30 a.m. but said the players would meet and lift weights throughout the day.
"It'll be another hour and a half for football early this afternoon and another hour and a half later tonight, spaced out within what the rules are," Mendenhall said. "Our intent is for the football-specific part to be our competitive work [at practice] …  then there'll be walk-throughs and other more individually type-oriented things throughout the day, but the intent is we have the whole day."
College sports were shut down before the Cavaliers could begin spring practice in March. After three-plus months away, most of the team returned to Grounds on July 5. Mendenhall said he's been impressed with his players' conditioning and fitness.
"That does not mean they've progressed at the same level as if they would have been with us the entire time," he said. "Just bluntly, where we are today would be the equivalent of where we were when we left [in March]. So our strength numbers are just now back to where they were when we departed. That's actually ahead of where we thought we would be. We didn't believe there would be gains made. We were just hopeful that they could stay as close as possible to baseline. But it's taken us the time we've had our players back, to today where we feel really good that we're baseline, and now we have a chance to kind of expand from there. I don't know where that compares to the rest of the country, but that's where we are."