2020 Football Schedule | Fact Book | Ticket Information | 4TheHoos Initiative | Jeff White on Twitter | UVA Football on Twitter  | Subscribe to Jeff White's Articles
By Jeff White (jwhite@virginia.edu)
VirginiaSports.com
CHARLOTTESVILLE –– With quarterback Bryce Perkins and wide receivers Joe Reed and Hasise Dubois gone, the passing game was always going to look different for the University of Virginia football team this year, but there's been unexpected attrition as well. Head coach Bronco Mendenhall said Friday that an injury will sideline promising wideout Dontayvion Wicks this coming season.
The 6-1, 205-pound Wicks, who had three catches for 61 yards and one touchdown as a true freshman in 2019, is strong and fast and was expected to emerge as a major contributor this year. In Wicks' absence, junior wideouts Billy Kemp IV and Tavares Kelly Jr. figure to take on bigger roles in the Wahoos' offense.
"It's essential, and they are the most consistent, durable and productive players at the receiver group so far," Mendenhall said on a Zoom call with reporters. "They've taken a really, really nice step forward that I'm so thankful for … The dynamic's completely different, but it's clearly noticeable that they're a stage further than where they were a year ago, which was needed."
In 2019, when Reed and Dubois combined for 152 catches and 1,741 yards and 13 TDs, Kemp had 35 receptions for 289 yards and one TD, a pivotal score in UVA's win over Virginia Tech at Scott Stadium. Kelly caught 14 passes for 152 yards and one TD.
They've shown playmaking ability on special teams, too. Kemp handled most of UVA's punt returns last season, returning 23 for 137 yards. On kickoff returns, Kelly was Reed's understudy. Kelly returned eight kickoffs for 179 yards, with a long of 40 yards.
The Cavaliers' most proven receiver is senior Terrell Jana, who caught 74 passes for 86 yards and three TDs last season.
"Even though Joe and Hasise got a lot of notoriety from last year, [Jana] was really the leader of the group," wide receivers coach Marques Hagans said. "He really assumes that role again this season. It's a natural thing to him. Everything that you want in a player is Terrell Jana. He's made himself through hard work, sacrifice, and dedication."
Others in the mix at receiver include graduate transfer Ra'Shaun Henry, junior Hayden Mitchell, redshirt freshman Luke Wentz, and true freshmen Lavel Davis Jr. and Demick Starling.
The addition of Davis, Starling and Henry "has been a lifesaver at that position," said Mendenhall, whose team won the ACC's Coastal Division in 2019.
Henry, who had 90 receptions last season for St. Francis (Pa.), which competes in the NCAA's Football Championship Subdivision, has "been really a bright spot for us," Mendenhall said, "so that's been a real positive."
So has Davis, a huge target at 6-foot-7. He's "more capable of playing earlier than what I had imagined," Mendenhall said.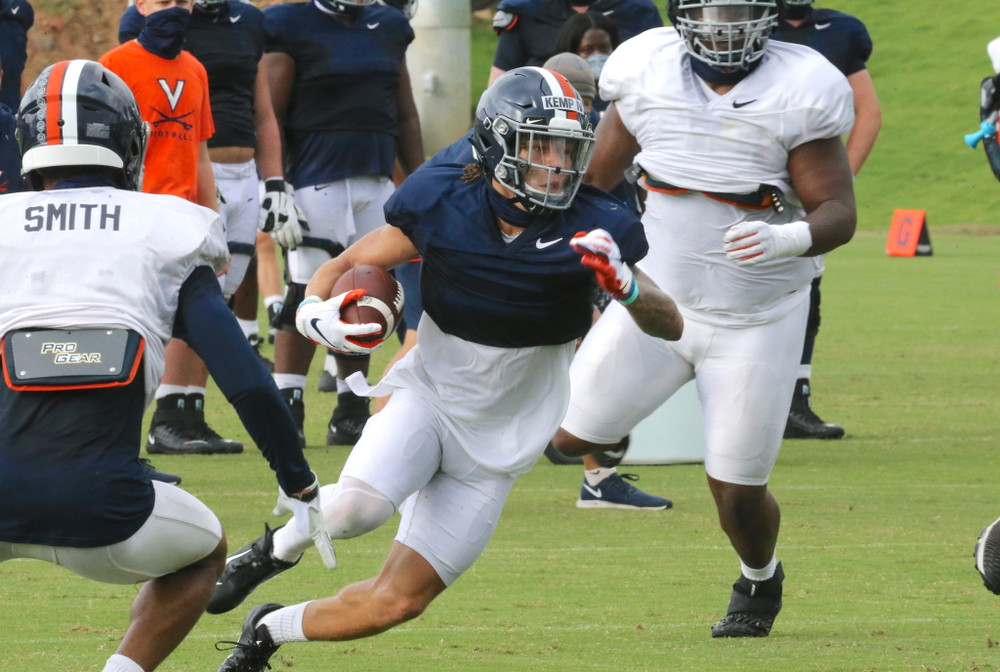 The Cavaliers also lack experience at running back, where four players with eligibility remaining––PK Kier, Lamont Atkins, Jamari Peacock and Seneca Milledge––have left the program since the end of last season. A fifth running back, sophomore Mike Hollins, is still on the team, but he's one of the Cavaliers who, for various reasons, some COVID-related, have chosen to opt out this season, Mendenhall said.
Wayne Taulapapa, the Cavaliers' top running back last season, has impressed in training camp, and two transfers are working at the position: Ronnie Walker Jr. (Indiana) and Shane Simpson (Towson). Simpson is a graduate transfer. Walker, who has two seasons left, has applied for immediate eligibility.
The NCAA turned down Walker's initial request, Mendenhall said, but an appeal is pending. Mendenhall said he's not sure why the waiver request "was denied. I don't agree with it, and hopefully the appeal will work in his favor, in our favor, which would be fair."
Others at running back include redshirt sophomore Perris Jones, a walk-on who was among the first group of Cavaliers to select jersey numbers last weekend. (Jones chose No. 10.)
At quarterback, where Perkins had record-setting seasons in 2018 and '19, Virginia's options include redshirt sophomore Brennan Armstrong, redshirt junior Keytaon Thompson, true freshman Ira Armstead and senior Lindell Stone.
Armstrong backed up Perkins in each of the past two seasons. Thompson, a graduate transfer from Mississippi State, and Armstead, who enrolled midyear, are new to the program.
"As of today, Brennan Armstrong would have the lead at this point," Mendenehall said. "Keytaon is an amazing athlete and can do a lot of things really well."
Mendenhall added that he's surprised at "how well Lindell Stone is managing the team and how quickly Ira Armstead is coming along. So I like our depth at quarterback, and I like the possibilities of that position being the healthiest that it's been since I've been the coach at UVA."
He's also high on the offensive line, where all of the Cavaliers' regulars from 2019 are back. Tackle Bobby Haskins is recovering from an injury and has yet to be cleared for full participation, but Olusegun Oluwatimi, Dillon Reinkensmeyer, Chris Glaser, Ryan Nelson, Ryan Swoboda, Alex Gellerstedt, Jonathan Leech and Joe Bissinger have been working together daily.
"Man, has it been fun to have a healthy offensive line and to have healthy offensive line numbers and be able to practice the run game at a higher level than we ever have and not worry about injuries or be so concerned [that] if one player gets hurt, 'Wow, how do we function?' " Mendenhall said. "I think for the first time our quarterback position and our offensive line position––I'm talking in terms of depth now, not just ability––are allowing us to practice and move forward in the run game in a way that we haven't been able to to this point, so I've been really encouraged and impressed. We're just further along with all five of those guys back, and then we have quality backups, too, so we're in a good position, I think."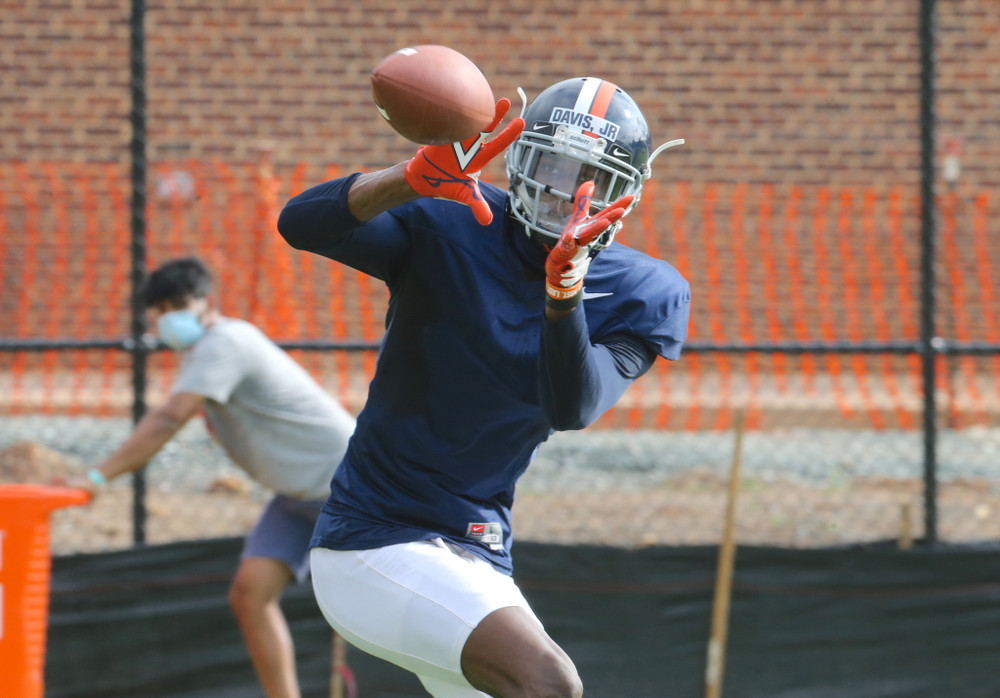 When the ACC announced its revised 2020 football schedule early this month, UVA's 11 games included a Sept. 11 opener against Virginia Military Institute at Scott Stadium. VMI later announced that it would not be playing football in the fall, and UVA has yet to schedule another non-conference opponent.
Mendenhall said the Cavaliers are unlikely to replace VMI on the schedule, which means they would open the season Sept. 19 against Virginia Tech in Blacksburg. UVA's first home game would not be until Oct. 10, against NC State.
"Again, it's not definitive yet," Mendenhall said. "The latest I've heard, though, is that's the direction we're headed. It's a long time away from our first game still. Really, today is the equivalent of maybe the start of fall camp if [Sept. 19 is] the first day, which is four more weeks. So, lots of time to manage."
Some ACC schools are offering only online classes this semester. If UVA were to follow suit, Mendenhall was asked, would he be comfortable playing football this fall?
"It is the exact question I was visiting with our athletic director and our team leaders yesterday, and it's a really unique position," said Mendenhall, who's in his fifth year at UVA. "I love the idea of student-athlete, in that order, and it's very difficult for me to reconcile having football players on Grounds and no other students on Grounds from a philosophical perspective. Now, if I look at my team and see how much they want to play and they want me to coach them and they want me to keep them safe and I want to keep them safe, it's really tricky, because philosophically and morally, I have a strong thought."
His players "want to play and they want me to coach them and they want to be safe at the same time, and I think I can help them do that," Mendenhall said. "So, yeah, I'm conflicted. That's the best way I can put it."
UVA Athletics announced on Friday afternoon that, in the department's fifth round of COVID-19 testing, no student-athletes tested positive. There have been no positive test results since the report issued on July 24.
Mendenhall's son Breaker, who starred in football at nearby Western Albemarle High School, signed a letter-of-intent with Utah State in February. Utah State competes in the Mountain West, which is among the conferences whose members are not playing football this fall.
Asked Friday about the "fractured nature of" college football, Mendenhall said, "I think 'fracture' might even be an understatement. The gulf and the divisions are huge. I would love consistency. I would love standardized protocols. I would love more leadership, and I'd love more continuity, acknowledging there are different hotspots around the country."
Mendenhall said he understands why the Mountain West opted to cancel football, "and being a father it's made me more empathetic, more compassionate and maybe more holistic in my approach, just because I've seen it through a father's eyes, not only a coach's eyes. And it's had something to do with our program design, really, why I've worked, and we've worked, so, so hard on the safety and the numbers. I've never run a practice structure like we're currently running. There's really nothing about our program that looks the same as what a normal organization looks like. I've erred really, really far on the side of caution and safety."