2020 Football Schedule | Fact Book | Ticket Information | 4TheHoos Initiative | Jeff White on Twitter | UVA Football on Twitter  | Subscribe to Jeff White's Articles
By Jeff White (jwhite@virginia.edu)
VirginiaSports.com
CHARLOTTESVILLE –– Now that the calendar has flipped from August to September, UVA's season opener is little more than two weeks away, but head coach Bronco Mendenhall said his football team has yet to shift its full focus to Virginia Tech.
The Cavaliers are scheduled to meet the Hokies in Blacksburg on Sept. 19.
"Probably middle of next week," Mendenhall told reporters on a Zoom call Thursday morning. "That's our typical model, and we've used that for a long time, and it's served us pretty well."
When the longtime rivals met last season, the ACC's Coastal Division title was at stake, and UVA rallied for a 39-30 victory at Scott Stadium. The Wahoos also reclaimed the Commonwealth Cup, and one of their many stars that day was quarterback Bryce Perkins, who after two transformative years in Mendenhall's program is in training camp with the Los Angeles Rams.
Mendenhall needed little time last month to name Brennan Armstrong, Perkins' understudy in 2018 and '19, as the Cavaliers' starter heading into the season.
Armstrong, a left-hander, is a 6-2, 215-pound redshirt sophomore from Shelby, Ohio. He beat out redshirt juniors Lindell Stone and Keytaon Thompson and true freshman Ira Armstead for the starting job.
"Really, when I'm under pressure or I'm making critical decisions, it's a pretty simple mantra I use, that facts are our friends," Mendenhall said when asked what impressed him about Armstrong. "The numbers matter to me. And so completion percentage, how the offense is moving the ball, touchdowns scored, all the things that are relevant to helping our team win. It's very similar with the kicking game. We chart everything, and I was just really impressed with [Armstrong's] numbers and the results and that led to a body of work, and that was, over time, a cumulative effect that made it clear to me that he was the best player for us at that spot."
Thompson, a 6-4, 215-pound graduate transfer from Mississippi State, joined Virginia's program this summer. He's "an amazing athlete and big and strong and physical and very good with the ball in his hands as a runner and more dynamic in that capacity," Mendenhall said. "Brennan [is] probably more well-rounded from all parts of quarterback play, and so [he gives the offense] more options and more versatility, would be probably the best way I would describe it, but I was really impressed with Keytaon as well."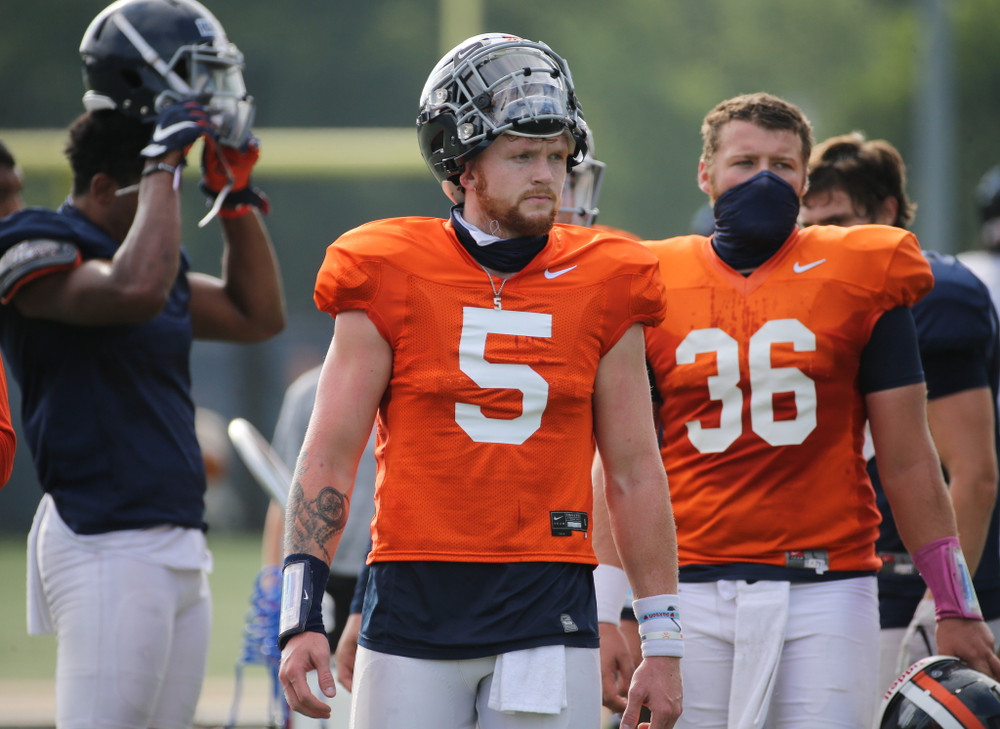 One of the more compelling storylines in preseason has been the 6-3, 210-pound Armstead's progress. "Ira has been better, faster, than what we had anticipated," Mendenhall said.
Armstead enrolled at UVA in January but, like his teammates, didn't have the benefit of  spring practice. The COVID-19 pandemic shut down college sports in March.
Mendenhall praised No. 98's "speed and athleticism. He's long and he's tall and he's fast and he's dynamic and he's productive and he's elusive. And he's catching up in terms of playing the position of quarterback, and he's catching up in terms of the scheme. He's catching up in terms of his assignments. But wow, the other parts are really impressive."
With the pandemic ongoing, teams' depth may be tested more than ever this fall, and several Cavaliers have been cross-training at multiple positions.
"We have a pretty limited group that are doing that," Mendenhall said, "but, man, one player at each one of those position groups makes a difference."
For the UVA coaching staff, the size and speed of Thompson and Armstead present some enticing options.
"It just makes sense for not only any year, but especially this year," Mendenhall said. "Those are cross-training natural fits that certainly we'll consider, because again it's not a normal year."
WAITING GAME: After turning down his request for immediate eligibility, the NCAA denied running back Ronnie Walker Jr.'s initial appeal, Mendenhall said Thursday. Walker, who's from Hopewell, transferred from Indiana to UVA after the 2019-20 academic year. He's still hoping to be declared eligible this fall.
When the initial appeal is turned down, a player has 30 days to continue making his case, Mendenhall said, and the process is ongoing for Walker. "So I won't be able to give you a final answer until at the end of that," Mendenhall said. "We're going to work hard all the way to the very end, and exhaust every chance in that process."
With Walker's status uncertain, the Hoos' top three running backs are junior Wayne Taulapapa, the returning starter at that position; senior Shane Simpson, a graduate transfer from Towson University; and redshirt sophomore Perris Jones, a walk-on who starred at Episcopal High in Alexandria.
Mendenhall said Jones "has kind of been the Ira Armstead at running back. He's been a Victory Team player, which is a scout team player, and our defensive players have tons of respect for him, because he's so strong and fast and tough and just durable. And now that he's getting live work against our defense, he's producing very similarly as anyone else at that position. He's really been a bright spot, and so I'm encouraged by what I've seen from him, and he's made himself a viable option."
Jones was among the first group of 28 players to select their jersey numbers last month. After wearing No. 37 in 2019, he switched to No. 10 this year.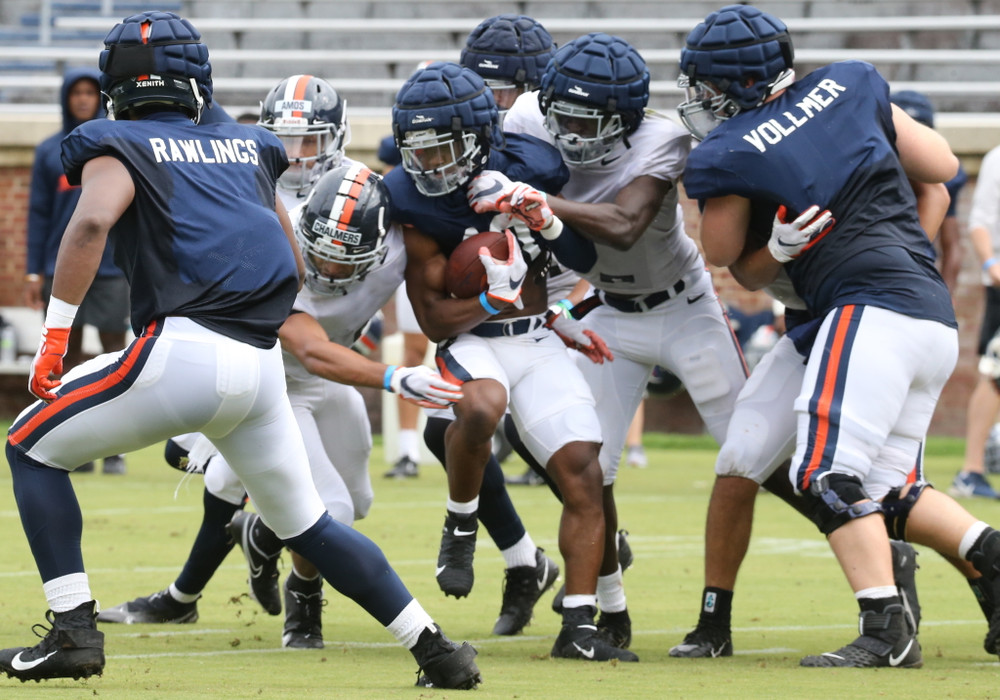 MORE TO COME? Virginia Military Institute's decision not to play football this fall has left UVA with 10 games, all against ACC opponents.
Mendenhall said he'd "prefer it remain that way, because I think 10 is safer than 11, in terms of games. It's just a matter-of-fact statement. But it's been made pretty clear to me that the ACC would like us to have a plus-one, so there are options being pursued. We could announce a plus-one, and that's in the works, but if you're asking me what I would like to do, 10 is safer than 11."
LEAVES OF ABSENCE: Of the five players who opted out during training camp, four of them––defensive lineman Aaron Faumui, running back Mike Hollins, defensive back Tenyeh Dixon and wide receiver Dorien Goddard––are still at home and aren't expected to play for the Cavaliers this season, Mendenhall confirmed.
The fifth, defensive end Ben Smiley, recently returned to Grounds, "and we're thrilled" he's back, Mendenhall said. A redshirt freshman from Chesapeake, Smiley "has some initial quarantine work to do" before he's cleared to practice, Mendenhall said.
Faumui, who's from Hawaii, started five games as a sophomore last season and emerged as a force up front for the Cavaliers.
The loss of one or more standouts during the pandemic is something "a lot of teams are dealing with," Mendenhall said. "When you have experienced players that have started games and contributed at a high level, any time they're not with you, much like they would be lost to an injury, certainly that's difficult. But, again, every player on our team has the absolute choice in this setting, and that's what I believe in."
ON THE MEND: Several players who suffered season-ending injuries in 2019 have resumed practicing or will do so soon, Mendenhall said. This group includes safety Antonio Clary, linebacker Rob Snyder, and wide receiver Nathaniel Beal III.
Offensive tackle Bobby Haskins, who played in all 14 games in 2019, had offseason surgery and hasn't practiced yet this summer. But he's likely to be in the next couple of weeks, Mendenhall said.
Darrius Bratton, who started five games at cornerback as a sophomore in 2018, suffered a serious knee injury early in training camp last summer and missed the entire 2019 season. He was cleared before the start of practice last month and is "doing a really, really nice job," Mendenhall said. "I would say he's just short of 100 percent, but with over two weeks remaining before game day, I really like what I see from him. It's gratifying to see him out playing football [again]."
NEW PHASE: With much of the UVA student body having returned to town, the football team is no longer as isolated as it was for most of July and August.
"Our [COVID-19 testing] numbers are absolutely exceptional, at this point," Mendenhall said. "And so we consider basically what I call Chapter 1, when our whole team was in the same dorm, when we had our meals coming from a tent [o take] back to your room to eat, and really there weren't any positive cases tied to players' return to Charlottesville. All the way till today, there's nothing, which is extraordinary."
Of the students who began returning to Charlottesville last month, most were staying off-Grounds. "So that hasn't changed our numbers yet either," Mendenhall said. "Now the on-Grounds students are coming, and what the national landscape is showing is that's causing significant spikes everywhere. And so we're viewing that as Chapter 2."
If the Cavaliers were in something resembling a fortress during Chapter 1, "we're no longer in the fortress, right?" Mendenhall said. "We're outside of that, and so [there is] intermingling, which happens in class, which happens in dining halls, which happens just in daily interaction. That's at a much higher level now in terms of possibility of exposure, which means then it is the absolute test, much like going from practice to a game. You see if there's any slippage from your habits in practice to performing in a game, and we'll see how much our habits hold. And now that it's for real and we are outside the fortress, or outside the bubble … that's where our security is. And so the masking is essential. [The players have] heard that, I don't know, maybe five million times already. Social distancing same, five million-ish––I'm making up numbers right now––and then washing their hands."
To receive Jeff White's articles by email, click here and subscribe.