UVA Game Notes | UVA Football on Twitter | Jeff White on Twitter | Subscribe to Jeff White's Articles | 4TheHoos Initiative | Fans First Ticket Program
By Jeff White (jwhite@virginia.edu)
VirginiaSports.com
CHARLOTTESVILLE –– After Virginia hosted Clemson in an ACC football game at Scott Stadium in November 2013, more than six years passed before they met again. That encounter came in Charlotte, North Carolina, where the third-ranked Tigers routed the No. 22 Cavaliers 62-17 in last year's ACC championship game.
Ten months later, a rematch awaits UVA at Clemson's Memorial Stadium. In a game to air on ACC Network, the unranked Wahoos (1-0, 1-0) meet the No. 1 Tigers (2-0, 1-0) at 8 p.m. Saturday.
"I'm thrilled to be able to get a chance to play Clemson again," Virginia head coach Bronco Mendenhall said Monday on his weekly Zoom call. "Having earned the chance to play them in the ACC championship game last year, it just accelerated our program. It exposed deficiencies. We learned so many things about that setting, that stage, that opponent. We're anxious to learn and apply and improve from what we showed a year ago."
About three weeks after facing the Tigers in Charlotte, Virginia took on another top-10 team, No. 9 Florida, in the Orange Bowl. The Cavaliers didn't pull off the upset, but they acquitted themselves well in a 36-28 loss to the Gators.
However humbling the ACC championship game might have been for the Hoos, without that experience "we wouldn't have been as effective or played the way we did versus Florida," Mendenhall said Monday. "So I thought we played a better football game against the University of Florida because of what we learned in our game against Clemson. To grow and expand and develop our program, [games against] the best teams on the biggest stages accelerate growth. So every time we have a chance to be in a setting against a quality opponent, growth happens faster than it would if we weren't in that stage, especially now going into year five."
Injuries depleted the Cavaliers' defense during the 2019 regular season, and the Tigers, most notably quarterback Trevor Lawrence, tailback Travis Etienne and wide receivers Tee Higgins and Justyn Ross, took full advantage in the ACC title game. UVA allowed a season-high 619 yards at Bank of America Stadium.
"I feel like that was the first time a lot of us got truly embarrassed like that on national television, especially on a big stage in the ACC championship," senior cornerback Nick Grant said on a Zoom call Monday. "We understand now going into [this] season, no matter what, whether we were going to play them in this regular season or not, all roads lead to Clemson to win the ACC. So this is just another step that we have to take to really attain one of our goals and be the best team we want to be."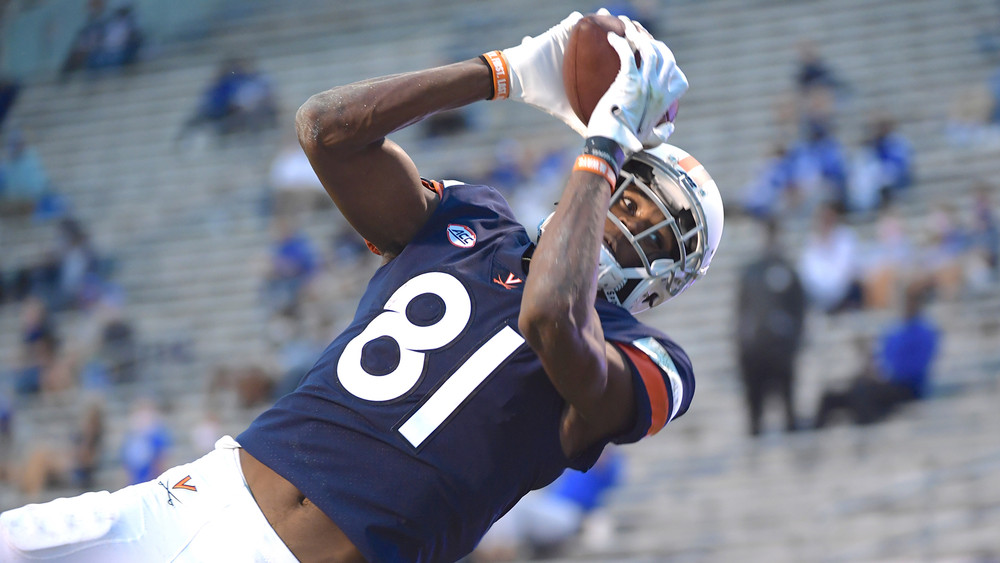 Virginia opened its fifth season under Mendenhall with a 38-20 win over Duke at Scott Stadium on Saturday. The team reviewed videotape of that victory Monday morning and then shifted its focus to preparing for Clemson, which hasn't played since blanking The Citadel 49-0 on Sept. 19.
Asked to compare the 2019 Tigers to the current edition, Grant said, "I would say they're no different. They run the same plays. They have similar-caliber receivers. Obviously, they lost a couple people, but at the end of the day they're still Clemson."
Mendenhall agreed. "Dabo Swinney is still the coach. The coordinators are the same. Much of the personnel [from 2019] remains, and the system is so effective and has been for a long time. So Clemson is at the point of reloading. There's certainly an adjustment or a tweak here or there by their personnel, but Dabo's record, and Clemson's record since he's been there, doesn't warrant wholesale changes … One of the ways you build great programs is not having significant changes once you reach a certain level, and that's one of the things they've done really well."
Higgins is now in the NFL, and Ross is out with a season-ending injury. But Etienne and Lawrence are back, and they headline an offense that's characteristically explosive.
"Obviously, Trevor Lawrence is a great quarterback," Grant said. "One of best quarterbacks in the nation. Their running back's one of the best in the nation as well. Those two by themselves can win a lot of games. Last year our secondary didn't hold up our end of what we needed to do defending their receivers and their deep routes, so they were basically doing anything they wanted to."
To his players, Mendenhall has acknowledged Clemson's lofty standing in the college football world. "Now that I've said that, it just really goes back to putting our plans in place, doing the best we can to execute the things that we think will work, highlighting our personnel," he said.
"I, after the initial planning, don't really acknowledge the opponents. I just try to give our team every chance to have success, regardless of who we play. This is a quality opponent, no question, and everyone knows that. So now what are we going to do? And how do we help our team? That's really where all my focus goes. That's weekly, not just against Clemson."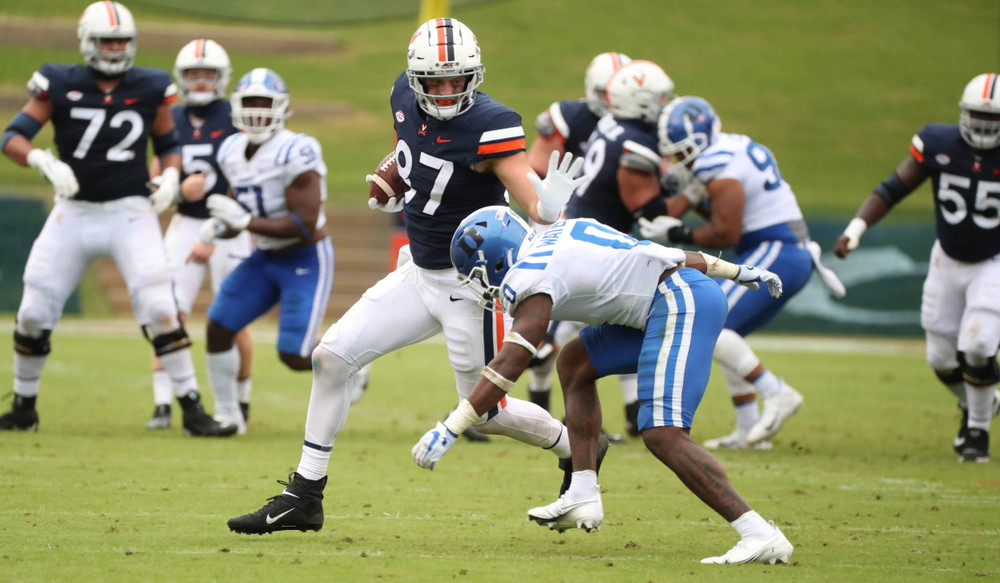 The Tigers opened their season Sept. 12 with a 37-13 victory over Wake Forest. The Cavaliers, thanks to a series of schedule changes related to the COVID-19 pandemic, had to wait another two weeks to get started.
"It was so relieving to finally play a game," Grant said. "We just felt very lucky to be out there on the field playing with each other. Even if Scott Stadium wasn't full, we just felt a great deal of emotion being out there defending our home turf and being able to play out there."
Mendenhall said: "It feels really good to have played a football game. Our players needed it. They needed a reinforcement that the work they've been putting in had a real and tangible outcome or opportunity. I was so happy they had success and they were able to get a victory as well just to recognize again and reinforce the effort and sacrifices that they made so far. It was fun to see just everyone happy and celebrating and being together and playing the game."
UVA's many standouts in its sixth consecutive win over Duke included inside linebacker Zane Zandier, a senior who finished with a career-high 15 tackles, and wideout Lavel Davis Jr., a true freshman who caught four passes for 101 yards and two touchdowns.
On Monday, the ACC honored Zandier as its linebacker of the week. Davis, whose 101 yards are the most ever by a Virginia receiver in his college debut, received two awards from the ACC: receiver of the week and rookie of the week.
On his Zoom call, Grant was asked what makes Davis so difficult to defend.
"Other than he's 6-7?" Grant said, smiling. "He's a very talented kid. He works hard. He's really humble. I always see him after [meetings], taking notes. I can really see the hunger in his eyes. He really wants to be great."
The Cavaliers' top two receivers last season, Joe Reed and Hasise Dubois, were seniors. Davis "knew those were big shoes to fill, and he's stepping right in and taking the challenge head on," Grant said. "He makes circus catches all the time. If he's in the back of the end zone, the ball is his. He jumps out of the gym, and he's already 6-7, so it's very hard."
Davis is not UVA quarterback Brennan Armstrong's only towering target. There's also tight end Tony Poljan, a 6-foot-7, 260-pound graduate transfer from Central Michigan. In his UVA debut, Poljan caught four passes for 44 yards.
"It was very exciting," Poljan said on a Zoom call Monday. "I wasn't sure what to expect at first, but after the first series, I really settled down and went to work."
Football comes down to one-on-one matchups, Mendenhall said, and Davis and Poljan figure to pose significant problems for opposing defenses.
"When you have length and size, unless the opponent has someone that's similar length and size, they have to compensate for it by vertical jump or physical presence or strength or something that then mitigates the match-up," Mendenhall said. "So with those two players, most matchups will be in our favor."
Poljan didn't sign a grant-in-aid with UVA until mid-July, but he's made a seamless transition to his new program.
"He's just so much fun to be around," Mendenhall said. "He works so hard. We've been asking so much of him and his workload, but he's a strong blocker [with] really good hands and just an amazing person. It feels like Tony's been here in our program for five years. He just has acclimated so fast. The players have adopted him so quickly, and it's just a natural fit."
Poljan said: "I think in total I've been with the team just over three months, but it seems like three years. Those three months went by really slow, and overall I've just been immersing myself in the culture. I would say it feels like I've been a player here for three or four years."
To receive Jeff White's articles by email, click here and subscribe.