UVA Game Notes | Clemson Game Notes | UVA Football on Twitter | Jeff White on Twitter | Subscribe to Jeff White's Articles | 4TheHoos Initiative | Fans First Ticket Program
By Jeff White (jwhite@virginia.edu)
VirginiaSports.com
CHARLOTTESVILLE –– The Brenton Nelson the public sees and hears in his infrequent interviews is not so different from the Brenton Nelson his teammates and coaches know. The University of Virginia safety is soft-spoken and reticent in private, too.
"He's just a quiet guy," UVA cornerback Nick Grant said of Nelson, who wears jersey No. 28. "Loves to laugh. He won't say too much, but everything he says is straight to the point, and he's either being funny or giving advice or something. He's very reserved, but he will pull you aside and tell you what you need to be told. That's what I appreciate about him."
Nelson, a graduate student in the Curry School of Education and Human Development, lets his play speak for him on the football field. In Virginia's season opener last Saturday, he had two interceptions and two tackles, including one for a 6-yard loss, in a 38-20 win over ACC rival Duke at Scott Stadium.
For the 5-11, 180-pound Nelson, it was his first game in 11 months. He missed the Wahoos' final six games last season with a shoulder injury.
"It was almost overwhelming at first," Nelson said of his emotions last weekend. "I hadn't been out there for a long time, and after going through practice and the cancellations and postponements of the games [because of the COVID-19 pandemic], it was just really, really fulfilling to be back on the field."
A graduate of DeMatha Catholic High School in Hyattsville, Maryland, Nelson arrived at UVA in the summer of 2016, as did Grant and De'Vante Cross. Now, as fifth-year seniors, the three of them are not only roommates, but starters in the secondary and among the few players remaining from 2016, head coach Bronco Mendenhall's first season in Charlottesville.
"It's a little weird," Nelson said of their status as elder statesmen in the program. Several of their classmates from 2016 never redshirted and so were seniors last season. "When they left, they kind of passed the torch to us and left the program in our hands and trusted us to [lead it]," Nelson said.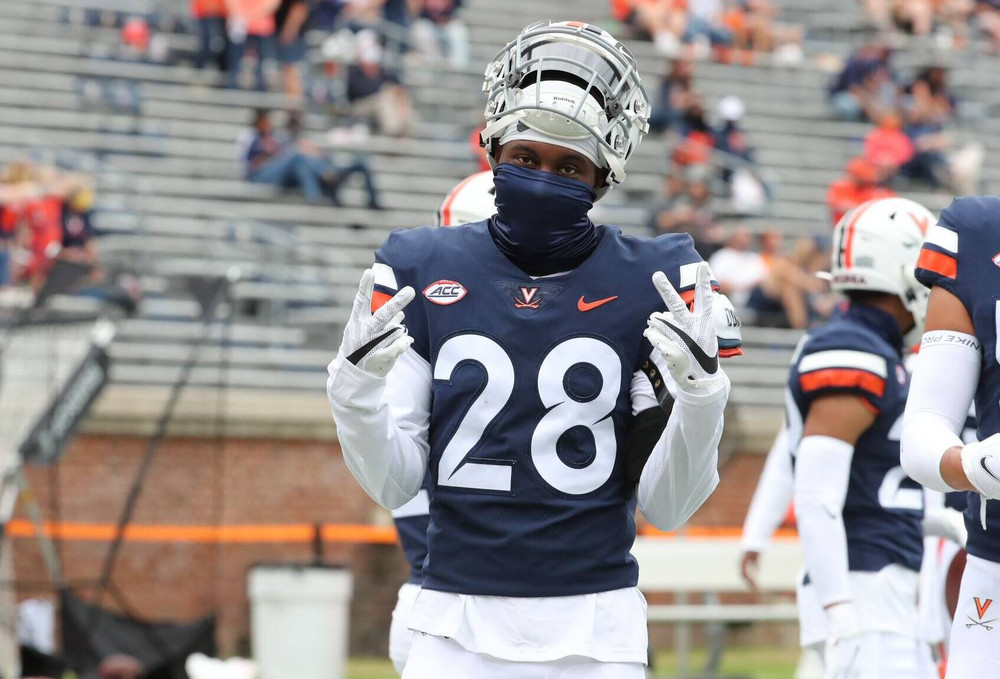 Unlike Grant and Cross, whom the coaching staff initially slotted at quarterback, Nelson came to UVA as a walk-on. It didn't take him long, however, to impress his teammates and coaches.
A hamstring injury limited Nelson's participation in the fall of 2016, but even before training camp the next year his superb ball skills were evident. He made play after play in the secondary, first during spring practice in 2017 and then in drills with his teammates that summer.
"I was like, 'This dude needs to be starting somewhere,' " Grant said, smiling. "We were doing team-led practice, seven-on-seven, and he's picking off a route every day. I was like, 'Yeah, this guy's different. He has a different speed to him and a different bounce than anybody else has.' "
By the spring of 2017, it was clear to the coaching staff "how explosive and fast [Nelson] was," defensive coordinator Nick Howell, who also oversees the secondary, said this week. "You could see he was different than all the other guys, just in the way he moved."
Given Nelson's athletic résumé, that wasn't surprising. A native of Florida, he moved to the D.C. area midway through the 2014-15 academic year. At DeMatha, which has a storied athletic program, he set school records in the long jump and the triple jump. He also excelled in football for the Stags, but when several scholarship offers fell through, Nelson found himself having to formulate a new plan.
He enrolled at UVA, planning to compete in two sports: football and track & field. After he hurt his hamstring in the fall of 2016, however, Nelson decided to focus on football. He did so with the support of Mario Wilson, who coaches the jumpers in the Virginia track & field program.
"I'm grateful that the football staff here was willing to give him a chance, because I knew that was really where his heart lay," Wilson said in a 2017 interview.
Nelson received a football scholarship in the summer of 2017. That fall, as a redshirt freshman, he intercepted four passes and was named the ACC's defensive rookie of the year. When Nelson arrived at Virginia, few would have predicted he'd become a four-year starter in the secondary, but here he is.
"All of this is really still just a dream come true," said Nelson, who in May earned his bachelor's degree in sociology. "Coming out of high school, it was a bit of a bummer not having a place to go, but there's always that fire in you that says you can do it, and [Wilson] really pushed me to go for it, and I'm glad I did."
"It was almost overwhelming at first. I hadn't been out there for a long time, and after going through practice and the cancellations and postponements of the games, it was just really, really fulfilling to be back on the field." -- UVA safety Brenton Nelson on returning to action
Injuries have hindered Nelson at times during his college career. He needed ankle surgery after the 2018 season and required shoulder surgery late last year. In 2019, he missed not only the regular-season finale, in which UVA defeated Virginia Tech for the first time in 16 years, but the ACC championship game and the Orange Bowl.
Unfortunately for the Hoos, Nelson had plenty of company on the sidelines in 2019. By the second half of the season, the Hoos had lost two of their top three cornerbacks to injuries: Darrius Bratton and Bryce Hall. Against a depleted secondary, Clemson totaled 408 yards passing in a 62-17 victory over Virginia in the ACC championship game at Bank of America Stadium in Charlotte, North Carolina.
"I know my team and my DBs did the best that they could," Nelson said. "It hurt me just to know that I couldn't be out there with them. Whether their performance was good or bad, we all want each other to be healthy and do the best we can."
His closest friends, Nelson said, are Grant, Cross, safety Joey Blount and linebacker Charles Snowden, "so it was hard to see them go through it without me."
In a rematch of last year's ACC championship game, Virginia (1-0, 1-0) visits top-ranked Clemson (2-0, 1-0) at 8 p.m. Saturday. With the pandemic ongoing, attendance at the Tigers' Memorial Stadium will be limited to about 19,000. ACC Network will air the game.
This will be Nelson's first game against the Tigers and their high-octane offense, and he and his teammates have spent hours studying videotape of quarterback Trevor Lawrence, tailback Travis Etienne, wide receiver Amari Rodgers and Co.
"I definitely have been waiting for a chance like this," Nelson said.
That Nelson is available this time means UVA has "one more match-up that is helpful," Mendenhall said on his radio show Tuesday night. At the highest level of college football, the "the teams that can basically put man-on-man at any position and have a great chance of winning that one-on-one, that makes a huge difference," Mendenhall said. "And so with Brenton back, that helps us with one more of the one-on-ones, and it's easier and more effective in managing the game."
Nelson has helped revive a long-dormant program. After finishing 2-10 in their first year under Mendenhall, the Cavaliers have improved in each successive season. In 2019, they won the ACC's Coastal Division for the first time and made their first appearance in the Orange Bowl.
"It's very humbling to be part of such a unique program and take it from 2-10 to the Orange Bowl," Nelson said. "It's almost like a feeling that you can't describe, but it's so great and I'm so appreciative to be here.
"One thing Coach Mendenhall always said was that it was going to happen. It was just a matter of when and who was going to do. So it was just about trusting him and trusting our coaching staff, and everybody else bought into it. It was just a matter of time, honestly."
To receive Jeff White's articles by email, click here and subscribe.