Box Score | Postgame Notes | UVA Football on Twitter | Jeff White on Twitter | Subscribe to Jeff White's Articles | 4TheHoos Initiative | Fans First Ticket Program
By Jeff White (jwhite@virginia.edu)
VirginiaSports.com
CHARLOTTESVILLE –– In a span of a week, the University of Virginia football team went from one extreme to another, facing winless Duke at home and then taking on top-ranked Clemson on the road.
As the Cavaliers (1-1 overall, 1-1 ACC) begin preparations for their third game, a Saturday matinee against NC State (2-1, 2-1) at Scott Stadium, they have concerns to address, but they like the direction in which they're headed.
Saturday night at Clemson's Memorial Stadium, the Wahoos struggled, as most teams do, to stop quarterback Trevor Lawrence, tailback Travis Etienne and wide receivers Amari Rodgers and Frank Ladson Jr. "But I liked our conditioning, I liked our resilience, I liked our toughness, I liked our mindset," UVA head coach Bronco Mendenhall said during his postgame Zoom call. "The game was a completely different game than a year ago."
After winning the Coastal Division for the first time, Virginia met Clemson in last year's ACC championship game, and it was a mismatch. The Tigers totaled 619 yards and won 62-17 at Bank of America Stadium in Charlotte, North Carolina.
On a night when seven Virginia players and one of its coaches were unavailable because of COVID-19 test results, the rematch unfolded differently. The Tigers won again—the final this time was 41-23—but the Wahoos gained 417 yards and didn't look outclassed.
"I thought we played hard," offensive guard Chris Glaser said. "I think we closed the gap a little bit on them."
Mendenhall said the Hoos were better prepared to face an opponent of Clemson's caliber than they were last season.
"We were anxious to play, eager to play, and believed we could win," Mendenhall said. "A handful of plays, a handful meaning five or six, were the difference in the game, and to Clemson's credit, they made those plays."
Lawrence, a junior who may well be the No. 1 pick in the next NFL draft, completed 25 of 38 passes for 329 yards and three touchdowns, with no interceptions. Rodgers caught two of those TD passes. Ladson didn't score, but he had five receptions for 71 yards.
The Tiger who tormented Virginia most was Etienne, a 5-10, 205-pound senior. He rushed 14 times for 73 yards and one touchdown and caught five passes for 114 yards and another TD. After the game, Clemson head coach Dabo Swinney compared Etienne to the great Walter Payton, and the Cavaliers would not have disputed that.
"Etienne was very difficult to tackle and was probably the difference in the game," Mendenhall said.
"He showed his talents today, and I have a lot of respect for him," UVA senior safety Joey Blount said.
On several plays, the Cavaliers were in position to corral Etienne, only to see him break tackles and elude defenders en route to big gains.
"He got out of the situations that we had him in," Blount said. "We need to be better at tackling and pursuit of the ball and wrapping up. There was a lot of missed tackles as a team where it looked like we had him and he made a play out of nothing. He's just a high-caliber player, and he had a hell of a game today."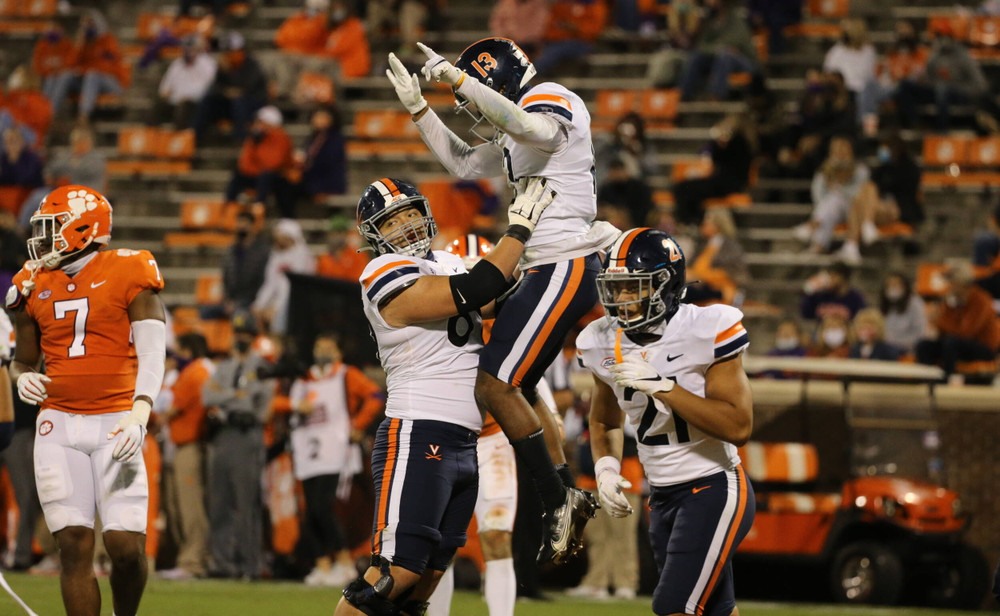 The Tigers (3-0, 2-0), who have won 24 consecutive games in Death Valley, converted 8 of 15 third-down opportunities Saturday night, several of them in long-yardage situations.
"They have really good players and they're really well-coached," Mendenhall said, "and they just were one step ahead in terms of making the plays they needed to on third-and-long, which is atypical [for UVA]. We're normally very good on third down, but that shows the difference."
Clemson had trouble slowing UVA at times, too. In his second start as a Cavalier, redshirt sophomore quarterback Brennan Armstrong showed considerable moxie. He completed only one of his first nine attempts but finished 24-for-43 passing for 270 yards and three touchdowns. Armstrong also rushed 22 times for a game-high 89 yards against the ACC's premier program.
"It didn't faze him," Mendenhall said. "Brennan's tough, mentally and physically, and the stage wasn't too big, the [opposing] team wasn't too good. I was really pleased with his mindset, his execution, his effort, his leadership. He did a nice job."
Virginia became the first ACC team to finish with more than 400 yards of total offense against Clemson since NC State in 2017.
Armstrong threw TD passes to senior wideout Terrell Jana, redshirt junior Keytaon Thompson and senior tight end Tony Poljan. He also connected 10 times with junior wideout Billy Kemp IV, whose 96 yards receiving were also a career high. Still, Armstrong left Memorial Stadium ruing a pass he'd like to have back.
Jana's touchdown in the final minute of the second quarter cut Clemson's lead to 24-14, and Virginia got the ball first in the second half. An impressive drive followed, and a 31-yard completion from Armstrong to true freshman wideout Lavel Davis Jr. moved the Hoos to the Clemson 19.
Offensive coordinator Robert Anae went back to that combination, and the Tigers responded with a spectacular play: a one-handed interception by sophomore cornerback Andrew Booth Jr. in the end zone.
"The pick in the end zone, that really swung it, honestly," Armstrong said. "That's the one thing I look back on. I think if we would have scored there, we would have had good momentum, and the outcome of the game and just the score of the game could have looked a lot different."
Mendenhall said: "We kept trying to close within a two-score margin. Great teams have great players who make plays at the right time, and a one-handed interception in the corner of the end zone was a great play by a Clemson player. Those are the kind of plays that help you get into the playoffs and help you win national championships and help you have a really good program."
Through two games, Armstrong has completed 48 of 88 passes (54.5 percent) for 539 yards and five touchdowns. He's thrown five interceptions. Kemp has 17 receptions for 166 yards, both team highs. No. 4 plays the way he practices, Mendenhall said.
"Every single day he hustles, he works, he catches, he competes, he hustles, he works, he catches, he competes, he hustles, he works, he catches and competes," Mendenhall said. "He's really done a nice job."
Armstrong said: "Billy's just a tough player. He never backs down from anybody, and I knew I was going to be able to count on him in this big of a game. It's as simple as that. He has my respect. I trust him. We're on the same page, and I knew no matter what was going to go on in the game, he was going to be there."
In a game to air on ACC Network, UVA hosts NC State at noon Saturday. This will be the longtime rivals' first meeting at Scott Stadium since 2011.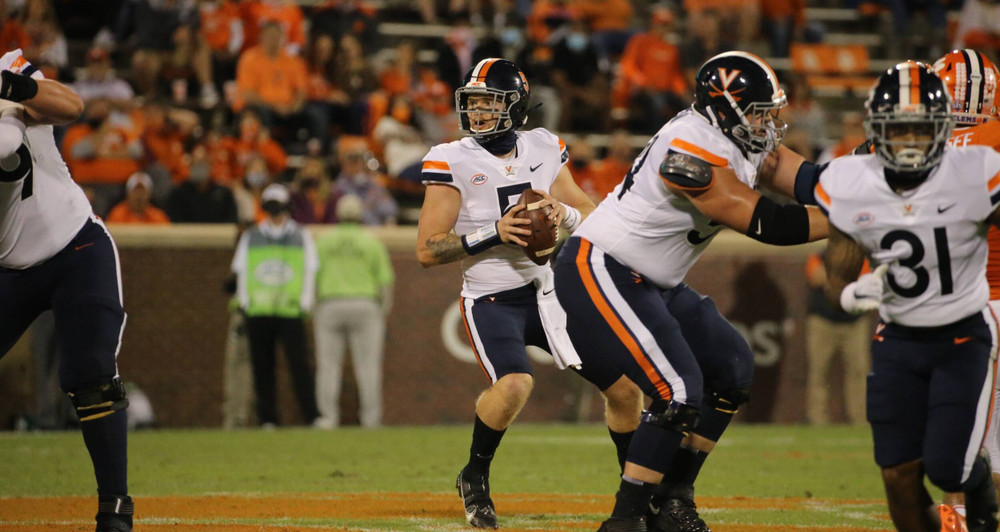 THEY SAID IT: Virginia, which lost the first 29 games in the series, is now 8-40-1 all-time against Clemson. Among the comments after the Cavaliers' first visit to Memorial Stadium since 2009:
• Swinney: "Really want to take my hat off to Virginia and Bronco. I thought they did a heck of a job. That team's going to win some games, no doubt about it. It was just what I thought I'd see, as far as that quarterback. He's a really good player. Very experienced offensive line, very experienced defense. They created some problems for us."
• Mendenhall, who had a full complement of players for the opener against Duke, on COVID-19's impact on the Cavaliers last week: "We hadn't had any positives since the players returned [to Grounds in July]. It hit us by surprise, and there's players that are testing positive, and then there's contact tracing as well. So that's been our first experience with that and how that's being managed."
• Mendenhall: "We came to win the game. We didn't come just for benchmarks and we didn't come to be better than what we were. However, again, statistically it was a balanced game. There's a handful of plays we didn't make, and to take another jump or to win the ACC or to become an elite program, those plays have to be made. There's one-handed interceptions. There's a quarterback making someone miss in the open field. There's a screen play, and a running back breaking three tackles."
• Blount: "I don't think they dominated us. I think it was a dogfight till the very end, honestly. I don't think our guys gave up, but third-down conversions definitely set us back a lot … I really think we made big strides and really shortened the gap [between the program]. Even though we're not as good as them, they're a superior team, we're getting to that [level]."
• Armstrong on where the offense can improve: "Just talking with [quarterbacks coach Jason] Beck after the game, he said we did plenty of things well. It's just doing the little things play in and play out. It gets frustrating sometimes when I don't do the little things, and that's what we preach all the time."
• UVA defensive lineman Richard Burney: "As a team, we're [upset] we didn't win. We're going to look at the film and do everything we can better and put that in the past and go on to NC State. One thing we've talked about in our program is unbroken growth, so we just gotta keep going and keep pushing."
• Glaser on Armstrong's running ability: "He's fast, he's twitchy. It's great to have a quarterback like that."
• UVA inside linebacker Zane Zandier: "I thought we fought hard. The offense got it rolling a couple times on a couple drives there, so it was good to see. [The Tigers are] a really good team. They had a good scheme going on. The No. 1 team in the country, they're going to put up points. They made five or six more plays than we made. "I thought we hung with them. I think we're capable of beating a team like that. I'm very confident that we are."
To receive Jeff White's articles by email, click here and subscribe.