UVA Game Notes | NC State Game Notes | UVA Football on Twitter | Jeff White on Twitter | Subscribe to Jeff White's Articles | 4TheHoos Initiative | Fans First Ticket Program
By Jeff White (jwhite@virginia.edu)
VirginiaSports.com
CHARLOTTESVILLE –– This is offensive lineman Dillon Reinkensmeyer's fifth year in the University of Virginia football program. It's also the fifth year at UVA for head coach Bronco Mendenhall and most of his assistants, including Garett Tujague, who oversees the offensive line.
Until this season, Tujague's group rarely had been considered one of the Cavaliers' strengths. Much of the criticism directed at the O-line has been justified, Tujague and his players readily acknowledge. But after struggling early last season, the line steadily improved as the year went on, and it's continued to progress this fall.
"It's a very rewarding and humbling process to see what I thought the standard was when I came to what the actual standard is now," said Reinkensmeyer, a four-year starter. "It's a total change, and I think that just speaks to the job that Coach Tujague has done. I think he had by far the hardest job coming in. I don't think a lot of people realized that.
"I think it's phenomenal [to go] from where we started to where we are now. It's incredibly gratifying to see the change and know that I've had even a small part in that change."
At noon Saturday, in a game to air on ACC Network, Virginia (1-1, 1-1) hosts NC State (2-1, 2-1) at Scott Stadium. Through two games, the Wahoos are averaging 167.5 yards rushing per game, and the line has allowed four sacks.
Top-ranked Clemson recorded three of them Saturday night in a 41-23 win over UVA. Overall, though, the Cavaliers were pleased with their offensive performance. They totaled 417 yards against the Tigers, including 147 on the ground. Not since 2017 had an ACC opponent gained more than 400 yards against Clemson.
"Our O-line played really well," Virginia quarterback Brennan Armstrong said after the game.
In his weekly Zoom call with media members, Mendenhall said the offensive line's development has been "one of the bright spots" of his time at UVA.
"Coach Tujague has worked so hard and has taken his lumps and has been working and growing and trying to get depth and trying to get the performance the way we, he and I, we all want it," Mendenhall said Monday afternoon. "And for the first time, here in our fifth season, our offensive line, I would say, is the cornerstone of why we're having success as a program and as a football team and as an offense. They're blocking effectively in the run and the pass. They're healthy. We're deep … The biggest difference in our program from a year ago to this year is the offensive line play."
Bobby Haskins, who started 13 games at left tackle last year, had offseason surgery and missed Virginia's Sept. 26 win over Duke. But he was cleared to play last week and made his 2020 debut in the fourth quarter at Clemson.
Haskins, a 6-7, 280-pound junior, is one of six veterans on the offensive line, along with Reinkensmeyer, senior Chris Glaser, and redshirt juniors Ryan Swoboda, Olusegun Oluwatimi and Ryan Nelson. Reinkensmeyer has played every position on the line, and Nelson is experienced at both guard and tackle.
The line's strong play is not an unexpected development. It had no seniors last season, and "it never hurts when everyone is coming back and you have experience," Reinkensmeyer said. "So I think there's a lot of different factors that come into play for this year and why we've started to play really well. But we know we've hit nowhere near our ceiling and that we have to continue to improve each week."
Armstrong, who backed up Bryce Perkins in 2018 and '19, is benefiting from playing behind an experienced line.
"It's giving Brennan more time and more confidence to just focus on leading the team and going through his reads and progression," Mendenhall said. "When you don't have protection or if you're not certain how the front will play, that really can delay a quarterback's development, or it can stop and actually cause problems that halt a quarterback's development and sometimes allow them not ever to be developed. Because there's things that have happened that just don't go away, or the quarterbacks can't overcome mentally."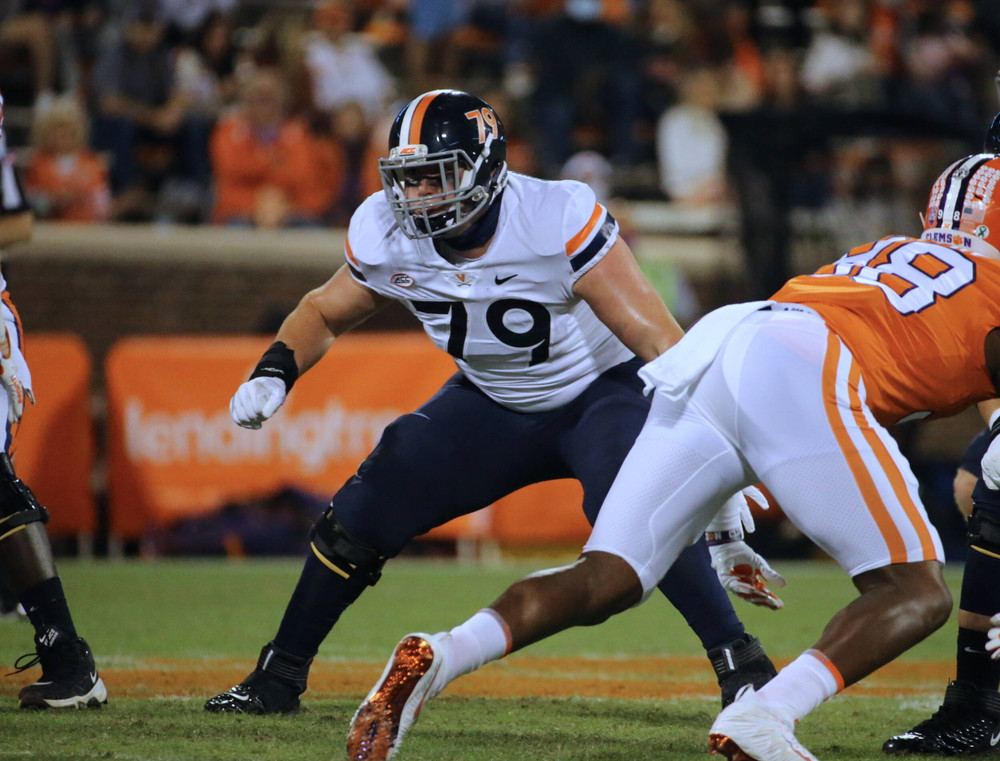 Reinkensmeyer, who redshirted in 2016, when the Hoos finished 2-10, has started 21 games at center, 12 at right tackle, two at right guard, two at left guard, and two at left tackle.
"I think moving around, it kind of makes me be more cerebral, I guess, at every position, where I know what everybody's doing, and it kind of helps," Reinkensmeyer said. "You think about what other guys might be going through and what you can learn from other guys."
His favorite position? "Whatever helps us win," Reinkensmeyer said.
SIGN OF THE TIMES: The COVID-19 pandemic is ongoing, and seven players and one assistant coach were unavailable for UVA at Clemson. The Cavaliers had no positive tests ahead of their opener against Duke.
"We went so long without a positive test, I almost think that we possibly considered it wasn't going to affect our program," Mendenhall said. "You know, somehow we were going to be the team that it just wasn't going to hit. And then last week's testing, sure enough, here were some positives and all of us, I think we're tightening down our masks and spacing out a little more."
That was a reminder, Mendenhall said, of "just how fast and how random that it can happen. And then the contact tracing. That's a whole other issue. Testing positive is one thing, but you can actually lose significantly more players through contact tracing than just the positive test. That's really a test of the protocol, so I'm looking hard at redesigning and putting new best practices or new practices in place right now."
When Mendenhall informed the team that several players would be unavailable for the Clemson game, Reinkensmeyer said, it "was definitely kind of a shock, because I think [after] not having any positive cases for so long, you kind of feel like you're a little invincible. But you kind of realize that this virus doesn't have favorites, so we have to be on our game every week. Coach Tujague says there's two games we get to play every week. There's how we even get to the game, and then the actual game."
Since returning to Grounds on July 5, the players have not had access to the second floor of the McCue Center, where the coaches' offices and meeting rooms for each position group are located.
"So they're not allowed to come up and interact with the coaches on the second floor," Mendenhall said. "All of our staff meetings are still being held by Zoom. And so the coaches are in their offices meeting remotely even though they're next door [to each other] in their offices. And any time there is a meeting that's not by Zoom, they're in plexiglass, almost the equivalent of phone booths, in the same room. It's like a game show where you go on and you're not supposed to hear what anyone else says."
Team meetings and position-group meetings are held in the George Welsh Indoor Practice Facility, where folding chairs are set up in front of screens throughout the building.
COVID-19 also has touched NC State, which is coming off a win over previously unbeaten Pittsburgh. The Wolfpack is "doing a nice job of adapting, just like every program is expected to do," Mendenhall said. "And really that's the bottom line in terms of this 2020 year, with the uncertainty of your own roster, of your own coaching staff … because we're all vulnerable to the virus. It's hard to tell when you might get it, and so adaptability is huge."
FAMILIAR FACE: The Wolfpack's staff include Ruffin McNeill, who was hired in July as special assistant to head coach Dave Doeren. McNeill spent the 2016 season as Virginia's defensive line coach and assistant head coach, and he's one of the Mendenhall's closest friends in the profession.
McNeill's exuberant personality is one of his trademarks, and Mendenhall doubts a simple handshake will suffice when he sees his former colleague Saturday at Scott Stadium.
"I might have to put two masks on, but I don't think it's possible not to hug him," Mendenhall said. "It'll be so good to see Ruff, and he's one of my favorite people on the planet. I've never heard someone [else] say that he loves someone after like three seconds of meeting him, when the other person actually thinks he does. He just has this way of warmth and engaging."
During McNeill's time on the Cavaliers' staff, he would address the team and say "he was a different kind of dangerous every day," Mendenhall recalled, laughing. "So, he might be 'gratefully dangerous,' or he might be, I don't know, 'getting-ready-to-go-on-vacation dangerous,' or he might be 'anniversary dangerous,' and the team used to just love the way he would teach in his own language, his own way. He could admonish a player in ways I could never even imagine, and they still loved him, even though he was hard on them. It's just his magical personality."
After leaving UVA in 2017, McNeill spent three seasons as the assistant head coach at Oklahoma. He left the Sooners early this year to help care for his father in North Carolina. McNeill is a former head coach at his alma mater, East Carolina, where he posted a 42-34 record in six seasons.
To receive Jeff White's articles by email, click here and subscribe.