UVA Game Notes | 2020 Fact Book | UVA Men's Soccer on Twitter | Jeff White on Twitter | Subscribe to Jeff White's Articles | 4TheHoos Initiative
By Jeff White (jwhite@virginia.edu)
VirginiaSports.com
CHARLOTTESVILLE –– One by one, under the cloud of COVID-19, University of Virginia fall teams launched their seasons last month: women's soccer on Sept. 12, volleyball on Sept. 18, cross country on Sept. 25, and field hockey and football on Sept. 26.
That left men's soccer, which has endured a seemingly interminable wait. The Cavaliers, who are in their 25th year under head coach George Gelnovatch, were supposed to open last weekend at Virginia Tech. COVID-19 issues in the Hokies' program, however, forced the match to be postponed, and it was rescheduled for next Wednesday night in Blacksburg.
"We've been here since July 13th, and we're ready to play," UVA midfielder Bret Halsey said on a recent Zoom call. "We're the last sport to get going, and we've been training for so long, I think we're all just itching to get on the field."
Halsey and teammates learned the day before the game that Virginia Tech wouldn't be able to play.
"Obviously, everyone was disappointed," said Halsey, a junior from Sterling. "It was going to be our first game of the season against arguably our biggest rivals, especially in the state. Everyone was excited to go down and finally get minutes playing in a real game in the ACC."
Instead of facing the Hokies, the Wahoos played yet another intrasquad scrimmage last Saturday. "It's got to be our fourth or fifth one by now," Halsey said.
During this pandemic, the sports world has learned to expect the unexpected, and schedules remain subject to change. If all goes as planned, though, Virginia's season will officially get under way Friday night at Klöckner Stadium. At 7 o'clock, in a match that will be streamed on ACCNX, No. 5 UVA hosts Louisville (1-2 overall, 1-0 conference).
To say the Hoos can't wait to get started would be an understatement. "We're missing that component, that really competitive piece of actually playing a game," Halsey said.
Virginia had two preseason games scheduled. Each had to be canceled because of COVID-19 issues. At the 11th hour, Gelnovatch added an exhibition against Navy, which met at Klöckner Stadium on Sept. 25.
Mistakes by inexperienced players cost the Cavaliers two late goals in a 3-2 loss, "but I was very positive about the game," Gelnovatch said, "and I thought Bret Halsey may have been the best player on the field."
"To me his confidence and composure on the ball stand out. I remember watching him do things in the College Cup last year that I wouldn't even think of trying myself, and at times you just have to step back and admire what he can do with the ball at his feet." -- former UVA All-American Joe Bell on Bret Halsey
The Hoos are coming off a season in which they nearly captured the program's eighth NCAA title. In the College Cup final in Cary, North Carolina, UVA fell to Georgetown in a penalty-kick shootout.
Many of the standouts from that team, including Daryl Dike, Joe Bell and Henry Kessler, are now playing professionally, and Halsey's role has changed. In 2019, when he wore jersey No. 13, he started at right fullback. He's switched to No. 8 and is now playing the midfield spot at which Bell earned All-America honors last season.
"He's going to be our playmaker in the middle of the field, like Joe was," Gelnovatch said. "He's got to facilitate us getting out of our half of the field, and then once we get into the attacking half he's got to help facilitate the attack. That's what a box-to-box midfielder does. He's got a lot of those qualities that can help get us out of our half when a team is pressing us, and then when we're in the attacking half, attacking third, he's got the ability to unbalance teams off the dribble. He can pass, and he can score, too."
Halsey acknowledged that he has "big shoes to fill. Joe Bell was a great player, and I try to emulate my game after him. But I'm looking forward to playing in this new position. I played in the midfield before in my club days, but I was more attacking-wise. I feel like I'm seated a little deeper now, like Joe, but I like it, because I get on the ball a lot."
Bell, who's playing professionally in Norway, has no doubts Halsey will thrive in the midfield.
"Bret is a fantastic player," Bell said, "something we all quickly became aware of when he arrived a couple years ago. I think last year he really came into himself and started showing his true abilities. However, I think this was only a glimpse of what he is capable of. To me his confidence and composure on the ball stand out. I remember watching him do things in the College Cup last year that I wouldn't even think of trying myself, and at times you just have to step back and admire what he can do with the ball at his feet."
As a freshman in 2018, Halsey appeared in only one game, against Virginia Tech early in the season. "If we could do it all over again, I would have liked to redshirt him," Gelnovatch said. "But the track that he's on, I don't think he's going to be here for a fifth year."
Halsey starred at Potomac Falls High School and for the Loudoun Soccer Club, which he helped win a national title in July 2016. Still, he wasn't considered an elite recruit when he arrived at UVA in 2018. That he had great potential, though, immediately became apparent to the Cavaliers' coaching staff.
"He clearly had some special skill set with the ball, with his dribbling ability," Gelnovatch said, "and he was wiry, athletic, tough, and he bends like Gumby. He gets in a tackle where you think every bone in his body is broken, and he pops right up."
Halsey stood 5-foot-9 and weighed about 135 pounds when he joined the program. "Very tiny," he said, "and when I look at pictures now of what I was like back then, I'm like, 'That's crazy!' "
He's now closer to 5-10, 160 pounds, thanks to a growth spurt complemented by workouts with Peter Alston, who oversees strength and conditioning for UVA's soccer teams, and good eating habits.
"He looks strong," Gelnovatch said of Halsey. "In my time here, he's made one of the bigger transformations physically [by a player]. I give a lot of credit to Peter and Bret."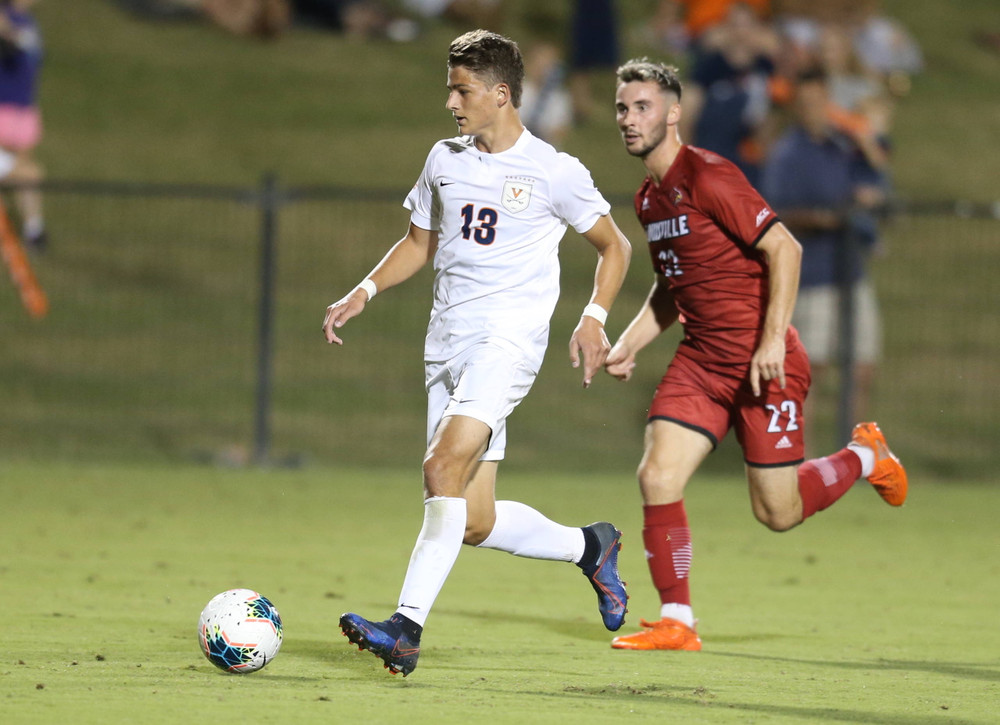 Halsey also played basketball when he was growing up in Sterling, which is near Dulles International Airport. His teammates at River Bend Middle School included Grant Misch, now a redshirt sophomore tight end on the UVA football team.
"That's when we really became friends," said Misch, who like Halsey graduated from Potomac Falls High in 2018. "I went to his birthday parties, and his folks are great people. He comes from a good family. They're always supporting the teams and are in the community."
In hoops, Halsey "was never the biggest guy on the court––in fact, he was usually the smallest––but his energy was electric," Misch recalled. "He was always probably the fastest guy out there, and his motor never really seemed to stop. He was a leader for us, not by what he said, because he was always pretty quiet, but by the way he went about things."
To those familiar with UVA's Grounds, Halsey's last name probably sounds familiar. Halsey Hall, outside of whose entrance sit two anchors, is named for one of his distant relatives: the late William F. "Bull" Halsey, who became a fleet admiral in the U.S. Navy after studying medicine at UVA.
Bret Halsey, who'll probably major in American studies or foreign affairs, hasn't had any classes in Halsey Hall, but he's met with one of his professors there.
"Not that I own the place, but it does have my name on it," Halsey said, laughing.
In 2018, UVA advanced to the NCAA tournament's round of 16 before losing 1-0 at Notre Dame. Most of the key players from that Virginia team returned in 2019, and a sensational season followed. The Cavaliers won the ACC tournament and finished 21-2-1 in 2019.
Halsey isn't sure what to expect from the 2020 Cavaliers, whose roster has changed considerably since the end of last season. Newcomers include transfers Kevin Ogudugu and Oliver Gerbig, graduate student Joan Gibert, and freshmen Kaya Ignacio and Rafael Caipo.
"I think it's just one of those things that takes time," Halsey said. "Two years ago, my first year, I remember George saying something like he did not know how good that team was going to be. I don't think at that point anyone would have thought within a year we'd be challenging for a national championship. So it's always really hard to tell, but I feel like we have a good group."
Holdovers from the 2019 team who are likely to play significant roles this fall include, in addition to Halsey, defenders Andreas Ueland and Reed Kessler (Henry's brother), forwards Philip Horton and Nathaniel Crofts, wingbacks Spencer Patton and Irakoze Donasiyano, and goalkeeper Colin Shutler, as well as forwards Cabrel Happi Kamseu and Axel Gunnarsson.
"This group is a work in progress," Gelnovatch said, "but it's a talented work in progress."
Halsey, who remembers watching the Cavaliers win their seventh NCAA title in 2014, is thrilled to be part of it. Growing up, he was well aware of the University's storied tradition in men's soccer, as well as its academic reputation.
"It's been my dream school," Halsey said.
To receive Jeff White's articles by email, click here and subscribe.