Box Score | Video Highlights | Postgame Notes | Photo Gallery | UVA Football on Twitter | Jeff White on Twitter | Subscribe to Jeff White's Articles | 4TheHoos Initiative
By Jeff White (jwhite@virginia.edu)
VirginiaSports.com
CHARLOTTESVILLE –– In the home locker room at Scott Stadium, Bronco Mendenhall spent more time talking to his team Saturday afternoon than he typically would after a game.
There was a lot to discuss. In one of their more uneven performances in Mendenhall's four-plus seasons as their head coach, the Cavaliers lost 38-21 to NC State. The Wolfpack (3-1 overall, 3-1 ACC) built a 24-0 lead before Virginia, which had won nine straight games at Scott Stadium, came to life and staged a rally.
It didn't help the Wahoos (1-2, 1-2) that they lost their starting quarterback Brennan Armstrong to an apparent head injury late in the second quarter. At that point, though, Virginia was struggling in almost every phase of the game.
"I didn't think that we approached the game as we normally do in our own stadium, and we've been so successful here over the past couple of years," Mendenhall said. "I'm not going to say or not going to jump to the conclusion [the players] took it for granted. We just didn't prepare or compete or execute at a level well enough to maintain the outcome that we wanted.
"I do think the second half our team played more competitively, with a better mindset and more urgency. But a half isn't enough, or parts of a half isn't enough. And so we're certainly learning to sustain––start to end––clean football, competitive football, and effective football to have the outcome that we want."
Armstrong, a redshirt sophomore, was out of bounds at the end of a run when he took a blow to the helmet on NC State safety Tanner Ingle's late tackle. Ingle was penalized for targeting and ejected from the game, but Armstrong could not continue, and Lindell Stone took over at quarterback.
A redshirt junior who starred at nearby Woodberry Forest, Stone came in with less-than-impressive career statistics: 4 for 12 passing for 31 yards and no touchdowns, with three interceptions. But in little more than two quarters Saturday, Stone completed 30 of 54 passes for 240 yards and three touchdowns, all career highs.
He threw one interception, on a pass that 320-pound nose tackle Alim McNeill deflected, caught and returned 18 yards for a fourth-quarter touchdown, but overall Stone did everything the Cavaliers could have hoped.
"I thought Lindell did a really nice job of leading our team and giving us a chance to fight back and possibly change the outcome and come from behind," Mendenhall said.
"Lindell did well," junior center Olusegun Oluwatimi said. "He stepped in. A lot was asked of him, because we were down, so we were playing catch-up the whole game. We had to throw the ball a lot, and he did a pretty good job doing that. He had great command of the offense, as he always does. He's probably the smartest dude in the room."
UVA wide receiver Terrell Jana played with Stone at Woodberry Forest, too.
"Lindell's always ready to go. I think it's a testament to his preparation," Jana said. "He's a baller. Ever since high school, he's always been someone who likes to compete."
Stone's second TD pass, a 1-yarder to tight end Tony Poljan, cut the Wolfpack's lead to 24-14 late in the third quarter. Stone's final TD pass, on a fade route to wide receiver Lavel Davis Jr., made it 31-21 with 6:08 remaining.
The score hadn't changed when UVA got the ball back on its 10-yard line with 4:59 left. But the Cavaliers turned the ball over on downs at their 23, and State needed only five plays to score the touchdown that sealed its victory.
Mendenhall said his "job is to predict it and try to anticipate where we are and how we'll play, and I didn't see it coming. Not the first half. I have to do a better job of anticipating and seeing it. I really thought our preparation was strong and I thought we were in a different place after the first two games, so I was surprised. I think the team was surprised."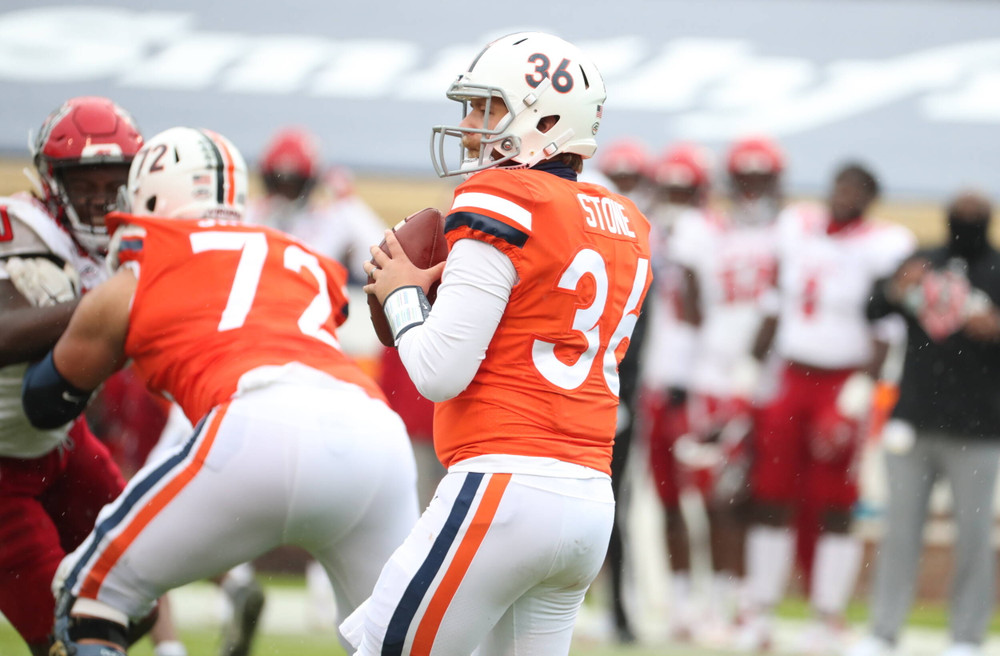 SELF-DESTRUCTING: The Cavaliers turned the ball over four times––three times on interceptions and once on a fumble––and had a punt blocked. They also failed to score after getting a first down at the Wolfpack 5-yard line early in the second quarter.
At that time, the Hoos trailed 14-0, and a touchdown would have shifted the momentum in their direction. On first down, running back Wayne Taulapapa rushed for a yard. On second down, he ran for three more. On third-and-goal from the 1, Armstrong was tackled for no gain on a keeper. On fourth down, Armstrong got the call again, and NC State stopped him on a sneak.
"That was very pivotal," Oluwatimi said. "That's all on the O-line. We've got to be better in that situation."
RECURRING THEME: UVA has yet to score in the first quarter this season. Duke led Virginia 10-0 after one quarter on Sept. 26, as did top-ranked Clemson on Oct. 3. The Wolfpack led 14-0 heading into second quarter Saturday.
By game's end, the Cavaliers had more yards and more first downs than NC State, but that was small consolation for them.
The importance of getting off to a good start "was targeted going into the Duke game and [received] double emphasis after the Duke game and then even more emphasis after the Clemson game," Mendenhall said. "I would say that it has been targeted. It certainly hasn't been targeted effectively yet, otherwise the outcome [would be different]. Outcome usually reflects preparation and the proper planning and the right solutions. We haven't cracked that code yet. Otherwise we'd be starting faster."
SHORT-HANDED: For the second straight game, seven players were unavailable for UVA as the result of COVID-19 testing. The Cavaliers also played without starting safety Joey Blount, and then they lost Armstrong in the second quarter.
Armstrong's status for next weekend, which Virginia visits ACC rival Wake Forest, is uncertain. UVA's other options at quarterback are Stone, true freshman Ira Armstead and redshirt junior Keytaon Thompson. A graduate transfer from Mississippi State, Thompson suffered a shoulder injury during training camp in August and has worked primarily at wide receiver since then.
"Once we know about Brennan, then we'll re-evaluate where we are at quarterback," Mendenhall said. "Again, I was really happy with what Lindell did today. I loved his leadership and his effectiveness. The best information gives you the best chance to make decisions, and when I have the information, we'll consider what our best options are."
Stone said he spoke to Armstrong after the game and "just asked him how he was and how he felt. I feel really bad for him. He's like a little brother to me, and he's trained really hard, he's played really well this year, and hopefully we'll be able to get him back for next week, because he earned the starting job and he's claimed it and he played well, and he's a captain of this team for a reason."
TRENDING DOWNWARD: Virginia's defense, which recorded five sacks against Duke and two against Clemson, had none against NC State.
"Teams are doing a better of keeping extra blockers in, using play action, and getting the ball out more quickly," Mendenhall said. "We have to do a better job in our secondary of making more plays, knocking more balls down, intercepting balls to make sure that it can't just be protection only.
"While NC State didn't throw the ball effectively for lots of yards today, in the beginning of the game they had key catches at critical times, and then we adjusted and our execution became better. But pressure-wise we have some work to do."
Senior defensive end Richard Burney said: "We got to be more effective pass-rushing. As a D-line and as a front seven we've got to be better."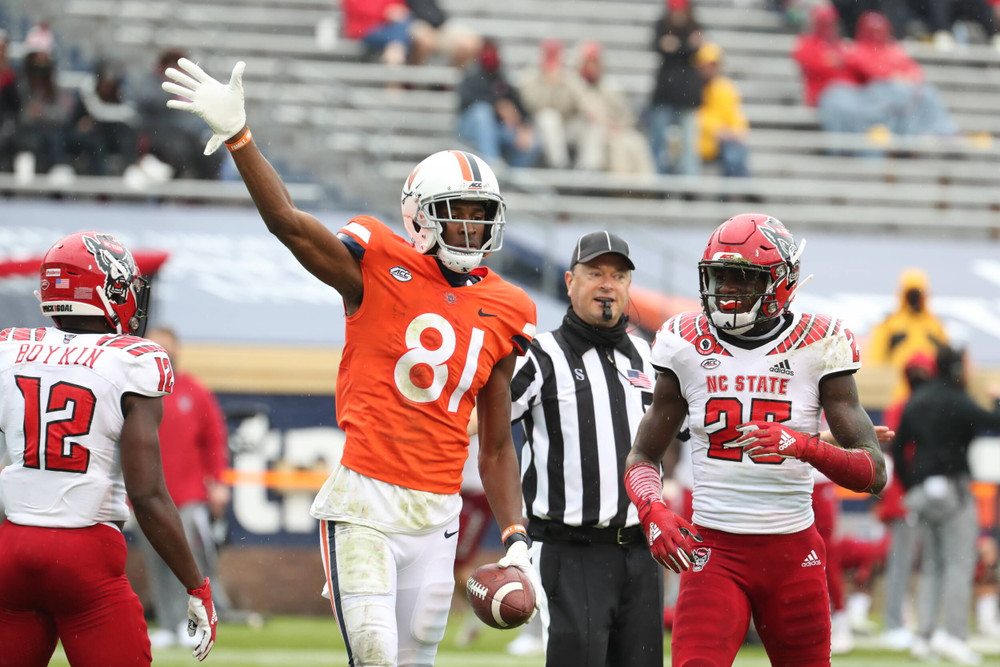 GAME BALLS: On a disappointing day for the Cavaliers, they still had several standouts, starting with Stone. Others included:
• Sophomore linebacker Nick Jackson, who finished with seven tackles and had a 26-yard reception on a fake punt. Nash Griffin, the Cavaliers' punter, took the snap, ran toward the line and floated a jump pass to Jackson in the middle of the field.
"That ball felt like it was in the air forever," Jackson said. "It was a great play [call] by [special teams coordinator Ricky Brumfield], Nash put it right where it needed to be, and it worked out perfect."
• Senior safety D'Angelo Amos, a graduate transfer from James Madison University who started in Blount's spot in UVA's 3-4 scheme. Amos finished with 10 tackles, his most as a college player.
• Junior wideout Billy Kemp IV, who matched his career high, set last weekend against Clemson, with 10 receptions. With 15 seconds left in the first half, Kemp caught a 2-yard TD pass from Stone to give UVA a much-needed boost heading into the third quarter.
• Senior defensive back De'Vante Cross, who had his fourth career interception, broke up another pass, and made four tackles, one of which was for a loss.
• Senior wideout Terrell Jana, who caught nine passes for 111 yards. That's the third time he's surpassed the 100-yard mark as a Cavalier.
• True freshman wideout Lavel Davis Jr., who caught three passes for 51 yards. For the season, the 6-7 Davis has nine receptions for 210 yards and a team-high three TDs.
• Senior tight end Tony Poljan, a graduate transfer from Central Michigan. He caught seven passes for 31 yards and a TD, his second as a Cavalier.
THEY SAID IT: The loss was UVA's fourth in its past five meetings with NC State, which had not played at Scott Stadium since 2011. Among the postgame comments:
• Running back Wayne Taulapapa on Stone's performance: "It's just a testament to his maturity. Over the years he's studied [the offense] day in and day out, and he basically acts like a coach for each and every one of us."
• Mendenhall on Stone: "Lindell brings poise, maturity, clarity, confidence, and he just sees the field like a coach from that position. He brought just a sense of calm, I think, to the offense, and rhythmically and sequentially was making the throws that were open."
• Mendenhall on UVA's fake punt: "NC State is an aggressive block team, and that's one of the ways you counter them. Obviously their [approach] worked. They blocked one of our punts and changed field position, and it's really frustrating and not OK. So one of the counter measures is to make them pay through a fake punt, and that's what we did."
UP NEXT: In the first of two straight road games for the Cavaliers, they play Wake Forest in Winston-Salem, North Carolina, next Saturday at 4 p.m. ACC Network will air the game.
Wake (1-2 overall, 0-2 ACC) did not have a game this weekend. The Demon Deacons' win came Oct. 2 against Campbell.
UVA has lost three in a row to Wake but leads the series 34-15. The teams haven't met since 2016, when the Deacons won 27-20 in Winston-Salem.
To receive Jeff White's articles by email, click here and subscribe.