UVA Game Notes | Wake Forest Game Notes | UVA Football on Twitter | Jeff White on Twitter | 4TheHoos Initiative | Fans First Ticket Program
By Jeff White (jwhite@virginia.edu)
VirginiaSports.com
CHARLOTTESVILLE –– On Sunday, Zane Zandier and his teammates reviewed videotape of Virginia's 38-21 loss to NC State on their own. On Monday, they watched it with their coaches.
The Cavaliers didn't enjoy the film either time. On a gray afternoon at Scott Stadium, UVA trailed 24-0 before rallying to cut its deficit to 10 points in the third quarter and then again in the fourth Saturday. The Wahoos finished with more total yards and more first downs than the Wolfpack. Ultimately, though, breakdowns in every phase of the game doomed the Hoos.
"I think we made a lot of mistakes that were more on us and completely fixable in practice this week and going into our next couple of games," Zandier, a senior inside linebackers, told reporters on a Zoom call Monday afternoon. "Nobody's really too worried or anything like that. I know we really underperformed and made a lot of mistakes on Saturday and lost a game that I think a lot of us believe we should have won."
The key, Zandier added, is "to stay as positive as possible and just learn from it as much as possible as well.
This is Bronco Mendenhall's fifth season as UVA's coach, and his program rests on a solid foundation. That made Saturday especially disappointing for Mendenhall, who guided the Cavaliers to last year's ACC championship game.
After opening Sept. 26 with a 38-20 win over Duke at Scott Stadium, Virginia acquitted itself well on the road a week later in a 41-23 loss to top-ranked Clemson. The Hoos came out of those games with "a lot of positive momentum," Mendenhall said on his weekly Zoom call Monday.
That momentum stalled against the Wolfpack (3-1, 3-1). The Cavaliers made a "lot of mistakes really in every area," Mendenhall said. "We didn't play well enough to win the football game. And so it caught me and probably my team a little bit off-guard after [the first two games]."
The first opportunity for the Hoos to get moving forward again comes Saturday in Winston-Salem, North Carolina. At 4 p.m., in a game to air on ACC Network, UVA (1-2, 1-2) takes on Wake Forest (1-2, 0-2).
It's too early to say who'll play quarterback for Virginia in its first meeting with Wake since 2016. The Cavaliers' starter, Brennan Armstrong, took a late hit to the head from an NC State safety in the second quarter Saturday, left the game and didn't return.
Armstrong, a redshirt sophomore, suffered a concussion, Mendenhall said. It's the first of Armstrong's football career, and he might be available in Winston-Salem, Mendenhall said. "It's really day to day as he works through the protocols."
If Armstrong can't play, the Cavaliers will go with redshirt junior Lindell Stone, Mendenhall said. Against NC State, Stone came off the bench to complete 30 of 54 passes for 240 yards and three touchdowns, with one interception. That was by far the most Stone, a Woodberry Forest graduate, had played in a college game, and he appeared unfazed by the situation.
"I was just impressed with the poise that he showed when he came in," Zandier said. "He wasn't nervous at all."
In practices leading up to the NC State game, Stone worked primarily with the scout-team offense. And so to see him come in "and move the football team, I was encouraged by that," Mendenhall said.
Unlike Armstrong and Bryce Perkins, Virginia's starter in 2018 and '19, the 6-0, 240-pound Stone is not a dual-threat quarterback. The Cavaliers all but abandoned their running game when Stone was leading the offense Saturday, but only because they "were playing from behind," Mendenhall said Monday.
Like it or not, this UVA team has become accustomed to playing from behind. The Hoos have yet to score in the first quarter this season. Duke led 10-0, Clemson led 10-0, and NC State led 14-0 heading into the second quarter.
"That's definitely something we're working on," Virginia offensive lineman Ryan Nelson said on his Zoom call Monday. "We come out there ready to go, and then there's sometimes a feeling-out period, and we've got to get through that and sprint out of the gate, like a sprinter coming out of his stance.
"It's definitely not the greatest thing, coming from behind, but it is a challenge, and Virginia football is built on overcoming challenges."
In the team meeting Monday morning, Mendenhall said, he addressed the slow starts. Over the final three quarters of the first three games, Virginia outscored its opponents 82-65.
"We're playing with more urgency and more focus once we're behind," Mendenhall said. "It can't take us [being] behind to play with that urgency and focus … It might be inexperience at quarterback and just facing the different looks and getting acclimated. There might be other factors as well, but it's making it difficult right from the beginning to have the kind of start that we want. So, we're addressing it and considering the best ways to address it moving forward."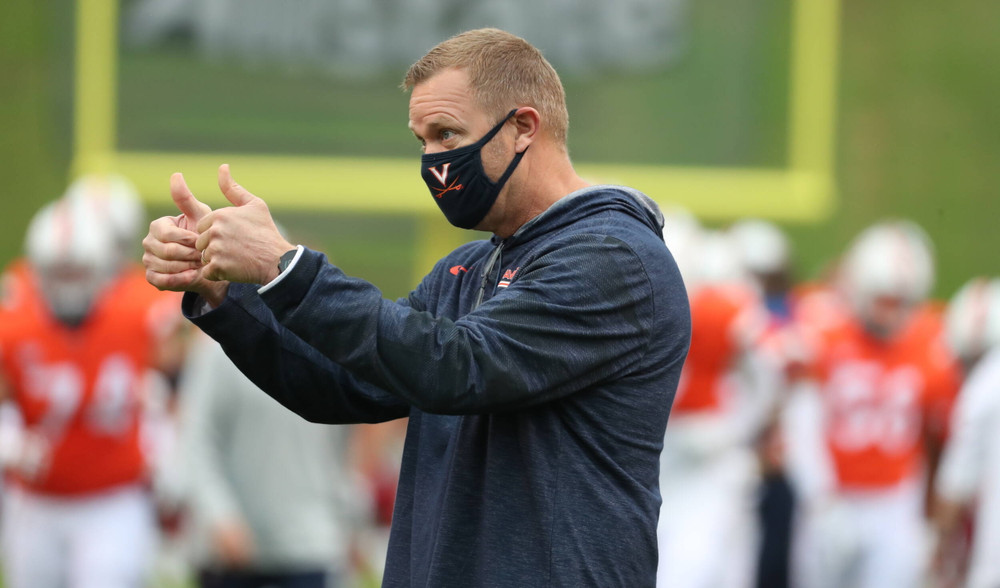 The Cavaliers turned the ball over four times, recorded no sacks and had a punt blocked Saturday. Moreover, one of Brian Delaney's kickoffs went out of bounds, which gave NC State the ball at its 35-yard line. The Wolfpack totaled 28 yards on its two punt returns. UVA, meanwhile, hasn't had a kickoff return longer than 19 yards this season.
"I think we're off to a slow start with our special teams collectively," Mendenhall said, "and that's affecting field position right now."
Overall, there are "a lot of positive things happening," Mendenhall said. He singled out the play of Stone, wide receivers Billy Kemp IV, Terrell Jana and Lavel Davis Jr., cornerbacks Nick Grant and De'Vante Cross, and inside linebackers Nick Jackson and Zandier against NC State.
"I was just more disappointed with the collective execution and the number of miscues, which really eliminated us from having a chance to win the game," Mendenhall said.
Against NC State, the Cavaliers played without senior safety Joey Blount, a three-year starter in the secondary. Blount, a third-team All-ACC selection is 2019, is expected to be available against Wake, Mendenhall said.
"We definitely missed him," Zandier said. "I think he's always a force coming downhill from the safety position. He's such a great player, and I can't wait to have him back."
Zandier patiently fielded questions Monday about the Hoos' struggles against the Wolfpack, and he's kept the loss in perspective.
"I just think we underperformed on Saturday, and I don't think it's anything to be too worried about," Zandier said. "I trust our team and have a lot of confidence in our team."
To receive Jeff White's articles by email, click here and subscribe.