UVA Game Notes | Wake Forest Game Notes | UVA Football on Twitter | Jeff White on Twitter | 4TheHoos Initiative | Fans First Ticket Program
By Jeff White (jwhite@virginia.edu)
VirginiaSports.com
CHARLOTTESVILLE –– His teammates delight in ribbing quarterback Lindell Stone about his unique status in the University of Virginia football program. At 22, Stone is not the oldest player on the team, but he's the only one who's married, and he and his wife, Mallory, are the proud parents of Allison Grace, who was born on July 24.
"A lot of old man jokes, a lot of dad jokes," UVA wide receiver Terrell Jana said. "You name it, he's getting it."
The jokes are delivered with affection. Until last weekend, when he took over for injured starter Brennan Armstrong, Stone had played little for Virginia. But he'd long since earned the respect of his teammates and coaches for his selflessness and dedication.
"He's a team guy, and he just does a ton to help anybody and everybody, and people recognize that," quarterbacks coach Jason Beck said. "I think everybody's just kind of recognized the role he's had and how well he's handled it and how he puts everything into people being successful, and so now that he's in the spotlight a little more, everybody supports him and cares for him."
This is nothing new for Stone, who graduated from Woodberry Forest, a prestigious boarding school about 35 miles northeast of Charlottesville. Stone was only an eighth-grader when he received a scholarship offer from UCLA, and he had a record-setting career at Woodberry, where his favorite target in 2015 and '16 was Jana.
"Lindell was the golden child at Woodberry," Jana said. "He was kind of the guy everyone looked up to. But he was super humble, super down to earth. He was just a really good person to be around."
At UVA, Stone, whose first name rhymes with kindle, has become known for doing "anything we need as a team," Jana said. "He's not someone who needs the praise or needs himself to have success. He wants the team to have success. As a teammate, seeing that in someone else is all you can ask for."
A 6-0, 240-pound redshirt junior from Dallas, Stone had attempted only 12 passes as a Cavalier before last Saturday. Most games found him signaling in plays from the sideline and advising teammates about the tendencies of opposing defenses.
When Armstrong suffered a concussion as a result of a late hit by an NC State safety, however, Stone entered the game late in the second quarter. He finished 30-of-54 passing for 240 yards and three touchdowns, with one interception, in a 38-21 loss at Scott Stadium.
"He brought just a sense of calm, I think, to the offense, and rhythmically and sequentially was making the throws that were open," head coach Bronco Mendenhall said afterward.
That didn't surprise Stone's teammates or coaches, who marvel at his command of the offense.
"He's probably the smartest dude in the room," center Olusegun Oluwatimi said.
Beck said: "You'll see players go to him to ask him questions. Maybe they don't want to ask their coach, so they'll go to Lindell to get the information."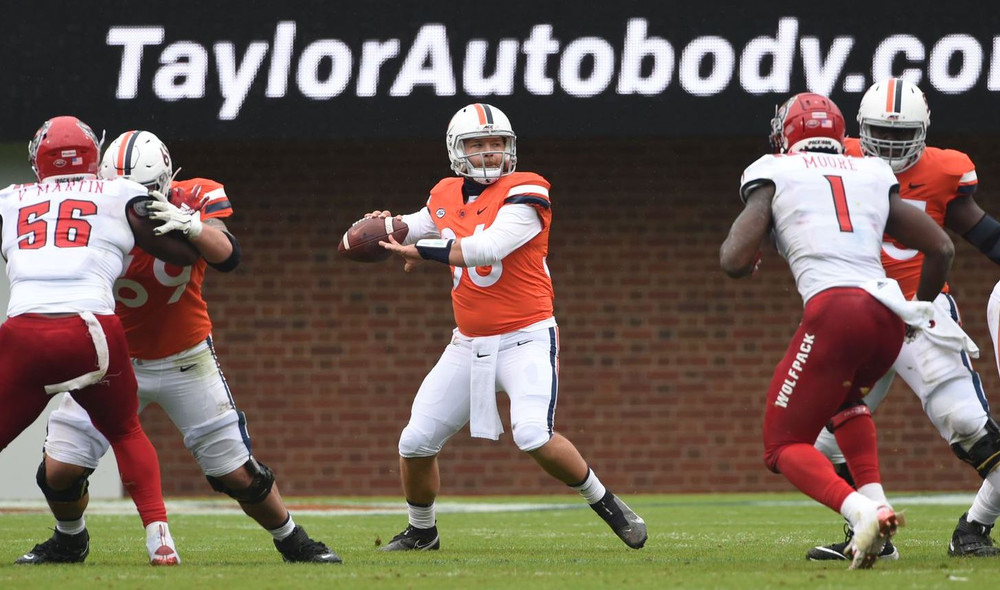 In a game to air on ACC Network, Virginia (1-2, 1-2) plays Wake Forest (1-2, 0-2) at 4 p.m. Saturday in Winston-Salem, North Carolina. With Armstrong's status uncertain, Stone has worked extensively with the first team in practice this week.
"I'm usually very involved with the receivers and helping them understand what we're trying to do and what they have to do on a certain play," Stone said. "I'd say the big difference is now I'm worried about what I'm going to do and what I need to do on Saturday rather than what they need to do."
When Armstrong went down against the Wolfpack, Stone's role changed in an instant. "You just kind of grab your helmet," he said. "I think I gave my script to Coach Beck and ran onto the field."
In retrospect, Stone said this week, "I'm actually glad that I just got thrust into it. I hated that Brennan got hurt, but the circumstance in which it happened, because I didn't have time to think about it, I just had to kind of blindly go. And I think I got some confidence from Saturday to come into this week and not really be nervous, and hopefully my teammates have some confidence in me."
Jana said: "I don't think anyone's really worried. Lindell doesn't have the speed that Brennan has, but him being a competitor is more than enough. As a team, we have the pieces around him to have success. I'm more than confident in his ability to pick apart a defense. It showed last game, when he came in and had a lot of success, so I'm excited to see what happens next game."
Of the passes Stone completed against NC State, eight were to Jana, who finished with nine receptions for 111 yards. Jana and Stone admit they flashed back to their days as Woodberry Forest teammates.
"It just seemed like the stars aligned," Jana said.
Stone has completed countless throws to Jana in workouts and in practice. To connect with his longtime friend in a game, however, "was just nuts," Stone said.
After the NC State game, waiting for Stone were text messages and voicemails from friends and family, including Jana's mother.
"She sent me three or four texts during the game and after the game," Stone said, "and I know my wife talked to her. Terrell's been such a big part of my life for six years now."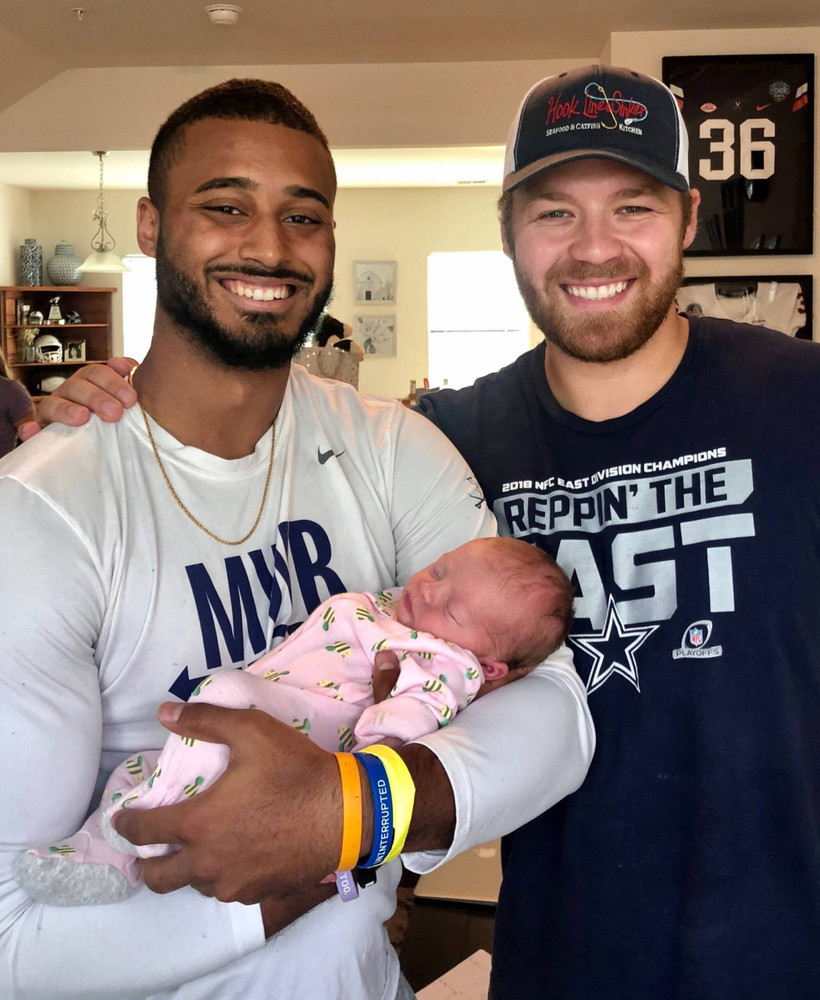 Had Stone stayed in Dallas for high school, he would have played at Highland Park with Matt Gahm, who's now one of his teammates at UVA. But he loved his time at Woodberry, and only not because he became friends with Jana. In his junior year, Stone started dating Mallory Cooper, then a student at Fuqua School in Farmville. They've been together ever since and were married last summer.
"It was fast," Jana said, smiling, "but they're happy, and we're happy for them. My friends from high school, we talk every single day, and they're always asking about him. I'm so happy that everyone's healthy and safe."
Stone has embraced fatherhood. "Going home to my wife and my daughter is just incredible," he said.
The Stones—Lindell, Mallory, Allie Grace and dog Dallas—live in a duplex in Crozet. Lindell is a government major at UVA, and all of his classes are online this semester. Mallory is in school, too. She's taking online classes at Liberty University, and that's made it easier for them to coordinate their schedules.
"I've got football, so I'm gone a lot," Stone said. "While I'm home, my wife needs to do her schoolwork, and then I've still got to do my schoolwork and film. So we've kind of gotten into just rotating duties so we can all get our stuff done."
Mallory and Allie Grace attended the NC State game at Scott Stadium, and they'll be at Wake Forest's Truist Field on Saturday.
"They've been coming to every game," Stone said. "That's been super cool, especially since there's no one really in the stands. When I went in Saturday, I could hear Mallory yelling from the stands, which was really cool."
Juggling football, school and parenthood is challenging, Stone said, but not impossible.
"It's just been a lot less sleep," he said. "I think it's more that you never really stop. There's always something to do, something that can get done, whether it's changing diapers or cleaning her. But she's starting to sleep a little better, which is great."
Beck and his wife, Jaime, live nearby, and they have three children. The Becks have been a source of support for the Stones.
"My wife jokes she kind of feels like we're almost like grandparents, and they're our kids," Beck said. "We do feel connected to them in a pretty good way."
Beck said Stone has handled the responsibilities that come with marriage and fatherhood "very professionally and very maturely."
Stone is set to graduate in December. What comes next for him is still to be determined. He wants to become a coach, and "whether I'm playing or whatever next year, I want to stick around and do grad school [at UVA]," Stone said.
If he's not playing, he'd love to be a graduate assistant or student assistant for the Cavaliers, Stone said.
The appeal of coaching? "I just really like football and can't really imagine getting away from it," Stone said, "and I've built relationships with guys that I wouldn't have otherwise. I'm not in the apartment complex with all the guys hanging out, so my time with them doesn't extend that far once we leave [practices and meetings]."
He's been a mentor not only to his fellow quarerbacks at UVA, but to receivers like Billy Kemp IV and Lavel Davis Jr.
"Being able to advise them and kind of counsel them, whether it be stuff that's on the field or off, I really enjoy that," Stone said.
Husband. Father. Coach-in-training. Stone has had quite the college experience.
"It's been very unique," he said, laughing.
To receive Jeff White's articles by email, click here and subscribe.