Box Score | Video Highlights | Bronco Mendenhall Press Conference | Postgame Notes | UVA Football on Twitter | Jeff White on Twitter | 4TheHoos Initiative
By Jeff White (jwhite@virginia.edu)
VirginiaSports.com
CHARLOTTESVILLE –– For the first time since 2016, its first season under head coach Bronco Mendenhall, the University of Virginia football team is two games under .500. After opening the season with a come-from-behind win over Duke, the Cavaliers have dropped three straight, all against ACC foes.
The Wahoos, who also started 1-3 in 2016, when they finished 2-10, won six games in 2017, eight in 2018, and nine in 2019. But progress has stalled this season in a program whose stated goal is what Mendenhall calls "unbroken growth."
UVA's latest setback came Saturday in Winston-Salem, North Carolina, where Wake Forest won 40-23 at Truist Field. The teams were tied 23-23 with 13:28 to play, but the Demon Deacons (2-2 overall, 1-2 ACC) scored two touchdowns in a span of 96 seconds to blow the game open.
After winning the ACC's Coastal Division for the first time in last year, the Hoos were always going to find it challenging to take step another forward this season. Still, they didn't expect to struggle to this extent. Then again, they didn't expect to lose their No. 1 quarterback, Brennan Armstrong, to a concussion that's sidelined him for the past six-plus quarters.
When Armstrong will return remains uncertain, and the Cavaliers didn't get any healthier in Winston-Salem. By game's end, they'd lost three of their starting defensive backs to injuries. Senior safety Joey Blount left early in the game, senior safety Brenton Nelson exited late in the second quarter, and senior cornerback De'Vante Cross hobbled off the field late in the third quarter.
"I don't see what's happening currently as a continuation of where we've been," Mendenhall said on a post-game Zoom call with media members. "This is more now a re-establishing and a resetting and, quite frankly, re-finding and identifying what this particular team can be skilled at, how we can have success. And that formula, as we're finding with the different moving pieces, is changing, and we're having to adapt and adjust the best we can. I just want the mindset, the effort and the competitive spirit to remain, and the execution will catch up at some point, and that's my message to our team currently."
Sophomore nose tackle Jowon Briggs said the players "all know we need to watch the film and come back and get right down to working. There's no slippage as far as people feeling sorry for themselves or people pointing the finger at others. We all know we got to put our noses down and get to work and get this culture back where it needs to be."
Coming off a lackluster performance in a 38-21 loss to NC State at Scott Stadium, the Cavaliers had something to prove against Wake, and Mendenhall said he was encouraged and impressed by "the mindset and the competitive spirit and the work ethic" of his players leading up to and during the game.
Once again, though, Virginia started slowly. Opponents have outscored the Cavaliers 48-3 in the first quarter this season. Wake (2-2, 1-2) scored TDs on its first two possessions and led 14-3 going into the second quarter.
"I haven't designed the right answers yet to help our team start faster, and I'm still working on it," Mendenhall said.
The road gets no easier for UVA, whose next two games are against No. 13 Miami and No. 5 North Carolina."It starts with practice," sophomore inside linebacker Nick Jackson said. "We gotta come out Monday with a great practice, set a tone for the week, and we gotta build on that Tuesday, Wednesday, Thursday. We gotta win the week all the way up to Saturday."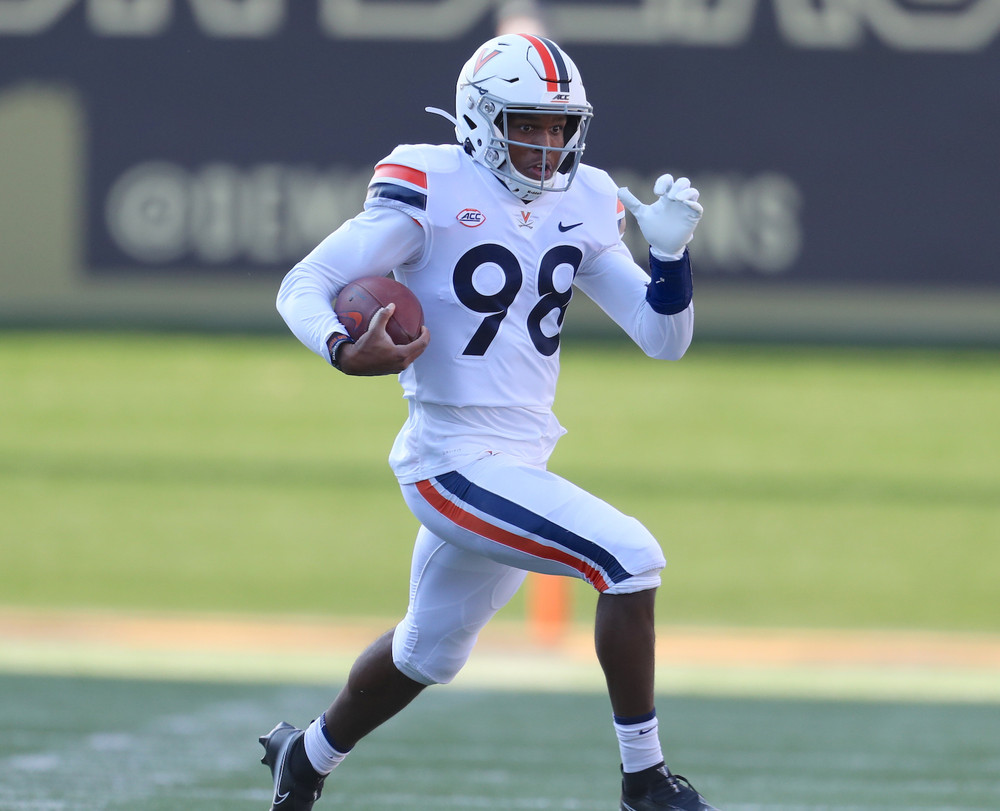 With Armstrong unavailable, three players rotated at quarterback for Virginia against the Demon Deacons: redshirt juniors Lindell Stone and Keytaon Thompson and true freshman Ira Armstead. That strategy kept Wake off balance, especially in the first three quarters, and the Hoos' offense finished with 420 yards.
"I thought that gave us the best chance to move the football and to lead our team," Mendenhall said. "Each has a different skill set, and we're looking for complete play at quarterback after losing Brennan. And so we tried to innovate and use each of them in a manner that would be helpful to us."
The 6-0, 240-pound Stone, in his first start as a Cavalier, completed 24 of 42 passes for 193 yards. He threw two interceptions, one of which came on a Hail Mary at the end of the first half.
Thompson is a 6-4, 215-pound graduate transfer from Mississippi State, where he played quarterback. At UVA, he hurt his throwing shoulder early in training camp and has been working primarily at wide receiver. Thompson didn't attempt any passes Saturday night, but he ran the Wildcat brilliantly, gaining 71 yards on 10 carries.
"I'm here to help the team get better," he said. "I want to win. At the end of the day, that's what I want to do. I want to win. If there's anything that I can do to help the team win, that's what I want to do. Simple as that."
Like Thompson, the 6-3, 210-pound Armstead is in the dual-threat mold. He was 1-for-3 passing against Wake, for 9 yards, and rushed six times for 46 yards and one touchdown.
"I thought collectively our approach gave us a chance," Mendenhall said. "We didn't execute well enough to finish the game and to finish with the win, but I think it gave us a chance."
The Hoos battled back from a 14-0 deficit and went into halftime tied 20-20. After the third of Nick Sciba's four field goals put Wake back up 23-20 late in the third quarter, Virginia had a chance to take its first lead since the opener.
Back-to-back completions by Stone–­–the first to senior tight end Tony Poljan for 14 yards, the next to junior wideout Billy Kemp IV for 16 yards––moved the Hoos to the Wake 22. A first-down run by Thompson gained 4 yards, but sophomore tight end Grant Misch was penalized for unsportsmanlike conduct after play was stopped, and suddenly Virginia faced second-and-21 from the 33 instead of second-and-6 from the 18.
"A Wake player pushed, he pushed back," Mendenhall said of Misch's penalty. "It's not OK. So that did cost us, and in those games that are tight and swing on momentum, it makes a big difference."
The drive ended with a 42-yard field goal by senior Brian Delaney, whose streak of 17 consecutive makes, a school record, had ended in the third quarter. At that point, the game could have swung either way, but in a flash the Cavaliers found themselves down two touchdowns.
On the first play from scrimmage after Delaney's field goal, Wake running back Kenneth Walker III bolted 75 yards for a TD. UVA sophomore Perris Jones muffed the ensuing kickoff, and Wake recovered at the 27. Four plays later, Walker scored on a 9-yard run, and suddenly it was 37-23.
Virginia had one play that gained at least 20 yards Saturday: a 22-yard run by Armstead. Seven Demon Deacons had at least one play each that went for 20-plus yards. The Deacs averaged a staggering 19.3 yards per completion (to 8.1 for UVA) and gained 483 yards overall.
"They just made more plays than we did," UVA senior cornerback Nick Grant said.
If the health of the Cavaliers' secondary is a major concern for Mendenhall and defensive coordinator Nick Howell, so was the group's performance against Wake.
"The secondary is giving up just too many deep passes, not playing the ball well," Mendenhall said. "The yardage jumps really fast when we're not making plays on the football. The secondary more than any other position controls points. And so not only do we need to knock the ball down, but we need to tackle well."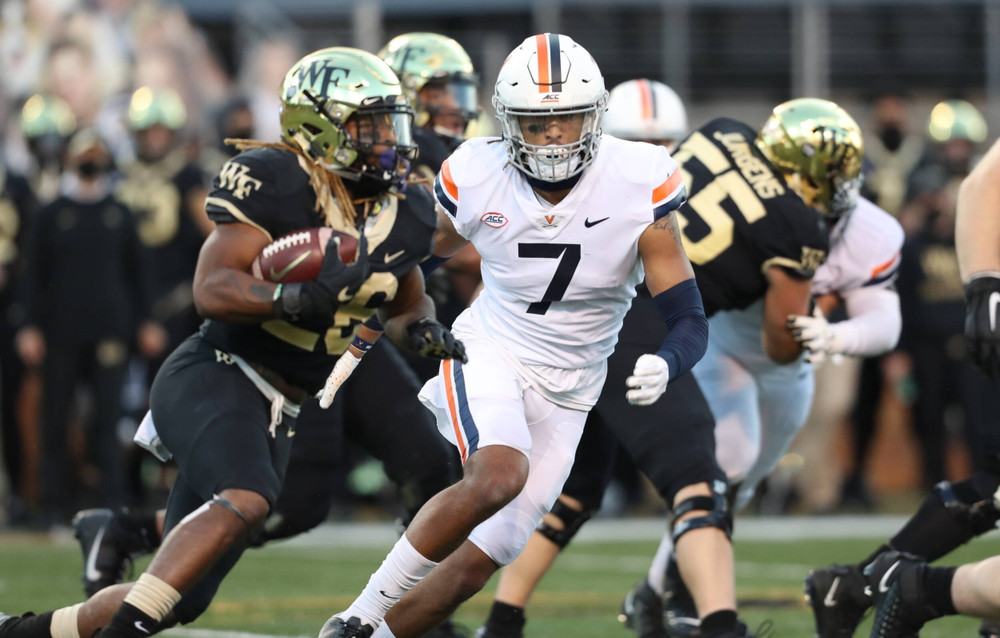 SOUND BITES: The Hoos lead the series 24-16 but have lost four in a row to Wake. Among the postgame comments Saturday night:
• Senior offensive guard Chris Glaser on the Cavaliers' running game, which netted 218 yards: "We kept pounding the rock and running it. I was pleased, but it's not enough. We gotta keep going, and that's what we'll work on this week."
• Senior running back Wayne Taulapapa, who rushed 10 times for 68 yards and one TD: "I think we used our three quarterbacks to the best of their abilities."
• Grant: "We had a lot better energy, a lot better focus this week [than against NC State]. We just have to match that with our execution to give us the best chance to win each game."
• Mendenhall on Briggs: "I've just seen more consistency from him. He's more fundamentally sound, he's more consistent, and that's been encouraging. I see him picking up where he left off [in 2019] and moving forward. While that's not happening as a team collectively, there are individual players that are doing that, and he's one of them."
• Thompson on the rotation at QB: "I felt like it helped, and all the way up to the fourth quarter I felt like we had a chance. There were just a few critical plays. We dug ourselves a hole in the fourth quarter that we were not able to recover from."
• Thompson on his role: "Right now I'm just trying to keep everybody's energy up and keep everybody positive. It can get pretty non-energetic in that stadium without a lot of fans, and it's quiet, and when things are not going your way, maybe guys are hanging their heads. So I just try to keep everybody positive and keep everything upbeat."
UP NEXT: For the second straight year and third time in four seasons, Virginia will play Miami at Hard Rock Stadium in Miami Gardens, Florida. In a game to air on ACC Network, the Cavaliers meet the 13th-ranked Hurricanes next Saturday at 8 p.m.
Miami improved to 4-1 overall and 3-1 in the ACC with a 31-19 win over visiting Pitt on Saturday afternoon.
Virginia has lost four of its past six meetings with Miami, which leads the series 10-7. The Canes prevailed 17-9 last season at Hard Rock Stadium.
To receive Jeff White's articles by email, click here and subscribe.