UVA Game Notes | Miami Game Notes | ACC Weekly Release | UVA Football on Twitter | Jeff White on Twitter | 4TheHoos Initiative | Fans First Ticket Program
By Jeff White (jwhite@virginia.edu)
VirginiaSports.com
CHARLOTTESVILLE –– Mandy Alonso is accustomed to having a huge cheering section in the stands when Virginia faces ACC rival Miami at Hard Rock Stadium. Saturday night will be different.
With attendance at the stadium limited to 13,000 because of the COVID-19 pandemic, the fourth-year defensive lineman will have fewer supporters on site than usual when the Cavaliers (1-3, 1-3) meet the No. 11 Hurricanes (4-1, 4-1) at 8 o'clock.
Alonso expects to have about a dozen family members and friends at the game, which will air on ACC Network. No matter how many make it to Miami Gardens, he's thrilled to be back in the area where he was born and raised. One of his classmates, linebacker Charles Snowden, raved Monday about Hard Rock Stadium, home of the NFL's Dolphins, and Alonso echoed those comments after practice Wednesday.
"I love playing there," said Alonso, a graduate of Gulliver Prep in Miami, where his head coach was former UVA linebacker Earl Sims. "It's my favorite stadium–besides Scott Stadium, of course. I just love the atmosphere. We'll see how it is without [as many] fans, but it's a really cool area, and it's a really nice stadium, and it's just a great experience to be there."
The pandemic resulted in significant changes in the Wahoos' 2020 schedule, and they're on the road against Miami for the second straight year. The Hoos also played the Hurricanes at Hard Rock Stadium in 2017, and they met Florida there in last year's Orange Bowl.
Since Alonso and his classmates joined head coach Bronco Mendenhall's program in 2017, Virginia has not won at Hard Rock Stadium, and "going 0-4 in your favorite stadium is probably not a great way to go out," Snowden said. "So I'm excited for the opportunity, playing a great team in a great stadium. I think guys are ready to get off that schneid."
The 6-2, 280-pound Alonso is one of those guys. He's been a mainstay in the Wahoos' 3-4 defense since 2017, when he started four games as a true freshman.
"It's passed in a flash," Alonso said. "It's felt so quick to me, and it feels like I just got here. I hate that my time is ticking, but it's really gone by quicker than I thought it would. Sometimes it's slow, like in fall camp and spring practice, but once it gets in-season it just flies by."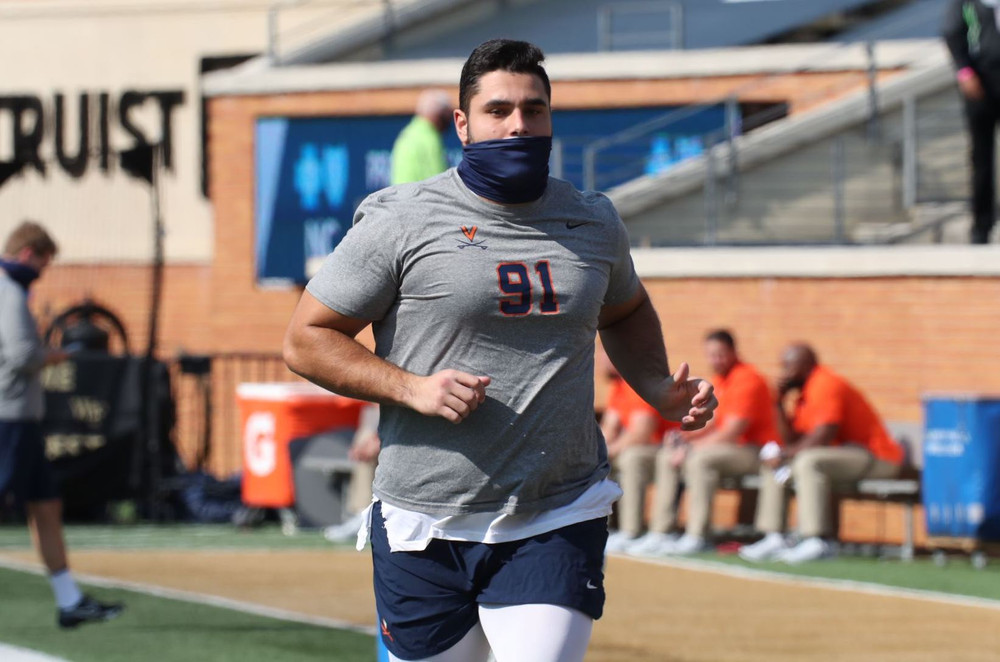 In the spring of 2016, Alonso attended a one-day camp at UVA and earned a scholarship offer after impressing Ruffin McNeill, then the Cavaliers' defensive line coach. Alonso never got to play for McNeill, who left in June 2017 for Oklahoma, but he thrived under Vic So'oto, who oversaw the Hoos' defensive line in 2017, '18 and '19.
After So'oto joined the staff at the University of Southern California in February, Mendenhall filled that position with Clint Sintim, a former All-America outside linebacker at UVA.
"I love the way Coach Sintim has been able to relate the NFL to college football, and his time here as well," Alonso said. "I love what he's shared with me about his experiences here and what he did to get going on the field, and then also to prepare himself for the NFL, tips and keys to be able to get there. He's been awesome."
Sintim had some familiarity with Alonso when he returned to his alma mater from the University of Delaware.
"I followed Virginia football, so I saw him make plays here and there," Sintim said Thursday. "I didn't exactly know who he was, but the biggest play I do recall was the sack versus Virginia Tech. I saw that play, and that kind of put him on the radar a little bit."
The play in question is likely to live forever in UVA lore. It came against Virginia Tech at Scott Stadium last season. After taking a 33-30 lead with 1:23 to play, the Cavaliers sacked quarterback Hendon Hooker three time on the Hokies' next drive. On the third sack, Alonso knocked the ball loose from Hooker in the end zone. Defensive lineman Eli Hanback recovered the fumble for a touchdown that sealed the Hoos' first win in the series since 2003.
"It was a great experience and definitely my most memorable play ever," Alonso said this week. "I just remember being the happiest I've ever been making a play and being able to beat Tech, which I hadn't done in my time at UVA. So it was definitely a moment I'll never forget."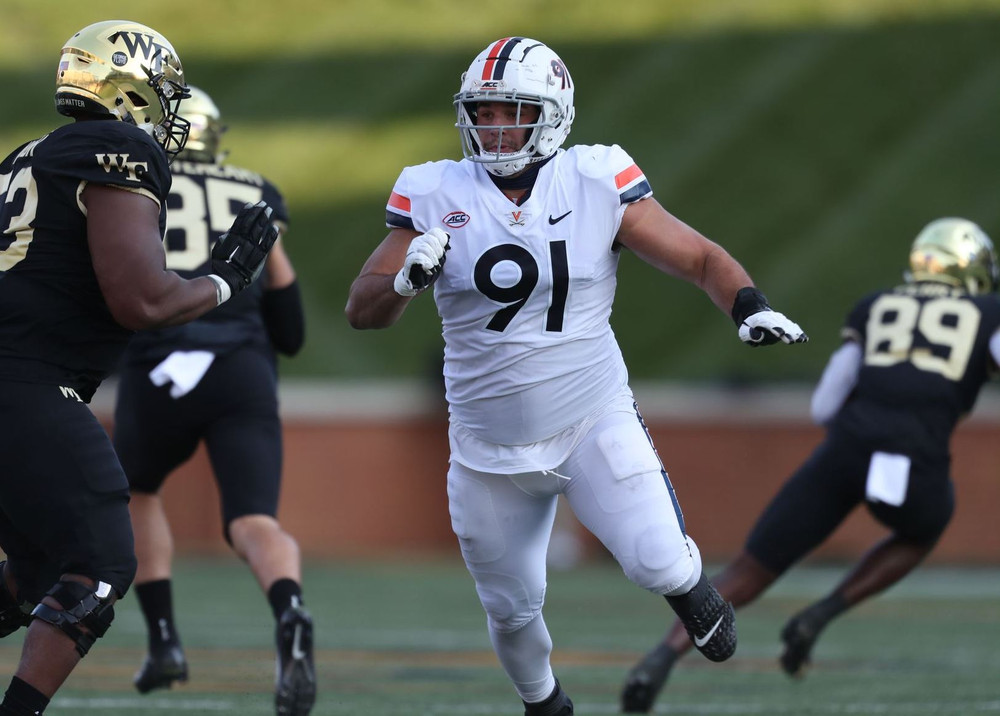 For the Cavaliers, who won the ACC's Coastal Division in 2019, there haven't been as many highlights this season. Since opening with a win over Duke at Scott Stadium, UVA has dropped three in a row. Defensive breakdowns in critical situations have haunted the Hoos.
"We're frustrated, but we're like an angry frustrated," Alonso said. "We want to get back in the win column and we want to get this bad taste out of our mouth of these three losses. We take that upon ourselves, because we're letting people score a lot of points on us the past three weeks, and we need to fix that. And we're just trying to get the right mindset to go out there and dominate a team."
Snowden said the way UVA's "defense is playing is very comparable to last season. There's just one difference, and that's in our big plays. We're giving up way too many big plays."
Virginia is coming off a 40-23 loss at Wake Forest. The Demon Deacons ran the ball 42 times in that game. Forty-one of those carries netted a total of 99 yards. The other one, though, went for a 75-yard touchdown.
Wake also had four players with a reception of at least 32 yards apiece.
"We'll stop a team on first and second down, and then they throw a long ball and a run will break away from us," Alonso said. "It's really frustrating, and it's just about us being assignment-sound and having the right mindset to do it again and again and again."
Alonso starts up front with sixth-year senior Richard Burney and sophomore Jowon Briggs. In a 3-4 defense, the linemen often clear the way for the linebackers, and that's been the case at Virginia this year.
Inside 'backers Nick Jackson and Zane Zandier are tied for the team lead with 37 stops apiece. Burney has 12 tackles, Briggs has nine, and Alonso has eight. Sintim believes his group can be more productive.
"I think it comes back to mindset, the type of attitude you bring to the game, and I think with mindset comes physicality," Sintim said. "Very rarely does one of your three [linemen in a 3-4] become your leading tackler, but there are plays to be made. I joke with them all the time, 'Hey, if this is your tackle to make, you better make it. Nick and Zane have got enough tackles. Make sure you make the tackles that you're supposed to make and impact the game when you can.'
"As a group, we've gotten better at doing that throughout the year. From Duke to Wake, we've improved as a group playing the run, which you pride yourself on as a defensive lineman, being able to stuff the run. I think where we need to continue to advance is getting after this quarterback a little bit. They're working. I appreciate it and I can see it, and hopefully we get the product we want this weekend versus Miami."
Alonso's classmates include safety Joey Blount, with whom he's forged the strongest of bonds. They were roommates as UVA first-years and have lived together every year since then. (Offensive lineman Tommy Christ shares an apartment with Alonso and Blount this year.)
A government major, Alonso is on track to graduate in December. The NCAA ruled over the summer that, because of the pandemic, this season would not count toward players' eligibility, so Alonso could return for a fifth year in 2021. He says he hasn't reached a decision.
"When they came out with the rule, I thought about it, and then I was just like, I'll push it to after the season," Alonso said. "I guess we'll see how this season shakes out and how I do."
When Alonso entered the program, the Cavaliers were coming off a season, their first under Mendenhall, in which they finished 2-10. Virginia improved to 6-7 in 2017, to 8-5 in 2018, and to 9-5 in 2019.
"It's been awesome, because I've been able to contribute to that growth," Alonso said. "Especially my class, with Joey and Snow and all of us, we've been able to grow together on that defense and just bring the team together as well. To be able to share that with Coach Mendenhall and actually buy into what he's preaching, it's been awesome."