Box Score | Postgame Notes | Facebook Photo Gallery | Video Highlights | Bronco Mendenhall Postgame Zoom | UVA Players' Postgame Zooms | UVA Football on Twitter | Jeff White on Twitter | 4TheHoos Initiative | Fans First Ticket Program
By Jeff White (jwhite@virginia.edu)
VirginiaSports.com
CHARLOTTESVILLE –– No matter which way the game had ended for the home team late Saturday night––with an exhilarating victory or a crushing defeat––University of Virginia football players would have reconvened Monday morning to start preparing for Louisville's visit to Scott Stadium, and an honest week's work would have followed.
"It's just who they are," Virginia head coach Bronco Mendenhall said. Still, he's a realist.
"Let's just face it," Mendenhall said on a Zoom call after his team's 44-41 victory over No. 15 North Carolina at Scott Stadium. "It's just more fun [to win], and I like to see our players, when they work so hard, have fun. And I love to see them smile. And I love to see them carry themselves in a way that they're proud of the outcome … It's just more fun, and I'm happier for them, and those memories don't go away."
Against its oldest rival, the Cavaliers (2-4 overall, 2-4 ACC) made some joyous memories Saturday night. Virginia came in short-handed and looking to end a four-game losing streak. The Wahoos lost starting quarterback Brennan Armstrong late in the fourth quarter but still came away with one of the more remarkable wins in Mendenhall's five seasons as their head coach.
"It means the world," said senior linebacker Charles Snowden, who finished with a career-high four sacks. "In Scott Stadium, the way we won, the way it took resilience from all three sides of the ball, all four sides of the ball, it was huge. Nights like these, I'll never forget."
For the Hoos, victory was not assured until they pulled off a daring fake punt on fourth-and-3 from their 42-yard line with about 70 seconds left. Tucker Finkelston's snap went not to punter Nash Griffin but to Keytaon Thompson, one of the up men. Thompson started running right but saw congestion ahead, so he reversed field and sliced across the line of scrimmage for a 5-yard gain.
"When you're facing a ranked team in a close game, you gotta take risks," Snowden said. "Coach took the risk, and it paid off."
UNC head coach Mack Brown said his team thought a fake was coming when they saw where Thompson, who's not usually an up man on punts, lined up.
"We were in position to stop it," Brown said. "Obviously, he had to bounce and go back the other way, and we lost our contain on the backside and didn't tackle him. Good play by them."
The Tar Heels (4-2, 4-2) shredded UVA's injury-ravaged secondary all night, and on their previous possession they'd needed only 76 seconds to drive 75 yards for the touchdown that made it 44-41. Mendenhall did not want to give the ball back to UNC, and so he gambled on fourth down. The call was his, he said.
"It's a lonely, lonely feeling, but I trust the fake," Mendenhall said. "I've seen it work in practice and I loved who was doing it in K.T. It didn't even go the way we thought it would, but I thought it gave our team the best chance. After all that battle. I wasn't going to go out passively."
After opening the season with a win over Duke, UVA had dropped four straight games, a frustrating stretch that including losses to No. 1 Clemson and No. 12 Miami. The Cavaliers acquitted themselves well in both of those games, but that was small consolation as their losing streak grew. The story changed Saturday night.
"I'm just so, so proud of my team," Mendenhall said, "and I watch them every single day work and believe, and work and believe, and work and believe and stay together, and work and believe and trust, and listen to us as coaches and give us a chance to coach them. And I'm so thankful for them. I'm so proud of their effort. I'm so happy that they got a chance to have something tangible that comes out of all the work they put in."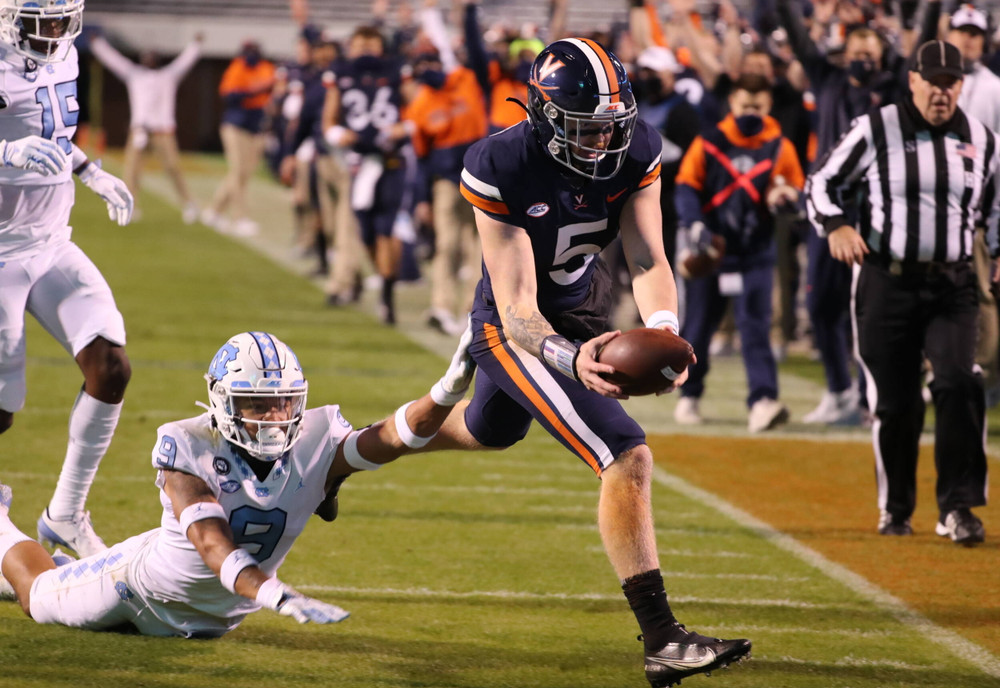 The win was the Cavaliers' fourth straight in a series that began in 1892. In the home locker room afterward, the honor of breaking the ceremonial rock, a tradition after each UVA win, went to Armstrong.
"The way that he led this team today was just ridiculous," running back Wayne Taulapapa said.
Armstrong, a redshirt sophomore, opened the scoring for UVA with a 23-yard touchdown run. He finished 12-of-22 passing for 208 yards and three TDs, with one interception, and he added 66 yards and one TD on 20 carries.
"I'm so proud of Brennan," Mendenhall said. "I thought he played an amazing game, and that's just the beginning … He has such an amazing future, in running and throwing and leading, and he's so competitive."
Armstrong left the game with 2:39 to play after getting hurt on a keeper that gained 3 yards. Walking gingerly, he returned to the field for interviews after the game, but the severity of his injury was unknown.
With Armstrong unavailable, the 6-4, 215-pound Thompson took over at quarterback on a night when he also lined up at wide receiver and running back. A graduate transfer from Mississippi State, Thompson ran the ball on the next three plays, the last of which, the fake punt, allowed the Hoos to finally exhale. He finished with 43 yards and one touchdown on 10 carries.
"He's a football player at the end of the day," running back Shane Simpson said. "He doesn't have a specified position, but he contributes in every way and goes as hard as possible every play."
Mendenhall said Thompson "might be setting a record for the most different positions played in the game each and every week, and we're so thankful that he's here, because we need him."
The only throw Thompson attempted fell incomplete, but UNC was called for pass interference on the play. That extended a drive that ended with Armstrong's 18-yard TD pass to wideout Ra'Shaun Henry.
UVA added about a half-dozen graduate transfers in the offseason, and that group, which includes Thompson, Henry, Simpson and tight end Tony Poljan, sparkled Saturday night.
"They're all hard workers," Mendenhall said. "They're all coachable. I'm thankful they're here. They've been really a strong boost for our program in positions of need."
Henry, who came to UVA from Saint Francis (Pa.), has caught only two passes this season, but each has been for a touchdown.
Simpson, who previously played at Towson, turned a swing pass from Armstrong into a 71-yard touchdown Saturday night, and he also rushed eight times for a game-high 70 yards.
Poljan, a transfer from Central Michigan, caught two passes against North Carolina, one of them a 17-yard pass from Armstrong that put Virginia up three touchdowns with 5:34 left in the third quarter.
Among the Cavaliers unavailable Saturday night were defensive lineman Richard Burney and defensive backs Joey Blount, Brenton Nelson, Darrius Bratton and Fentrell Cypress II. For UVA, that was less than ideal against a UNC offense loaded with playmakers.
The Heels came in leading the ACC in total offense, and they never punted Saturday night. UVA held the Heels to a season-low 93 yards rushing, but the visitors put up video-game numbers in the passing game.
Sophomore quarterback Sam Howell completed 23 of 28 attempts for a career-best 443 yards and four TDs. His favorite target was junior wideout Dyami Brown, who can't get to the NFL fast enough for the Cavaliers. At Kenan Stadium last season, Brown had six receptions for 202 yards (then a career high) and three TDs. He caught 11 passes for 240 yards and three touchdowns Saturday night.
The Cavaliers couldn't match UNC's firepower, but they totaled 418 yards, with 210 coming on the ground. Players who lined at up at QB accounted for 109 of those rushing yards.
"The offense was the primary reason, or the driver, of our win tonight," Mendenhall said, "because of not only the points we scored, but the time of possession and the consistency through the whole game.
"While UNC was launching rockets over and over again and scoring so fast, we were fairly methodically, but effectively, moving the ball, moving the ball, moving the ball, and then scoring … We have lots and lots of work to do in terms of defending the pass, but let's also face the fact that UNC is really good on offense, and we found a way to win the game."
UVA scored six touchdowns Saturday night, but its most memorable drive might have been the one that ended with a field goal. After Brown's third TD catch made it a seven-point game, the Cavaliers took over on their 25 with 13:09 to play. Nine minutes and two seconds later, senior Brian Delaney's 35-yard field goal made it 44-34.
The fourth-longest scoring drive in program history, it included only one pass, an incompletion. Two penalties on UNC, for 20 yards, helped keep the drive going.
"We wanted to score, but we wanted to take as long as possible, because they were scoring so fast," Mendenhall said. "So the shorter the game was, the better chance we had to win. So the primary focus was to [move] the ball on the ground, and with different runners and different plays, we were able to occupy the clock and have the chains move and score."
Armstrong said: "We were eating clock. We ate up a huge chunk of that fourth quarter. [The field goal] was not the result we wanted––we thought we could have punched it in there and just sealed the deal––but just with something like that, you gain confidence."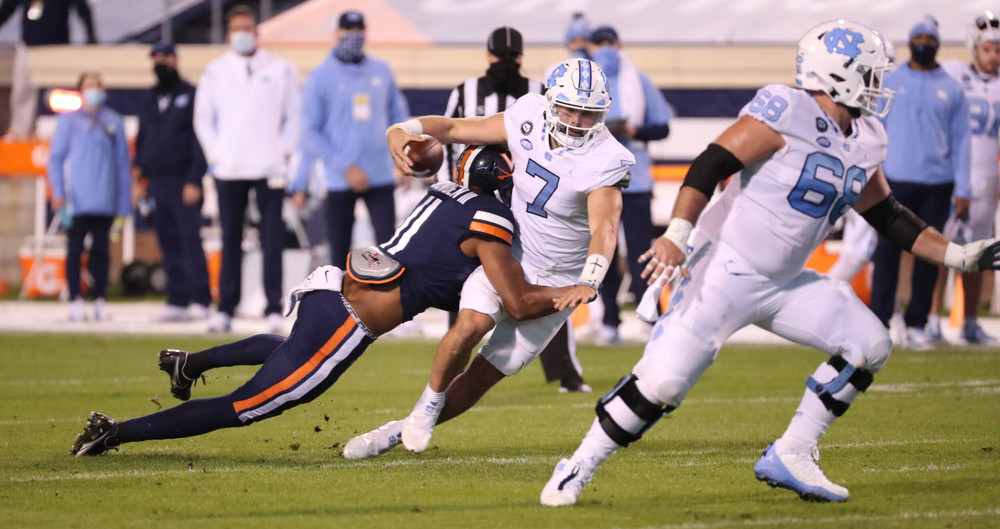 TOUR DE FORCE: In UVA's first four games, Snowden's profile was uncharacteristically low. He had 3.5 tackles for loss against Miami last weekend, however, and his four sacks Saturday night were the most by a Cavalier since linebacker Jamie Sharper had four against UNC in 1996.
Snowden made 10 tackles against North Carolina. Only sophomore Nick Jackson (11) had more for Virginia.
"Charles Snowden is an electric player," Jackson said. "He's got havoc written all over him. When you see [No.] 11 on the field, it's really comforting, because he's a playmaker, and he just made plays all night long."
On his final sack, the 6-7, 235-pound Snowden forced a fumble that teammate Mandy Alonso recovered at the UNC 30. Five plays later, Virginia had a 41-20 lead.
"I'd gotten off to a slow start this year," Snowden said. "And so now to finally be producing and making plays, it feels great. Sacks always are a great thing."
Snowden is part of the recruiting class that enrolled at UVA in 2017. He and his classmates are now 4-0 against Duke and 4-0 against UNC.
"That's something I will proudly, proudly wear on my sleeve for the rest of my life," Snowden said, smiling.
SOUND BITES: With the victory, Virginia improved to 9-3 all-time against Brown, who's in his second stint as UNC's head coach. Brown is 0-7 against UVA at Scott Stadium. Among the postgame comments Saturday night:
* Simpson on his sprint down the left sideline on his 71-yard reception, UVA's longest scoring play of the season: "As soon as I got the ball, I made sure nobody was able to catch me, even though I was running out of gas towards the end. Thankfully, I got in there."
* Mendenhall on the likelihood that UVA would end the game with backup quarterback Lindell Stone taking snaps in the victory formation: "I would say that we're playing football in a pandemic, and what I've learned so far is I don't have any idea what's going to happen on a weekly basis, and you gotta be ready for anything. You could probably give me any scenario and I'd say, 'Yep, it's possible.' "
* Snowden on his emotions in the final minute, with UNC out of timeouts and unable to stop the clock: "I don't think I have words to describe that feeling. It meant the world to me. It's really hitting me that I'm a senior, and they all mean that much more."
* Snowden on the defense's performance: "In the game it didn't feel great, but as the old saying goes, winning heals all."
* Taulapapa: "I think this is the offense that we truly are. We just gotta show it every game."
UP NEXT: For the third straight week, Virginia will play in ACC Network's 8 p.m. Saturday slot. For the second straight week, the game will be at Scott Stadium. UVA's opponent this time: Louisville (2-5, 1-5).
The Cardinals have won four of the teams' past five meetings. Virginia's win during that span came at Scott Stadium in 2018.
Louisville lost 42-35 at home to Virginia Tech on Saturday.
To receive Jeff White's articles by email, click here and subscribe.