Box Score | Postgame Notes | Facebook Photo Gallery | Bronco Mendenhall Postgame Zoom | UVA Players' Postgame Zooms | UVA Football on Twitter | Jeff White on Twitter | 4TheHoos Initiative
By Jeff White (jwhite@virginia.edu)
VirginiaSports.com
CHARLOTTESVILLE –– The University of Virginia football team is in a much different, and much better, place than it was three weeks ago.
Late on Oct. 24, a 19-14 loss to the No. 11 Miami Hurricanes at Hard Rock Stadium extended Virginia's skid to four games. The Cavaliers were 1-4, and their chances of posting a third straight winning season seemed to be fading.
Their prospects look considerably brighter today. Since losing to Miami, the Wahoos have won two straight, and a victory over Abilene Christian next weekend would get them to .500 for the first time since early last month.
Virginia, which upset then-No. 15 North Carolina 44-41 at Scott Stadium on Oct. 31, was scheduled to host Louisville a week later. Issues related to COVID-19 in the Cardinals' program forced the game to be postponed, but it went off as rescheduled Saturday, and the Cavaliers came away with a 31-17 victory at Scott Stadium.
"I was proud of our team from beginning to end," head coach Bronco Mendenhall said. "There were things we can correct. There are things we did well, and there's lessons to be learned, just like there is every week. But I feel momentum. I see some consistency moving and growing, and I like how it's shaping up and how it's framing up for the last part of this season."
Redshirt sophomore quarterback Brennan Armstrong feels the same way. "I think we're just building momentum," he said.
The Hoos (3-4 overall, 3-4 ACC) had three takeaways, including an 85-yard interception return for a touchdown by junior linebacker Noah Taylor, and twice stopped the Cardinals (2-6, 1-6) on fourth down Saturday.
"I really think that was the difference in the game," Mendenhall said.
Neither team was at full strength. Among the Cardinals unavailable Saturday were running back Javian Hawkins (117.4 yards rushing per game) and wideout Tutu Atwell (75.4 yards receiving per game), and they're "dynamic, exceptional football players," Mendenhall said.
In their absence, quarterback Malik Cunningham took on a larger role in Louisville's offense. He turned the ball over twice but rushed 20 times for a career-high 197 yards and two touchdowns, and he completed 13 of 21 passes for 161 yards.
"Not that I underestimated him, because we played him last year and I think a little bit the year before, but the dude's just incredibly fast," UVA linebacker Zane Zandier said of Cunningham, a redshirt junior. "He's a great athlete and made a lot of plays with his feet tonight. I think containing [Louisville] to 17 points is a positive, but that dude definitely had a good night."
Even when the Cavaliers "were bringing extra players to do nothing other than keep [Cunningham] in the pocket and then tackle him, we struggled doing that," Mendenhall said. "So he deserves a lot of credit. I thought he was a dominant football player tonight, very competitive."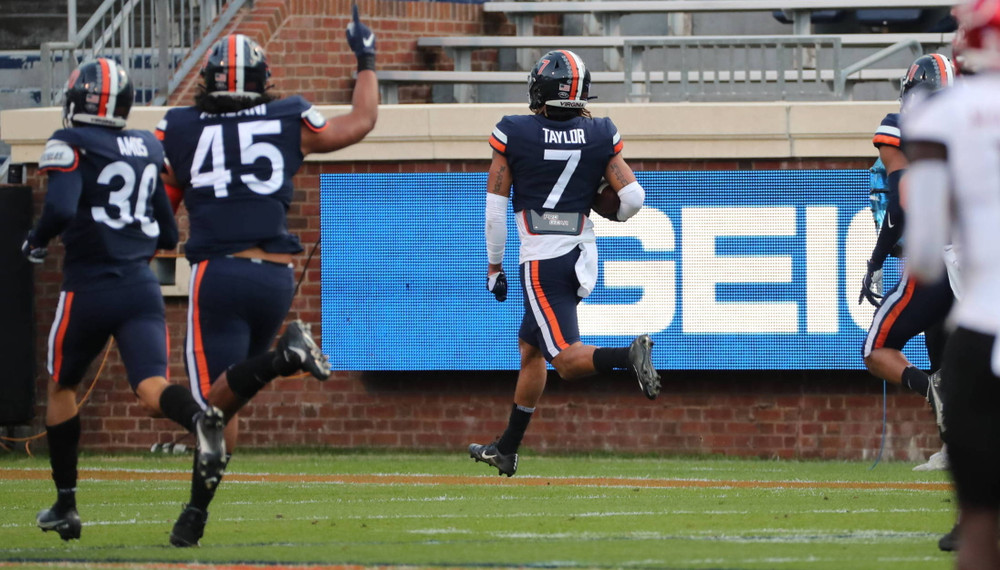 With redshirt junior Keytaon Thompson unavailable and true freshman Ira Armstead out with a season-ending injury, Virginia went into the game with only two scholarship quarterbacks: Armstrong and redshirt junior Lindell Stone. As a result, Mendenhall said, offensive coordinator Robert Anae tried to limit the pounding Armstrong absorbed.
Armstrong, who injured his left knee late in the UNC game, played with a brace on it Saturday. He ended up rushing 15 times for 63 yards and two touchdowns against Louisville, but "very few were designed runs," Mendenhall said. "They were scrambles, because [the Cardinals] dropped eight and they played soft coverage for a while in the game, especially the first half."
Coming into the game, Armstrong said afterward, he was aware of his injury but told himself "not to be timid," and he certainly wasn't. He completed 15 of 23 passes for 203 yards and one touchdown, with one interception.
"I'm really impressed with Brennan and his leadership," Mendenhall said.
Virginia's offense lost three players to injuries during the game––senior tight end Tony Poljan, junior wideout Tavares Kelly and senior lineman Dillon Reinkensmeyer––but benefited immensely from the defense's takeaways.
"It just gives us more opportunities to score," Armstrong said.
Wideout Lavel Davis Jr. led the Cavaliers with four receptions for 74 yards and one TD. The 6-7 true freshman had missed Virginia's previous two games, and his absence was felt. With his size and speed, Davis allows the Hoos to stretch the field in a way they can't without him.
"It's nice to have him back," said Armstrong, who connected with Davis on a 9-yard touchdown pass early in the third quarter.
In five games this season, Davis has 13 catches for 284 yards and four TDs. His presence "makes defensive coordinators and defensive players more hesitant to get closer [to the line of scrimmage]," Mendenhall said. "He's making progress, and that helps our offense."
It was a seven-point game midway through the fourth quarter when, at the end of a 27-yard run by Cunningham, UVA senior cornerback Nick Grant ripped the ball away from the Cardinals' quarterback and came up with the fumble recovery.
"That was big time," said sophomore linebacker Nick Jackson, who led the Hoos with 10 tackles.
Three plays later, on third-and-9 from the Virginia 36, junior wideout Billy Kemp IV turned a short pass from Armstrong into a 29-yard completion.
"We knew once we hit that, we were going to be smooth sailing from there," said Armstrong, who capped the drive with a 9-yard touchdown run.
Brian Delaney's PAT made it 31-17 with 4:29 left, and on the Cardinals' next drive, Zandier forced a fumble that sophomore safety Antonio Clary recovered, effectively sealing the win for UVA.
In addition to coming up with three turnovers, the Cavaliers sacked Cunningham four times. Zandier, Jackson, senior linebacker Charles Snowden and senior lineman Mandy Alonso recorded one sack apiece.
"I think we have a lot of guys that are flying around and making a lot of big plays right now," Zandier said.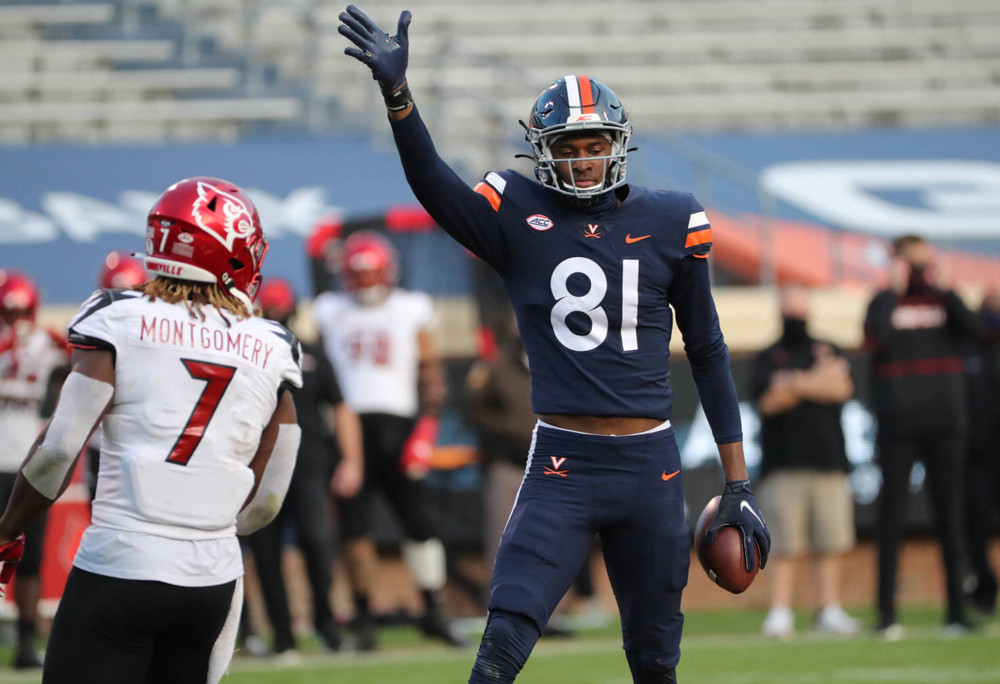 STRONG START: Ronnie Walker Jr. has had to clear multiple hurdles since transferring from Indiana to UVA after the 2019-20 school year, but his long-awaited debut came Saturday, and he didn't squander the opportunity.
In the second quarter, on his first play as a Cavalier, the junior running back took a handoff from Armstrong and ran for 11 yards and a first down. In all, Walker rushed five times for 20 yards.
"It was great to finally carry the ball as a Cavalier with my brothers I've been working with since this summer," Walker said. "I know I faced some adversity, but I'm blessed to have the opportunity to help secure this win. Wahoowa!"
Mendenhall said Walker has impressed in practice, "and he's becoming game-ready. So today was just the next step in a bigger role for him, and he handled the role and the touches that he got really well, so they'll just keep expanding as we go. It's really good timing for us that we have him down the stretch."
ONE FOR THE BOOKS: Taylor's interception return was the longest by a linebacker in program history. After picking off Cunningham's pass in the middle of the field, Taylor cut right and then sprinted down the UVA sideline, receiving key blocks from Jackson and Zandier along the way.
"When I caught it, I was just like, 'I got to make this a touchdown,' " Taylor said of his third career interception.
Taylor suffered a knee injury before the Cavaliers' season opener, and that hindered him early this fall. But the coaching staff has reduced his workload in practice, and Taylor is moving better all the time.
"I don't know what percentage of 100 he is," Mendenhall said, "but we're making progress."
SOUND BITES: With the victory, Virginia improved to 4-1 all-time against Louisville at Scott Stadium. Among the postgame comments Saturday:
• Mendenhall: "The identity of this team, the defense, the offense, is still being uncovered, and the pieces change each week as well … All I do know is they're committed and they'll try really hard and they want to play football and they want to play as much as they can, and they want to win. And it looks like it's trending that direction down the stretch."
• Mendenhall on Grant's takeaway: "Hustle plays matter, and we're continuing to drive home to our team that how hard they try, usually leads at some point, at some time, to positive plays that'll help our team."
• Zandier, who had a pick-six against Old Dominion last year, on Taylor's 85-yarder: "Just being able to see Noah run down the sideline into the end zone was just absolutely awesome."
• Armstrong on the passion that's readily evident in him on the field: "That's just who I am. That's how I'm going to play."
• Armstrong on cutting down on his turnovers: "Just don't force things. I think that's what happened today [with the interception]. I tried to force something that wasn't there. I think it's going to get better. I think the rest of the season it's going to get better. I think next season it's going to get better, and I'm just excited to see where it goes."
UP NEXT: The first-ever football game between UVA and Abilene Christian is set for Saturday at 4 p.m. at Scott Stadium. The Wildcats (1-4), who were late additions to the Cavaliers' schedule, compete in the NCAA's Football Championship Subdivision.
This is Virginia's only non-conference game of the regular season, and it will be shown on Regional Sports Networks.
Abilene Christian is a private school in Texas with about 5,300 students.
To receive Jeff White's articles by email, click here and subscribe.