UVA Game Notes | ACC Weekly Release | UVA Football on Twitter | Jeff White on Twitter | 4TheHoos Initiative | Fans First Ticket Program
By Jeff White (jwhite@virginia.edu)
VirginiaSports.com
CHARLOTTESVILLE –– For the University of Virginia football team, the end of an unprecedented season is approaching. With the COVID-19 pandemic ongoing, more changes are possible, but Virginia is scheduled to play four more regular-season games, with the finale coming Dec. 12 against Virginia Tech in Blacksburg.
Unlike many teams, UVA has avoided major issues with COVID-19 this fall, but head coach Bronco Mendenhall has learned to take nothing for granted. Mendenhall noted Monday that the Cavaliers "seem to be chugging along without much drama. But that doesn't mean that I'm underestimating or saying that this week it couldn't be different for us.
"It's hard every day to keep our team safe, to keep our team healthy, and to move forward, so every week is a challenge. Every day, quite frankly, we're at risk. We're doing the very best we can. I wouldn't be surprised if anything happened, quite frankly, at this point … The plan's in place, but we're really not thinking more than just one day at a time, because it takes so much just to get through the protocols and be disciplined enough to succeed in the day."
The Wahoos have two home games remaining. The first is Saturday, when Virginia (3-4) meets Abilene Christian (1-4) at 4 p.m. at Scott Stadium. An FCS school that competes in the Southland Conference, Abilene Christian was added to Virginia's schedule after VMI canceled its fall season. The game will be televised by Regional Sports Networks, including MASN in the mid-Atlantic region.
This is Mendenhall's fifth season at UVA, which finished 2-10 in 2016, 6-7 in 2017, 8-5 in 2018, and 9-5 last year. After dropping four of their first five games this season, the Cavaliers have won two straight, and they're looking to continue that surge.
"A quote we talked about this week was, 'We haven't come this far just to come this far,' " redshirt sophomore tight end Grant Misch said Monday. "So we haven't done all these things, all the protocols and socially distancing and testing and all this, just to play a few games … We want to win all our games we play."
A victory over Abilene Christian would move the Hoos back to .500 for the first time since early last month and put them in position to "get this season back on track to where we want it to be," senior defensive lineman Mandy Alonso said Monday.
The Wildcats haven't played since Nov. 7, when they lost 34-21 to Angelo State, another team from Texas. The game at Scott Stadium may turn out to be a mismatch, but that won't change the way the Cavaliers prepare this week.
"We always take every game seriously," Alonso said. "Coach always says in meetings [that it doesn't matter] who we're playing. You just gotta prepare the same way each week, week in and week out, because it's basically on us."
Misch said: "Every game is a challenge, especially this year with all the COVID stuff."
Mendenhall has experience at the FCS (formerly known as Division I-AA) and junior-college levels, "and working my way through different leagues, I learned really early on the quality of coaching isn't level-specific," he said. "I've seen amazing high school coaches, and I've visited some professional facilities where I wasn't that impressed. Same thing with the different levels of college football, so I think [Abilene Christian's] coaching is very strong. I think the schemes are very sound. Normally, the biggest difference [between FBS and FCS] is the depth of players in the roster and the quality of players throughout the entire roster."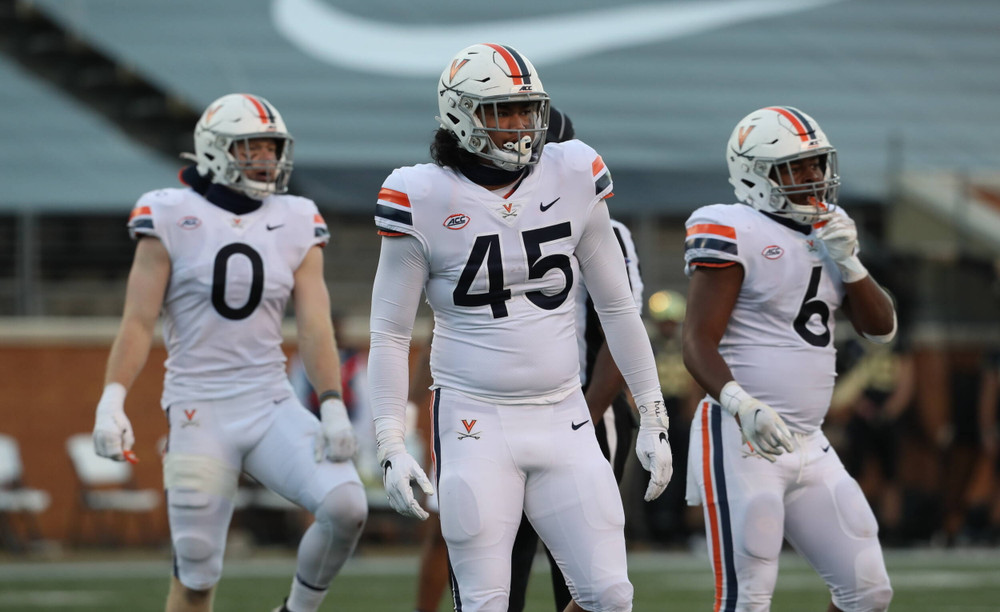 Pass defense continues to be an issue for the Hoos, but they're becoming more disruptive. In their past three games—a road loss to Miami and home wins over North Carolina and Louisville––the Cavaliers have totaled 14 sacks.
"We've learned more about the identity of this particular team, this particular defense," Mendenhall said. "We're learning to manage specific players in this very unique year. We found out after about three weeks that's going to require different management, in terms of [maintaining] health and freshness and how they're prepared, and that's starting to yield a different return. And it's not just because the players are trying harder. We had to put some organizational and some preparation things in the place that are giving them a better chance in terms of healing, recovering, becoming faster, fresher as the wear and tear of this particular season has taken on. And it's starting to show results and at a good time with the stretch run coming down."
Virginia's defense forced two turnovers against North Carolina and three against Louisville. Those takeaways fuel the offense, Misch said. "Absolutely. You see the sidelines going nuts, and that's not just the guys cheering. That's the offense running out there excited."
THE NEXT GENERATION: Medical issues and an opt-out have limited the Hoos' options on the defensive line, where two of the five players listed on the latest depth chart are true freshmen: Jahmeer Carter and Nusi Malani. Another promising D-lineman is their classmate Olasunkonmi Agunloye.
"I love them," Alonso said of the newcomers.
The 6-2, 305-pound Carter is a powerful nose tackle who's appeared in every game this season, for a total of 149 snaps. He backs up sophomore Jowon Briggs, who said early this month that "everything pretty much comes instinctually [for Carter]. He's very aggressive with his hands, and he's very intentional about what he does … I don't really have to tell him much. I'm just there if he has something to ask me."
Alonso is also a fan of Carter, who wears jersey No. 90.
"Jahmeer has really come along since the start of the season," Alonso said. "He's been focused, and he works really hard. He puts his head down and goes to work every week. I love that about him."
The defensive line is in its first year under the direction of assistant coach Clint Sintim, a former All-America linebacker for UVA.
Malani, who's listed at 6-6, 250 pounds, has played only 59 snaps in six games. His role, though, is growing.
"I think Nusi's been coming on real hot these past two weeks," Alonso said, "and he's really been showing Coach that he can get a chance to play more and more, week in and week out, not only on passing downs, but also on run downs."
A 6-6, 270-pound end, Agunloye has yet to play this season, but he's no longer working exclusively with the scout team in practice. His UVA debut could come against Abilene Christian.
"Coach has been bringing him up to run with the [second team] the past two weeks, just to get him going and get him starting to work into the position," Alonso said.
In recruiting, the Cavaliers' coaches have emphasized height and length at outside linebacker, where 6-7 Charles Snowden and 6-5 Noah Taylor are the starters, and they're doing the same up front, Mendenhall said. At 6-4, redshirt freshman Ben Smiley, who's battled injuries this season, is of similar stature to Malani and Agunloye.
"Those three players, in terms of length, reflect more of the direction we'll be going over time," Mendenhall said. "I believe there is more upside in potential in terms of growing within our program and developing those type of players."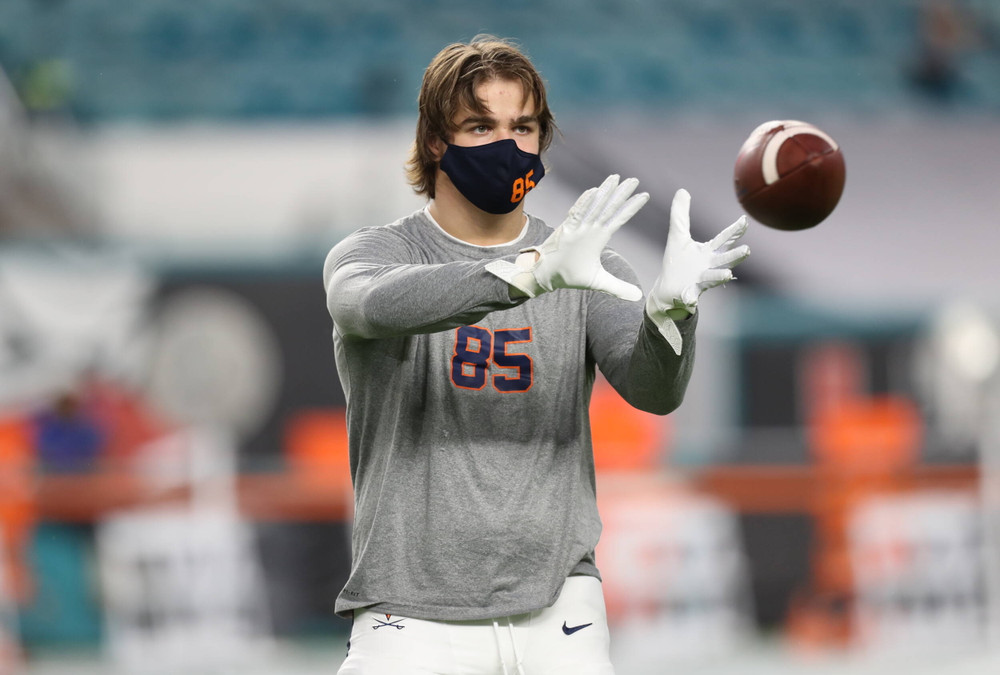 WAITING GAME: In 2019, when Tanner Cowley was the No. 1 tight end in Virginia's passing game, Misch had one reception, and it went for a 6-yard touchdown in a win over UNC.
With the addition of graduate transfer Tony Poljan, who has 25 catches for 223 yards and four TDs, the 6-4, 250-pound Misch has been used mainly as a blocker again this season.
"Tony obviously is our primary route-runner/pass-catcher," Misch said, "because he's great at it. I'm just understanding my role and where I can help the team. I don't hate blocking. I love it, so I don't mind doing that. But catching and all the glory for that will come at some point."
Misch has yet to catch a pass this season, though quarterback Brennan Armstrong targeted him once in the UNC game after Poljan exited with an injury. Early in the fourth quarter, on first-and-10 from the Tar Heels' 11, Misch slipped into the end zone and was open, but Armstrong underthrew him.
"It was funny," Misch said Monday, "because I was laughing at Brennan, asking if he was mad at me, because I thought I was going to get another [TD] … He got a little rushed, and he didn't set his feet too well. My eyes were big, though."
Misch, a graduate of Potomac Falls High in Northern Virginia, began his UVA career as a defensive end before switching to tight end last year.
To receive Jeff White's articles by email, click here and subscribe.