By Jeff White (jwhite@virginia.edu)
VirginiaSports.com
CHARLOTTESVILLE –– For leadership this season, University of Virginia head coach Tina Thompson will look first to her team's returning starters, Carole Miller and Amandine Toi. Each has played one season of college basketball.
"Our team is a little different," Thompson, who's heading into her third season at UVA, told reporters Wednesday on a Zoom call.
The Cavaliers lost five of their top six scorers from a team that finished 13-17 overall in 2019-20, including Jocelyn Willoughby (19.2 ppg, 7.7 rpg, 2.0 apg), a first-round pick in the WNBA draft. Two of the other departing players had prominent roles as freshmen last season but were later dismissed for violating athletics department and team rules, Thompson said.
"We are a program of integrity," she said, "and our culture is really important. Our program has taken a hit in that regard, but I do believe that there are things that are much more important than sport. It is the reason why we're here, but it is not entirely our intention in how we grow our young people … So we're moving in the direction and are renovating and growing this program, but we are a little different than expectation."
Miller is a 6-0 sophomore from Alexandria who averaged 6.0 points and 3.6 rebounds per game last season. The 5-10 Toi, who's from Paris, France, is in her fourth year as a UVA student, but she missed the 2017-18 and 2018-19 seasons with knee injuries.
In 2019-20, Toi played in all 30 games and averaged 4.3 points. She was excited, Toi said Wednesday, to finish the season in good health and to be able to spend the offseason honing her skills instead of rehabbing from surgery.
Toi grew more comfortable and confident as the 2019-20 season went on, and along the way she shed her knee braces.
"I think that was a relief to me, just to be able to move naturally," Toi said. "Also, I was getting more playing time and more confidence in my defense, my first step. My knees were getting stronger, too, and I was getting more reps in practice."
She's known for speed, but her injuries forced Toi "to take a step back," Thompson said. "She was able to view the game in a different way. So although she's still rather quick and fast, she's learned how to use her speed to her advantage [with] change-of-speed and stop-and-go [moves]."
Toi also blossomed as a 3-point shooter. Of the Cavaliers who attempted more than three treys last season, Toi (26 of 81) hit the third-highest percentage (32.1).
While Toi was sidelined, the "only thing that she could do was shoot," Thompson said. "She has tweaked her shot and developed it, and now she's been able to add that. I think that last year was a victory for all of us, and although she was starting and she was figuring a lot of things out, she was able to just enjoy playing again and just being out on the floor. That just changed her as a person, altogether, because now she was totally a part of the team again."
Toi is now "a lot more comfortable about being out there and there's been a change in that she is a leader now," Thompson said. "It's not just kind of being out there and competing. She's having to lead this team along with Carole Miller … The great thing about our sophomores is that they had a lot of experience last year, they played a lot of minutes, so I don't think that it was a problem for them to step into leadership [roles] from a competitive standpoint."
For Miller, a graduate of Edison High School, this situation is not unfamiliar.
"I wouldn't say I expected this when I arrived here last year, but it just kind of reminds me of what I went through in high school," Miller said Wednesday. "So I'm just trying to re-channel what I went through and apply it here. Even though it's on a bigger stage, it still applies."
As an Edison freshman, she played with four seniors, "and then my sophomore year I was put into a big leadership role," she said.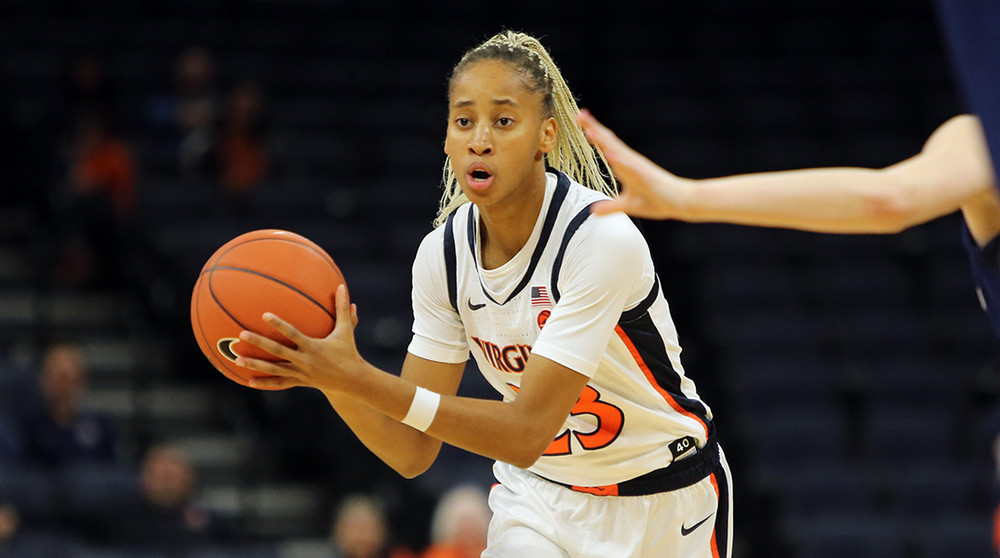 The Wahoos' 2020-21 roster includes five freshmen: 6-0 Aaliyah Pitts, 6-0 Zaria Johnson, 6-1 Deja Bristol, 6-3 Nycerra Minnis and 6-0 Kaydan Lawson, whose sister, Dani, a 6-2 forward, is the team's only junior. Miller said she's trying to "teach the freshmen what I went through last year [and telling them], 'It could be you, so just take advantage of your opportunities.' "
Miller, who played forward extensively as a freshman, is more comfortable on the perimeter, and that's where the Cavaliers have been using her this preseason. But she benefited from the experience she gained in 2019-20.
"I constantly try to tell some of the freshmen, 'You could be what I was last year. You could take this opportunity. It might not be the position you're wanting to play in, but you're getting on the court, and that's the ultimate goal,' " Miller said.
With such an inexperienced team, Thompson said, patience will be required. Virginia has only two seniors: 6-3 Tihana Stojsavljevic and 6-3 Emily Maupin, a graduate transfer from Liberty University who grew up in Charlottesville and attended the Covenant School.
"We have a lot of young players," Toi said, "and I think it's going to be a long process for everybody to get adjusted to the level of competition."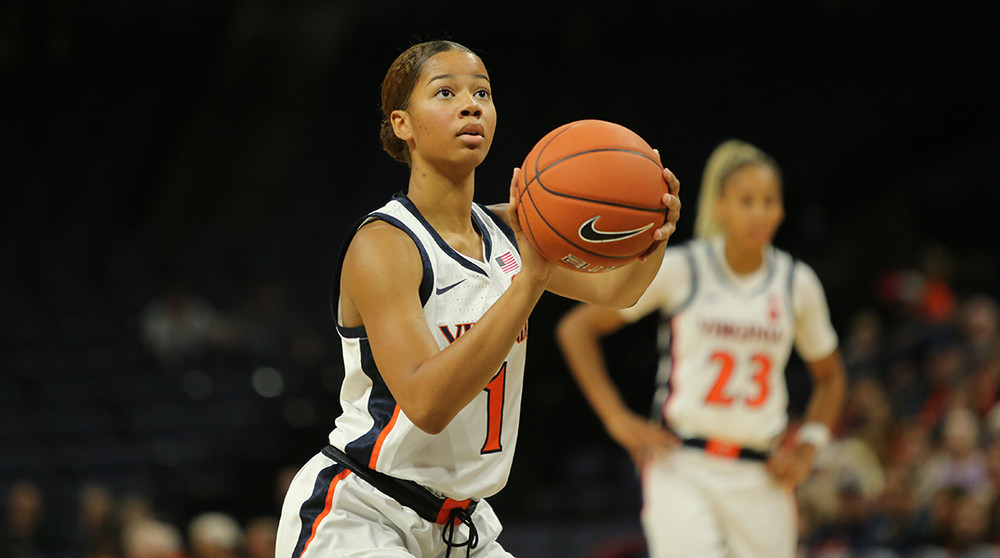 Virginia opens the season next Wednesday on the road against Central Florida in Orlando. The Cavaliers' first game at John Paul Jones Arena is scheduled for Nov. 29 against East Carolina.
"Our kids have worked really hard and have faced a lot of obstacles and just tough days considering the protocol and all the adjustments that they've had to make in regards to us being in the [COVID-19] pandemic," Thompson said. "They're excited about the start of the season and realizing that all the hard work that they put in until this point has been mentally and physically work worth it."
The pandemic has resulted in schedule changes, but Thompson said she's seeing more smiles from her players recently, because "they actually have a start date now and they're working towards something. So we're excited to get things going."
The freshmen will be asked to provide depth, Thompson said, "but every now and then they're going to have to come in and be poised and ready to play and contribute."
Opportunities abound for emerging players in the program this season, and that excites Thompson. Miller and Toi are the only ones assured starting jobs at this point.
"Everyone else that can change from one game to the next, just depending, because that's the reality of youth," Thompson said. "When you're dealing with freshmen or players that don't have a lot of experience, they don't know what to expect. So their mental approach to the game is unsure, it's something that they're working out, and as a coaching staff, we're going to have to make adjustments based on that."
To receive Jeff White's articles by email, click here and subscribe.