By Jeff White (jwhite@virginia.edu)
VirginiaSports.com
CHARLOTTESVILLE –– He weighed all of 189 pounds when he arrived at the University of Virginia in January 2018, and even now, with 225 pounds spread over his 6-foot-5 frame, he remains lean. So it's not difficult to imagine the first impression Noah Taylor, playing middle school football in the D.C. suburbs, made on Tyree Spinner.
"He was not your prototypical student-athlete where, when he walked through the door you were like, 'This kid is going to be a guy,' " recalled Spinner, who was then the head coach at Wootton High School in Rockville, Maryland, where his players included Taylor's older brother, Izayah.
"Noah was long, rangy, skinny, and he was still learning the game," Spinner said. "You could tell that his heart was there, but his body didn't match the heart. He would jump into the fire quick, but, really, was his body made to do that? No. But you could tell the intangibles were there, that he had the heart and he was fearless, even with that frame."
Taylor played JV football at Wootton as a ninth-grader, after which he and his brother followed Spinner to the Avalon School in Wheaton, Maryland. Noah Taylor didn't add much bulk at Avalon, but he blossomed as a player, and he's continued his rise at UVA, where he starts at outside linebacker for the second straight season.
"He's grown exponentially, not just physically, but mentally, emotionally, the way he approaches things," said senior Charles Snowden, who starts at the other outside linebacker spot. "Noah has always had an immense love for the game of football. He absolutely loves it, but as he's grown he's learned how to channel that love into being productive: how to attack film, how to attack practice every day. He's an extremely emotional guy, he still is to this day, but he channels it a lot better.
"I'm so proud of him. I've just seen him grow, and I'm excited for his future."
So is Spinner, a former tight end who began his college career at UVA before transferring to the University of Richmond.
"It's just neat to watch, because as we know, I have a history with Virginia as well," said Spinner, whose older brother, Bryson, also played for the Wahoos. "That was my dream school growing up, being from Virginia originally, and with my brother being a quarterback there. It didn't work out as well as I planned, but seeing Noah flourish and be so successful, it's neat to see how [head coach] Bronco Mendenhall and that staff and that culture are doing a tremendous job in developing these young men."
Taylor, who appeared in nine games as a true freshman in 2018, played in all 14 last season, with 10 starts. A series of injuries––to his left knee, his neck and, most recently, his back––have hindered him this fall, but "now I would say everything is good," Taylor said after practice Tuesday morning.
Virginia (3-4) hosts FCS member Abilene Christian (1-4) at 4 p.m. Saturday at Scott Stadium. The game will be shown on Regional Sports Networks, including MASN in the Mid-Atlantic region.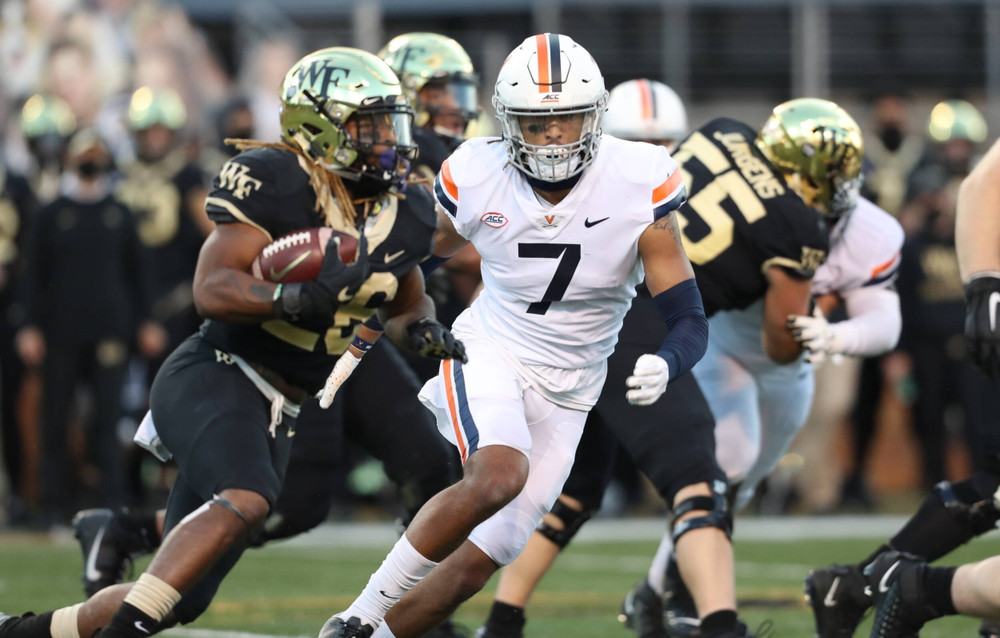 The Cavaliers' coaches have reduced No. 7's workload in practice, and that decision paid a handsome dividend last weekend at Scott Stadium. On the 12th play of the game's opening series, Taylor dropped back into coverage, picked off Louisville quarterback Malik Cunningham's pass, and returned the interception 85 yards for a touchdown, getting blocks from inside linebackers Nick Jackson and Zane Zandier along the way.
As Taylor approached the end zone, "I was really tired," he said with a smile Tuesday, but he pushed through for a pivotal score in the Cavaliers' 31-17 victory.
Taylor also had five tackles against Louisville, and after the game he was handed a sledgehammer with which he broke the ceremonial rock in the locker room, a honor given to a deserving player after every UVA win. Two days later, Taylor was named the ACC's linebacker of the week for his performance against the Cardinals.
The interception return was the longest by a linebacker in program history. Taylor had two picks in 2019, both against Virginia Tech in the regular-season finale at Scott Stadium, the second of which ranks among the biggest plays of the Mendenhall era at UVA.
With the game tied 30-30, Taylor leaped to snare a pass by Tech quarterback Hendon Hooker. That gave the Cavaliers possession with 4:47 to play, and they went on win 39-30, their first victory in the series since 2003.
Taylor's base position is outside linebacker, but the Hoos also use him at defensive end and safety. Defensive coordinator Nick Howell noted this week that Taylor has demonstrated different skills on each of his interceptions.
"It just kind of speaks to his versatility," Howell said, "and I think everyone knows that he can do some things that way. For sure, that helps, when guys can do that."
Growing up, Taylor said, "I watched a lot of safeties, because I wanted to go to the NFL and play safety. That was my dream as a kid. But then reality hit. I got five inches taller over one summer, and going into my freshman year [at Wootton], I realized I wasn't a safety. But I was still playing safety all the way up until my senior year of high school, and just having that background helped."
The key for Taylor, Howell said, is "continuing to be consistent and be physical."
Taylor, an American studies major, long ago established himself as one of the team's top athletes. In April 2019, he pulled off a rare feat in director of football development and performance Shawn Griswold's offseason program, skipping a level and moving from gray to blue.
Black is the only level higher than blue, and Taylor is confident he'll get there this winter. Griswold won't be surprised if that happens.
"He has all the intangibles," Griswold said.
Taylor might well have earned black gear in the spring or summer this year, but the COVID-19 pandemic forced Griswold and his staff to modify players' workouts. The Hoos were off Grounds from the middle of March to early July, and once the season starts, it's tough for frontline players such as Taylor to make significant gains in the weight room.
"They're just too beat up," Griswold said.
After returning home to Maryland in March, Taylor began training with Spinner and the Avalon coaches. They often worked out on a field in Northern Virginia with quarterback Dwayne Haskins and other Washington Football Team players.
"That was a good time," said Taylor, who defended wide receiver Terry McLaurin, among others.
Bryson Spinner coaches quarterbacks, and he's worked for years with Haskins, who attended Bullis School in Potomac, Maryland.
"While Dwayne's training, we like to give him some realistic views," Tyree Spinner said, "and we like to have him [face] some guys who have elite athleticism to try to match the speed of the game for Dwayne. So we would bring out Noah, and we would go out there twice, sometimes three times a day, and really just work on every facet, whether it's pass rush, dropping into zone, man-to-man coverage. We really focused on having Noah learn the game of football from an intellectual point of view."
Added strength and weight will help Taylor play the run, and Griswold would like to see him to get to 235 pounds next year. But it's likely to be a slow process.
"A guy like him, that dude could eat cheeseburgers all day and he's still going to have a hard time gaining weight," Griswold said, "just because his metabolism is so fast and his body is so lean.
"But he's done a good job of building his body up, and he's definitely coming into his own as he's getting older. From January until summer is when I really want him to gain the weight, like we did with Snowden, so they have all summer to learn how to use that weight. Because it's real difficult if you put on 15 pounds in the summertime. You're running with it, but it's different. It's nice to get the weight on and then have the entire eight-week session to run with it [in the summer], because it does feel different."
Former linebacker Jordan Mack got up to 240 pounds one year, Griswold said, before deciding the extra weight was slowing him down. Mack dropped back to about 230, "where he felt better," Griswold said. Taylor had a similar experience one offseason, he said, "and I don't want that to happen again."
Griswold said: "It's just a feel thing. They've got to feel good. But Noah's done a good job of building himself up and maintaining this year. There were times in the past he would get all the way down to 209. It's not that he'd get shoved around, but weight is weight and strength is strength."
The 6-foot-7 Snowden and Taylor form an imposing set of bookends in the Cavaliers' 3-4 defense. Snowden also grew up in Montgomery County, Maryland, and he's been a mentor to Taylor, whose reputation preceded his arrival at UVA.
"If you're in the athletic community in Maryland, you know the name Noah Taylor," Snowden said.
For the season, Snowden is tied with safety D'Angelo Amos for third on the team in tackles, with 43, and Taylor is next with 38. Snowden has 10 tackles for loss, and Taylor has 6.5. Each has forced a fumble, and Taylor has the only interception between the two.
Each delights in one-upping the other. "One hundred and ten percent," Snowden said, smiling. "And it's not just making plays on the field. It's in the weight room, it's on the field during sprints, it's all the time. I'm a little bit stronger than Noah, so my strength numbers are a little higher than his, but he's always trying to catch me, and Noah's a little bit faster and quicker than me, so when we're out on the field, I'm trying to catch him.
"Then on the field we're pretty even, so we definitely have a competition on who can make more plays. But at the end of the day he's still one of my best friends, so we're extremely excited when the other one makes plays, and I think that friendly rivalry definitely pushes up to be better football players."
The pandemic has made this a challenging year for everyone associated with the Cavaliers' program, acknowledged Taylor, who lives with teammate T.C. Harrison.
"It's been a lot of trials and tribulations," Taylor said, "but I thank God every day that I can actually have this opportunity to play football in any circumstances, whether there's no fans or I've got to wear a mask all the time. Whatever the case is, I still get to come out here and play football and just do what I love.
"I'm just enjoying being out here, playing with the guys. At the end of the day, when we're between those lines, everything else doesn't matter. So we're just out there having a good time."
To receive Jeff White's articles by email, click here and subscribe.