By Jeff White (jwhite@virginia.edu)
VirginiaSports.com
CHARLOTTESVILLE –– A week after Noah Taylor returned an interception 85 yards for a touchdown, a University of Virginia record for a linebacker, one of his understudies, D'Sean Perry, nearly matched that feat.
On the final play Saturday night, a ferocious pass rush forced Abilene Christian quarterback Peyton Mansell into a soft throw that Perry picked off. Perry took off running down the right sideline and, with an escort from teammate Hunter Stewart, did not stop until he crossed the goal line, 84 yards later.
Perry's TD closed out the scoring in the Cavaliers' 55-15 win, and Taylor congratulated the redshirt freshman from Miami after the game at Scott Stadium.
"He was like, 'It was a good play, but you're one yard off,' " Perry said, laughing. "He was proud of me, but he let me know that he still had the record. It was crazy. Super crazy."
Head coach Bronco Mendenhall enjoyed much about his team's only non-conference game of the regular season, especially the joy on his players' faces and in their voices. The Wahoos (4-4) led 28-7 at the break and substituted liberally in the second half. Eight players, including Perry, made their UVA debuts.
"It was just really gratifying to see smiles from so many players that hadn't had a chance to play this year in a real game after they've been just practicing and laboring and working and trying to help their teammates and this program move forward," Mendenhall said.
Not everything that happened in this game was cause for celebration. The Cavaliers lost three regulars to injuries: senior safety D'Angelo Amos, true freshman defensive end Nusi Malani and senior outside linebacker Charles Snowden, one of the team captains. The Hoos already were missing their top two safeties: seniors Joey Blount and Brenton Nelson.
"It's the highest level of concern," Mendenhall said. "We're thin already, and that added to it. It was really unfortunate, and it's always hard to see players get hurt. I hate that part of the business in this job, especially the players that I have such good relationships with and just admire. So, yeah, it's an issue."
Abilene Christian (1-5), which competes in the NCAA's Football Championship Subdivision, battled gamely but was overmatched Saturday. The Cavaliers totaled 518 yards, most of which came through the air.
Redshirt sophomore quarterback Brennan Armstrong completed 16 of 23 passes for a career-high 383 yards and four touchdowns, with no interceptions. The four TD passes also were a career high for Armstrong, who rushed six times for 52 yards.
"When No. 5's got the ball, good things happen," said sophomore linebacker Nick Jackson, who led the Hoos with 11 tackles. "Everyone's really confident in Brennan. He's just a dynamic playmaker, and every time he has the ball everybody's excited, because we know something good is going to happen."
Big plays in the passing game helped Virginia blow this game open. Of Armstrong's TD passes, the first was a 28-yarder to senior tight end Tony Poljan, the second was a 90-yarder to true freshman wide receiver Lavel Davis Jr., the third was a 56-yarder to redshirt junior wideout Keytaon Thompson, and the fourth was a 52-yarder to senior wideout Ra'Shaun Henry.
Poljan, Thompson and Henry are graduate transfers who joined the Cavaliers' program this year. Thompson's TD came on a play on which he went in motion and took a flip pass from Armstrong. About two minutes later, Thompson took a shotgun snap and pitched the ball to Armstrong, who fired a long pass to Henry, who was running uncovered behind the Wildcats' secondary.
"When you see big plays, especially as a defensive coach, that always gets your attention, and you don't sleep quite as well," Mendenhall said. "So when you see Lavel or see you K.T. or you see Brennan … it adds other things and more comprehensive packages that the defenses have to be aware of. Then when you add [Armstrong's] scrambling ability as well, that's just one other thing that's a hassle to try to handle as a coordinator."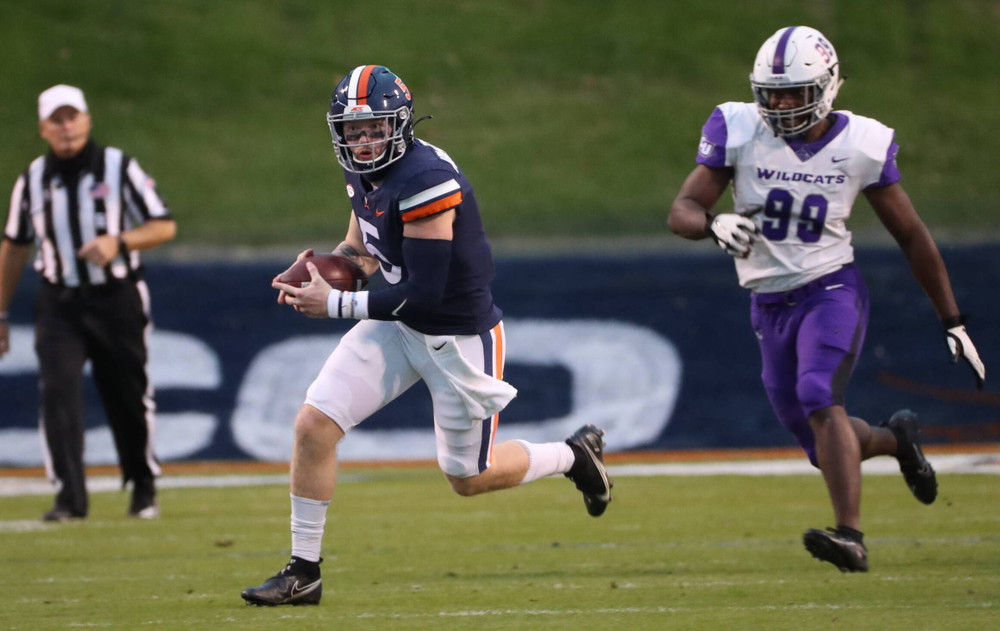 The COVID-19 pandemic has challenged the Cavaliers on multiple fronts since they returned to Grounds in early July. Several schedule changes followed, and the Hoos didn't kick off their season until late September. After opening with a win over Duke, they lost four straight games. Armstrong suffered a concussion late in the first half against NC State on Oct. 10 and missed the rest of that game and all of the next one.
Armstrong returned for Virginia's Oct. 24 game at Miami. The Hoos dropped that one 19-14, but since then they've won three in a row to reach .500 for the first time since early last month.
"It's so gratifying," Mendenhall said. "My reward comes from seeing young men happy, embracing each other, cheering each other on, and when we lost Brennan for those two games, that was a hard stretch, and the team was battling, and the aspirations and some of the things they thought might come to fruition were then in jeopardy and at risk. Now they've battled and given themselves a really good chance with three games remaining, all unique and challenging in their own way. They're to be commended for their resilience and their optimism and their teamwork and just who they are."
The four teams to which Virginia has lost this season––Clemson, NC State, Wake Forest and Miami––are a combined 24-8. Clemson is No. 4 and Miami is No. 12 in the latest Associated Press poll.
SMASH HIT: After every UVA victory, a player is selected to break a ceremonial rock, on which is painted the opposing team's name, in the locker room. The honor Saturday night went to Perry, a graduate of Gulliver Prep in Miami, where his coach was former UVA linebacker Earl Sims.
"That was special," said defensive lineman Mandy Alonso, who preceded Perry at Gulliver Prep, "and for him to break the rock, that was amazing."
The 6-3, 235-pound Perry had a tackle, but his interception generated the most buzz in the locker room.
"That was awesome," said Jackson, who like Perry enrolled at Virginia in the summer of 2019. "It doesn't get much better than that. Watching D'Sean Perry score that touchdown made my whole day. That's my guy … He's just a hard worker. He comes in every day, and he just works, and to see that pay off for him was awesome."
HARD TO HANDLE: At 6-7, 210 pounds, Davis is a huge target for UVA quarterbacks, and he's more than just a possession receiver. He showed breakaway speed on his 90-yard reception Saturday, catching the ball near midfield and then winning a foot race to the end zone. That's the longest pass play in the ACC this season.
"He's a deep threat and he stretches the field and he gives us a way to keep the safeties out of the run game," Mendenhall said.
Davis, who missed two games early in the season, has 14 receptions for 374 yards (26.7 average), and he's tied with Poljan for the team lead in TD catches. Each has five.
"He's one of the players that we have that can keep the defenses off of us, the safeties occupied and having to consider something that might go over their head, rather than just playing run defense," Mendenhall said.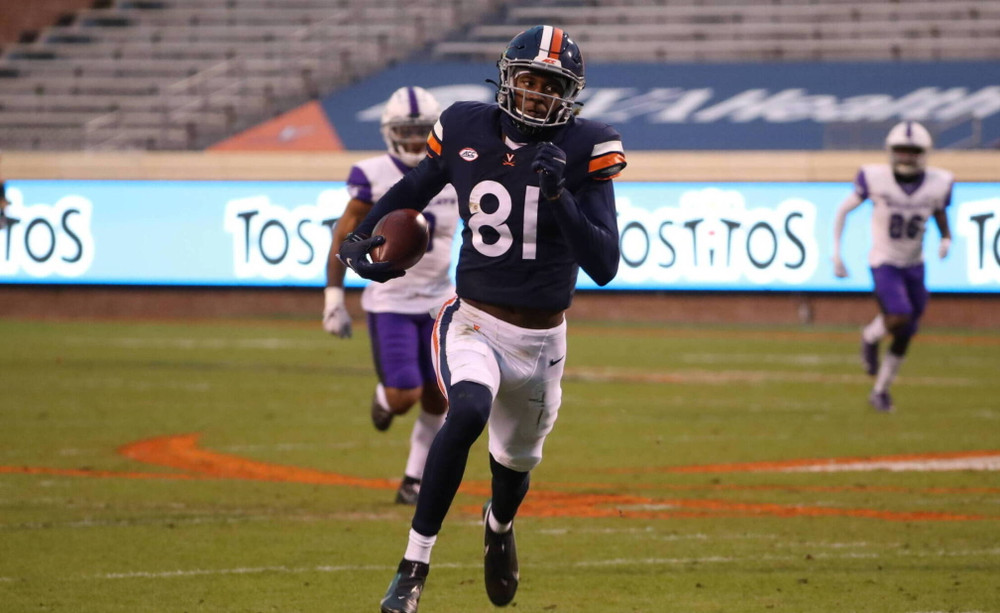 ROOM FOR IMPROVEMENT: Against a one-win FCS team that had allowed an average of 246.8 yards rushing per game before Saturday, Virginia gained only 115 yards on the ground, 33 of which came on Armstrong's first-quarter fun.
Shane Simpson, a graduate transfer from Towson, had a pair of 1-yard touchdown runs, but his longest gain was 6 yards.
"I was disappointed, really for the second week in a row, after such a strong start [this season]," Mendenhall said. "Our run game, traditional runs, tailback runs so to speak, really didn't have the yield we were hopeful for, nor did they last week [against Louisville]. So we have to look at that and see exactly where and why that's happening, because it caught me off guard last week. I didn't expect that issue again today, but it kind of resurfaced."
SOUND BITES: For the Cavaliers, the victory was their 16th in their past 18 games at Scott Stadium. Among the postgame comments Saturday night:
• Mendenhall on Armstrong: "He's gotten better every game. I love the way he played to start the season against Duke. I thought he was better against Clemson. I loved the way he competed at Miami. Loved the game against North Carolina. Liked a lot in the Louisville game, and now here's another one. They're all just different and distinct in their own way, and he continues to get better and perform regardless of circumstance. He's really a good player, a special person, a good leader, and he's just beginning."
• Mendenhall on the Wildcats: "I thought they played hard, I thought they had fun, I thought they played physical, I thought they were well-coached, and I liked their spirit. I thought they did a really nice job, and they came to play."
• Mendenhall on the botched trick play that resulted in a safety for Abilene Christian in the final minute of the game: "[Offensive coordinator] Robert Anae was off a line [on his play chart]. He called in the wrong play at the end. We were trying to run out the clock and we end up getting a double pass called out of our own end zone. It's a complete accident … It shows you what being off one line can do, maybe in your life, but also in a football game, where you can go from running out the clock to a double pass."
• Armstrong on Virginia's resurgence: "The start we had is not what we wanted or thought we were going to have. Just getting back to 4-4, we're ready for this homestretch of our ACC opponents. We're excited. It's in our control. I'm just happy that we're putting some wins together [to] keep the momentum rolling."
• Jackson on the contributions of teammates who rarely play: "It's awesome to see those guys out there. They work their butts off every single day in practice, and just for them to get the opportunity, like D'Sean Perry today, that was awesome. It doesn't get much better than that."
• Jackson on the Hoos' injuries: "You definitely feel for the guys. They're your brothers and you want to play for them, so then you just come back out and play for them and do what they would do for you."
CLOSING STRETCH: Two of Virginia's final three regular-season games are on the road, starting next weekend against Florida State in Tallahassee. The starting time and broadcast information for the game have yet to be announced.
FSU (2-6, 1-6) was scheduled to host No. 4 Clemson (7-1, 6-1) this weekend, but the game was postponed because of COVID-19 issues.
Virginia has won two of its past three meetings with Florida State, which leads the series 15-4. The Cavaliers held off the Seminoles 31-24 at Scott Stadium last season.
To receive Jeff White's articles by email, click here and subscribe.