By Jeff White (jwhite@virginia.edu)
VirginiaSports.com
CHARLOTTESVILLE –– Juggling motherhood and coaching during a pandemic has been challenging at times for Joanna Hardin, as might be expected, but the University of Virginia's head softball coach remains characteristically upbeat.
"It's awesome," Hardin said of raising her daughter, Phinley, who was born in late August. "She's great, and she's a pretty easy baby. So I'm really lucky."
Hardin is heading into her fifth year with the Cavaliers, who were 10-12 last season when college sports were shut down because of COVID-19 concerns.
If they weren't the least experienced team in Division I, the Wahoos were on the short list. Of their starting position players last season, two were juniors, one was a redshirt sophomore, four were sophomores, and two were freshmen.
The dynamic is different as 2021 approaches. The Hoos wrapped up fall practice Saturday, and Hardin said she can sense a new attitude in this group.
"There's definitely more maturity and more expectations of winning," Hardin said. "There's a difference between hoping we can win and expecting to win, and I would say across the board our returning players have said, 'We expect to win and we expect to practice like a championship team. We expect to follow protocols like a championship team. We expect to do all things at a championship level.' "
In their interaction with the team's freshmen over the summer, Hardin added, her returning players' message "was not, 'This is who we want to be.' It was, 'This is who we are, and this is what you're coming into, so get ready.' I think that was a huge mental transition, and it showed itself in practice. There's so much intent. There's so many great conversations about games and situations and why we do what we do. This has hands-down been the most competitive fall we've had."
In a typical fall, Hardin said, UVA would have played eight games against other college teams. With the pandemic ongoing, the schedule had to be modified. Instead of facing other teams, the Hoos held 10 intrasquad contests, Hardin said, and they were fiercely contested.
"It felt like the stakes were high in eight of those 10 intrasquads," she said, "and I think the pressure and the competitiveness of those live situations really helped us grow and get better, more than even playing opponents. Everybody got to play, because you have two teams playing each other. And so everybody got at-bats and every pitcher got time, so we have a lot of data and a really large sample size for our evaluations and a lot of opportunities. It's been great."
In fall games against other teams. Hardin said, "there are going to be some kids that don't even get an at-bat. This fall everybody got a lot of opportunities. And so it was really advantageous. I think what we learned as a coaching staff is how can we implement more live intrasquads and situations more often, and we learned our athletes really, really valued the live opportunities."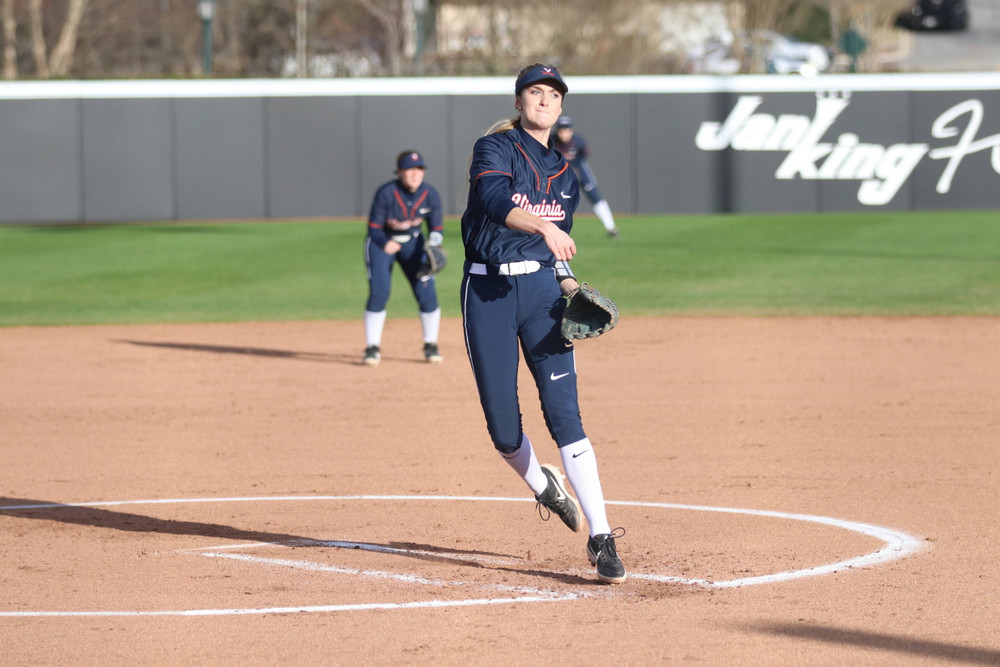 The Cavaliers' roster includes five freshmen: Abby Weaver, Lauren VanAssche, Mikayla Houge, Madison Harris and Leah Boggs. The newcomers have raised the talent level in the program and, perhaps most important, strengthened the pitching staff.
Houge and Harris are the pitchers in the first-year class. Houge, who's from Collins, Iowa, graded out highest among Virginia's pitchers this fall.
"Mikayla has been competing in high-stakes games pretty much her whole high school career," Hardin said. "She's just a competitor. She's a sweetheart, a sweet kid, but she's so fierce. She kind of throws with ice in her veins. It's really cool. It's very fun having her in the circle."
Harris, who stands 6-1, is from Forest, about 80 miles southwest of Charlottesville. "I could see her playing more of a closer role," Hardin said. "She throws 66 to 68 [mph], so she throws hard, and I could see her coming in to close it out. Her ceiling is so high, so she's got a lot of room to grow."
Another new option is Morgan Murphy, a Chesapeake resident who enrolled at UVA in 2019 and then redshirted last season. "So she has an extra year under her belt in age and maturity," Hardin said, "which is really cool for us."
UVA's top three pitchers last season were Aly Rayle, Molly Grube and Mackenzie Wooten. Rayle is now a junior, and Grube and Wooten are sophomores.
"This is the most depth and diversity of pitching [styles] that we've had," Hardin said. "We have such a complementary staff that we'll be able to keep offenses at bay for longer. The challenge of an ACC series [from a pitching standpoint] is you're facing the same lineup nine or 10 or 11 times in a series. We can protect a lot of our other pitchers for the three-game series and throw a lot of different looks to keep offenses off-balance and keep them at bay.
"It's such a huge benefit for us that we just haven't had at all. We're going to have some challenges because of COVID­­­––schedule changes, schedule additions––so depth is going to be key for longevity this season, because we have no idea what to expect."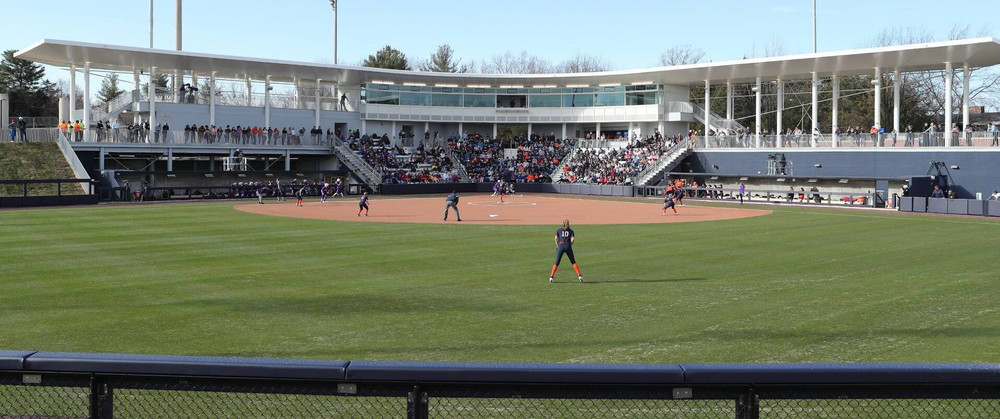 The highlight of 2020 for the program, without question, has been the opening of Palmer Park. Named for former UVA pitcher Lisa Palmer and her mother, Fran, the stadium has a prime location in the North Grounds athletics precinct. The Hoos moved into their dazzling new home on Feb. 24 and played their first game there on March 3.
In all, the Cavaliers played six games at Palmer Park before their season was halted in March.
The new stadium has already been a boon to the coaching staff's recruiting efforts, Hardin said. A highly regarded class signed with UVA this month, and its six members will join the summer next summer. Four of them are ranked among the nation's top-50 recruits.
"They all committed during the construction phase," Hardin said, "so I think it played a little bit into this signing class. But where Palmer Park has really impacted us is in the next couple of classes, our '22 and our '23 classes, because it's already here.
"Construction sites are really great and they're helpful, but when you can see it and you're walking around it, or you can see videos, that's even better."
To receive Jeff White's articles by email, click here and subscribe.