By Jeff White (jwhite@virginia.edu)
VirginiaSports.com
CHARLOTTESVILLE –-  Injuries are part of the game, as everyone associated with the University of Virginia football program knows. That didn't make the loss of senior linebacker Charles Snowden any less jarring for his teammates and coaches.
Snowden, who's one of the Cavaliers' captains and a de facto team spokesman, suffered a season-ending ankle injury Saturday against Abilene Christian at Scott Stadium. At 6-foot-7, 235 pounds, Snowden stands out in a crowd, and he's as charismatic off the field as he is dynamic on it.
"Charles' influence on our program has been breathtaking in terms of maturity and growth," head coach Bronco Mendenhall said on a Zoom call Monday, "and in a lot of ways, his own maturity and growth matched that of the program."
In 2016, their first season under Mendenhall, the Wahoos finished 2-10. Snowden joined the program in 2017 and played in 10 games as a true freshman that fall, helping UVA post a 6-7 record and advance to a bowl game for the first time in six years.
The Cavaliers improved to 8-5 in 2018, when they capped the season with a Belk Bowl rout of South Carolina, and to 9-5 in 2019, when they won the ACC's Coastal Division for the first time.
After a slow start this season, the Hoos have won three straight games, and Snowden has played a prominent role in their resurgence. He has 10 tackles for loss and six sacks—both team highs––and recently accepted an invitation to the Senior Bowl.
"He came in as tall and thin and a basketball player and he's blossomed into a future NFL player with amazing leadership skills, and a captain of our team, in a four-year period," Mendenhall said. "That trajectory has almost been straight up, and I think it is almost a mirror image of the program's culture and the direction. So it's hard to separate Charles Snowden and UVA football. They seem to be one in the same. And I'm not sure if there could be a better exemplar than him of what I would like our program to be."
A graduate of St. Albans School in Washington, N.C., Snowden was injured about five minutes into UVA's 55-15 win over Abilene Christian. Also hurt in that game were defensive end Nusi Malani and safety D'Angelo Amos, and the Cavaliers already were missing safeties Joey Blount and Brenton Nelson.
"Charles, obviously, he's our leader, and he's connected to everybody on the team," fifth-year senior cornerback Nick Grant said Monday. "I'd venture that anybody on the team would say Charles is their best friend or one of their very best friends.
"You wish injury upon nobody, especially someone who's a leader on our team and has such a bright future and just got invited to the Senior Bowl."
It was tough to see Snowden go down, senior outside linebacker Matt Gahm said Monday, "but I know Charles and know he's a hard worker, and I know he's always faced adversity well. He's always taken it in stride, so I have every confidence he'll be able to bounce back from it stronger than before."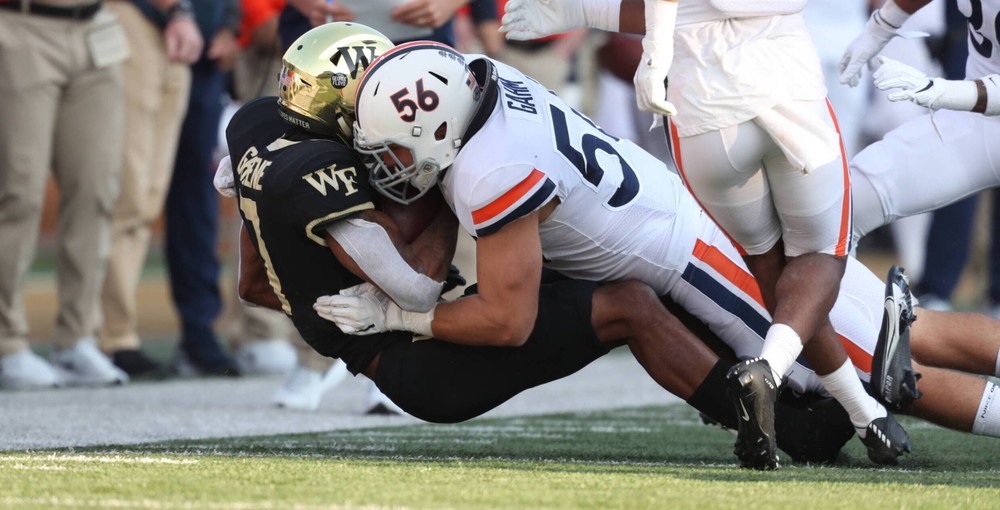 In the second half, Snowden returned to the sideline on crutches and with his lower right leg in a cast. He's since had surgery and is expected to be sidelined about six months, Mendenhall said, which means No. 11's streak of 34 consecutive starts will end Saturday night.
At 8 o'clock, in a game to air on ACC Network, Virginia (4-4, 3-4) takes on Florida State (2-6, 1-6) at Doak Campbell Stadium in Tallahassee.
Gahm, who has 21 tackles this season, including two for loss, figures to start in Snowden's place against the Seminoles. Elliott Brown becomes the No. 3 outside linebacker, behind Gahm and junior Noah Taylor. Gahm and Brown arrived at UVA with Snowden in the summer of 2017.
"Matt's completely equipped and prepared," Mendenhall said. "He plays really hard, he has all the skills, he's experienced, and he's ready. The word 'seamless' would be used just in terms of transfer from one to another, though they're different and distinct in style and role. But between Matt Gahm and Elliot Brown, they have experience, they have maturity, they're well-versed in our program. There is no replacing Charles, but I'm thankful that those two are available."
The 6-foot-5, 210-pound Brown had two tackles, including one for loss, and broke up a pass against Abilene Christian.
"Elliot is a dynamic athlete, really skilled in space, a fast and effective pass-rusher," Mendenhall said. "I think that those things manifest on Saturday night."
Brown has been backing up Taylor at strong-side linebacker, and "his role just became greater and more impactful and his number of snaps per game just went up, as it did this past game," Mendenhall said. "I think Saturday was a pretty good indication of what he's capable of and, and most likely what his role will be."
Gahm has played much more extensively than Brown at UVA. In 2019, Gahm earned a starting job in training camp but suffered a knee injury in the opener that season, a setback that cleared the way for Taylor to move up to the first team.
With Snowden out, Gahm knows his role will grown, but "I wouldn't say my mentality has changed at all," he said. "Just put your helmet on and go to work as you always do."
This marks the second straight year that two of the Cavaliers' captains have been unable to finish the season for medical reasons: cornerback Bryce Hall and linebacker Jordan Mack in 2019; defensive end Richard Burney and Snowden this fall.
"It's devastating," Grant said, "but obviously the season goes on, and next man up."
Gahm said: "Knowing Charles, I know he'll bounce back. I fully believe in him, and I know that he'll keep his head up through this difficult time. He knows we've all got his back as a position group. It's going to be interesting without him out there, but I know we'll do great, and I know he'll be cheering us on."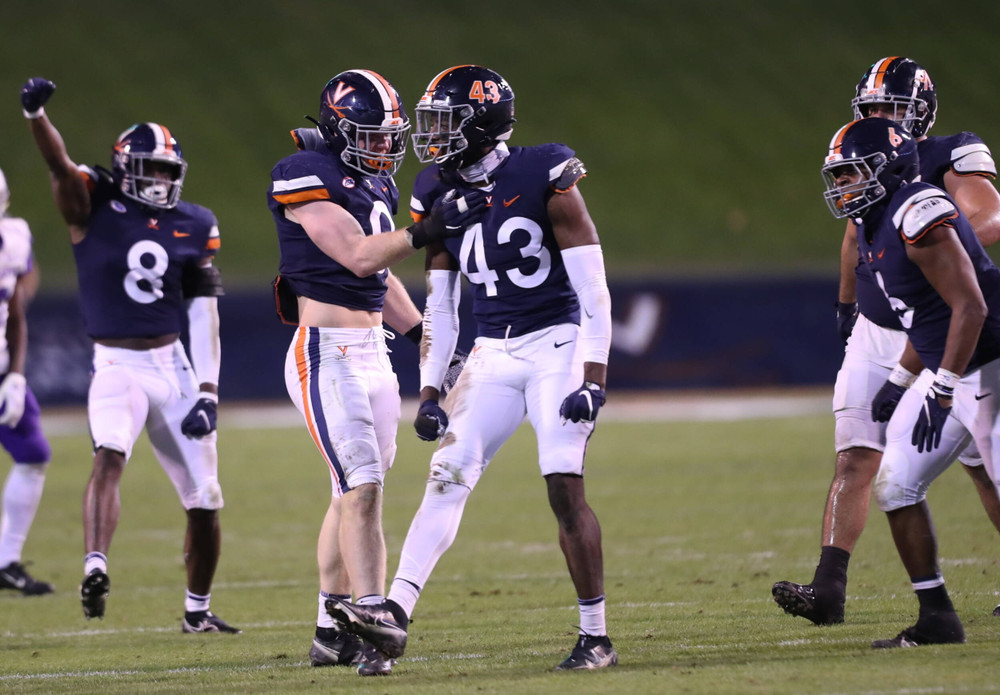 HOME STRETCH: Three regular-season games remain for the Cavaliers, and Mendenhall said he considered this the third chapter of the season. After visiting FSU, Virginia will play Boston College (5-4, 4-4) on Dec. 5 and then close against Virginia Tech (4-5, 4-4) in Blacksburg on Dec. 12.
Since returning to Grounds in early July, the Hoos have been following strict protocols to protect themselves and others from COVID-19.
"Our team remains resilient, optimistic, positive, hard-working," Mendenhall said. "Most of our issues in terms of depth and roster now are not COVID-related, but injury-related, which is coming through just the wear and tear of a long season and probably the most difficult schedule that I've ever taken on as the head coach … I'm just grateful. I'm lucky to be the coach of UVA and really thankful for this particular team and all they've done to get us to this point."
Unlike many teams around the country, Virginia has avoided significant personnel losses because of problems related to COVID-19.
"We just are not having an issue with positive results so far," Mendenhall said. "One of the leaders of the company that does the testing basically made a comment this past week that 'Whatever you're doing, just keep doing it, because we just are not seeing that anywhere else in terms of the numbers.' "
Grant said: "We know week in and week out, we're not going to be the reason that any games are canceled. It's going to come down to us just being disciplined, even throughout the rest of the season, when flu season comes.
"I feel safe, and there's a mindset of safety that surrounds our program, and that allows players to play harder and just focus on just football."
Thanksgiving is Thursday, and, because of the pandemic, players won't be getting together with family members, at home or in Charlottesville, as they have in years past.
"That's the sacrifice that we have to make this season," said Grant, who grew up in the Fredericksburg area. "That's just college football in 2020. It's just another challenge. I'm not too worried about it."
Gahm, who's from Dallas, said the players are proud of how well they've adhered to the strict protocols.
"It's required sacrifice on our part as well as the part of the coaches, the medical staff, the administration," Gahm said. "Yeah, there's a sense of pride in carrying that around, knowing that we've handled it pretty well, about as well as possibly can, about as well as anybody in the country.
"It hasn't been easy. Like Nick talked about, there's been some challenges. It's kind of a bummer not being able to go home at all and not see your family and not having fans in the stadium, but it's what we signed up for. It's the challenge we were presented with, and I had every confidence that our team would be able to tackle it from the outset of the season.
"It doesn't surprise me that there are some programs that have not done near as well as we have, but I knew that our guys would take care of it. We have a great group of guys that are very committed to this season, very committed to this program, and we wanted to play from the very beginning. So in order to do that we had to make some personal sacrifices."
In dealing with the pandemic, Mendenhall said, "I've grown in a lot of different ways and have handled a lot of things imperfectly and some things effectively and in every range in between."
To combat his players' "mental fatigue," Mendenhall said, he's tried to integrate "breaks and fun and just anything possible to promote sustainment" on what is essentially a "long-term deployment. And it's imperfect, but that is our intent."
To receive Jeff White's articles by email, click here and subscribe.