By Jeff White (jwhite@virginia.edu)
VirginiaSports.com
CHARLOTTESVILLE –– The pandemic continues to disrupt the University of Virginia's football schedule, which for now consists of 10 regular-season games, not 11.
On Friday night, the Cavaliers flew to Tallahassee, Florida. The next morning, they learned that the game scheduled for that night at Doak Campbell Stadium had been called off because of COVID-19 issues in the Florida State program.
"The day of the game, it's kind of a shock, it's a little bit disappointing," senior linebacker Zane Zandier said Monday, "but things are pretty crazy this year, and I can't say we were surprised by any means, I guess. Once you realize the grand scheme of things with the virus and everything going on, it is what it is. You've just got to deal with it."
Virginia (4-4 overall, 3-4 ACC) has a game scheduled for each of the next two weekends, and head coach Bronco Mendenhall said Monday that he has "no interest in going back to Florida State. That opportunity was there; it's no longer there. I'm anxious to play Boston College and then Virginia Tech [on Dec. 12], and then hopefully we play well enough to be considered for postseason, and we go from there."
The Wahoos' immediate focus is BC (6-4, 5-4). The Eagles, who are in their first season under head coach Jeff Hafley, visit Scott Stadium on Saturday for a 3:30 p.m. game to be televised on Regional Sports Networks, including MASN in the Mid-Atlantic region.
Mendenhall called it "a great matchup and what I think could be an exceptional football game."
When the ACC released its revised schedule for 2020 in early August, this was supposed to be the regular-season finale for both teams. Since then, however, UVA has seen its schedule modified multiple times because of opponents' COVID-19 issues. But through it all, Mendenhall said, he's remained impressed and inspired by the Cavaliers' "commitment, their diligence, their readiness to compete and their consistency. They've answered the call for every game, whether we've been at full health or not, full roster or not, home or away."
The Hoos delayed their departure for Tallahassee on Friday until they received the results of their latest round of COVID-19 testing. The Cavaliers were ready to play as scheduled Saturday, but contact tracing, combined with opt-outs and injuries, left the Seminoles with only 44 available players.
Before the team flew back to Charlottesville on Saturday afternoon, UVA's players enjoyed the warm weather in Tallahassee and entertained themselves in the hotel pool.
"You try to keep a positive mindset in times like this," Zandier said, "just because if you don't, you get down on yourself pretty quick and it gets to be a little bit frustrating and a little bit depressing."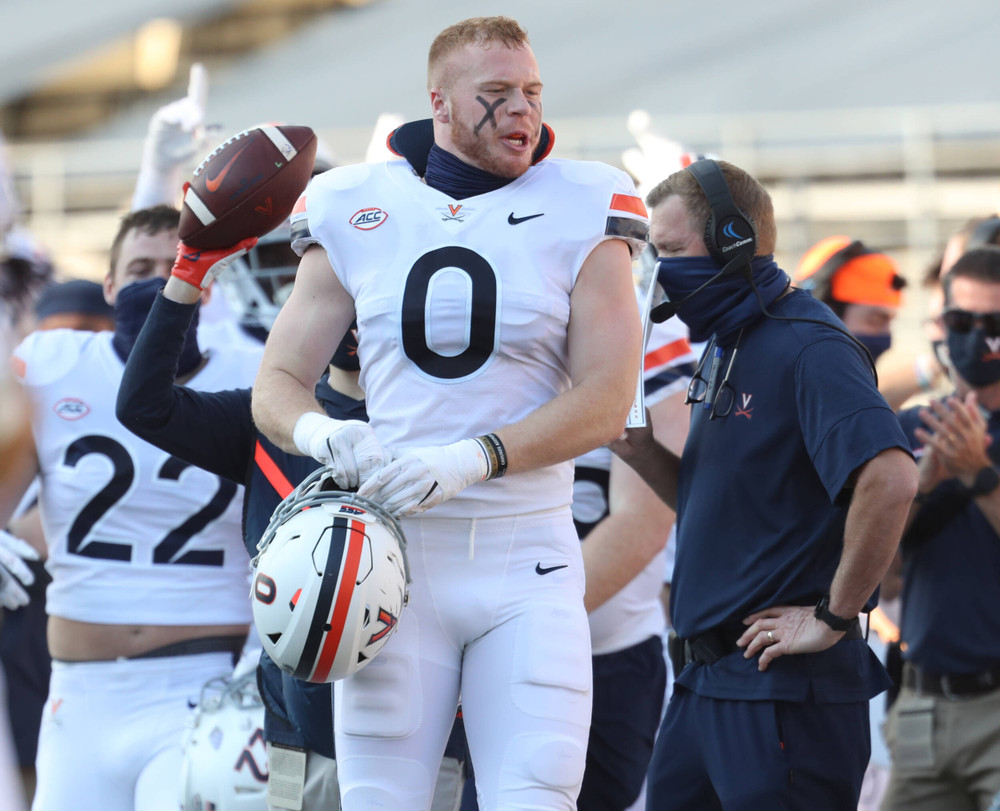 Mendenhall said he hopes the ACC will adjust its policies to ensure games aren't canceled after the visiting team has traveled to the host team's city. The same thing happened on Nov. 21, when Clemson's game against FSU in Tallahassee was called off.
"There's a lot of work that could still be done regarding protocols and regarding ensuring that, when you make a trip, you actually have a chance to play the game," Mendenhall said. "I have expressed those concerns and ideas to the ACC, as has [UVA athletics director Carla Williams]. And we can do better is my sincere belief."
This has been a challenging season for the Cavaliers, who have followed strict COVID-19 protocols since returning to Grounds in early July, and Mendenhall saw the disappointment on his players' faces when he broke the news to them Saturday morning. He also saw resolve.
"They didn't even blink," Mendenhall said. "They knew they'd done everything they could do … They just wanted to know if that game might be rescheduled and what our thoughts were regarding that. And then we're on the Boston College, so it was very matter of fact. There wasn't a lot of drama. There wasn't a lot of anything other than: What's next?"
What's next for the Cavaliers is an opponent they've never beaten. UVA is 0-6 all-time against BC, which, in the teams' most recent meeting, rolled to a 41-10 victory at Scott Stadium on Oct. 21, 2017.
As if that's not motivation enough for the Hoos on Saturday, they'll also be celebrating Senior Day at Scott Stadium. Among those to be honored are offensive lineman Chris Glaser, defensive linemen Mandy Alonso and Richard Burney, linebackers Charles Snowden, Matt Gahm, Elliott Brown and Zandier, cornerbacks Nick Grant and De'Vante Cross, safeties Joey Blount and Brenton Nelson, punter Nash Griffin and kicker Brian Delaney.
"I think all the seniors are very excited for this game," said Zandier, the Cavaliers' second-leading tackler. "Hopefully we'll be able to continue on with this week, with some sort of normalcy."
Glaser said: "You don't realize how fast [Senior Day] comes, and it came pretty fast. But I'm still excited to go out with my guys and play BC, play V-Tech and go from there."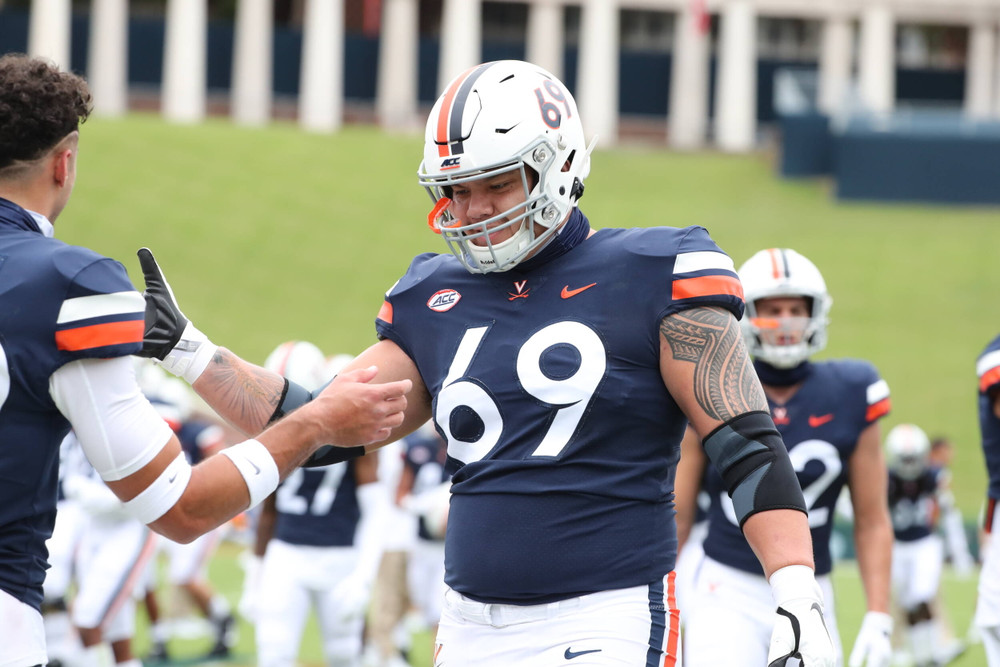 Zandier and Glaser are among those who entered the program in 2017, Mendenhall's second year at UVA, and played as true freshmen that fall. The Cavaliers, who finished 2-10 in 2016, improved to 6-7 in 2017, to 8-5 in 2018, and to 9-5 last year, when they won the ACC's Coastal Division for the first time.
"They are the foundational class which has allowed the program to improve every single year and battle, quite frankly, without interruption this year," Mendenhall said. "I'm so thankful that they've allowed me to coach them. I'm so thankful that they trusted me and chose UVA. I'm appreciative for every single thing they've done. I want them to be happy. I want them to have success. I want them to have a great experience, but I also want them to have the results that they're after. And so we'll work hard as a staff to try to help these last couple of weeks."
The Hoos have won three straight since losing 19-14 to Miami, now ranked No. 9 nationally, at Hard Rock Stadium on Oct. 24. One of the keys in that streak has been the play of quarterback Brennan Armstrong, who missed six quarters early in the season with a concussion.
A redshirt sophomore who backed up Bryce Perkins in 2018 and '19, Armstrong "is allowing our team to again be more cohesive, more consistent, have a clear identity and more production from that spot," Mendenhall said.
Armstrong has completed 113 of 195 passes (57.9 percent) for 1,571 yards and 15 touchdowns this season, with eight interceptions. He's also Virginia's leading rusher, with 399 yards on 94 carries.
"I think he's better than what I expected," Glaser said. He knew Armstrong was talented, Glaser added, but he wasn't sure No. 5 would be ready to lead the team. Those questions have been answered.
"He definitely can," Glaser said. "He's shown it and will continue to show it. And his confidence levels are through the roof. When you have a quarterback like that––same as with Bryce––you're like, 'Why wouldn't I play my hardest for him? Why wouldn't I do this and that?' He's a fun kid to play for and play with."
To receive Jeff White's articles by email, click here and subscribe.