By Jeff White (jwhite@virginia.edu)
VirginiaSports.com
CHARLOTTESVILLE –– For the University of Virginia football program, there may never be another Senior Day celebration to rival the one that followed last year's regular-season finale. With a dramatic win over Virginia Tech, UVA ended a 15-game losing streak in the series and reclaimed the Commonwealth Cup in an atmosphere of unbridled joy.
A year later, COVID-19 restrictions limited attendance to 250 spectators on Senior Day at Scott Stadium. Even so, the Wahoos savored the occasion and all they've accomplished in this unprecedented season. With family members of the team's seniors cheering them on Saturday, Virginia stretched its winning streak to four games with a 43-32 win over ACC rival Boston College.
Before the game, 37 seniors were recognized individually in a ceremony that, because of the ongoing pandemic, featured videos of parents and siblings––and, in quarterback Lindell Stone's case, his wife and their daughter­­­––offering love and congratulations.
"I'm not sure it's not the best way to do it forever going forward," head coach Bronco Mendenhall said. "I thought it was probably one of the best experiences I ever had in football on a Senior Day, and I'm thankful for the families that have trusted me enough to send their sons here to UVA, to allow them to play during COVID, and to then still be smiling and supporting at the very end of this. I'm grateful for all of the families of these players."
After the game, in the home locker room, Mendenhall handed Charles Snowden a sledgehammer, to the delight of the senior linebacker's teammates. Snowden, who suffered a season-ending injury last month, had the honor of breaking the ceremonial rock, a tradition after every UVA win.
It was an emotionally charged moment for Snowden and his classmates, including defensive lineman Mandy Alonso.
"We were just extremely excited, probably the most excited we've been all year for a win," Alonso said. "We got to have Snow break the rock, and then after that everyone went crazy."
It was a crazy game. Boston College (6-5 overall, 5-5 ACC) was missing its starting quarterback, Phil Jurkovec, but his backup, Dennis Grosel, passed for 520 yards. That's a single-game record for a quarterback against Virginia and moves Grosel into a tie with Doug Flutie for BC's all-time mark.
Grosel completed 32 of 36 attempts and threw four touchdown passes Saturday. But the Cavaliers' beleaguered secondary intercepted him three times––cornerbacks Nick Grant and De'Vante Cross and safety D'Angelo Amos had one pick each––and those takeaways proved pivotal.
"Those are big swings," UVa quarterback Brennan Armstrong said, "and I think they catapulted us into victory tonight."
Of the 11 players who started on defense for Virginia in its season-opening win against Duke, only Alonso, Grant, Cross, inside linebackers Nick Jackson and Zandier, and safety Joey Blount were available against Boston College. For Blount, it was his first game since Oct. 17.
Against BC, the Hoos (5-4, 4-4) had only two defensive linemen who'd played significant roles this season: Alonso and Adeeb Atariwa. But seldom-used reserves Jordan Redmond, Tommy Christ (who recently moved over from the offensive line) and Olasunkonmi Agunloye filled in admirably. So did senior outside linebacker Elliott Brown, in his first career start.
"We have this saying that if you stay ready, you don't have to get ready," Mendenhall said. "But it's harder to stay ready when you're not playing, when you don't have a significant role. So it's so gratifying to see those guys [step up], and without them we don't win. There's so many of those stories, especially defensively. That starting 11 today compared to our opener, man, that's an amazing thing."
The Cavaliers struggled mightily in pass defense, but they sacked Grosel four times, for 35 yards in losses, and held the Eagles to minus-7 yards rushing. As the game went on, BC became one-dimensional, Mendenhall noted, and the Hoos were able to "get enough pressure on the quarterback, get enough sacks, and for us, in the secondary, to make just enough plays in terms of turnovers or stops to have the success we wanted."
UVA's offense continues to hum. Coming off a win over Abilene Christian in which they scored 55 points, the Cavaliers piled up 549 yards against BC.
Armstrong, a redshirt sophomore, led the way, finishing with 417 yards of total offense. He ran 17 times for a career-high 130 yards and one touchdown, a 60-yarder, and completed 19 of 27 passes for 287 yards and one TD.
"B.A., each and every week is getting better and better," said wide receiver Ra'Shaun Henry, who had three receptions for 95 yards, including a 47-yard touchdown from Armstrong. "He's found his confidence, and he's just becoming a leader. He's here every day, and I'm loving it."
Armstrong, who backed up Bryce Perkins in 2018 and '19, is the first quarterback in program history to record back-to-back games of at least 400 yards of total offense. He totaled 435 yards against Abilene Christian.
"I think I'm getting better every game," Armstrong said. "That just goes with preparation and just playing a lot more. I'm finally getting the hang of it. Knowing what I've got to do. Knowing what I've got to improve on."
He wasn't the only Cavalier who hurt BC. As they have all season, the Hoos used redshirt junior Keytaon Thompson, a graduate transfer from Mississippi State, in a variety of ways, lining him up at wideout, at running back, and at quarterback. He rushed for two touchdowns Saturday, the second coming out of the Wildcat formation. Thompson took a shotgun snap and raced 43 yards for UVA's final touchdown.
"The bottom line is, most conventional defenses aren't equipped to handle the quarterback run," Mendenhall said, "because you're down a number, and unless there's an adjustment, it's just very difficult."
Four players had at least three receptions apiece for UVA, led by junior wideout Billy Kemp IV, who caught six passes for 54 yards. The Cavaliers also excelled on special teams. Senior Brian Delaney was 3 for 3 on field goals, connecting from 38, 26 and 28 yards, and senior Shane Simpson had a 73-yard kickoff return.
Simpson, a graduate transfer from Towson, typically wears jersey No. 31, but he wore No. 11 against BC to honor Snowden, one of the Cavaliers' captains.
"So I asked Charles if I could play for him," Simpson said, "and he said he loved the idea, and then I asked Coach Mendenhall, and he approved of it, so I'm thankful for both of them."
Mendenhall is thankful for the unwavering commitment his team has shown since returning to Grounds in early July. After losing to ACC rival Miami at Hard Rock Stadium on Oct. 24, the Cavaliers were 1-4, but they never lost hope or focus.
"They're exemplary, right?" Mendenhall said. "They just keep going. They know how to do hard things. They like doing hard things. They help and support one another. They're unselfish, they're diligent and they're hard-working, and they're being prepared in a really strong way for really anything that will come their way. So they're gaining momentum in the pandemic, regardless of circumstances."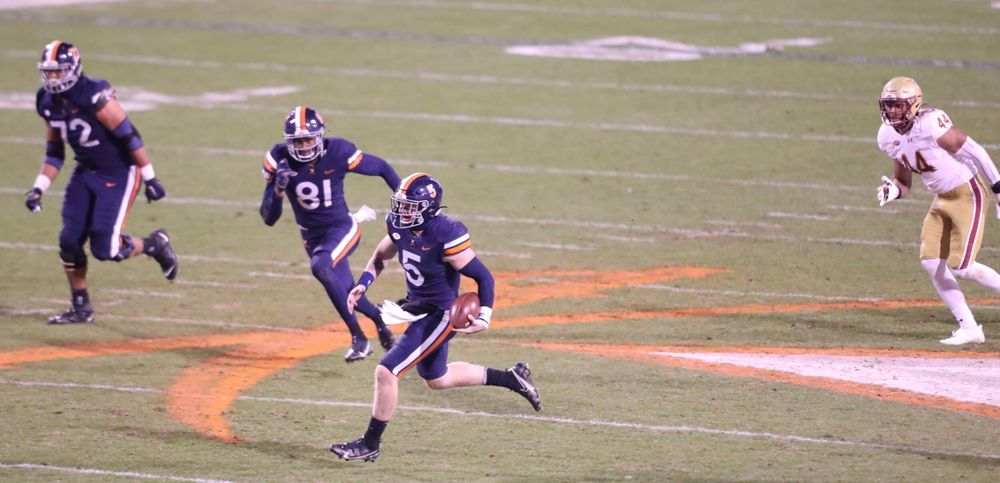 INSPIRATIONAL LEADER: Under normal circumstances, Armstrong would have been chosen to break the rock after the game. But Snowden is a towering figure in the program, and Mendenhall wanted to recognize his many contributions on and off the field.
"I didn't know how to pay tribute to him and thank him any more than allowing him to do that in front of his peers," Mendenhall said. "I acknowledged Brennan for his yardage and how he's done that back to back. But I can't thank Charles enough for his leadership, for his example, for his trust in us, and it just seemed appropriate to give him as a defensive captain the last chance in this stadium to do that in front of his peers. He thanked and recognized the Class of 2017. I just thought it was the right thing to do."
UNSUNG HERO: One of the players who entered the program with Snowden in 2017 was Matt Gahm, an outside linebacker from Dallas. The 6-7 Snowden and 6-5 Noah Taylor have overshadowed him at times, but Gahm is an immensely valuable member of the defense, and he excelled Saturday.
"Last game at Scott, I couldn't have asked for more," Gahm said.
With five tackles, he was tied with safety Coen King for third on the team, behind inside linebackers Nick Jackson (11) and Zane Zandier (7), and Gahm led the Cavaliers with two tackles for loss. One was a sack on which he forced a fumble. He also broke up a pass.
"It's been awesome to see the progression [the Class of 2017 has] taken since we came in," Gahm said. "We were pretty skinny, didn't really know what was going on, didn't know the defense at all, and to see the progression of guys throughout our four years has been incredibly gratifying, and I'm very thankful, honestly, just to have been a part of it. Whatever part I've played, hopefully my peers will remember me as a high-energy guy."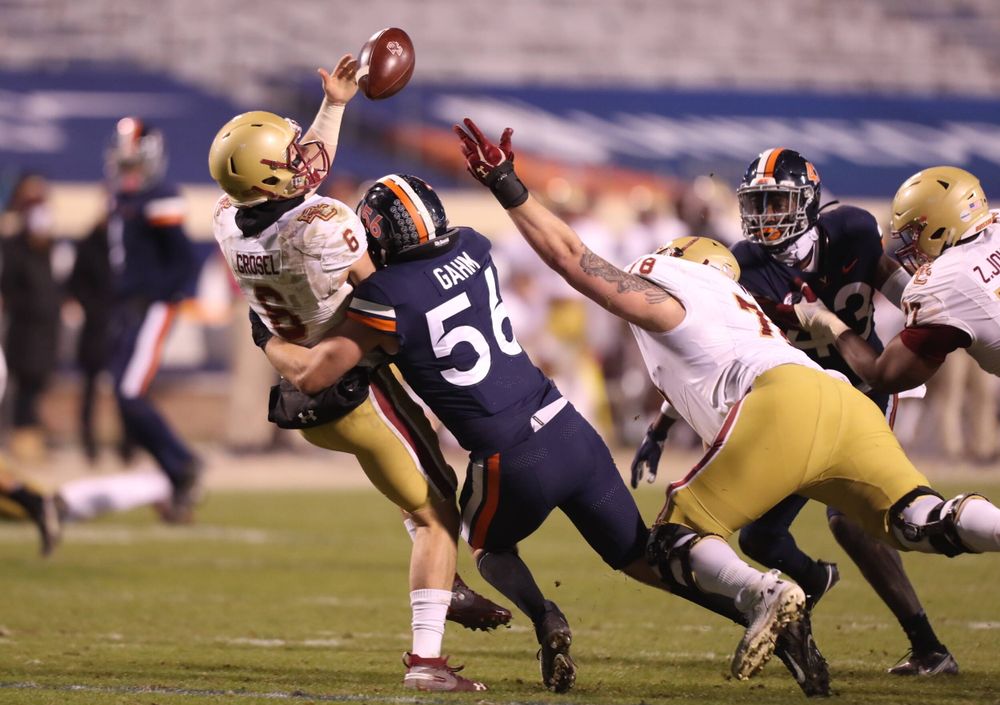 SOUND BITES: Virginia was 0-6 all-time against BC before Saturday. Mendenhall was 0-1 against the Eagles with UVA and 0-2 against them as BYU's head coach. Among the postgame comments:
* Mendenhall: "I'm thrilled for our class of 2017. I'm so thankful and so proud of how they played at Scott Stadium. I'm thankful for their contributions in our program: the progress, the determination, the example, just basically who they are and who they've become. There hasn't been anything easy about this year, and they just keep playing while doing whatever they have to do, whatever they can do, which is honoring the commitment they made at the very beginning of the season. They wanted to play, and they've demonstrated that every single week, from beginning to end. "
* Mendenhall on Armstrong: "I couldn't be happier with who he is, how he's playing, his competitive and unselfish nature, and then just his production. He's leading this team in his own way, and can you imagine being the starting quarterback and being unleashed in COVID in kind of your inaugural year, and he's acting like it's just another season."
UP NEXT: The Cavaliers (5-4, 4-4) close the regular season in Blacksburg. In the annual battle for the Commonwealth Cup, UVA meets Virginia Tech (4-6, 4-5) next Saturday at Lane Stadium.
The game time and broadcast information are expected to be announced Sunday.
The Hoos rallied to defeat the Hokies 39-30 at Scott Stadium last year, their first victory in the series since 2003. Virginia hasn't won in Blacksburg since 1998.
No. 2 Clemson hammered the Hokies 45-10 in Blacksburg on Saturday night. The loss was Virginia Tech's fourth in a row.
"Coming off of the win last year," Alonso said, "it just gives us more edge to hold onto the Cup and keep the streak in our hands instead of theirs. We're going to attack it just like we did last year, and we're going to have the same outcome, hopefully."
Armstrong said the Cavaliers' confidence level has grown during their winning streak.
"We're a different team that we were last year," he said, "and us putting together what we have in this second part of the season, I think that gives us more confidence than anything, just knowing that we're rolling now. Last year's win, though, was huge. We're trying to go do something that we haven't done [since 1998], beat them at their place, and I think we've got a lot of confidence going into that game. We're just going to roll it out there and see what happens."
To receive Jeff White's articles by email, click here and subscribe.