CHARLOTTESVILLE –– For the University of Virginia football team, a long, excruciating streak finally ended last year. The Cavaliers will try to end another one Saturday night.
UVA closed the 2019 regular season with a 39-30 win over Virginia Tech at Scott Stadium. For the Wahoos, the victory was their first in the series since 2003, and it set off a frenzied celebration and returned the Commonwealth Cup to the McCue Center.
Now comes another challenge for head coach Bronco Mendenhall's program. The Hoos haven't beaten the Hokies in Blacksburg since Nov. 28, 1998, before many of the current players on either roster were born. In the regular-season finale for both teams, UVA (5-4, 4-4) and Tech (4-6, 4-5) meet at Lane Stadium at 8 p.m. Saturday in a game to air on ACC Network.
Under the state's COVID-19 restrictions, attendance will be capped at 250.
The Hokies, who'll finish the regular season with a losing record for the first time since 1992, have dropped four games in a row. The Cavaliers have won four straight and would like nothing better than to retain possession of the Commonwealth Cup.
"Wrapping it up with this final win, and at Blacksburg, would just add more to the story of the team," senior safety Joey Blount said on a Zoom call Monday afternoon.
On the 2020 schedule the ACC released in late January, this game was set for Nov. 28 in Blacksburg. Then the COVID-19 pandemic hit, and the ACC had to revise its schedule. The new date for this game, the 101st in a series that started in 1895, was supposed to be Sept. 19. COVID-19 issues in the Hokies' program forced it to be rescheduled again, however, this time to its traditional spot at the end of the regular season.
"I'm really excited," UVA offensive guard Joe Bissinger said Monday, "and I think the team is really excited to have Tech at the end of the year."
This is probably how it should have been all along, Blount noted, "with Virginia playing Virginia Tech the last game in the season, in Blacksburg. It's going to be a hell of a game, for sure."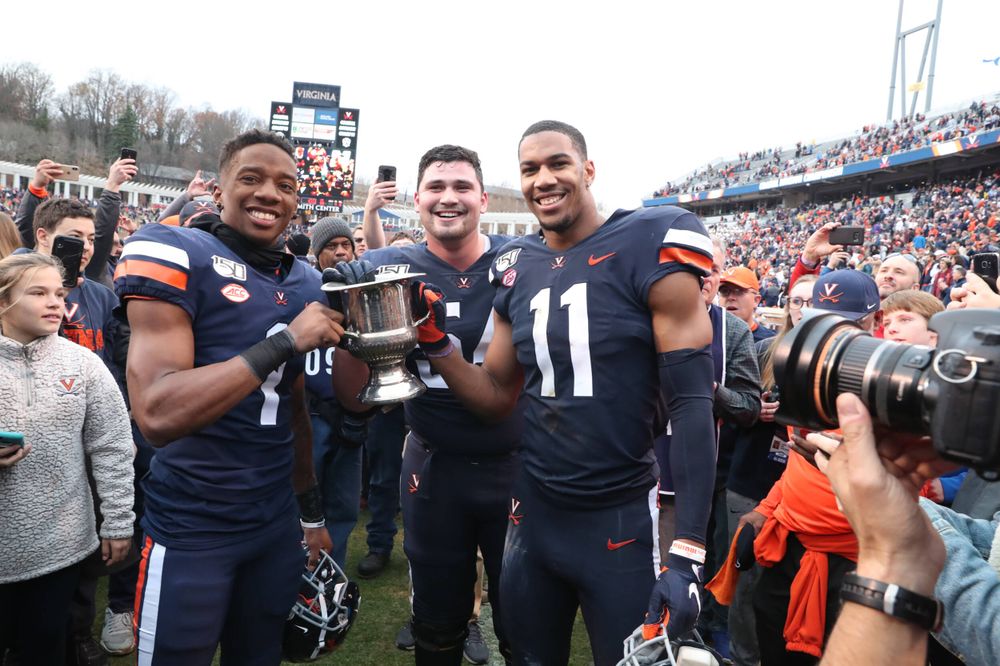 In 2018, their third season under Mendenhall, the Cavaliers left Lane Stadium ruing a missed opportunity. With two minutes left in the fourth quarter, Virginia led 31-24, but the Hokies rallied to tie the game and then prevailed 34-31 in overtime.
In 2019, the Hoos didn't falter, storming back in the fourth quarter for a heart-stopping victory capped by defensive lineman Eli Hanback's fumble recovery for a touchdown.
The win over Tech clinched the Coastal Division title for the Cavaliers and sent them to the ACC championship game for the first time.
"Breaking that streak last year was a pivotal point in the [program's] culture and what we were trying to do at UVA," Blount said. "I hope it's a snowball effect, where it just keeps going and going and going and trending the right way."
It's crucial that the Cavaliers maintain an underdog mentality Saturday night, Blount said. "I think that the mindset that we had last year going into the game is what helped us win the game. And I think that if we change our mindset and look at it from a different perspective of, 'Oh, we've already started winning, it'll be fine,' that's [a recipe for defeat]."
To win in Blacksburg, Blount said, UVA must match or exceed its energy level from last year's game in Charlottesville.
"We have to have that same mindset that going into this game," he said, "that we're underdogs, we have something to prove, like this is our year. Every year needs to be our year. And looking back at that game, that was an all-around great game, the chemistry was there, the energy was there. Our team was just excited to be in that moment."
The Cavaliers are coming off a 43-32 win over Boston College at Scott Stadium on Saturday. It was Senior Day for the Hoos, and among those honored before the game were the players, like Blount, had entered the program in 2017. For Blount, who suffered an injury early this season, it was his first appearance since Oct. 17, and he delighted in sharing the experience with his classmates
"I would have been thrilled [with the victory] either way," Blount said, "but being on the field, it kind of put the cherry on top of the cake for the season, just for the 2017 recruiting class."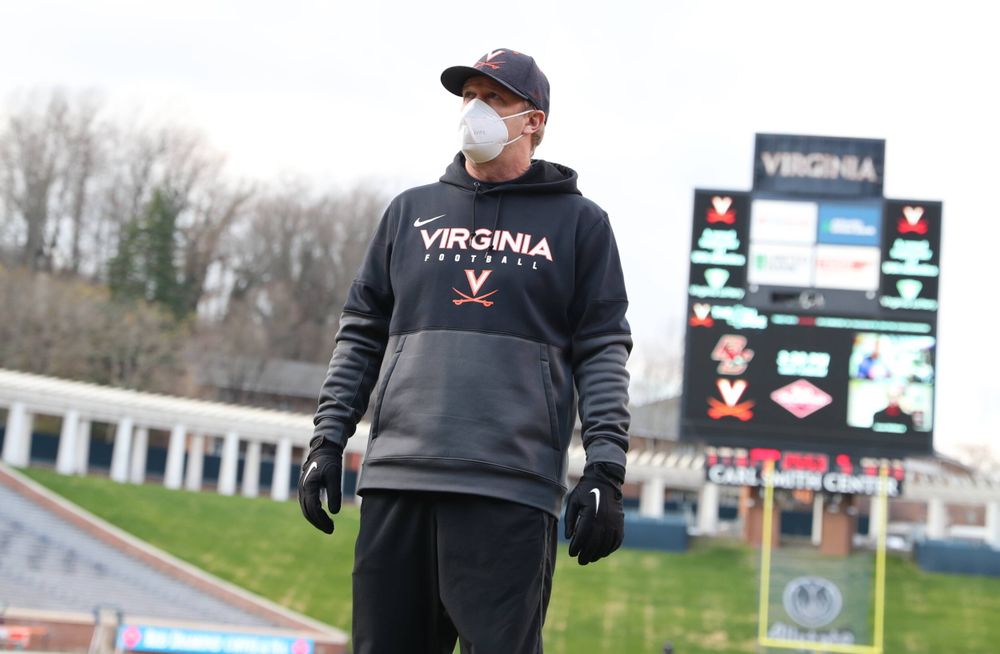 The ACC's revised schedule called for UVA to play 11 regular-season games, one of which was a Nov. 28 visit to Florida State. But that game was called off, after the Hoos arrived in Tallahassee, because of COVID-19 issues in the Seminoles' program.
Mendenhall said Monday that the Cavaliers turned down a request from the ACC for them to play an 11th game, on Dec. 19. (FSU plays at Wake Forest that day.)
"I don't think it added value to our program or the team we would have been playing in whatever schedule changes we were asked to do," Mendenhall said. "I'm mindful of our program, our players and doing the very best I can for them, and having Boston College at home and then Virginia Tech on the road as their last two regular-season games, that's the appropriate finish for our team."
Since returning to Grounds in early July, UVA's players have been following strict COVID-19 protocols, "and sometimes coaches and administrations have to speak up and look after the well-being of a student-athletes who have been here for 23 weeks straight," Mendenhall said.
The pandemic has made this a challenging year for everyone associated with the program, Mendenhall said. "I think what I underestimated is the constant state of uncertainty and adaptability necessary to get to this point. And, quite frankly, I think most teams and most coaches around the country, you're coaching a different roster each week, and you're coaching against a different roster each week, and you do your very best to adapt, adjust and overcome. What's also really clear is once the game starts, really nobody cares whatever happened to get to the game. Once the game starts, it's about the results."
Virginia Tech arrived at Scott Stadium last season having won six of its previous seven games. Coming off a 45-10 loss to No. 3 Clemson in Blacksburg, head coach Justin Fuente's team has no such momentum this year. Even so, Mendenhall knows better than to underestimate an opponent in this situation.
"I can't speak and won't speak for Virginia Tech, but I think one of the values of having a rivalry game at the end of the season is motivation," Mendenhall said, "and regardless of how your season is gone, there's always that game. This year, maybe more than any, as you look around college football, I think there's some teams that are just treading water and trying to make it to the finish. Others have something to look forward to and are excited for another opportunity because of a specific opponent. I think that's what this type of game does for the players involved in college football."
UVA's players end every offseason workout and every practice during training camp with the same phrase: Beat Tech! Once the season starts, however, the Cavaliers' focus shifts to their next opponent. This week, at long last, that opponent is Tech.
"Our motto is beating Tech every year," said Bissinger, a redshirt sophomore from Houston. "We just try to stay 1-0 every week, and this week it's Tech."
Blount said: "It's a rivalry game. Everyone's excited. Everyone's going to be hyped up about it, but at the end of the day we have to play our football and do the best we can."
To receive Jeff White's articles by email, click here and subscribe.