By Jeff White (jwhite@virginia.edu)
VirginiaSports.com
CHARLOTTESVILLE –– After two years at Vanderbilt University, where she earned a master's degree and assisted in the women's basketball program, Ataira Franklin had a decision to make. Should she continue with hoops and pursue a coaching career, or was it time to try something different?
The former University of Virginia standout picked "Door No. 2," as she puts it, "which was the hard choice, because up to that point my whole life had been basketball."
While she was figuring out her next career move, Franklin returned to UVA and worked at then-head coach Joanne Boyle's basketball camp. She was put in charge of the younger girls and, in that role, impressed the mother of a camper who attended Charlottesville Day School.
"That's how I got connected," recalled Franklin, and CDS, a coed school for students in preschool through the eighth grade, hired her as its athletic director in August 2016.
Her colleagues at Charlottesville Day School included former UVA men's basketball player Jontel Evans, and Franklin loved her time there. But after four years at CDS, where she also taught art and physical education, she found herself at another crossroads. It was time for a new challenge, Franklin decided, and she let CDS know she wouldn't be returning for the 2020-21 school.
"I didn't have a plan, didn't have anything lined up," Franklin said. "I just knew it was time to transition into something else."
That turned out to be a position as video & media designer for Learning ForTE, whose website describes its mission as supporting "organizations and individuals seeking to increase their capacity to offer formal and informal learning opportunities in hybrid and digital environments."
Franklin majored in studio art at UVA, with a concentration in photography. In her new job, she said, "I'm essentially a graphic designer. It was pretty random how it happened, but I'm loving it. It's definitely different from teaching, and a lot quieter. But it's fun. It was nice that I could find something that was connected to my undergrad major."
Employees at Learning ForTE work remotely, Franklin said, and she's back in Bowie, Maryland, living with her parents in the house where she grew up.
"I'm back home until I figure things out," said Franklin, who starred at nearby Riverdale Baptist School. "This was a crazy time to be changing jobs and moving and all that stuff. This'll buy me some time, and I haven't been here any of my adult life."
She laughed. "I'm sure my parents are glad to have me back for a little while. Hopefully I'm not too much of a bother."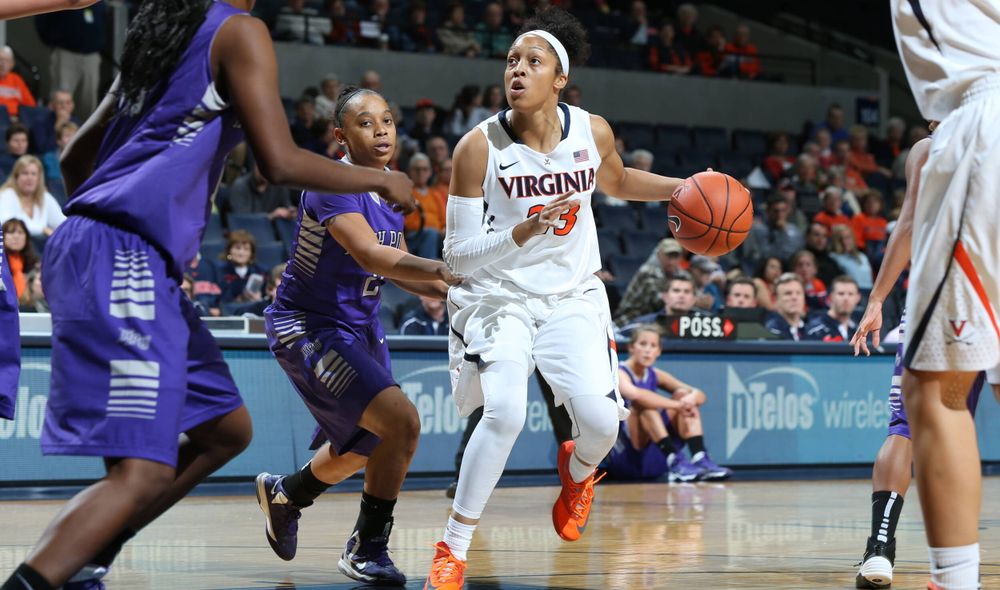 A 5-11 guard, Franklin was a four-year starter at Virginia, where she played one season for head coach Debbie Ryan and then three seasons for Boyle.
"I would kind of joke and say I had two first years," Franklin said, "because you get there and you learn the system and then it changes, and you have to learn a new system. But it was cool to have two different perspectives and two different coaching styles, so that was nice."
Injuries marred her college career. Franklin had three operations on her right knee as an undergraduate, and she lost much of the athleticism that had been her trademark when she arrived on Grounds. She also broke her nose in December 2013, which meant wearing a protective mask. Even so, she ranks third all-time at UVA in career 3-pointers (193), 10th in career steals (224), and 12th in career points (1,619).
"The injuries, they became normal to me, but looking back, by the end of my time there, I was like a grandma," said Franklin, a first-team All-ACC selection as a junior in 2012-13. "I wasn't really doing much running with the team. I was on the bike.
"It was so different. I just think anything you can think of that anyone can go through physically, I went through all those things. When I came in, I'm thinking I'm going to be bouncing off the walls, super fast, super athletic, and that's going to be my game. And my game literally just gradually changed until I was like, 'OK, you have to work smarter, not harder. You can't run with these girls like you used to.' "
In a January 2014 article on VirginiaSports.com, Boyle praised Franklin's positive attitude. Boyle, who retired after the 2017-18 season, said the "thing you always appreciate about Frankie is that she doesn't complain, and she's going to be out there doing her best … A lot of kids could have tanked over the course of the years with the amount of stuff that she's had go on."
As an undergraduate, Franklin followed an academic path that was not a common one for student-athletes.
"I stuck out like a sore thumb, because I'm the only person sitting there in athletic gear, and usually one of the tallest," Franklin said, laughing. "But otherwise it was a nice break. Even the location of where my classes were"––Ruffin Hall––"it was just different. I'm taking a completely different bus. But it just allows you that time to breathe, because during that time, you're so much in that bubble and that environment, either JPJ for dinner, and I lived with my teammates. I loved that, but you're in that world, consumed by that world, and sometimes you just need a break."
After graduating from UVA in 2014, Franklin had opportunities to play professionally. The injuries had worn on her, but "that was kind of my normal," she said. "That was all that I knew, and because basketball was all that I knew and I had had a pretty solid career, everyone on the outside looking in thought the logical step for me was [a pro career].
"But for me there was always this tension of not really being sure that this was what I was supposed to do. And so it was challenging, because it was like, 'This is what everyone expects me to do next. This is what everyone wrote in my yearbooks growing up.' "
Franklin took all of that into account, then chose to stop playing. "I was like, 'I'm tired of the ibuprofen. I'm tired of knowing when it's about to rain because of my arthritis.'
She shook her head. "The fact that I have arthritis in my 20s is crazy. At the end of the day, ultimately it was just that I knew I needed a change. But I didn't know what to do. Without a ball in my hands, I was like, 'I don't even know who I am, to be honest.' "
Franklin had connections with the staff at Vanderbilt, including former UVA assistant Ashley Earley, and thought a career in coaching might be a possibility. And so Franklin headed to Nashville, Tennessee. She spent the 2014-15 season as a graduate assistant at Vandy and the 2015-16 season as the team's director of player development, all the while working on her master's degree.
Once Franklin started at Charlottesville Day School, basketball no longer played such a prominent role in her day-to-day life. But she didn't separate herself from the game entirely.
"We had a middle school girls team my first year there and I was assistant coach, and then the boys wanted a team, once they saw the girls had a team, so then I was the head coach for the boys," Franklin said. "It was the best time of my life. I had so much fun coaching them. It scratched the itch. I think that's always going to be there, where I'm always going to want to go play. Even looking back, I have those days where I'm like, 'I should have gone and played professionally. I still had more in the tank, my knees would have held up.' I have those thoughts, but it's just nice to watch. It's nice to be a spectator. It's nice to tell stories, and that be that."
She laughed again. "It's weird, because I feel like I was Frankie in a former life, and now I'm Ataira. There's this split, this very clear divide, where it was like all basketball, all the time. And now I look back and it feels like it was so long ago, and it feels like I lived a complete and full life, and then I just started over. It's interesting."
After Boyle retired, Franklin started seeing her more often: at physical therapy after each had surgery; at church; and at Charlottesville Day School, where Boyle's daughter, Ngoty, was a student. Their relationship, always good, deepened.
"It was really nice and cool to get to know her in that way," Franklin said, "because obviously a coach and player relationship, there's a lot of respect there, but it was different. She's been a mentor to me more so since I've finished playing, and it's been really familial."
Franklin remains close with her former UVA teammates, too.
"We have a group chat," she said. "Life happens, so we're not just texting each other every day, but whenever someone has a big update, we'll thrown it in there. Kelsey Wolfe and I, we talk. Sydney Umeri, I talk to her almost every day. It's nice, because it's your forever family."
To receive Jeff White's articles by email, click here and subscribe.