By Jeff White (jwhite@virginia.edu)
VirginiaSports.com
In their regular-season finale, the Virginia Cavaliers barely resembled the team that had piled up yards and points in its previous four games, all victories. And that, more than the fact that Virginia Tech defeated UVA yet again in Blacksburg, was perhaps the most surprising development Saturday night at Lane Stadium.
With a 33-15 victory, the Hokies reclaimed the Commonwealth Cup after relinquishing it last year at Scott Stadium. UVA totaled only 322 yards Saturday night, by far its fewest this season. Seventy-five came on the Wahoos' opening possession, a clinical drive that ended with an 11-yard touchdown pass from quarterback Brennan Armstrong to wide receiver Keytaon Thompson.
"Virginia Tech played the run against us very well," UVA head coach Bronco Mendenhall said, "and coverage variety and different looks made us more hesitant than normal, and that affected our execution."
The Hoos (5-5, 4-5) punted five times, allowed four sacks and averaged only 2.6 yards per carry. Armstrong threw two interceptions, and each one appeared to be the result of miscommunication with his target.
"That wasn't a good reflection of who we are as an offense, as a team," Virginia wide receiver Terrell Jana said.
Jana, a senior, caught a two-point conversion pass from Armstrong with 4:50 left in the third quarter. That followed Armstrong's 23-yard touchdown pass to senior tight end Tony Poljan and cut Tech's lead to 30-15.
The Cavaliers then forced a punt, and had the ensuing drive produced another touchdown, the final quarter might have featured considerable drama. But Armstrong threw his first interception, and the Hokies (5-6, 5-5) took advantage of a short field, putting together a drive that ended with Brian Johnson's fourth field goal.
For much of the season, his first as a starter, Armstrong played brilliantly, but the redshirt sophomore struggled Saturday night in a stadium where the Hoos haven't won since 1998. He finished 25-of-46 passing for 259 yards and two touchdowns. Armstrong netted only 23 yards on his team-high 15 carries.
"That's my job to get the offense rolling, so I just put a lot of it on my shoulders," he said. "I didn't do what I had to do tonight to get the W."
As the game went on and the Hokies' lead grew, Armstrong said, "I think I started speeding things up when I didn't have to … I maybe was pressing a little bit. There was a point in time where I was like, 'Yeah, I'm pressing a lot, because we need to get back in this game.' That's something I'm going to learn not to do."
The UVA athletics department announced Sunday afternoon that the team would decline to participate in a bowl game this season. The players met Sunday morning and reached that decision.
"I told our team I valued their feedback and I wanted this to be their decision," Mendenhall said in the official release. "Just as we met at the beginning of the year to make the choice to play, this was their choice to end the season at this time. I think it is appropriate for this team.
"They have all grown tremendously from the challenges put before them this year. But now is the time to return to families and loved ones. This team will always be special for how it handled competing during a pandemic. It is one more example of the amazing capacity and leadership of the young men that allow me to coach them every day."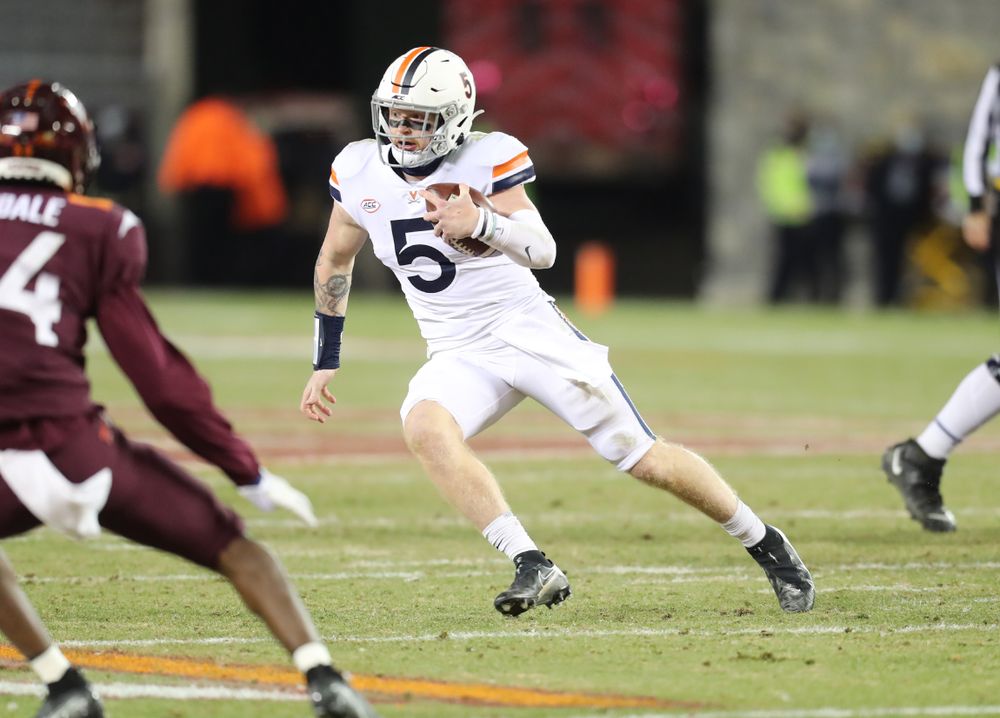 The COVID-19 pandemic has made this an extraordinary football season on multiple levels. Only a smattering of fans were allowed in Scott Stadium for UVA home games, and the scene was similar Saturday night at Lane Stadium. But the Hoos showed admirable resolve.
Starting in early July, when the players returned to Grounds, the Cavaliers adhered to strict protocols and, unlike many teams around the country, avoided significant outbreaks and were ready to play every game as scheduled.
"It's incredible," Jana said. "I'm incredibly proud of this team. We had no cancellations, no games postponed on our side. I think the commitment that our players, our team, our coaches showed to give everything they had to this season and make it go well, to do it safely, was amazing. We were questioning whether everyone would [be willing to make] all the sacrifices to get us to this point, and it's pretty remarkable to see what we've done in the pandemic. I'm thankful to our coaches and to our medical staff who helped us all the way through."
That the Hoos invested so much in the season made the outcome even more disappointing Saturday night. The Hokies came in on a four-game losing streak.
"It hurts, definitely," UVA sophomore linebacker Nick Jackson said. "We talk about 'Beat Tech' all the time, and we got to the game and we didn't beat Tech. It's something we're going to carry on our shoulders, and we'll be ready for them next year."
Mendenhall, who's in his fifth year at Virginia, said the loss provides "immediate motivation to get it right the next time. It's our goal and desire to win the state, every single year, not every other year or less frequently than that. It doesn't happen unless it's intentional. It doesn't happen if it's just a regular game. So we're motivated already to get back to work."
Fifth-year senior Nash Griffin stayed busy for UVA. In addition to punting five times, Griffin completed a pass to Jackson for an 8-yard completion and a first down on a well-executed fake.
Griffin's first punt came early in the second quarter and led to the Hoos' only takeaway. Tech's James Mitchell muffed the punt and redshirt freshman Hunter Stewart pounced on the fumble for Virginia. That gave the Cavaliers, trailing 10-7, the ball at the Hokies' 24-yard line, but they failed to capitalize. UVA's next three plays netted only three yards, and senior Brian Delaney missed a 39-yard field-goal attempt.
"That was a big opportunity we missed," Jana said.
"When have those kinds of opportunities in games like this, you have to come away with points," Mendenhall said. "That's just how you win rivalry games."
Defensive breakdowns became a recurring storyline for the Cavaliers this fall, in part because of injuries and attrition. In its final six games against ACC opponents, UVA gave up 483 yards to Wake Forest, 444 to Miami, 536 to North Carolina, 478 to Louisville, 513 to Boston College, and 464 to Virginia Tech.
In a 43-32 win over BC last weekend, Virginia's defense recorded four sacks and picked off three passes. Against the Hokies, UVA never sacked Braxton Burmeister, who in an efficient performance completed 15 of 22 passes for 212 yards and one TD, with no interceptions.
"We always preach about havoc," Jackson said. "We always want to have havoc. I don't think we caused enough havoc tonight. But we played hard."
The Hokies blew the game open with two plays in the first half. On the first, tailback Khalil Herbert ran 76 yards for a touchdown with 4:26 left in the second quarter.
On the second, Burmeister connected with wideout Tayvion Robinson on a 60-yard touchdown pass. UVA cornerback De'Vante Cross missed what appeared to be a routine tackle along the sideline, Robinson raced to the end zone, and suddenly it was 27-7 with 31 seconds left in the half.
"It just comes down to gap assignment and then finishing a tackle," senior safety Joey Blount said, "an easy tackle on the sideline we just gotta finish."
Tech finished with 252 yards rushing and 212 passing. Herbert gained 162 yards on 20 carries, and his backup, Jalen Holston, hurt the Hoos too. Holston ran 14 times for 58 yards. The Hokies didn't punt until late in the third quarter.
"They were just ahead of the chains a lot," Mendenhall said. "Third-and-manageable was kind of where they kept it throughout the game, because of the run game."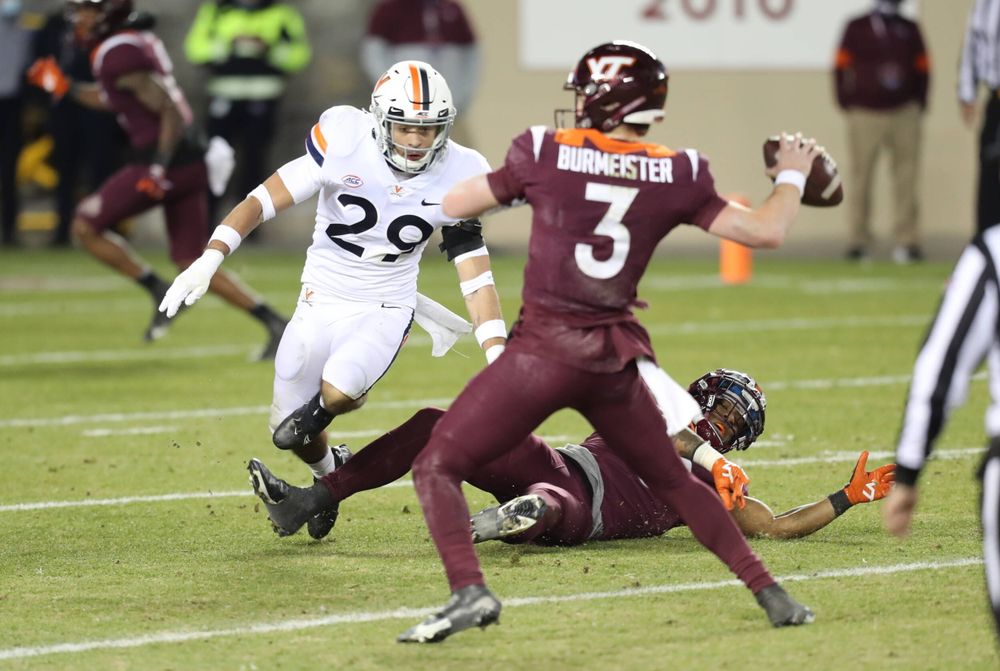 SOUND BITES: In a series that began in 1895, this marked the first December game between these longtime rivals. Among the postgame comments:
* Jackson: "We poured our hearts into this season, we poured our hearts into this game, and it hurts."
* Mendenhall on whether his team's performance surprised him: "I would love to say that I knew how any game would go before we played it. I think that's rarely happened, and there's always twists and turns, and tonight was no exception. You try to predict and prepare and expect as much as possible, and it certainly didn't go as I expected."
* Blount: "I'm seeing this as a learning experience … I'm very optimistic with what we've got moving forward, and I feel like we'll be back here some day. We're going to win back that Cup. I promise you that."
* Blount on the team's commitment: "It's been an unbelievable experience that some day I'll look back and tell my kids about, that we finished the season at UVA without [causing any] postponements, without cancellations. We were always eligible, throughout this whole pandemic, throughout this season. I'm just very proud of every individual guy on our team."
* Jana on the Hokies' defense: "We've played some really good defenses, we've played some really good players, we've put up some pretty big numbers, so I don't think it was anything that they did. I think it was more us not connecting on things we usually connect on … I know that our offense had much more to give tonight, and it's just unfortunate we couldn't do that."
* Armstrong on his first season as a starter: "I think I made huge strides. You could look at everything else, but as long as I see improvement in myself, which I think I have, that makes even more motivated. I have a lot more room to grow … I'm just super excited to come back here and lead our team and have the guys with me again."
* Jana on the rivalry with Tech: "These games only come one time [each season], so you gotta make the most of it. I know next year that this team's gonna do everything they can to prepare for the game and to make the most of it when it comes."
To receive Jeff White's articles by email, click here and subscribe.