By Jeff White (jwhite@virginia.edu)
VirginiaSports.com
CHARLOTTESVILLE –– As a University of Virginia student, Simone Asque kept a journal in which she chronicled the highs and lows of her experience on the volleyball team.
An All-ACC outside hitter, Asque thought she might become a coach one day. So she wanted to be sure to "remember more clearly and vividly what the student-athlete experience was like," Asque recalled recently. "Because as a student-athlete you're always like, 'Man, this is hard.' Things are intense, you're overwhelmed, you're stressed."
She added: "I think the first entry was: Some days you don't look tired, but you really, really are. I kept the journal just in case as I got older I might forget certain things. These were things I wanted to make sure that I would know as a coach, so that I could still have the appropriate amount of empathy and care for my student-athletes."
Asque, who graduated from UVA in 2012 with a bachelor's degree in psychology, was prescient. After playing professionally in Cyprus, Denmark and Slovakia, she briefly worked in sales before joining the University of Illinois at Chicago's coaching staff as a volunteer assistant in August 2015.
She was hooked. "I can't get away from volleyball and from coaching," Asque said. "I love the sport, but it's also the opportunity to work with young women and help them reach their goals, help them have a great experience. So that part was addicting."
After a season at UIC, she spent a year as an assistant coach at New Jersey Institute of Technology. Then came a year as an assistant coach at Coastal Carolina, after which Asque joined the staff at Seton Hall. During her time at NJIT, she'd met Ethan Favia, who's now her fiancé, and she was eager to rejoin him in Jersey.
Asque, who lives in Florham Park, N.J., about 10 miles from the Seton Hall campus, is in her third year as an assistant coach and recruiting coordinator at the Big East school. In addition to coaching, she's pursing a master's degree in sports psychology at Seton Hall.
"I can apply a lot of stuff to the team, so it's been really good," Asque said.
She describes herself as a workaholic and a perfectionist, and she's eager to improve in her chosen profession. Asque was one of six coaches selected last month to participate in the new Pac-12 Diversity Mentorship program.
She's been matched with Stanford head coach Kevin Hambly in the program, which aims to help educate and prepare young minority coaches. Hambly, who was on the program's selection committee, said Asque "blew us away. I think she impressed all of us with her maturity for her age as a coach."
The Pac-12 launched the program, Hambly said, to "try to increase our pool of coaches that are of color and more diverse. We just noticed that that was a problem. It seems like already I have such a great sense of who Simone is and who she wants to be, and it's going to be pretty easy to recommend her for whatever job opens up that I think she'd be a good fit for. And that's the whole goal, really. So it's been cool to just slowly get to know her a little bit and get a better sense of what she's looking for and how I can help her progress her career in whatever ways that I can."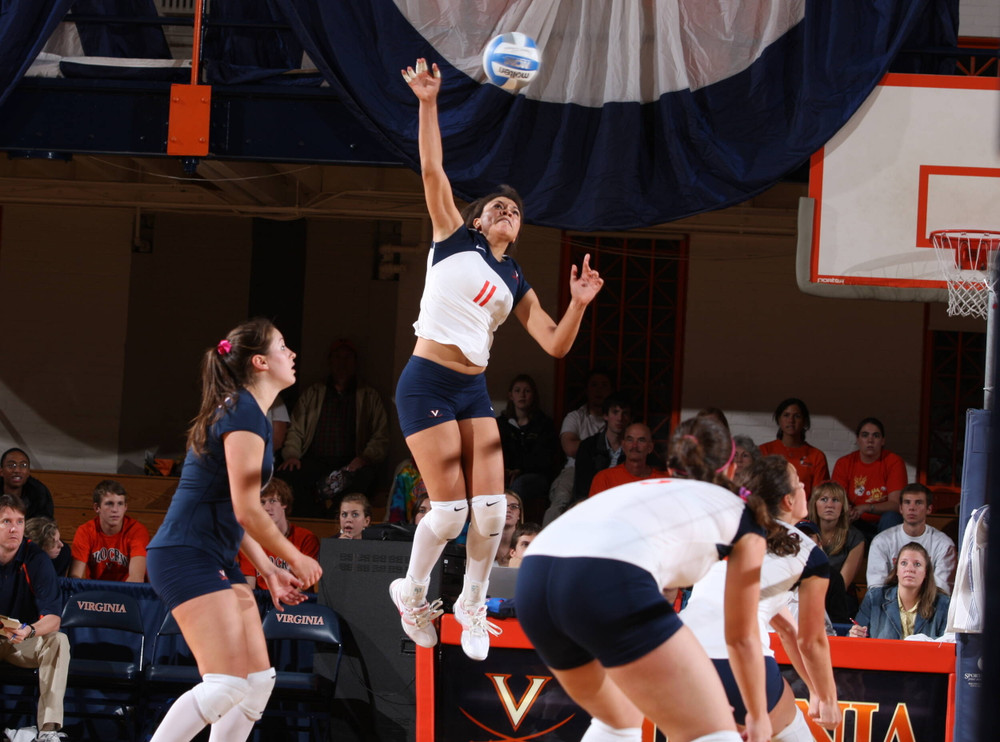 Asque said she'll talk each week with Hambly or one of his staffers to discuss "some of the things that I want to learn or are important to learn, just the ins and outs of being a head coach and sustaining a career in this business."
She laughed. "I need a bigger sponge so I can soak in everything," Asque said. "I'm one of those people who are very knowledge-driven. I'm a huge nerd, which is part of why I went to UVA, because it's good academically."
With the COVID-19 pandemic ongoing, Seton Hall practiced but played no matches in the fall. The Pirates are scheduled to resume competition this semester. In the meantime, Asque has been trying to soak in everything she can, whether it be in her master's program or from mentors like Seton Hall head coach Allison Yaeger and Hambly.
"I just want to pull it all in, and hopefully it'll stick," Asque said.
Travel during the pandemic can be challenging, but Hambly hopes to host Asque on Stanford's campus at least twice. "In the best way we can, we're trying to get her involved and around our program as much as we can," he said.
For most the past decade, Asque has been a fixture on Jamaica's national team, for which she's eligible as a citizen by descent. (Her mother's side of the family has roots in Jamaica.) Asque currently is co-captain of the team, but she's not sure how much longer she'll keep playing.
"Every year my knees are like, 'Why are we doing this?' " Asque said, laughing. "My body isn't as happy any more, but I try to stay in shape. The plan is to least try to play, or be available to play, especially now as we're phasing younger girls into the team."
She wants to stay involved with the national team, Asque said, but she sees herself eventually moving into a coaching role.
"My hope is that the next generation of players will be far better than I ever was," Asque said. "I'm optimistic, because we have some great, talented girls that really have a lot of potential."
In the United States, she's seen the sport slowly become more diverse. During her four years at UVA, Asque played for head coach Lee Maes. But she was recruited by Maes' predecessor, Melissa Shelton, who "told me I was going to be the first black player she had coached at UVA," Asque recalled.
"And then while I was there, we had a few others come in, so I was happy that started. From my own experience of playing [in the U.S.], I remember very well club tournaments where I was one of maybe two [players of color] in the whole gym. Nowadays, when I go recruiting, there's a lot more representation. It's been a great addition to the sport overall, I think, and it creates opportunities for some of these girls in terms of gaining scholarships. I now see more diversity in positions as well. Now you see more black setters and liberos and skill-specific positions."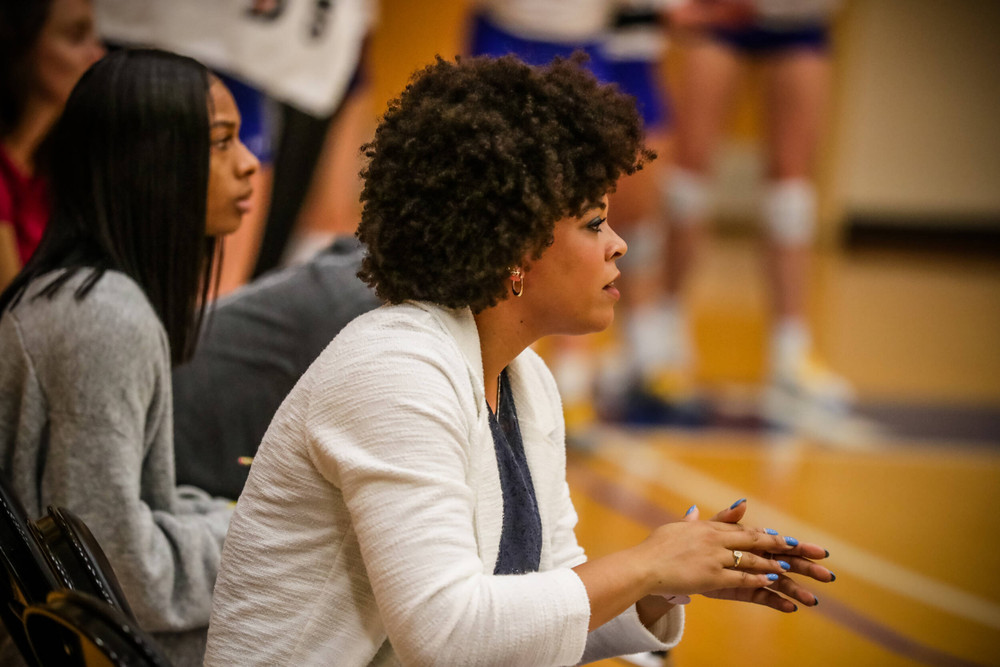 Asque ranks No. 5 at UVA in career kills, with 1,442. The Cavaliers had only one winning season during her career, and that was frustrating, Asque said. Overall, though, the experience "really helped me grow a lot as a person."
When she was at UVA, the athletics department's mantra was Uncompromised Excellence, and "it really was something I took to heart," Asque said. "Having that be the over-arching message that I saw in terms of the work I was doing really helped me. Even when times were tough, I still would keep going and still would push forward, because the road to success isn't just daisies and rainbows, unfortunately."
The same is true in coaching, Asque said, and that's among the reasons she's excited about being part of the Pac-12 mentorship program. "It will help me see a little bit into the future of what all that chaos and complexities are like as a head coach, so I can be better prepared to be that one day."
Maes, who's now the associate head coach at the University of Colorado, stepped down at UVA at the end of Asque's senior season. His successor was Dennis Hohenshelt, whose assistants included Aaron Smith, who took over as head coach in early 2017.
Asque got to know Smith a little before she graduated, and "I'm really grateful for that," she said, "because now that he's the head coach, I feel like I have that connection as an alum."
Her coaching obligations have made it difficult for Asque to get back to her alma mater, especially in-season. But on a rare off weekend a couple of falls ago she was able to join other former UVA players at a match at Memorial Gymnasium. Her now-fiancé accompanied her back to Charlottesville, and "that was so awesome and rewarding," Asque said. "It had been some time since I'd been there, so it was great to walk down memory lane."
The team's struggles, as well as the fact that she hadn't become an All-American, haunted her after graduation, Asque said, and "for whatever reason, I had this shadow over my memories." But being back in Mem Gym during a match "instantly unblocked that shadow," she said.
"I was like, 'This is why I came to UVA. This is why I love this university, and this experience was so amazing.' I left with such a great foundation to grow from into the rest of my life, so it's kind of one of those gift-that-keeps-on-giving type of things. I'm a forever grateful and forever proud Wahoo over here."
To receive Jeff White's articles by email, click here and subscribe.