By Jeff White (jwhite@virginia.edu)
VirginiaSports.com
CHARLOTTESVILLE –– For nearly two decades, Step Up to the Plate has been a highlight of winter for the University of Virginia baseball family, a celebration of all the program has accomplished and a preview of the season to come.
UVA pitcher Andrew Abbott has participated in the event three times and looks forward to it every year.
"My parents always come up, so I get to see them," said Abbott, who's from Halifax County, "and getting to meet the older guys who are in the Hall of Fame and hear their stories and have dinner with them is one of the best experiences I've had since I've been here."
The COVID-19 pandemic has disrupted life in the United States for the past 10 months, and Step Up to the Plate is not immune. Instead of being held at John Paul Jones Arena this year, it will be a virtual event on Friday, Jan. 29.
"Every year we've had something, so COVID's not going to stop us," said Brian O'Connor, who's heading into his 18th season as the Cavaliers' head coach.
"We wanted to give our fans and our supporters an opportunity to still understand what the season is going to look like, and in some ways I think this will give our fans a
little bit more access and connection with our players. Because when you have a big event and there's a thousand people there in a basketball arena, how many of them get a chance to really engage our guys? So in an odd way, even though it's not face to face, it will give our fans an opportunity to engage our guys and see their personalities a little more."
For the first time, the event will include the unveiling of a Virginia Baseball Hall of Fame class. Previous Hall of Fame classes were announced ahead of Step Up to the Plate, at which the former players would be officially inducted.
"We're trying to do something to add to the night of the event," O'Connor said.
In many ways, the format will be unchanged from previous years, though the event will be virtual. There will be a raffle and an auction, with proceeds to help support the UVA program, and members of the current team will be introduced. There will also be videos showcasing the Wahoos' offseason work, including the Iron Cavalier Challenge.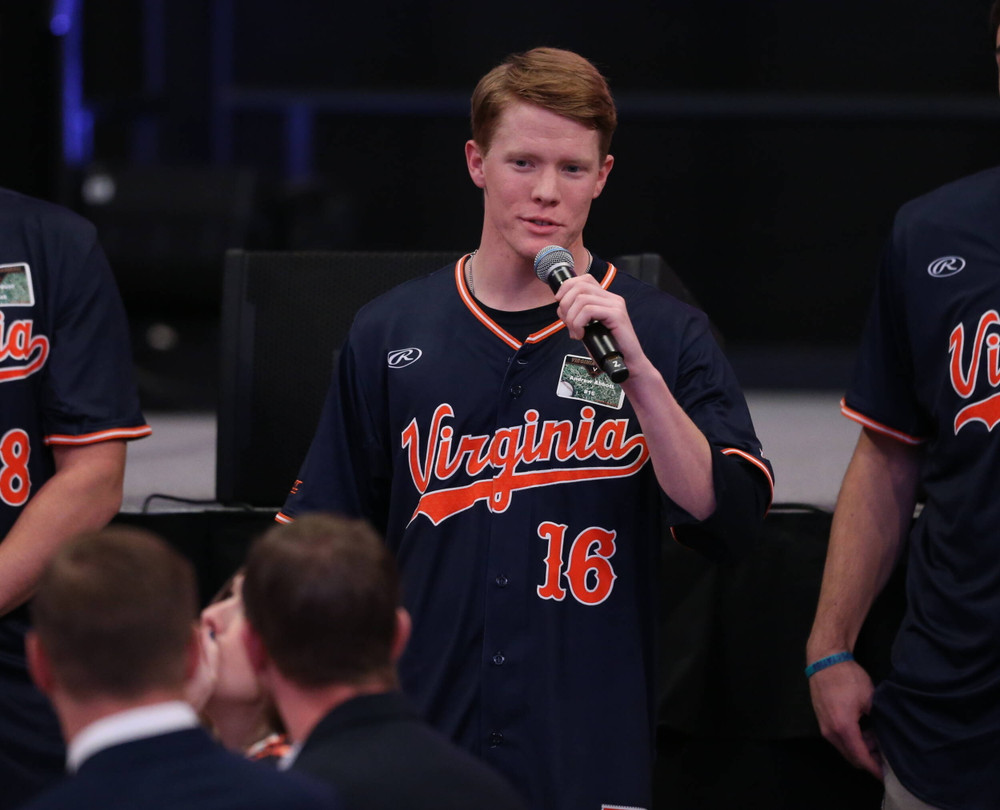 O'Connor hopes Step Up to the Plate can return to a in-person format in 2022. In the meantime, he's excited about the virtual version.
"Step Up to the Plate has been a key cornerstone in the development of this program," O'Connor said. "Obviously, you have to have talent and you have to win, but as far as the engagement with the community and the fans, this has been an important part. And so that's why it's been so critical for us to keep it going."
This year's event will focus on the 2021 Cavaliers, who are projected to be one of the nation's top teams.
Virginia was 14-4 overall and 2-1 in the ACC when the 2020 season was halted last March. Almost every key contributor from that team is back, including eight players who hit .300 or better: Chris Newell (.407), Zack Gelof (.349), Max Cotier (.338), Nic Kent (.328), Brendan Rivoli (.320), Christian Hlinka (.320), Logan Michaels (.316) and Marc Lebreux (.303). Other talented veterans include Devin Ortiz, Alex Tappen and Jimmy Sullivan.
The Hoos' pitching staff is similarly loaded. Returning pitchers include Abbott (3-0 last season), Griff McGarry (3-0), Mike Vasil (2-0), Nate Savino (1-0), Blake Bales (3-0), Stephen Schoch (1.62 ERA), Paul Kosanovich (2.16) and Kyle Whitten (2.61).
The level of anticipation among UVA's players for the coming season is high.
"We were having a great season last year, and then COVID came around and abruptly ended it," said Abbott, a senior left-hander. "We know we can't control that, but we can control how we play on the field. So I know we're all going to be excited about getting on the field and showing basically the whole country what we have to offer. Hopefully things go well and hopefully COVID stays away and we do our part to stay healthy and then play some good baseball this year. I know we're excited."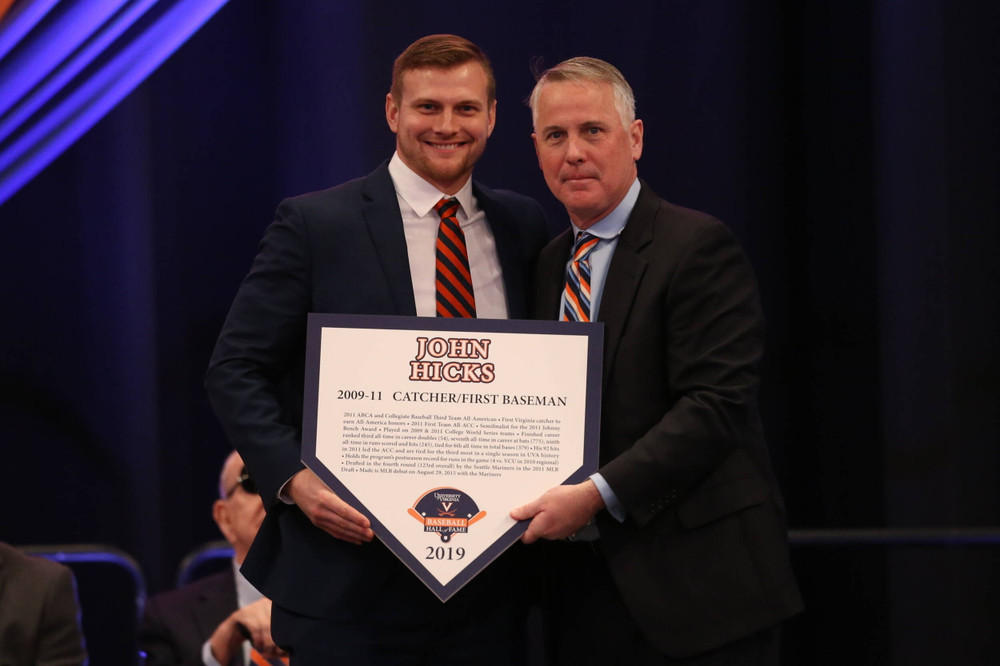 O'Connor, who guided the Cavaliers to the NCAA title in 2015, has a career record of 714-292-2. Under O'Connor, the Hoos have made 14 trips to the NCAA tournament, with four College World Series appearances (2009, 2011, 2014, 2015).
After college sports were shut down and UVA switched to online classes last March, O'Connor's players scattered. They reconvened on Grounds late last summer and then had a productive fall.
There were no exhibition games against other teams, but overall it "was pretty normal, as far as the execution of it," O'Connor said. "We just had one dip with it being shut down for a little while because of COVID, but we got a lot of great work in."
Abbott agreed. "It was one of the most competitive falls in my career here."
The NCAA ruled last year that student-athletes in spring sports would get another year of eligibility, and MLB slashed its 2020 draft from 40 rounds to five. As a result, UVA isn't the only team that heads into the new season with a lineup stocked with proven talent.
"All of college baseball is older, and there more veteran teams than before, so that's kind of across the board," O'Connor said. "But certainly we've got experience. There's excitement in this club. There's a very professional focus and workmanlike kind of mentality, and partly that's because there's a lot of guys that have been around here a long time. Obviously with the season getting cut short last year, they're hungry and they're eager to prove what they're capable of doing."
The pandemic is presenting challenges as ACC teams try to finalize their 2021 schedule, O'Connor said. The league wants to ensure its teams play opponents that follow similar COVID-19 protocols.
"It's still a work in progress," O'Connor said.
Tickets and virtual table sponsorship opportunities for Step Up to the Plate are on sale. They can be ordered online through the Virginia Athletics Foundation or by calling (800) 626-8723. More information can be found here.
To receive Jeff White's articles by email, click here and subscribe.