By Jeff White (jwhite@virginia.edu)
VirginiaSports.com
CHARLOTTESVILLE –– He's still a young man, but there are days when Perry Jones feels every one of his 30 years. Jones, who's in his second year as head football coach at Glen Allen High School outside Richmond, rarely remains on the sidelines when his players are running sprints or lifting weights. And that takes its toll on the former University of Virginia running back.
"Sometimes I start to feel my age," Jones said with a smile on a Zoom call, "because I won't warm up, I won't stretch, I'll just jump in there, and then the next morning my back's hurting or my hamstrings are tight. But for the most part, I don't let them outwork me. I'll say, 'I'm going to do three reps, and you guys are going to do 10, but in those three reps nobody's going to beat me.' So I definitely try to stay young in that aspect."
The COVID-19 pandemic prompted the Virginia High School League to cancel football in the fall. VHSL schools were allowed to begin practicing last week. Glen Allen will play six games this spring, "which is not bad," Jones said. "It's good for these kids to at least have something, so I'm excited."
Jones, who grew up in Chesapeake, enrolled at UVA in 2009 and graduated four years later. He played for head coach Al Groh as a true freshman in 2009 and then for Mike London the next three seasons. Undersized at 5-8, 195 pounds, Jones put up big numbers anyway.
He ranks No. 13 all-time at Virginia in career all-purpose yards (3,722) and No. 19 in career rushing yards (2,033). He also threw two touchdown passes as a Cavalier.
"I look back on it sometimes," said Jones, who was one of the Wahoos' captains in 2012, "and I kind of reflect on the best parts of playing at a major D-I college, and especially UVA, with all its prestige. Honestly, the thing that I miss the most is not even the football aspect."
He laughed. "I do not miss getting hit by 250-pound linebackers. You can have that. I see some of these hits on TV now and I'm like, 'How did I ever go through any of that stuff?' But I miss the camaraderie of the guys in the locker room, and I definitely keep up with a lot of those guys."
His closest friends on the team were Tim Smith, who like Jones starred at Oscar Smith High in Chesapeake, LaRoy Reynolds and LoVante Battle.
"We were kind of the 7-5-7 kids when we got there, and we built up a relationship that I think is going to last forever," Jones said. "Those were my best friends then, and they still are."
After graduating from UVA, Jones took part in a rookie mini-camp with the NFL's Baltimore Ravens. When nothing came of that, he returned to Charlottesville and joined the coaching staff at Albemarle High School.
Jones moved to nearby Charlottesville High in 2014 and spent three seasons as an assistant coach there. In 2017, he became defensive coordinator at Glen Allen, a position he held for two seasons. "Then the head coach stepped down, I applied for it, and got promoted to the head coaching position," Jones said.
Glen Allen hired him early in the summer of 2019. "So I had a month to put together a staff and make sure that we had all of our equipment, and all of that," Jones said. "It was a lot of things to put it in place really quickly, but I think it was a good learning experience for me my first year."
The Jaguars finished 5-5 in their first season under Jones, who as an assistant had been mentally preparing himself for the day he'd run his own program.
"Even when I was an assistant I would definitely take notes about how the head coach that I was under was doing things, how I would do it differently, how I could add to it," Jones said. "It doesn't prepare you all the way for when you actually get the job, but I think I had some type of inkling of how I wanted to maneuver through the program when I became the head coach. I just didn't have that much time to adjust."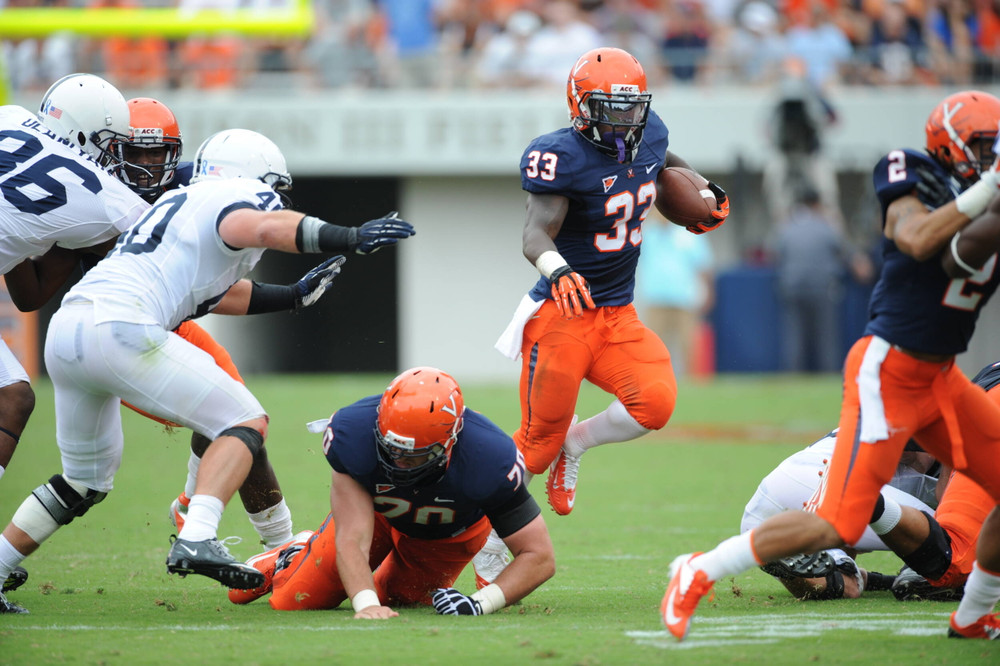 Jones came up through the powerful program at Oscar Smith. A two-time first-team All-Group AAA selection at linebacker, he also starred at running back and set the school record for career touchdowns (54). In 2008, after helping the Tigers capture the Division 6 state title, Jones was named The Associated Press' Group AAA player of the year.
Oscar Smith's head coach was Richard Morgan, whom Jones holds in the highest regard. "He definitely gave me a good example of how I should be trying to run a high school program," Jones said "So any time that I have a question about something, I kind of refer back to that time. What made us successful? What made the kids buy in and want to play as hard as they can?
"When I think back, the reason we played so hard was, yes, we wanted to have success, but we also wanted to make our coach proud. And that gave us a little bit of extra push to be better, and that's kind of what I'm striving for my program. If you can get a kid to run through a brick wall for you, then you should have no problems building a great program."
He's not the only head coach in his family. His older brother, Joe, oversees the football program at Lakeland High School in Suffolk.
"We are actually trying to set up a Jones Bowl for next summer," Perry said. "Hopefully we can get a scrimmage in."
The brothers talk football "a little bit, but I don't want him to steal all my good ideas," Perry said, laughing. "He's more of a defensive-minded guy, so I definitely try to pick his brain a little bit there, and he asks me things that we're doing that are successful. I'm sure we pick up a little bit from each other, but for the most part we stay pretty separate, so when it comes time for us to meet, he won't have any excuses."
Jones isn't at Glen Allen when its students are in class. He's dean of students at another Henrico County public school, the Academy at Virginia Randolph. He worried initially that his football players at Glen Allen would "feel like they could get away with a bunch of things" without him in the building, Jones said, but those concerns proved to be unfounded.
"I'm just trying to lay that foundation," Jones said, "that this is how we act in this program, and whether I'm in the school or not, you need to be a reflection of the entire program."
Virginia Randolph is a high school for academically and behaviorally challenged students. His role as dean of students "allows the kids to see me differently than their teachers," Jones said.
"They may come up to me and feel comfortable enough to tell me certain things that they necessarily wouldn't go tell a principal, because they think they may get in trouble, or go tell their teacher, because they know the teachers are dealing with a hundred other kids. So I'm definitely one that a lot of kids rely on for some good advice. They know I'm not going into it pre-judging them. I'm just trying to give them the best advice I can in my position to try to help them succeed."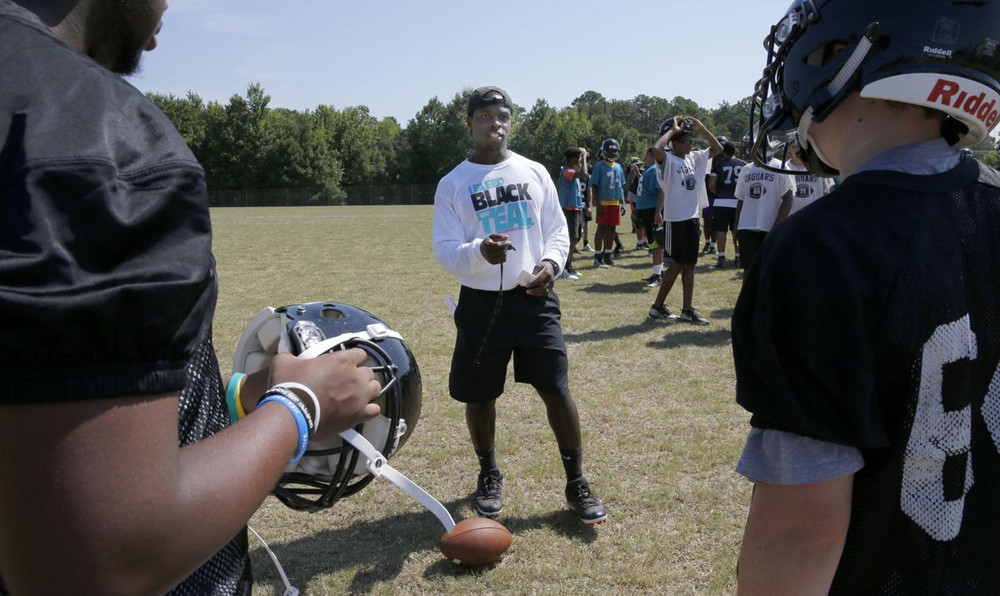 Jones and his wife, the former April Johnson, have a daughter, Ava, who was born in 2017. Their second child is due in May.
April, a middle school teacher in Henrico County, has two degrees from UVA. She also grew up in Chesapeake—"We lived about five minutes from each other," said Perry––but they didn't meet until they were in Charlottesville. April attended Indian River High School, where she'd heard of Perry's feats in football.
"She'll always joke around saying, 'The way people used to talk about you in high school, I thought you were 6-3,' " Perry said.
As a player, Jones said, he figured he'd ultimately end up in coaching. It's a profession that gives him the opportunity to "affect the next generation in a positive manner," Jones said. "I want to help them take what I've taught them and apply it to [their lives], so that when they come to a rock and a hard place, they can figure their way out of it … It's definitely a rewarding feeling when they come back and say, 'Coach, you really helped me out.' "
He still keeps in touch with London, who's now the head coach at William & Mary.
"He is really good about calling his former players just to check in, just to see how everyday life is, which I really appreciate," Jones said. "A lot of times, especially at the college level, you probably don't get that too much. He's checked in on me a few times over the years, and I really appreciate it, and I love what he's doing over there at William & Mary."
Jones' final season at Charlottesville High was the first at UVA for Bronco Mendenhall, London's successor as head coach. Jones already knew wide receivers coach Marques Hagans, a holdover from London's staff, and he met Mendenhall and the new assistants.
"I love Coach Bronco's message, his energy, and what he's trying to instill into the guys," Jones said.
When the news broke that he'd been promoted at Glen Allen, Jones said, "every single coach on the [UVA] staff either called me or sent me a text message. And most of them didn't even know me, but they knew I was a UVA guy who just got a head coaching job. That is huge. They all reached out, and that really meant a lot to me."
His UVA experience changed him for the better, Jones said. "A lot of the things that I learned just from being in a college atmosphere I still use today. That transition from high school to college initially was pretty difficult for me, but once I learned how to use my resources it became a lot easier."
Jones tells the students he works with "to treat their classes in high school as though they're in college. What helped me out the most in college was learning I can't just go to my classes every single day and never speak to the professor or the T.A. If you're having trouble with something, reach out and say, 'I'm having trouble with this. Can you help me?' Never be ashamed to ask for help if you're struggling with something. I tell these kids to approach their classes right now the same way. Once I kind of was able to maneuver through that, everything became a lot easier. I became a lot more relaxed, and the college experience became fun for me."
To receive Jeff White's articles by email, click here and subscribe.