By Jeff White (jwhite@virginia.edu)
VirginiaSports.com
CHARLOTTESVILLE –– In a breakthrough year for the University of Virginia football team, offensive tackle Bobby Haskins reached new heights, too.
In 2019, his second season in head coach Bronco Mendenhall's program, Haskins started 13 games at left tackle and helped the Cavaliers capture the ACC's Coastal Division title for the first time. Still, it wasn't an easy year for him. A herniated disc in his back tested his pain tolerance throughout.
"We managed it during the year, played through it, and then tried to get a full winter cycle of training with it," Haskins recalled after practice Tuesday morning.
When the COVID-19 pandemic hit in March 2020, prompting the University to switch to online classes, spring football practice was canceled. Haskins returned home to Fairfield, Conn. The Wahoos' strength and conditioning staff gave players workouts they could do on their own, and Haskins trained at the football field at his local high school.
"I didn't really have too much access to a weight room, so I had to do all body weight stuff, like push-ups and sit-ups," he said.
Virginia's medical staff hoped the 6-foot-7 Haskins could avoid surgery. The plan was to "attack it with rehab," he said, but the pain didn't subside. By early May, Haskins said, "I'd be waking up in the middle of the night not able to sleep because of it. It got to the point where it just hurt all the time, and there was just no way around it. It was something we had to go in and fix."
And so in late May, Haskins returned to UVA for a microdiscectomy. His father, Bob, who played football at Columbia University, drove the two of them to Charlottesville.
"The day of surgery we got a hotel room and stayed over that night," Haskins said. "So I got one night to just lay down and recover a little bit. And then the next day we loaded up the car and made the seven-hour drive back home."
It wasn't the most comfortable trip he's been on, said Haskins, who put his car seat as far back as it would go. "We'd stop every hour or two, and I'd kind of get out of the car and walk around."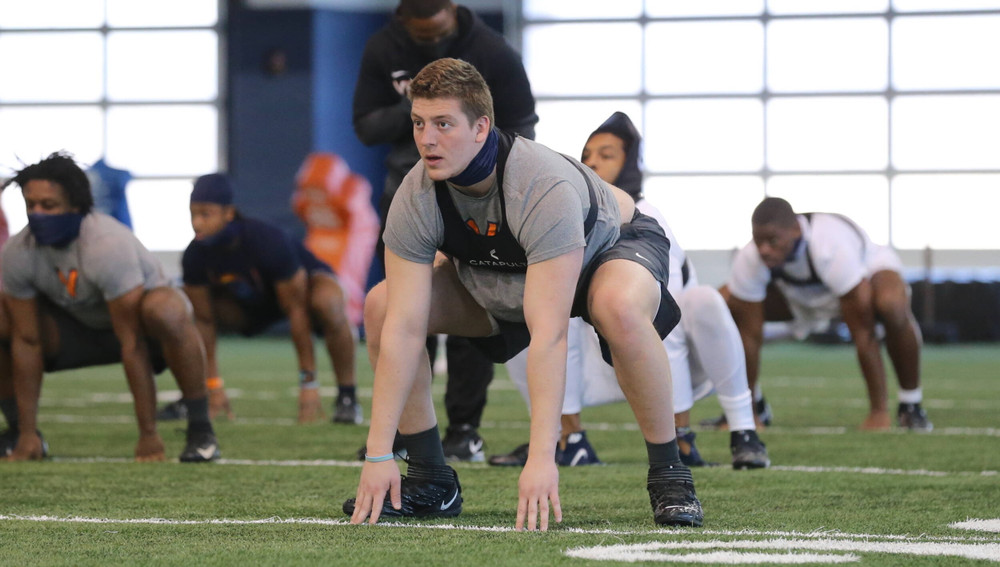 The operation, performed by Dr. Adam Shimer, was intended to relieve pressure on Haskins' spinal nerve column, and it was successful. "As soon as I woke up, the pain went away, which was really cool," Haskins said.
The timing of the operation, though, was less than ideal for a football player. Haskins rehabbed diligently and returned to competition ahead of schedule––he made his 2020 debut in Virginia's second game, Oct. 2 against Clemson––but he played catch-up throughout the season.
"Right after surgery, you can't lift more than a gallon of milk," he said. "That's like the limit they give you for about two weeks. Then it was just slowly working on getting flexibility and mobility back. And then once those came back, we could start ramping up the weight-lifting."
Haskins ended up playing in eight of Virginia's 10 games last season, with no starts. His workload increased as the season progressed, but he wasn't the same player he'd been in 2019.
"There were definitely glimpses," UVA offensive line coach Garett Tujague said, "but you could just tell he wasn't physically in shape to play more than that."
Haskins said he focused last season on trying "to add value to the team wherever I could. I didn't care if it was coming off the bench. I didn't care if it was playing kickoff return, which I started doing year two. I kind of said, 'Wherever I can add value and help get on the field, I'm willing to do it.' "
The Cavaliers started spring practice last week, and No. 70 is healthy again, to the delight of his position coach and fellow offensive linemen.
"First and foremost, he has the perfect mindset for an offensive lineman," Tujague said. "Off the field, he's a great young man, high character, who makes good decisions and trains hard in the weight room."
On the field, Tujague said, Haskins plays with the edge required to excel up front. "He just embodies what it means to be an O-lineman," Tujague said. "He's the tip of the spear, he's the first in the fight. He really works hard, not for himself necessarily, but he does it to be able to protect his brothers."
Haskins, a foreign affairs major, credits UVA's athletic trainers and strength and conditioning staff for their support during his rehabilitation. The experience has changed him.
"The whole last year, with the quarantine and the surgery and everything, really gave me a new appreciation for playing the game, because it can get taken away pretty quickly," Haskins said. "So I definitely appreciate every practice and every snap much more than I did before."
Haskins attended high school at Fairfield Prep, which is located on the campus of Fairfield University. He committed to UVA in June 2017 and then headed that summer to the Hun School in Princeton, N.J.
A tight end at Fairfield Prep, Haskins planned to spend a postgraduate year at Hun, where he moved to offensive tackle in the fall of 2017. When an opportunity arose for him to enroll at UVA early, however, he didn't hesitate. Haskins was one of four players to join Mendenhall's program in January 2018, along with quarterbacks Bryce Perkins and Brennan Armstrong and linebacker Noah Taylor.
When he arrived on Grounds, Haskins weighed about 255 pounds. He's now around 290 and hopes to hit 300 by the start of the season. He lost some strength while recovering from back surgery, Haskins said, but "I've been able to get all of it back by now, and then some, so I was really fortunate with that."
As a true freshman in 2018, Haskins appeared in all 13 games for the Hoos, who capped the season, their third under Mendenhall, with a 28-0 victory over South Carolina in the Belk Bowl.
In 2019, Haskins was a mainstay on a much-improved line that helped UVA defeat Virginia Tech for the first time since 2003. The pandemic-marred 2020 season wasn't as memorable for the Cavaliers, who finished 5-5.
"Not having Bobby healthy last year really hurt us," Tujague said. "It took a while for guys to get going."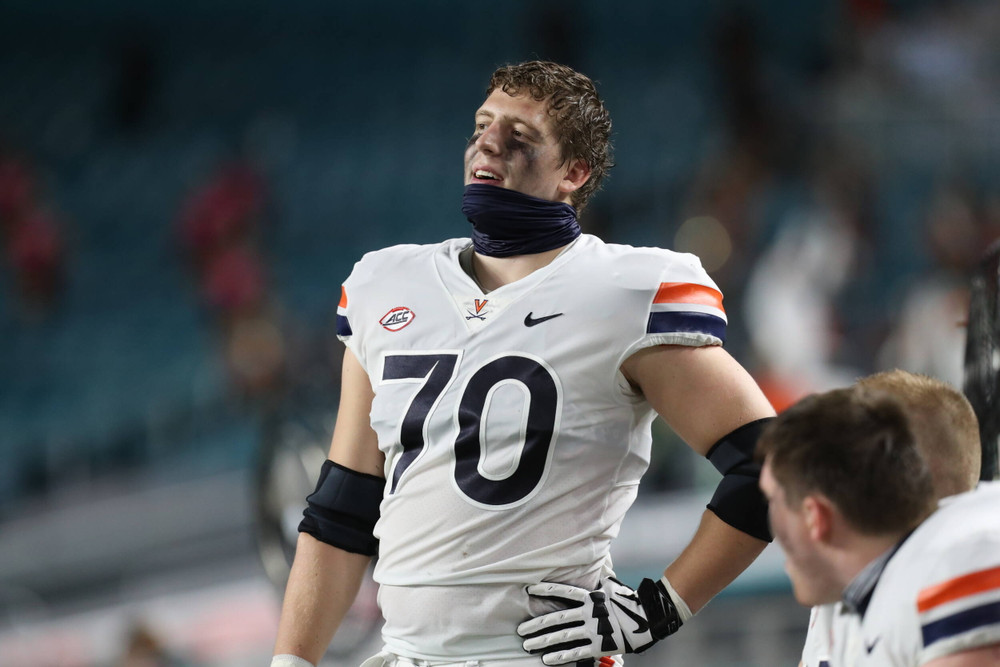 In his sixth year at UVA, Tujague has by far his most experienced group. Four linemen who started all 10 games in 2020 are back––Ryan Nelson, Chris Glaser, Ryan Swoboda and Olusegun Oluwatimi––as well as Haskins and Joe Bissinger, who started the final three games at guard last season.
To see his line grow into one of the team's strengths has been fun, Tujague said, but it's been trying, too. "Don't get me wrong," he said. "We've taken our lumps."
Early in his tenure at UVA, Tujague had fewer options and often had to thrust freshmen into prominent roles on the line. "It's been rough to watch at times," he said. "It's been a very hard five years, but it's been fun to be able to put together this group of guys."
Haskins said: "It's a veteran group. We've all been playing with each other for three or four years. Everybody knows each other's tendencies. We all love each other. So it definitely does feel like this is kind of our year to step up and take on the workload."
Offensive linemen largely operate anonymously, with the spotlight shining on teammates who play the so-called skill positions. But Haskins came agonizingly close to joining that group on Dec. 30, 2019.
In the final minute of UVA's game against Florida in the Orange Bowl, Haskins lined up at left tackle as usual and then, when the ball was snapped to Perkins in the shotgun formation, took a couple of steps backward.
Perkins rolled to his right, stopped and then passed back to Haskins, who sprinted to the end zone behind his lead blocker, Nelson, for what was initially ruled a 9-yard touchdown.
Alas, his elation "was short-lived," Haskins recalled. A video review revealed it was an illegal forward pass.
"On the play, I'm supposed to lose enough ground so that the pass is a lateral, and I didn't get deep enough," Haskins said. "It was my fault."
For a few glorious moments, though, he was able to live every lineman's dream.
"Oh, my gosh, it was incredible," said Haskins, smiling. "I felt like a little kid back playing Pop Warner. I used to play running back in Pop Warner, so it felt like that."
To receive Jeff White's articles by email, click here and subscribe.